Sweet and creamy Pecan Pralines are a quintessential New Orleans treat. These pecan candies are easy to make and will make you feel like you're in the Big Easy.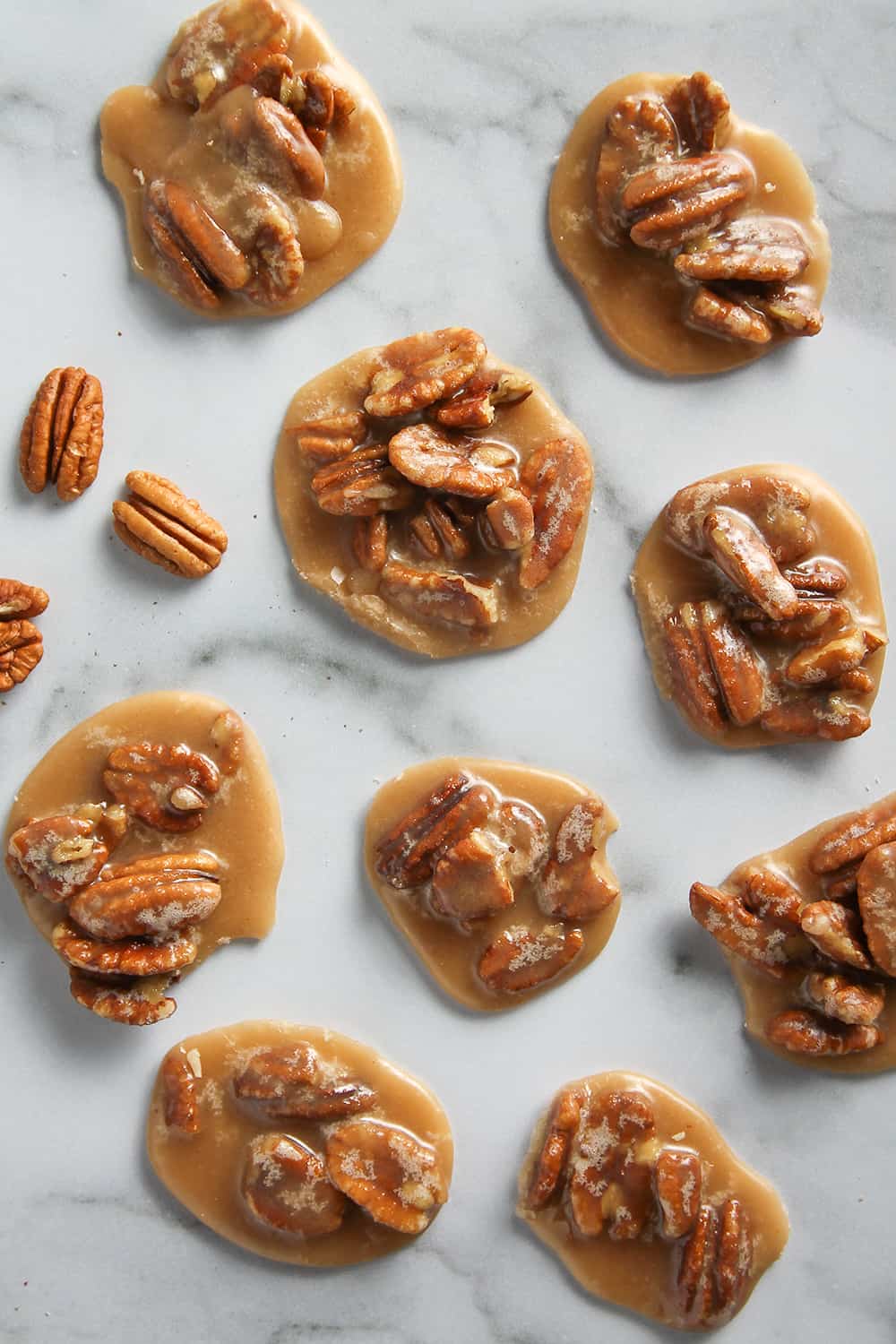 I have mentioned before that my grandmother was born and raised in Mississippi. So far south, in fact, that she has always joked that my great-grandmother would go to New Orleans just to buy a spool of thread.
Yep, they were just that close to the Big Easy.
When I was 10, the whole family (with the exception of my poor father, who had to work) took a week-long vacation to New Orleans.
My grandmother showed us the sites, took us to all of her favorite restaurants, and – of course – made sure we indulged in all of the foods famous to the city.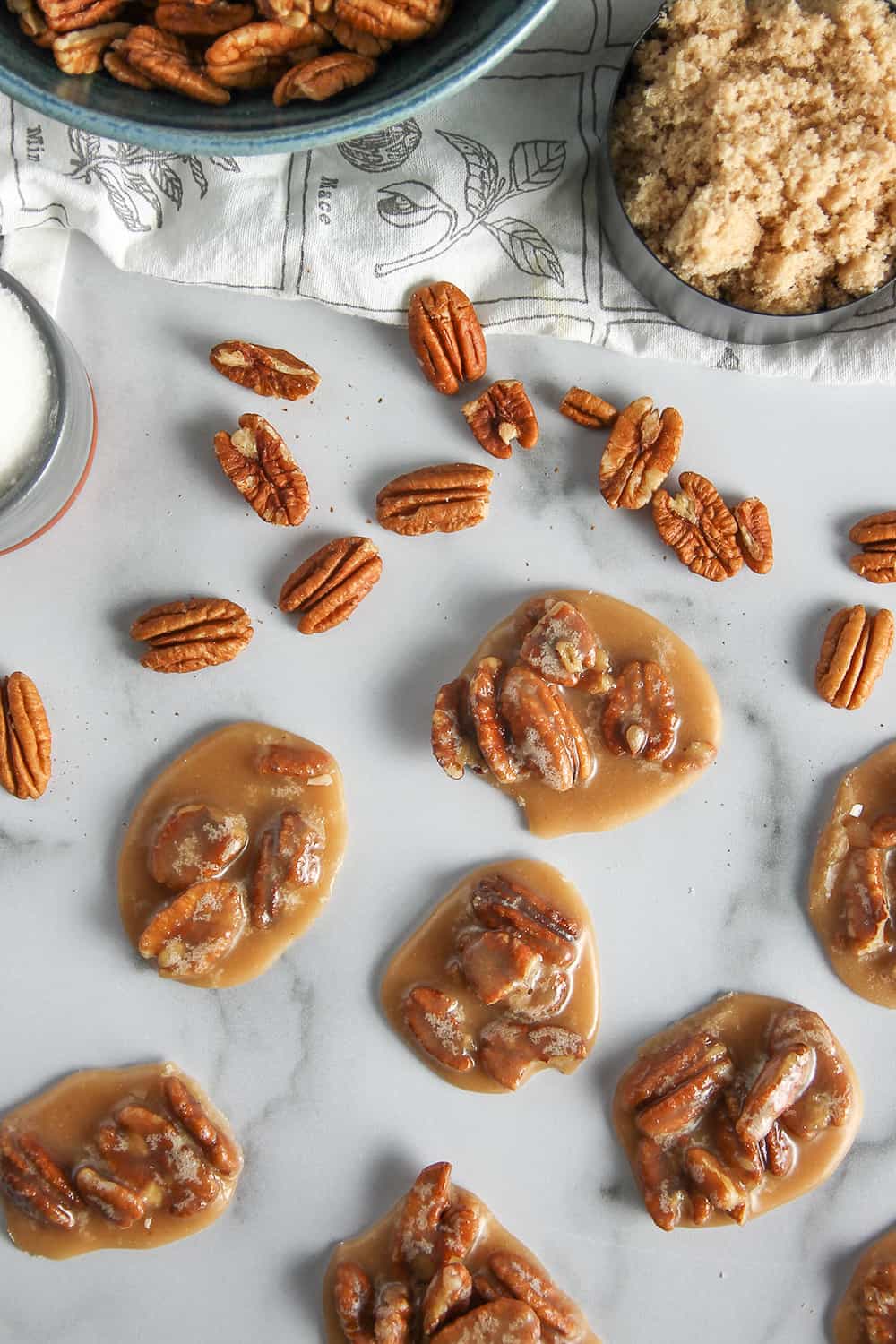 My most poignant memories of the trip (not including an accidental walk down Bourbon Street at 10 pm) include the following:
Mountains of beignets at Cafe Du Monde (I clearly hit culinary nirvana early in life).
Being freaked out by my uncle trying to get my cousins and I to suck the juice out of the crawfish heads at brunch. My cousin Liz, who was 9 at the time, thought this was perhaps the best thing she had ever done.
And, not to be forgotten, watching pecan pralines being made on big marble slabs at Aunt Sally's.
So when I saw a recipe for Pecan Pralines in Joy the Baker's cookbook, I knew that I wanted to make them and send them to my grandmother.
I only have faint memories of how Aunt Sally's pecan pralines actually tasted. This recipe tasted wonderful to me, but I knew my grandmother would be a much tougher critic, having grown up eating pralines.
Folks, these Pecan Pralines passed the Grandmommie test. In fact, she told me later that she simply could not stop eating them. I'd call that one a success.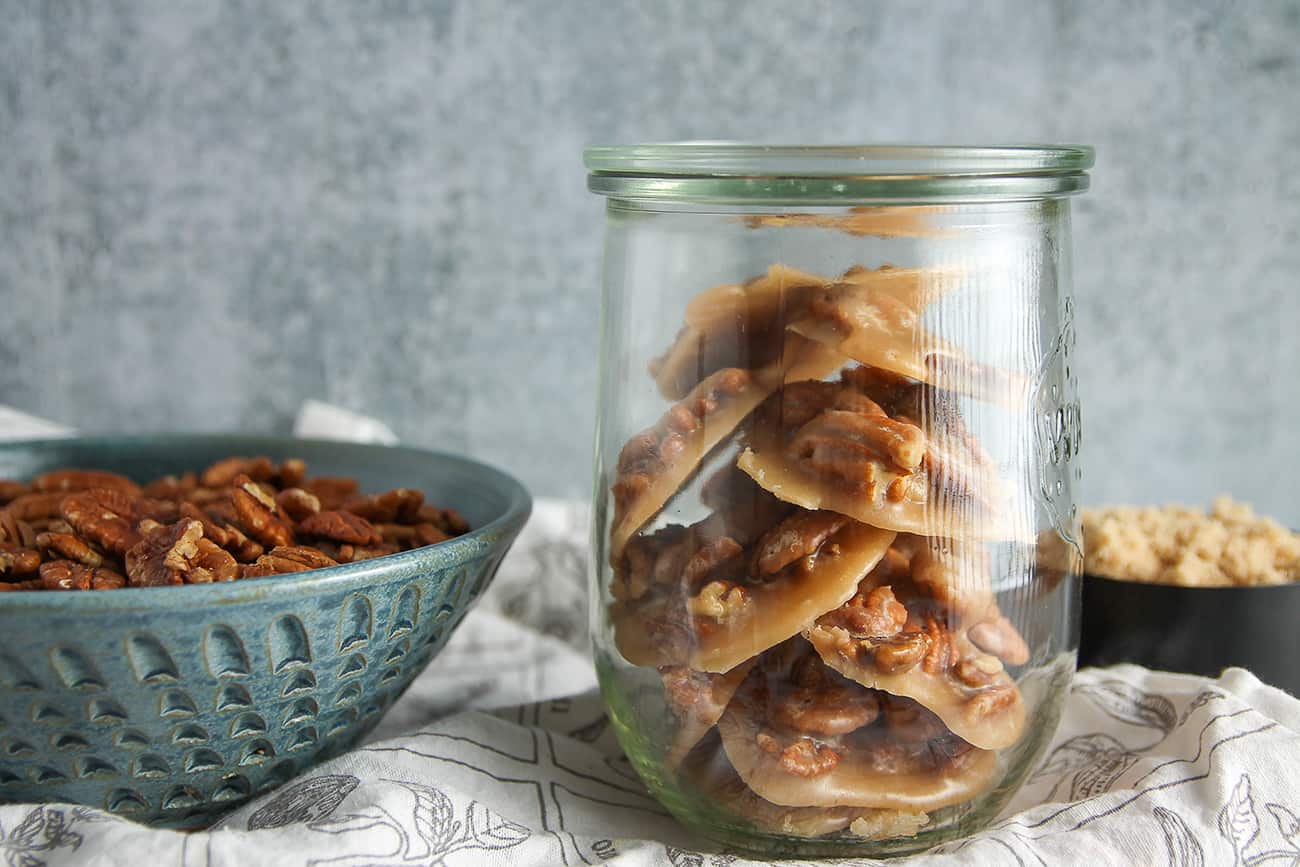 WHAT ARE PECAN PRALINES?
Pralines in general are a French confection. But pecan pralines as most Americans know them were invented in New Orleans.
New Orleans chefs took the original French recipe, which used almonds, and substituted pecans. They also added cream, giving the candy a creamy consistency.
Pecan pralines, sometimes known as "pecan candy," are made with brown sugar, cream, butter and pecans. They have a creamy, fudge-like texture and are very sweet.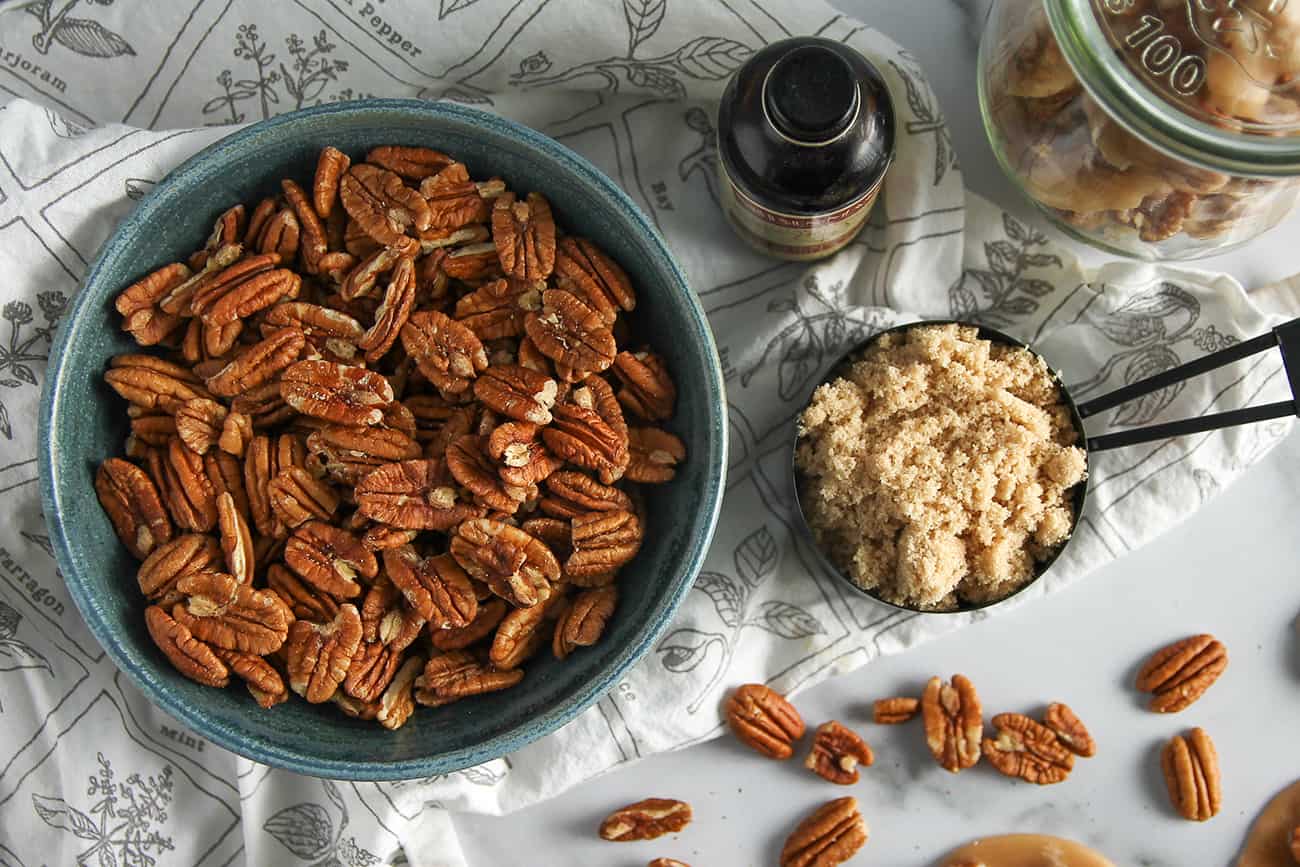 HOW DO YOU MAKE PECAN PRALINES?
Unlike some other candy we have made, such as Homemade Peanut Brittle, Brown Sugar Caramels, or Brown Sugar Fudge, Pecan Pralines have shockingly few steps.
There's no having to cook the sugar, add ingredients, and bring the candy to another temp. Instead, we have just one target temperature.
All of the ingredients except the pecans and vanilla go in a saucepan. Bring everything to a boil and stir until it reaches the "soft ball" stage.
Take the pan off the heat and stir in the pecans and vanilla before dropping spoonfuls onto a parchment-lined baking sheet.
You'll want to move quickly to make the Pecan Pralines before the sugar starts to harden. But if that is the hardest part of the recipe, then you're doing pretty well.
And that's it! Seriously. Wait 30 minutes and you'll be rewarded with deliciously sweet and creamy homemade Pecan Pralines.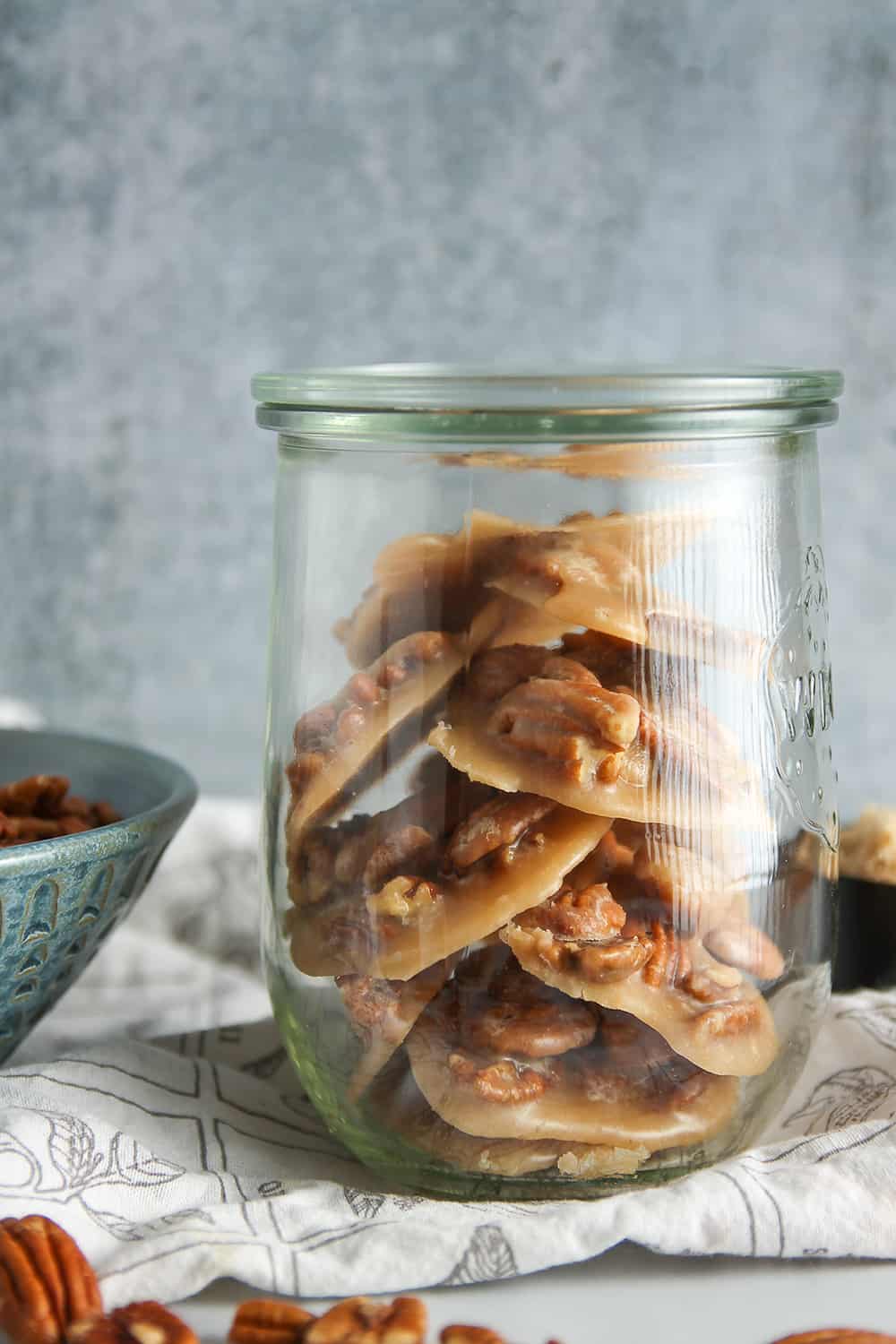 MARDI GRAS RECIPES
I am sharing my Pecan Praline recipe today as part of a Mardi Gras event with several of my food blogger friends. Make sure to check out their New Orleans-inspired recipes below for a true Mardi Gras feast!
Hurricane Matthew (A Hurricane Drink Recipe) by Off the Eaten Path
Vieux Carre Cocktail by Feast + West
No Churn Mardi Gras King Cake Ice Cream by The Speckled Palate
Cajun Spicy Tomato Soup by Online Pastry Chef
Jambalaya Balls by Love & Flour
Shrimp Hush Puppies by Stetted
Traditional Polish Pączki by The Crumby Kitchen
King Cake Donut Holes by Cake 'n Knife
Easy Shrimp Po Boys by Simply Whisked
Easy Jambalaya by The Secret Ingredient Is
Mardi Gras King Cake by Nancie's Table
Homemade Beignets by Kudos Kitchen by Renee