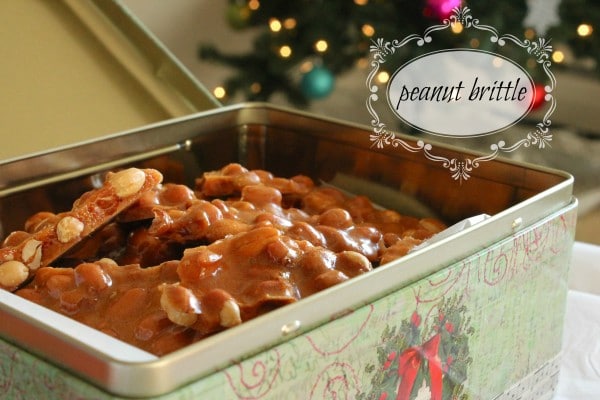 Christmas is next week! Can you even believe it?
In the spirit of the season and of spending time with the ones we love, I am taking next week off – from work, from blogging, from generally using my brain (no comments about whether this is different from usual, please!). I will be back with new recipes in the new year, but before that happens, I want to leave you with one more of what I am sure has to be one of Santa's favorite treats: peanut brittle!
I come from a long line of peanut brittle lovers. This is – not so surprisingly – another one of my great-grandmother's recipes, and it might as well be called "Christmas Crack". Make sure you have someone around to share this with, or else you will blink and realize you've eaten the whole batch!
This is one of those recipes that will require a candy thermometer. My friend just bought this digital one that is super snazzy, but this one is much more old-school and very, very similar to the old-as-dirt one that I use. Either way, knowing the temperature your candy is at while you're working really takes the question out of candy making and makes it much easier.
I wish you all a merry Christmas! Make some peanut brittle, spend some time with your loved ones, and never forget the reason for the season.
For to us a child is born, to us a son is given, and the government will be on his shoulders. And he will be called Wonderful Counselor, Mighty God, Everlasting Father, Prince of Peace. -Isaiah 9:6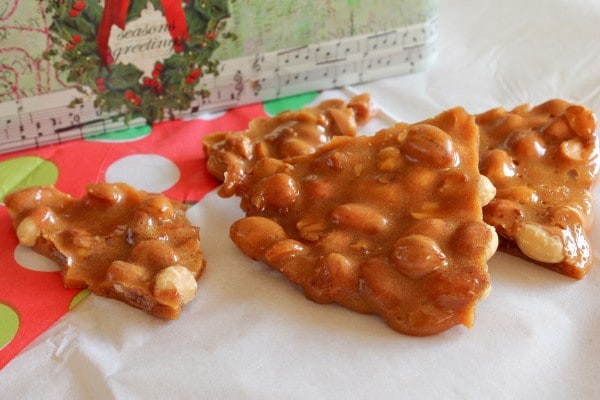 Peanut Brittle
Ingredients
1¼ teaspoon baking soda
½ teaspoon salt
1 teaspoon. vanilla
¾ cup light corn syrup
1½ cups sugar
¾ cup water
1½ cups raw peanuts
Instructions
Use butter to thoroughly grease a large cookie sheet. Set aside.
Measure out baking soda, salt and vanilla into small bowls. Set aside.
In a large saucepan, cook corn syrup, sugar and water over medium-high heat to soft ball stage (230 degrees F), stirring occasionally. Add raw peanuts. Continue to cook, stirring frequently, to the hard crack stage (300 degrees F). As the peanuts cook, they will start to make popping, cracking or whining sounds.
Remove from heat and immediately add the baking soda, salt and vanilla. The mixture will start to foam; stir vigorously until the foaming subsides. Pour the mixture onto the prepare cookie sheet, spreading it out to the desired thickness with a wooden spoon or a rubber spatula.
Let candy cool. Once hard, break into pieces and store in a tin for up to a week.
Notes
You MUST use raw peanuts in this recipe! You won't find them by the roasted peanuts, but can usually find them over in the produce section.