Homemade Peanut Brittle is a classic Christmas candy. This is a recipe that your family will want to make for years to come.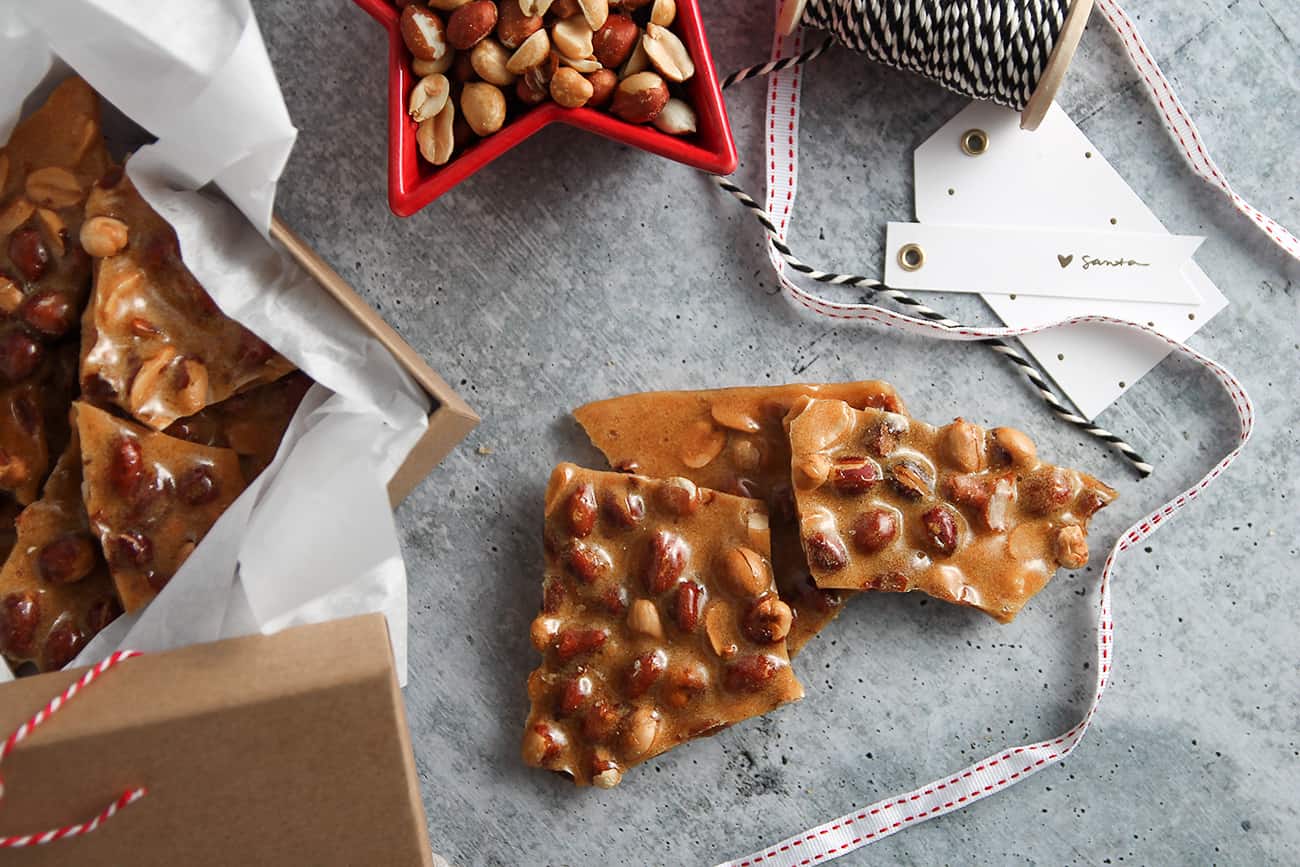 I'm weird about a lot of things. Number 2764 is candy thermometers.
My momma taught me how to make candy using an old school candy thermometer. The round type with the little orange cap on top that looks like it's right out of the 80s.
I still have that candy thermometer. It's certainly as old as I am. I finally had to admit that perhaps it isn't as accurate as it once was, although I expect I'll keep that thermometer in the drawer for years purely out of nostalgia.
In buying myself a new candy thermometer, you'd think I could have picked a fancy digital one or an instant read one. But I'm weirdly distrustful of digital candy thermometers.
I don't know why. Couldn't begin to tell you. But there's something I really like about watching that red line go up or down as I make Brown Sugar Fudge, Brown Sugar Caramels, or my personal favorite, Homemade Peanut Brittle.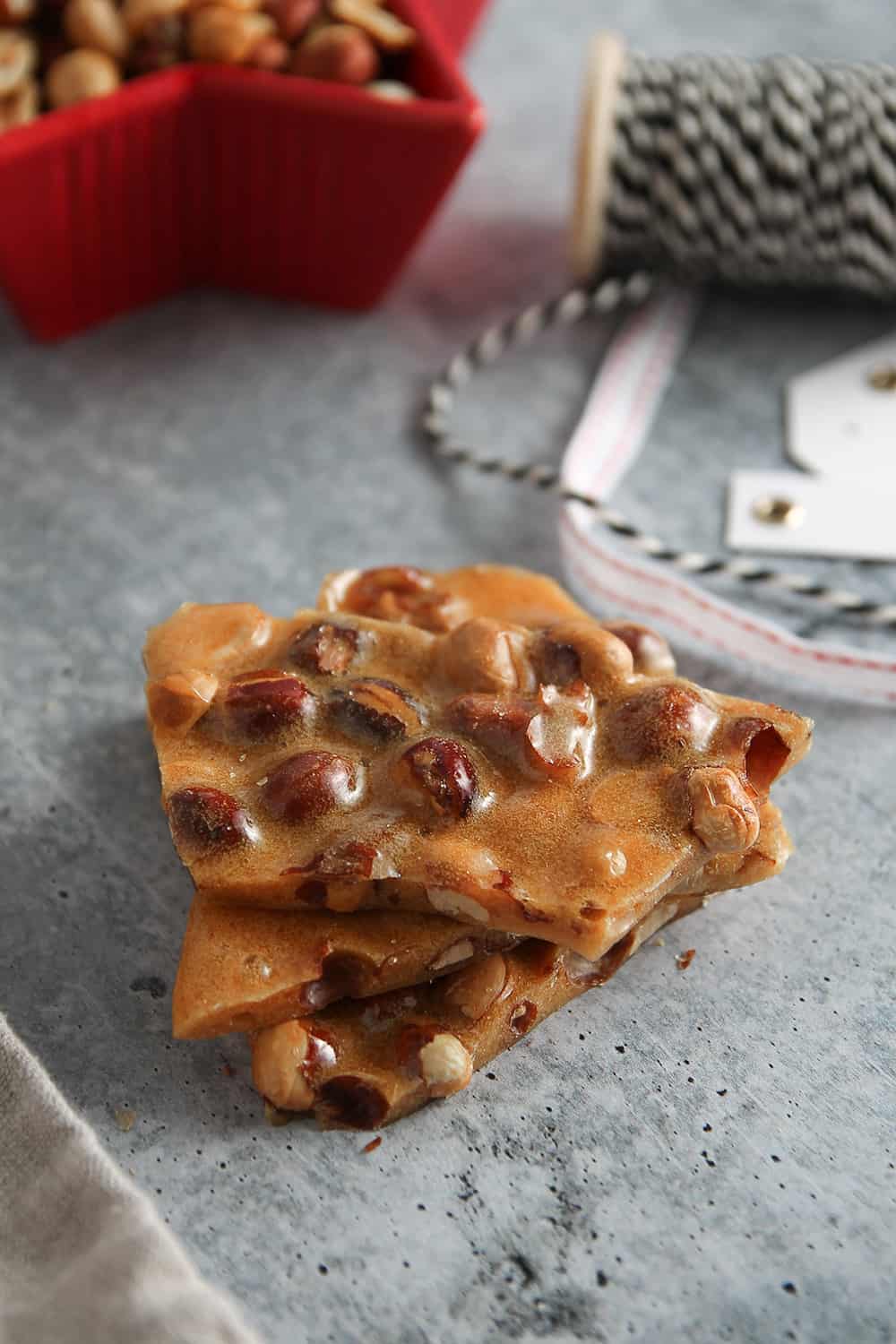 HOMEMADE PEANUT BRITTLE RECIPE
Like so many of my favorite recipes on this site (hello, Fruitcake Cookies, Pickled Cucumbers, and Angel Food Cake), Homemade Peanut Brittle is one of my great-grandmother's recipes.
Honestly, Christmas just isn't Christmas without a batch of Homemade Peanut Brittle. It's perfect for taking to a party, packaging up to gift to loved ones, or just for sneaking a piece of as you walk through the kitchen.
Ma-Ma's recipe uses raw peanuts, which can be a bit harder to find. Make sure to check in the produce section (weird, I know) or the bulk section.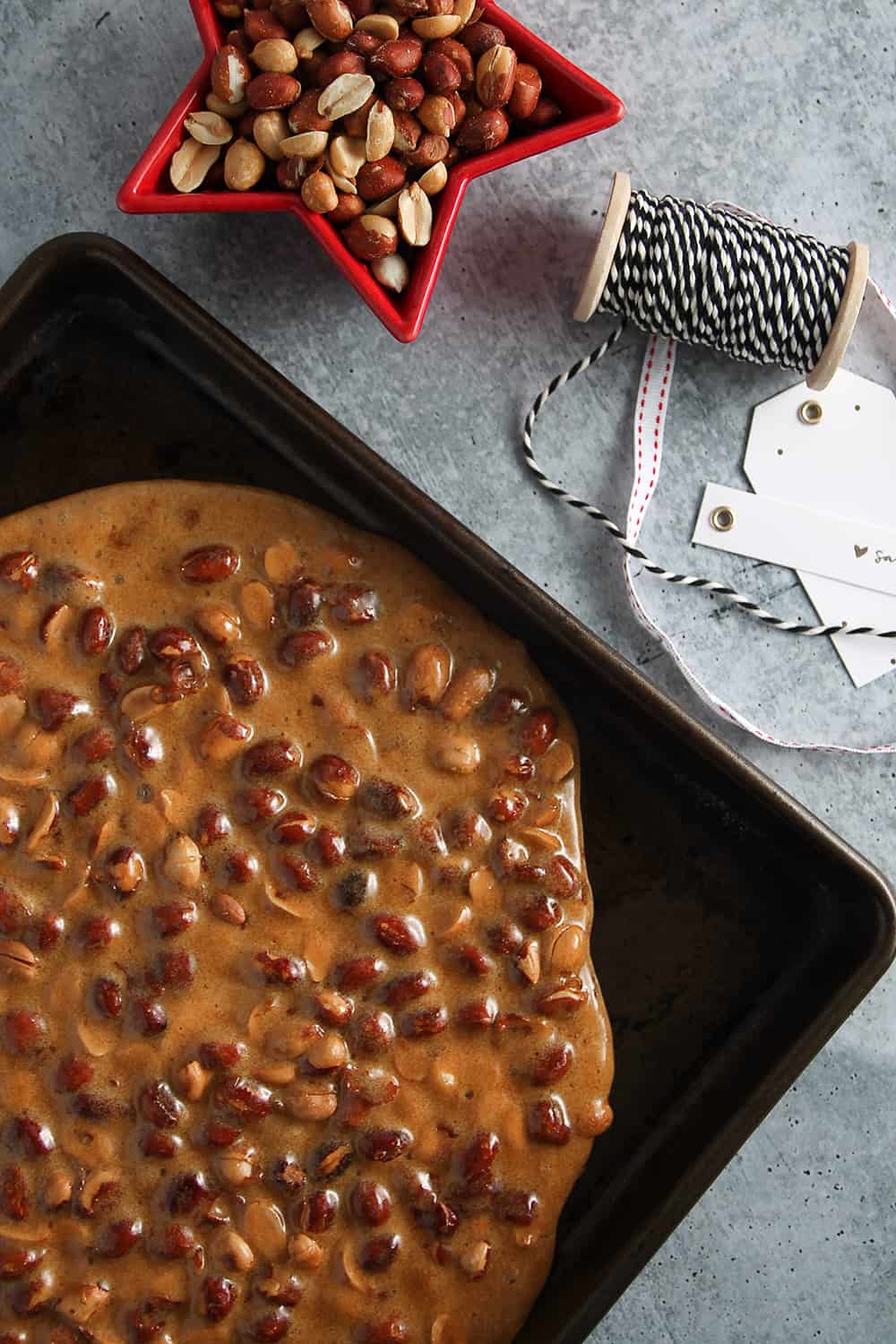 HOW TO MAKE PEANUT BRITTLE WITH RAW PEANUTS
Ok so here's the thing. I'm a little fanatical about my candy thermometers because I pretty much never make candy without one.
There is just too much left up to chance when you try to go by time or color or any other factor. Making candy is a super precise process, so use a precise tool.
Using a candy thermometer also makes candy-making infinitely easier! I promise.
First, make sure to measure out your baking soda, salt, vanilla and raw peanuts and prepare your sheet pan before starting.
Once the candy is ready to rock and roll, you'll need to be able to access ingredients quickly and be able to spread the candy out before it cools. Having everything ready ahead of time means you'll be ready when the Homemade Peanut Brittle is.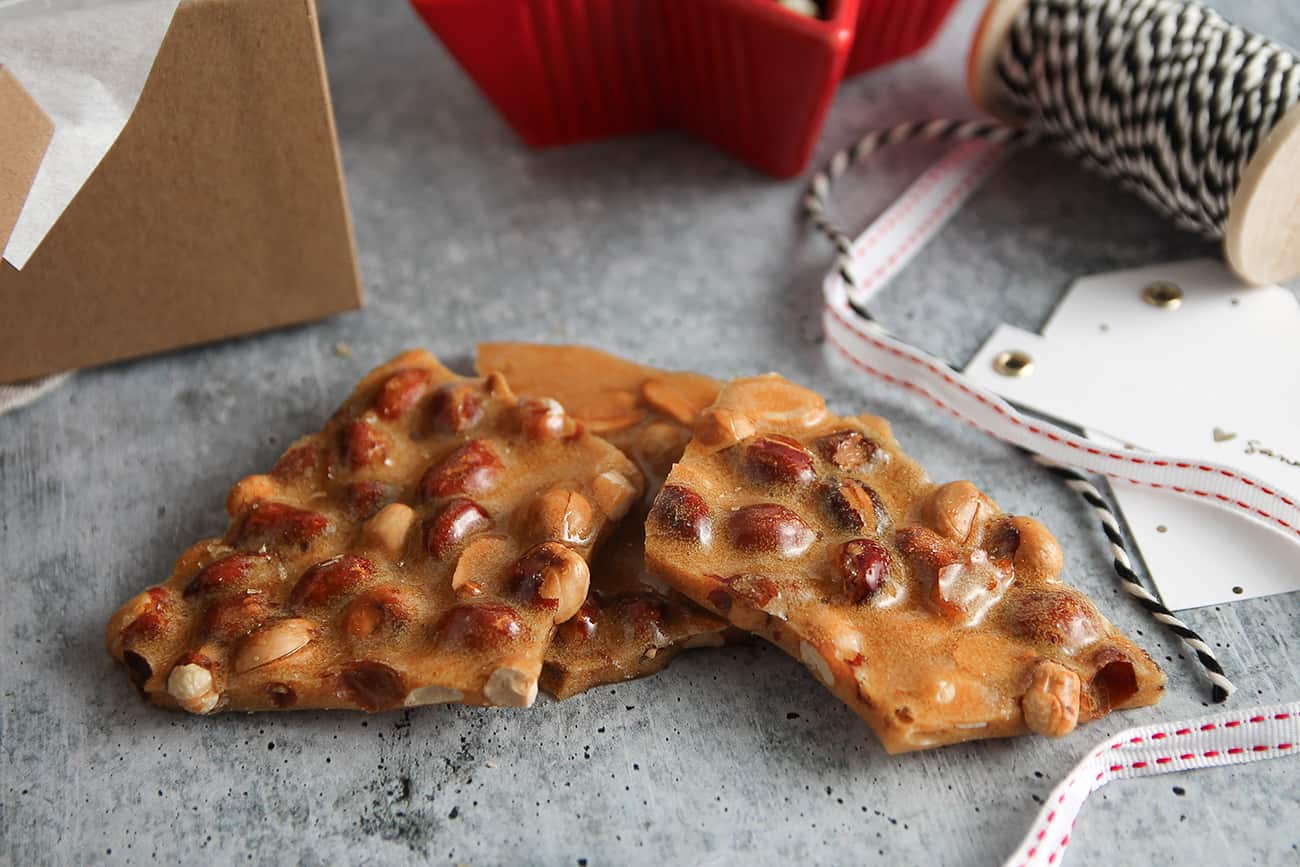 After you've prepared your ingredients and greased your sheet pan, you can get started cooking!
Cook the corn syrup, sugar and water to 230℉. Then add the raw peanuts and continue cooking to 300℉. Immediately remove from the heat, vigorously stir in the remaining ingredients, and spread the Homemade Peanut Brittle onto the sheet pan.
After the candy cools, you can break it into pieces and package it up to gift to loved ones or take along to a holiday party.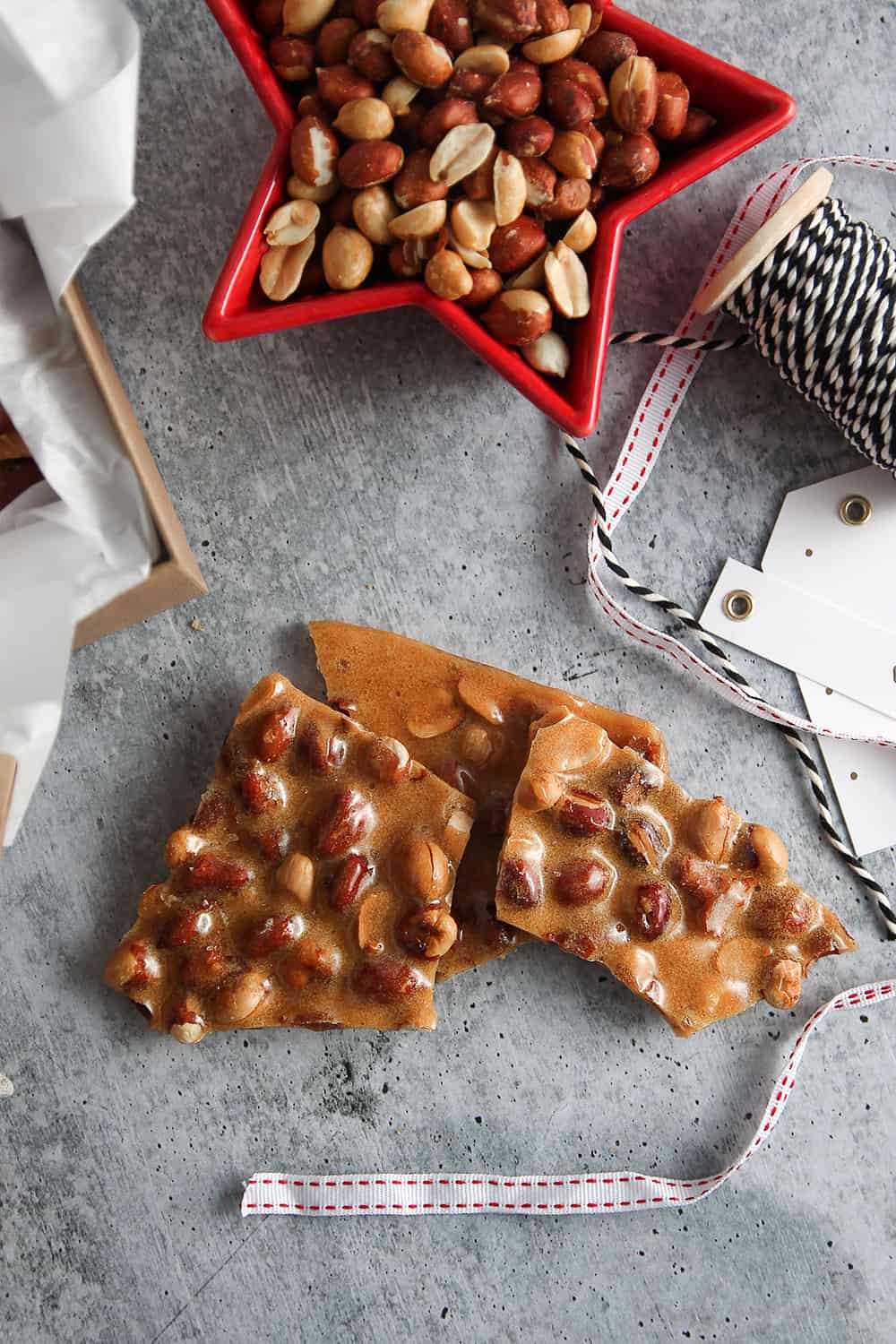 One more tip: Keep an eye on the temperature as you're cooking and don't walk away! There will be a moment when it'll feel like the temperature is taking forever to change, and then suddenly it'll seem to jump several degrees.
So just don't get distracted, ok? You'll be rewarded with the most perfect Homemade Peanut Brittle you've ever had.
And that seems like a pretty good prize.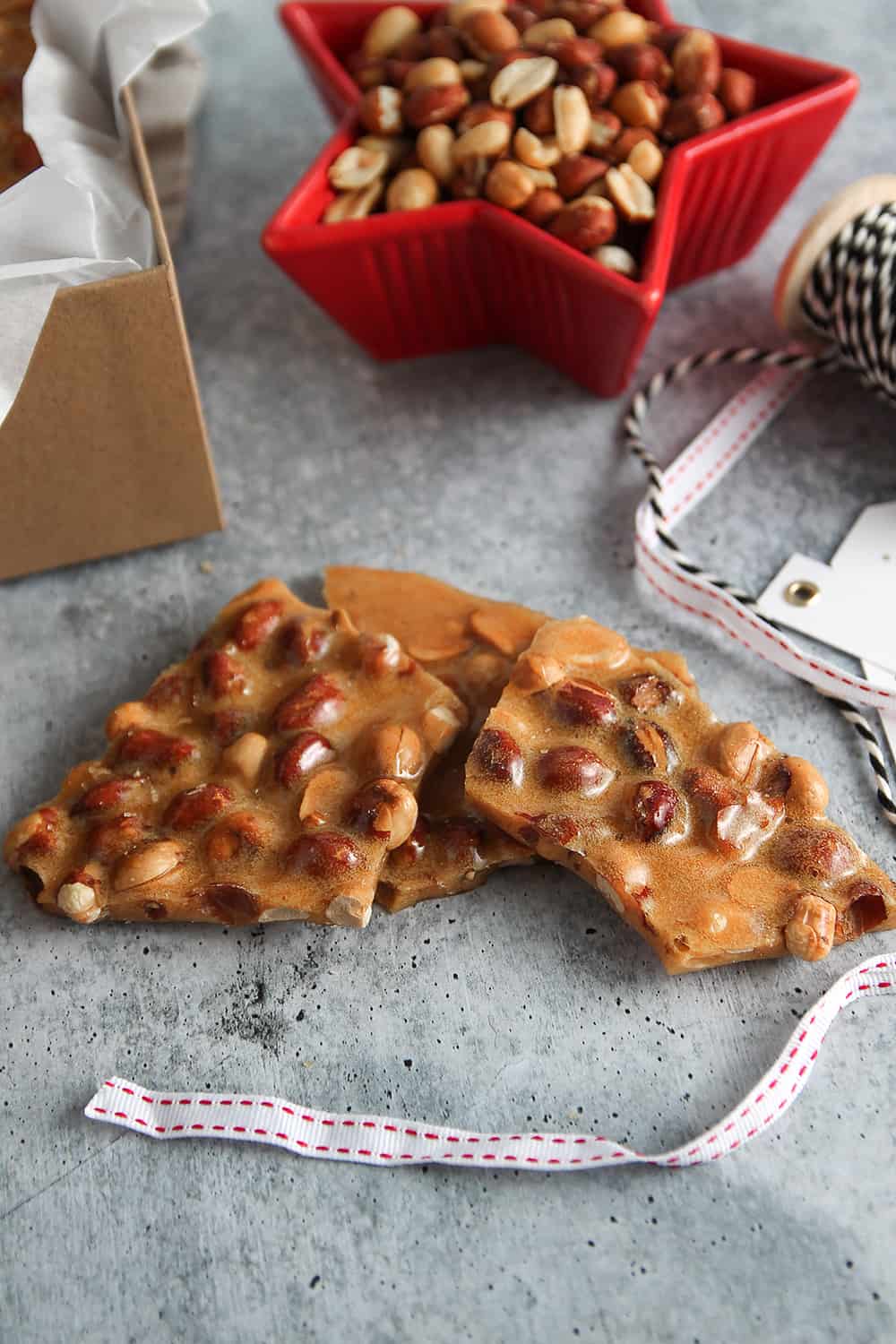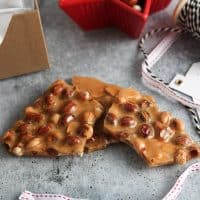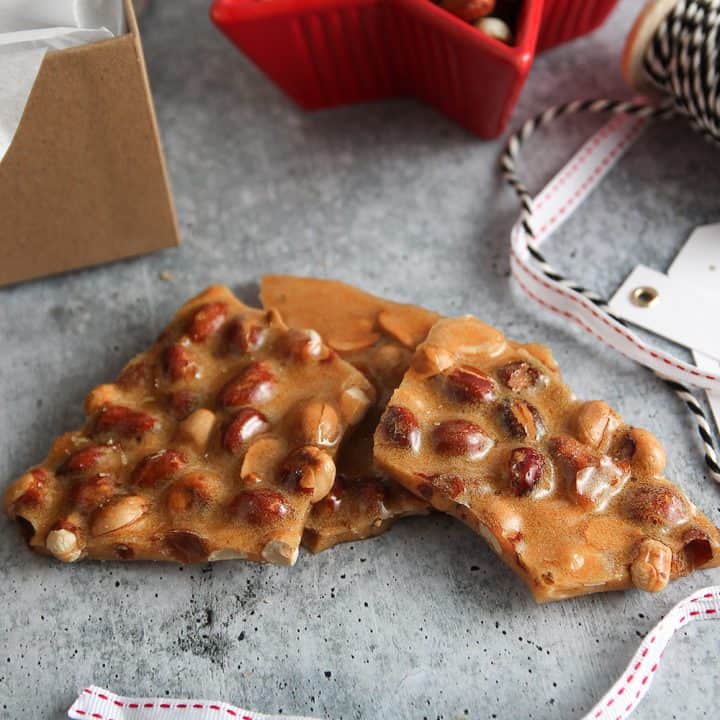 Homemade Peanut Brittle
Homemade Peanut Brittle is a classic Christmas candy. This is a recipe that your family will want to make for years to come.
Print
Pin
Rate
Ingredients
1 1/4

teaspoon

baking soda

1/2

teaspoon

salt

1

teaspoon.

vanilla

3/4

cup

light corn syrup

1 1/2

cups

sugar

3/4

cup

water

1 1/2

cups

raw peanuts
Instructions
Use butter to thoroughly grease a large cookie sheet. Set aside.

Measure out baking soda, salt and vanilla into small bowls. Set aside.

In a large saucepan, cook corn syrup, sugar and water over medium-high heat to soft ball stage (230 degrees F), stirring occasionally. Add raw peanuts. Continue to cook, stirring frequently, to the hard crack stage (300 degrees F). As the peanuts cook, they will start to make popping, cracking or whining sounds.

Remove from heat and immediately add the baking soda, salt and vanilla. The mixture will start to foam; stir vigorously until the foaming subsides. Pour the mixture onto the prepare cookie sheet, spreading it out to the desired thickness with a wooden spoon or a rubber spatula.

Let candy cool. Once hard, break into pieces and store in a tin for up to a week.
Notes
You MUST use raw peanuts in this recipe! You won't find them by the roasted peanuts, but can usually find them over in the produce section.
Nutrition
Calories:
265
kcal
|
Carbohydrates:
45
g
|
Protein:
4
g
|
Fat:
9
g
|
Saturated Fat:
1
g
|
Polyunsaturated Fat:
2
g
|
Monounsaturated Fat:
5
g
|
Sodium:
226
mg
|
Potassium:
117
mg
|
Fiber:
2
g
|
Sugar:
42
g
|
Calcium:
14
mg
|
Iron:
0.3
mg