With a perfectly sweet-tart filling and a flaky crust, this rhubarb pie is the ideal way to use fresh rhubarb from your garden or the farmer's market.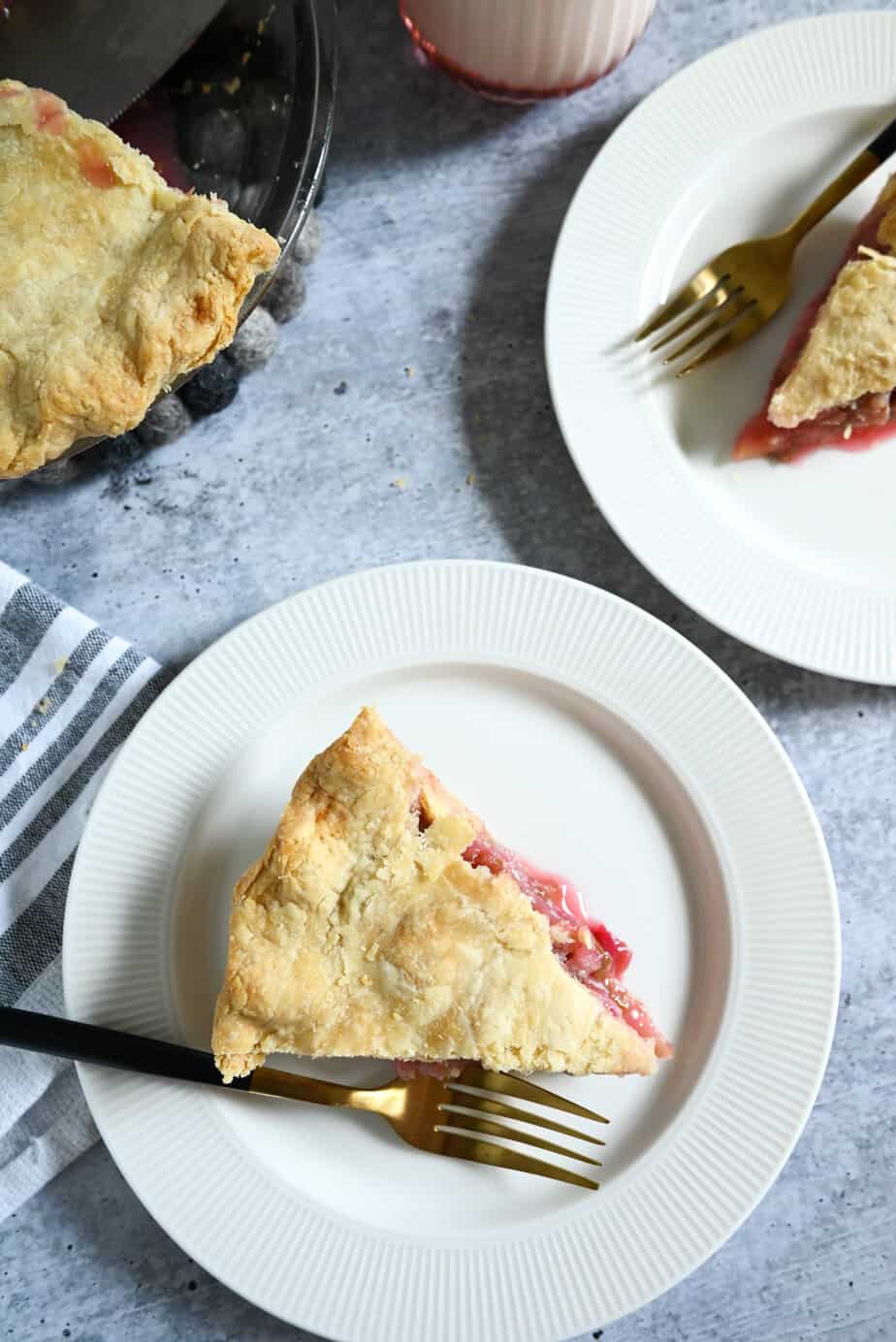 This post contains affiliate links.
When I was little, my grandmother owned and managed an apartment building. She lived on one end of the building, my great-grandmother lived on the other.
Behind the building, a walkway joined their apartments and led out to a courtyard area where my grandmother's hostas ran rampant and a small vegetable garden grew underneath my great-grandmother's kitchen window.
(This allowed her the perfect avenue for checking on the garden and bossing my grandmother around without ever having to leave her kitchen.)
Today I could not tell you what grew in that garden aside from one thing: rhubarb. I have very distinct memories of my mother and grandmother harvesting bunches of rhubarb every spring, to later be turned into pies and crisps by my mother.
Every spring I still look forward to rhubarb season. Rhubarb is in season for such a short time, but going through it without a slice (or two…or five…) of rhubarb pie is a downright atrocity.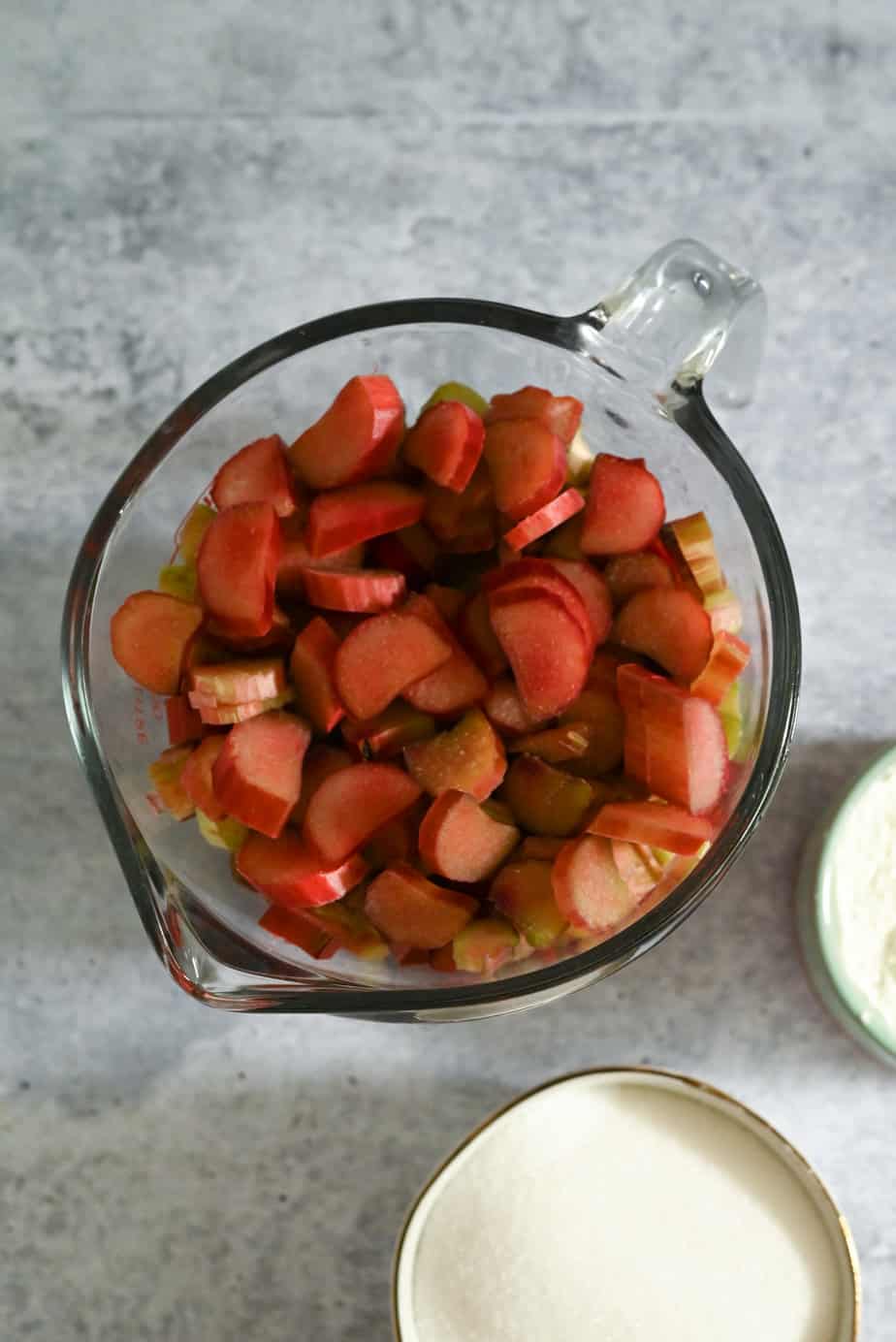 WHAT IS RHUBARB?
Even though rhubarb is commonly treated like a fruit in the kitchen, it is actually a perennial vegetable.
The edible part of the rhubarb plant is the thick, pinkish-green stalks; the leaves are actually inedible. (Seriously, don't eat them.)
Rhubarb stalks are crisp and a bit stringy, sort of like celery – although the two plants are not actually related.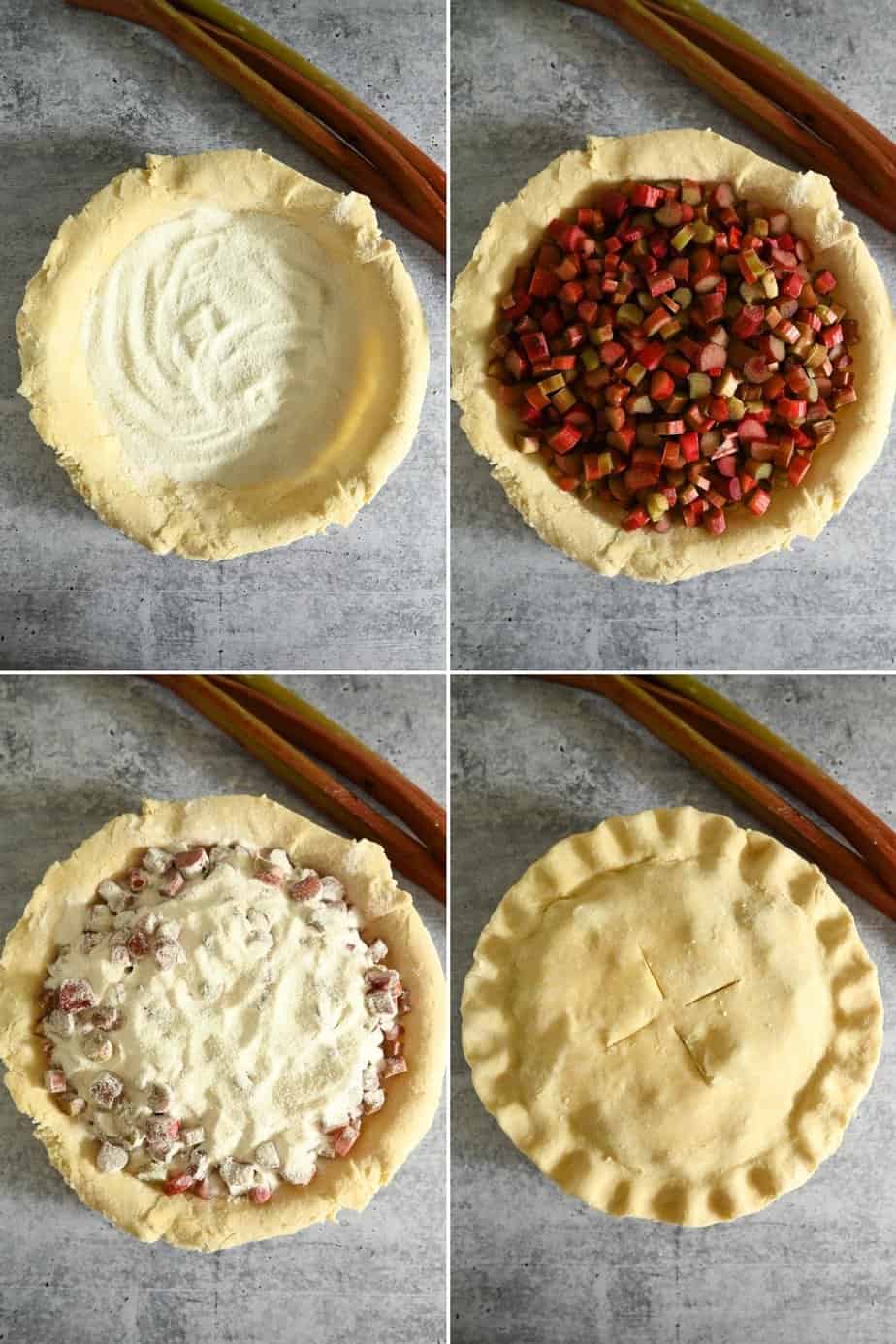 What does rhubarb taste like?
On its own, rhubarb is extremely tart.
The actual flavor is hard to describe; it just tastes like rhubarb! I once heard it described as a combination of the tart acidity of lemons, limes, and green apples, yet it doesn't actually taste like any of those things individually.
Because of its tart flavor, it's most commonly used in sweet applications where it can be mellowed by sugar and/or other fruits.
I love rhubarb in everything from pies and crisps to blueberry rhubarb muffins and cocktails, such as my friend Susannah's rhubarb champagne cocktail.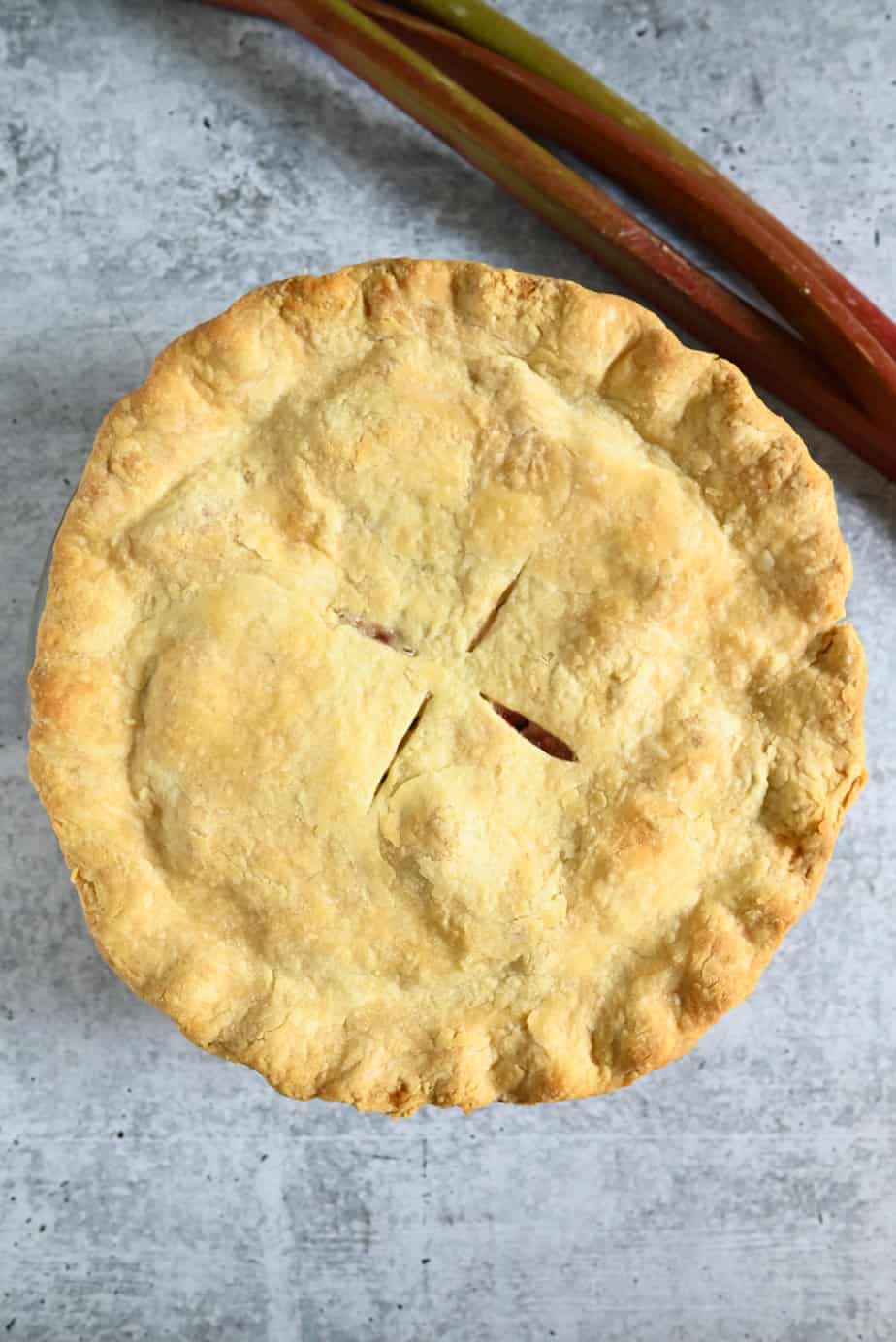 When is rhubarb in season?
Rhubarb is one of the few vegetables that really is still extremely seasonal. It's typically available between April and June.
When you find rhubarb at the store or farmer's market, I recommend stocking up! You can always freeze extra to use when it is out of season.
Cut the rhubarb into ¼-inch-thick pieces.
Lay the cut rhubarb out on a parchment-lined baking sheet in a single layer.
Place the baking sheet in the freezer for 1-2 hours, until the pieces are frozen through.
Transfer the frozen rhubarb to airtight containers or zip-top freezer bags and store in the freezer for up to 6 months.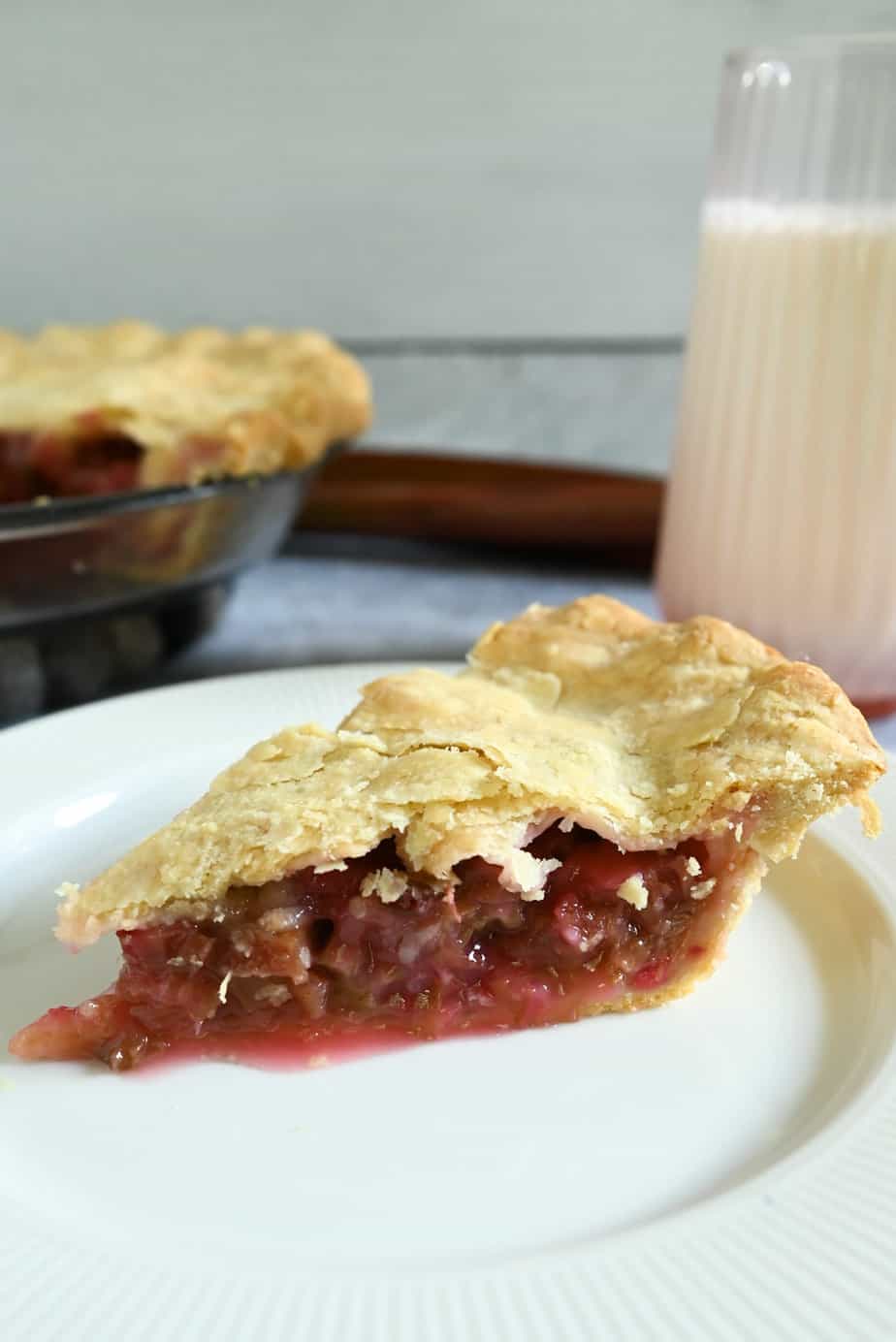 THE PERFECT RHUBARB PIE RECIPE
I know that the most common use for rhubarb is strawberry rhubarb pie, but that's not the rhubarb pie that I grew up eating.
I think I was actually in my teens before I even had strawberry rhubarb pie. At our house, my mom always made classic rhubarb pies and crisps – just rhubarb, no extra fruits.
Sometime after I moved into my first apartment, Momma was poking around online and came across a new (to us) method for making rhubarb pie:
Instead of mixing the flour and sugar with the rhubarb prior to baking, you sprinkle a flour-sugar mixture on top of the rhubarb.
We tried it out and the end result was amazing: a sweet-tart filling with the perfect consistency – not runny at all – and a crispy crust.
It really is the perfect rhubarb pie recipe.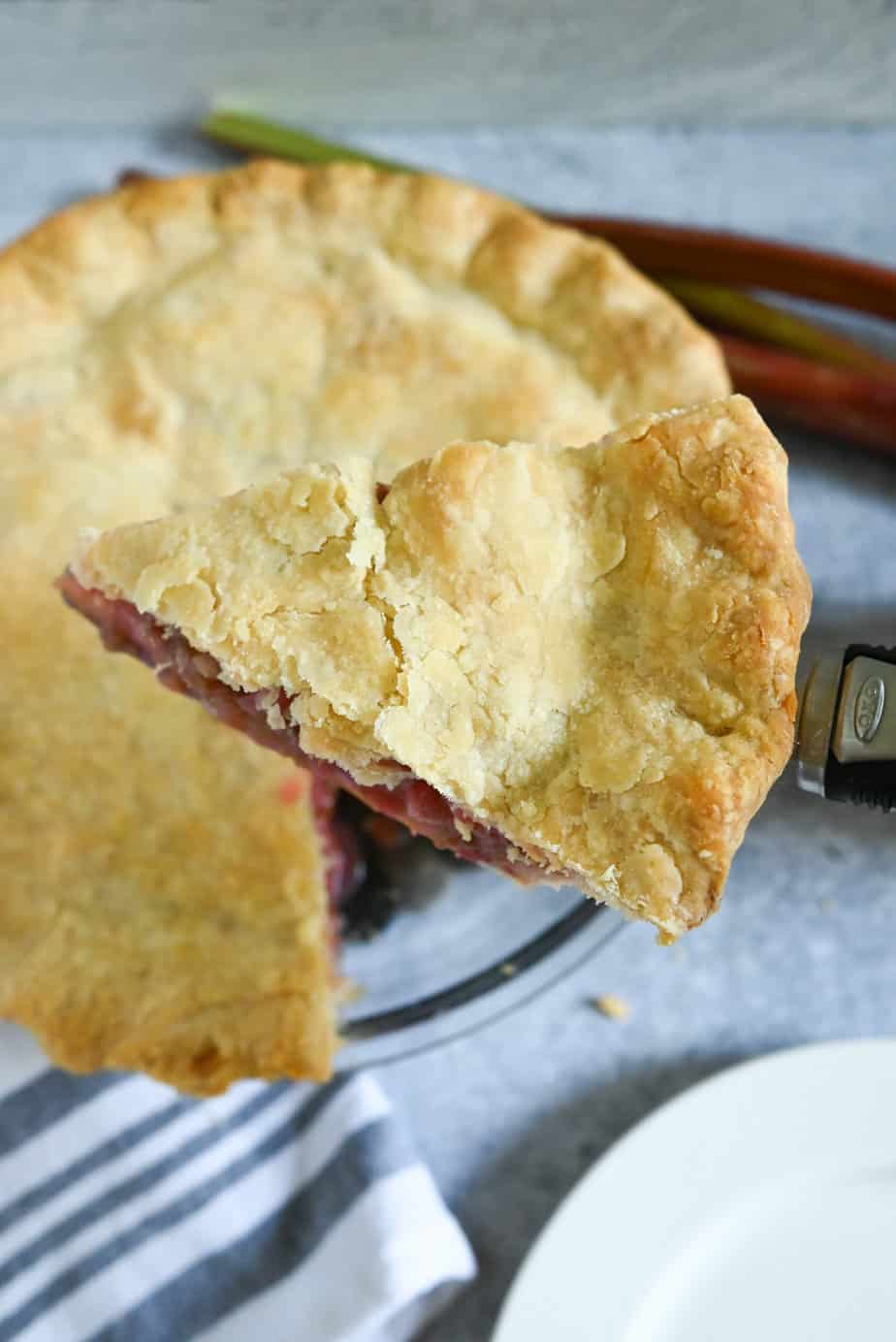 HOW TO MAKE RHUBARB PIE
Since rhubarb is so seasonal, rhubarb pie isn't like sweet potato pie or crumb-topped apple pie or other fruit pies; you can't just whip it up any time of year.
So don't sleep on making this pie as soon as you see those first stalks of rhubarb!
Recipe ingredients
You'll only need 4 things to make this simple yet flavorful pie:
Pie crust for a double-crust pie
A generous 4 cups of chopped rhubarb
1 ⅓ cups of granulated sugar
6 tablespoons of all-purpose flour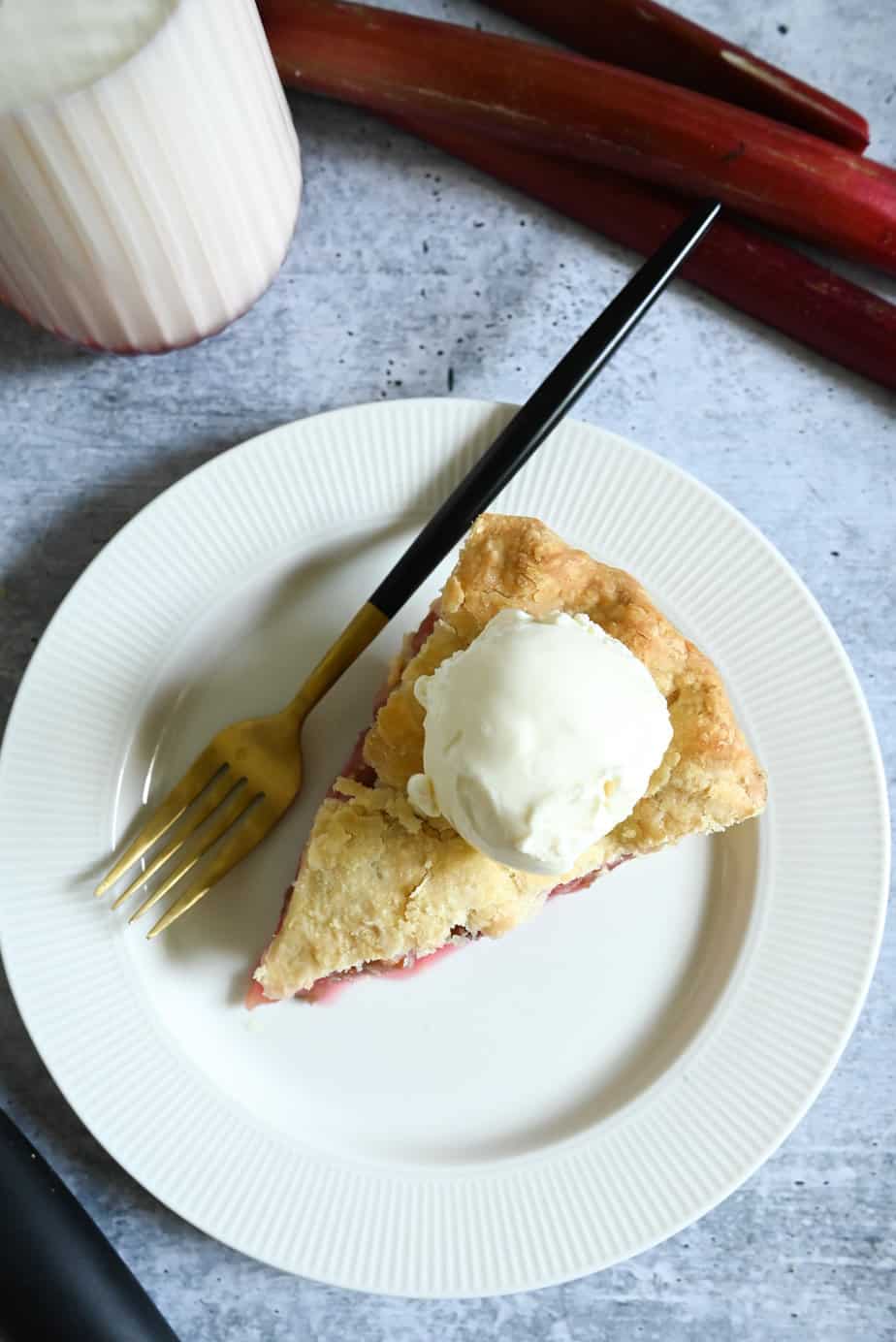 You know that I always use my homemade pie crust, but you can use your favorite premade pie crust if you like. I won't judge!
Don't think that because the filling is just rhubarb, sugar, and flour that it won't be incredibly flavorful. Rhubarb really packs a punch, and this pie lets the true flavor of the rhubarb really shine through.
If you are making this pie with frozen rhubarb, do not thaw the rhubarb first. Add it to the pie while it is still frozen.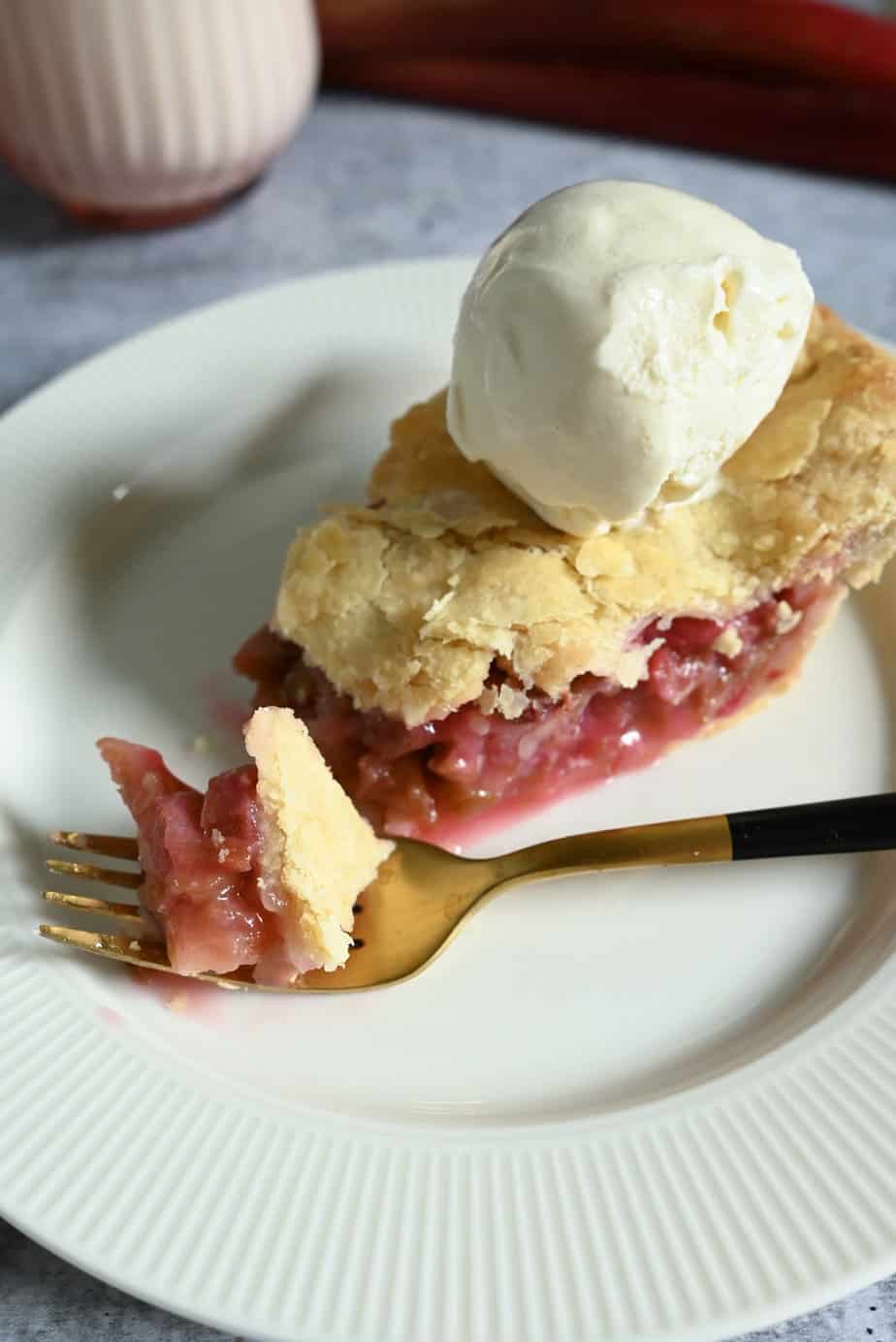 Making this recipe
The first thing you'll need to do is move a rack to the lowest position in your oven while it preheats.
Baking the pie on the lowest rack is important for this recipe – it helps the bottom crust crisp up nicely. No soggy bottoms here!
Stir together the sugar and flour in a bowl. Set this aside.
Roll out your bottom pie crust and place it in a 9-inch pie plate. Sprinkle ⅓ of the flour-sugar mixture over the bottom of the crust, then place the chopped rhubarb on top.
Top evenly with the rest of the flour-sugar mixture. Roll out the top crust and place it on top, fluting and crimping the edges closed.
Cut a few slits into the top of the crust to allow steam to escape.
I like to place the pie on a baking sheet within the oven, just in case the rhubarb gets extra juicy and spills over the edge of the pie. It's rare, but it can happen!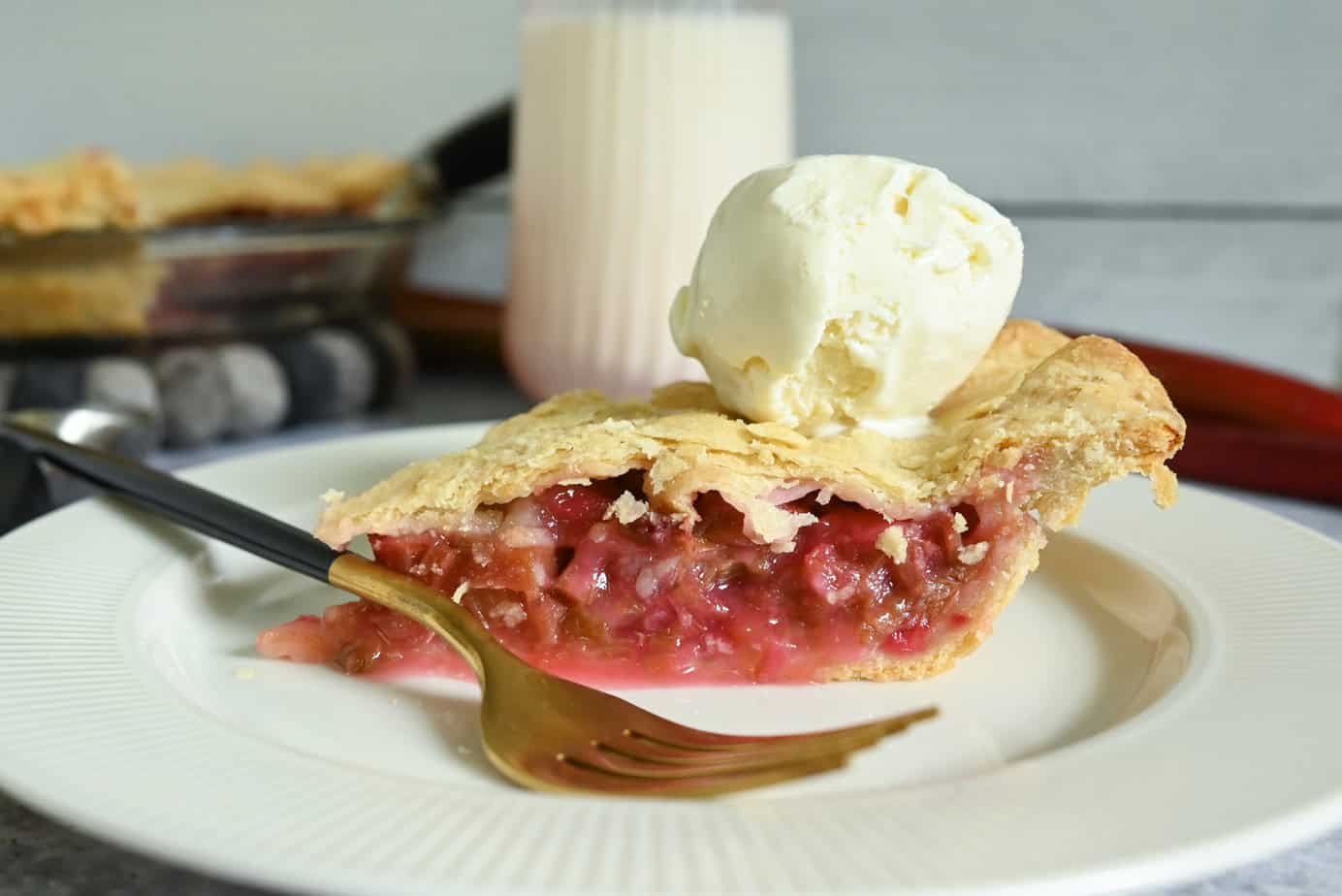 Bake the pie on the bottom rack for 15 minutes at 450°F, then lower the oven to 350°F and continue baking it for 40-45 minutes.
You'll know the pie is done when the crust is a beautiful golden color and the juices are bubbly – you'll be able to see them starting to bubble out of the slits you made.
I do recommend checking on the pie after about 30 minutes to see how the crust is browning. Occasionally the edges of a pie will get dark golden before the pie is baked. If this happens, cover just the edges lightly with foil or a pie crust shield.
Allow the pie to cool before slicing and serving with a scoop of vanilla ice cream, if desired!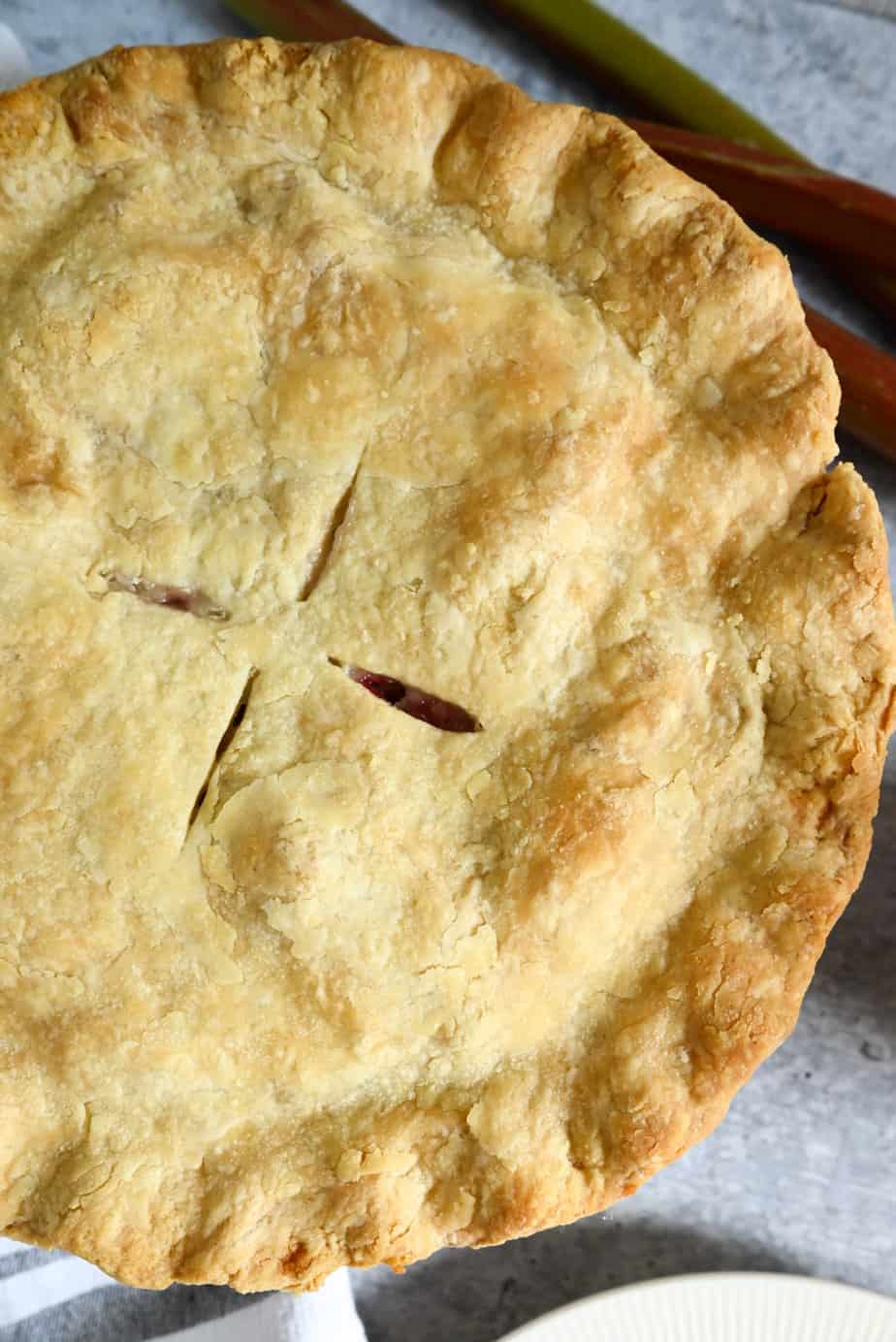 PIE STORAGE
Store your rhubarb pie covered at room temperature for up to 3 days.
The pie crust will be the crispiest and flakiest on the first day, but the pie will still taste great up to a couple of days later.I like to store my pies in a cake carrier, but they make pie carriers you can purchase for storing your pies in as well.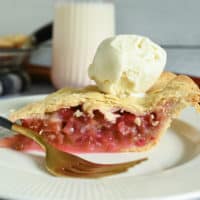 Rhubarb Pie
With a perfectly sweet-tart filling and a flaky crust, this rhubarb pie is the ideal way to use fresh rhubarb from your garden or the farmer's market.
Print
Pin
Rate
Ingredients
Generous 4 cups chopped rhubarb

1⅓

cups

sugar

6

tablespoons

flour
Instructions
Preheat oven to 450°F. Move rack to lowest position in the oven.

In a bowl, combine flour and sugar. Set aside.

Roll out half of the pastry and place in a 9-inch pie plate. Chill the bottom crust while you roll out the top crust.

After rolling the pastry for the top crust, remove bottom crust from the refrigerator. Sprinkle 1/3 of the flour-sugar mixture over the bottom crust. Pile the chopped rhubarb on top of the flour-sugar. Sprinkle the remaining sugar mixture over the rhubarb. Top with the pastry for the top crust. Trim and crimp/flute the edges.

Set pie on a baking sheet. Bake on the lowest rack for 15 minutes. Reduce oven temperature to 350°F and bake for an additional 40-45 minutes or until crust is golden and the juices are bubbly.
Notes
If you are making this pie with frozen rhubarb, do not thaw the rhubarb first. Add it to the pie while it is still frozen.
Check the pie after about 30 minutes to make sure the edges of the crust are not browning too quickly. If you find that they are, you can cover them lightly with foil or a pie crust shield.
Makes 1 9-inch pie.
Slight adapted from allrecipes.
Nutrition
Serving:
1
slice
|
Calories:
356
kcal
|
Carbohydrates:
61
g
|
Protein:
4
g
|
Fat:
11
g
|
Saturated Fat:
4
g
|
Polyunsaturated Fat:
1
g
|
Monounsaturated Fat:
5
g
|
Sodium:
177
mg
|
Potassium:
224
mg
|
Fiber:
2
g
|
Sugar:
34
g
|
Vitamin A:
63
IU
|
Vitamin C:
5
mg
|
Calcium:
62
mg
|
Iron:
2
mg