A mixture of half butter and half shortening, along with a splash of vinegar, make this pie crust perfectly tender, flaky, and delicious.
Yesterday we examined the difference between butter and shortening in pie crust. Can anyone tell me what we learned?
Anyone? Anyone?
(Name that movie.)
Ok, let's recap: Because shortening is 100% fat, it makes pie crust tender. Because butter is about 20% water, it releases steam as it bakes, making pie crust flaky. Use all shortening and you will have a much harder time achieving a flaky crust. Use all butter and your dough will be much trickier to work with.
Now, what was our solution?
Anyone? Anyone?
That's right: Use half butter and half shortening to make our crusts tender, flaky, and delicious! You get a gold star on your chart. A+.
This recipe also uses a tablespoon of white vinegar. I promise this will not affect the flavor of your crust, but it will help to keep your crust more tender/flaky because the vinegar helps prevent long strands of gluten from forming – and gluten is what makes your pie crust tough! Consider it insurance against slight over-mixing (you still want to be careful not to over-handle your dough, though).
I am not going to get deep into the depths of pie crust technique. I already covered that in my pie crust tutorial last spring, which will walk you through more of the detailed parts of making your crust than I am including below.
One important thing to note, however, is that, even though this recipe does use butter, I don't necessarily call for chilling the dough first.
This is one of the things I always liked about an all-shortening crust (no need to chill the dough before rolling – when I want pie, I want it ASAP, people!), and I have found that keeping a half-butter/half-shortening mixture continues to eliminate the need for chilling the dough.
My one small exception to this, however, is when I am making a double-crusted pie: While I work with one half, I will put the other half in the fridge, just until I am ready for it. This does keep the dough from getting too warm while you are working with the other half.
It's just one of my pie crust idiosyncrasies – I suppose when you make as many pies as I do, you are bound to have a few "rituals".
Yes, pie-making is serious business.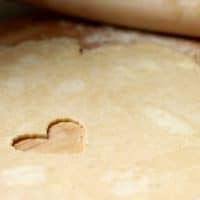 Ingredients
3

cups

all-purpose flour

1

teaspoon

salt

1/2

cup

shortening

1/2

cup

butter

chilled, cut into pieces

1

tablespoon

white vinegar

About 7 tablespoons very cold water
Instructions
In a large bowl, whisk together the flour and salt. Add the shortening and butter; use a pastry blender to cut the butter and shortening into the flour until the mixture resembles a coarse meal with a few pea-sized pieces of butter/shortening.

Sprinkle the vinegar and water over the mixture. Mix with a fork, just until the mixture holds together when squeezed in your palm - it will still look crumbly in the bowl. If your home is particularly dry, you may need to add a bit more water, 1/2 tablespoon at a time, until you reach the correct consistency.

Turn the dough out onto a floured board. Pat into a circle; cut in half. Place one half in the refrigerator while you roll out the second to fit your pie plate. Remove second half from fridge and roll out to top the pie, baking according to your recipe.

If totally blind baking, bake at 450 degrees for 8-10 minutes or just until golden.
Notes
For one single-crust pie, either halve the recipe or use half and freeze the other half for later.
Makes 1 double-crust or 2 single-crust 9-or 10-inch pies.
Nutrition
Calories:
386
kcal
|
Carbohydrates:
36
g
|
Protein:
5
g
|
Fat:
25
g
|
Saturated Fat:
11
g
|
Polyunsaturated Fat:
4
g
|
Monounsaturated Fat:
8
g
|
Trans Fat:
2
g
|
Cholesterol:
31
mg
|
Sodium:
383
mg
|
Potassium:
54
mg
|
Fiber:
1
g
|
Sugar:
0.1
g
|
Vitamin A:
355
IU
|
Calcium:
11
mg
|
Iron:
2
mg