Streusel-Topped Sweet Potato Pie combines a creamy sweet potato custard filling with an amazing layer of crunchy brown sugar streusel. Move over, pumpkin pie, there's a new dessert in town.

This past Sunday, my hometown was hit by a tornado that completely devastated the area.
My best friend and her husband live just a block away from homes that were destroyed.

A neighboring town of about 15,000 people, just 9 miles from my parents' house, had literally hundreds of homes destroyed and businesses damaged. The number of families without water, heat, power, or even a roof over their heads on Sunday night was mind-boggling. Currently, the town is closed off to help prevent more accidents.**
And yet, God is good.
All of our friends and family members are safe. Most of the damage occurred during the morning, while a lot of families were safely in church and not at home. Those whose homes were not damaged or destroyed are rallying to help provide food, water, and shelter for those who were left without.
While the damage is devastating in so many ways, there is no doubt that it could have been much, much worse.
We have so much to be thankful for, friends – not just during this season of thanks and giving, but each and every day. Let us not forgot our multitude of blessings, and let us find ways to freely give to those who are living with less.
When I was little (too young to remember this clearly), my family went through what my mother likes to call our "lean years". A regular dinner for us during this time was "hamburger surprise": essentially homemade Hamburger Helper, with the "surprise" being whether we could afford hamburger that week or not.
In the midst of this hard time, a friend from church, who happened to be a farmer, drove up to our house one day with his truck packed full of sweet corn. Turns out, he had planted too much and was having trouble getting rid of the extra. He couldn't explain why, but he just felt like something was telling him to bring it to us, though my parents had never mentioned to anyone that we were having trouble making ends meet; that sweet corn kept us from going to bed hungry many nights that winter, and my mother talks about what a blessing it was to this day.
You never know when a seemingly small act to you is making a tremendous difference in the life of someone else.
Maybe you make a donation to your local Red Cross chapter. Maybe you "adopt a family" and provide them with gifts this holiday season. Maybe you invite a neighbor to Thanksgiving dinner. Maybe you make this pie and take it to a friend that you know is having a hard time. (Or perhaps you make them this pie and a Pecan Raisin Pie – aren't two pies always better than one?)
Because honestly, when isn't Streusel-Topped Sweet Potato Pie at least part of the answer?
Filling adapted from Joy the Baker.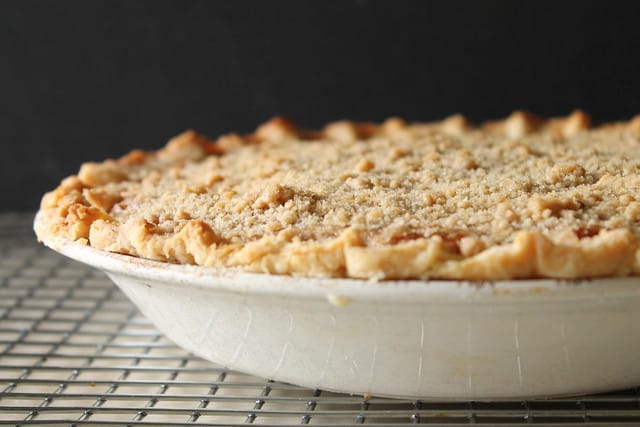 Ingredients
For the streusel:
2/3

cup

flour

2/3

cup

brown sugar

1/2

teaspoon

cinnamon

Pinch

of salt

6

tablespoons

cold unsalted butter

cut into pieces
For the pie:
1

unbaked 9- or 10-inch pie crust

2

cups

mashed cooked sweet potatoes

3/4

cup

packed brown sugar

1/2

cup

granulated sugar

1

teaspoon

cinnamon

1/4

teaspoon

nutmeg

1/2

teaspoon

ginger

1/8

teaspoon

salt

1/4

cup

1/2 stick butter, melted

1 1/4

cups

evaporated milk

5

egg yolks

1

tablespoon

vanilla
Instructions
Make the streusel:
In a medium bowl, combine the streusel ingredients. Using a pastry blender, cut the butter into the dry ingredients until butter is in very small pieces and the mixture is crumbly. Place in the refrigerator until needed.
Make the pie:
Preheat oven to 450 degrees. Place a baking sheet in the oven while it preheats.

Place the sweet potatoes, both sugars, all of the spices, salt, butter, and 3/4 cup of the evaporated milk in a medium saucepan. Cook over low heat for about 5 minutes, whisking until butter and sugar is melted and the mixture is well blended, smooth, and starts to bubble. Remove from heat and set aside to cool slightly.

In a medium bowl, beat together the egg yolks with the remaining evaporated milk and vanilla. Very slowly drizzle 1 cup of the hot sweet potato mixture into the egg mixture, whisking constantly. Pour the now-warmed egg mixture into the pot with the rest of the sweet potato mixture, whisking thoroughly.

Pour pie filling into the unbaked pie crust. (If you are using a 9-inch crust, you will have filling left over.) Top with half of the streusel mixture. Place on the baking sheet in the oven and bake for 10 minutes at 450. After 10 minutes, reduce heat to 325 and bake for 50 minutes more. When there is 30 minutes left, add the remaining streusel to the top of the pie and finish baking until the edges and center are raised and puffed and the center only shakes slightly.

Remove from oven and cool for 1 hour before slicing and serving.
Notes
Check edges of pie after about 20 minutes. If they are browning too quickly, cover the edges with foil for the remaining baking time.
Makes 1 9-inch or 10-inch pie
**More photos of the Washington, IL, destruction can be viewed HERE. Anyone interested in helping the relief efforts can donate through the American Red Cross Central IL chapter (mark donations for "Central Illinois Tornado Response") or the Salvation Army Heartland Division (mark these "November Tornado Relief"). Every little bit can help get families back on their feet this holiday season.