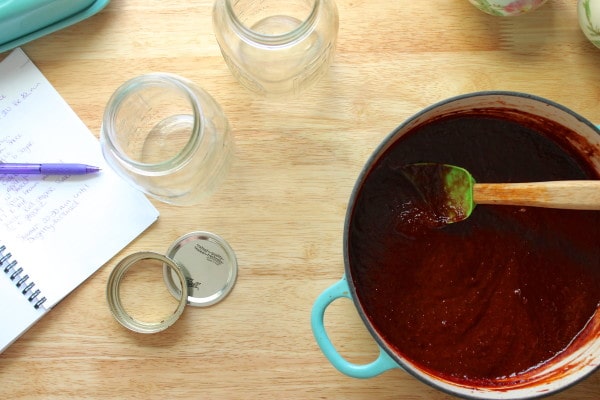 A couple of weeks ago, the fine folks over at OXO sent me an email with the following subject line: "10-lb Cherry Challenge!"
"Ok," I thought, "surely to Pete that doesn't mean they are actually wanting to send me 10 pounds of cherries…"
Actually, that's exactly what they wanted to do.
For the challenge, OXO partnered up with Northwest Cherry Growers to see just how creative some of us food bloggers could get with a boatload of cherries.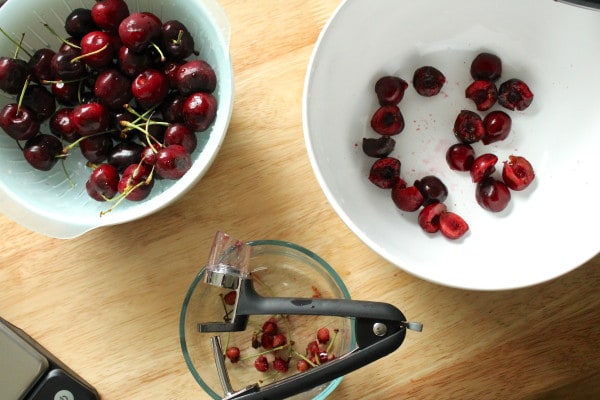 Luckily, we were also sent a couple of cherry pitters, a nesting bowl and colander set, and a food scale to help make quick(er) work of dealing with 10 pounds of cherries.
So what does one do when one receives 10 pounds of fruit in the mail? You sit your butt down in front of The Bachelorette season finale (what a drama-fest, by the way) and get to pitting. You also cover everything you own in old towels because, in spite of the nice little splatter guard on your cherry pitter, you're still likely to get cherry juice all over the dang place. And then the next day, you get to cookin'.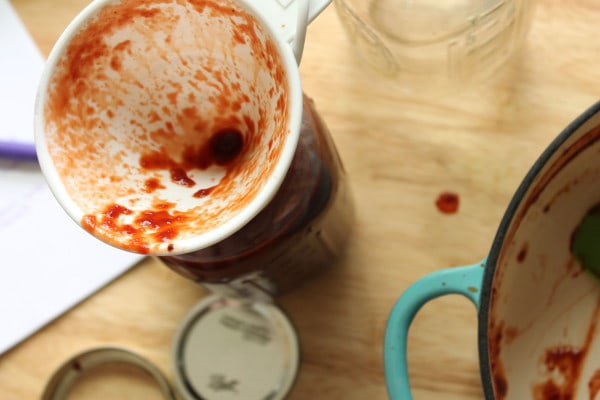 The first thing I thought of when I knew I would need to get creative in the kitchen was cherry barbecue sauce. (I blame grill-master Boyfriend for this. He's got broad shoulders, he can take it.) To take it just one step further, I roasted the cherries before adding them to the sauce. Remember those Roasted Strawberry Muffins? We're going for the same effect here with our roasted cherries – bringing out some more of their sweet flavor, and adding a bit of a caramelized edge to them before marrying them with tomato sauce, sautéed onion, brown sugar, molasses, and a whole host of other flavorful ingredients. The result is a sauce that is tangy with a rich sweetness from the roasted cherries and just a little touch of heat – and since you're making this yourself, you can boost the heat as much as you like here.
This recipe makes about 4 cups of sauce, which is plenty for packaging up in small jars and giving away…or store it in one large jar and hoard it all for yourself. Put it on chicken, pork…or be like me and eat it straight from the pot with a spoon. Heaven knows I'm not going to tell on you.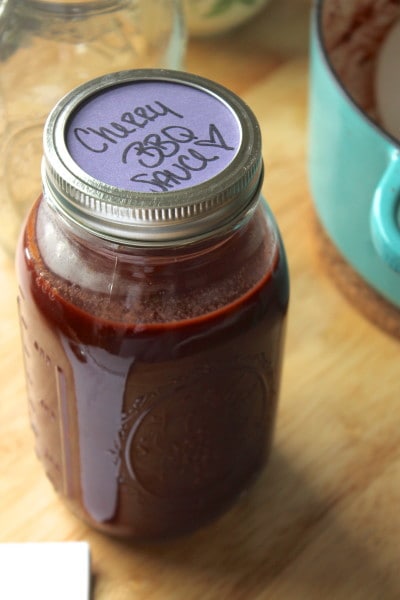 PS: Those of you good at math will notice this only used 1 lb of cherries, which still left me with 9 lbs remaining. Stay tuned to see what else I did with those suckers!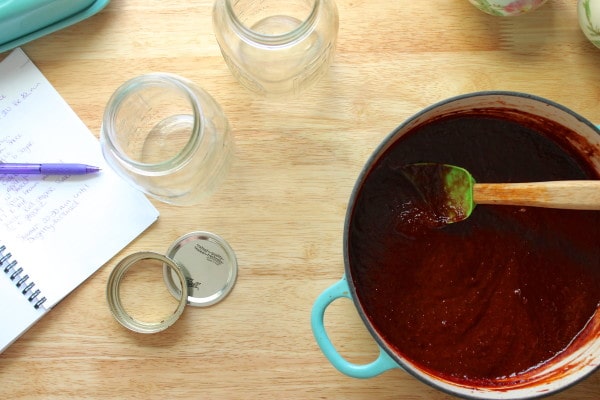 Ingredients
1

pound

fresh sweet cherries

pitted and halved (~2 cups halved cherries)

2

tablespoons

butter

1/2

large red onion

diced

2

cloves

garlic

minced

2 8-

ounce

cans tomato sauce

1/2

cup

packed light brown sugar

1/3

cup

molasses

1/4

cup

cider vinegar

1/4

cup

unfiltered apple juice

1

tablespoon

Worcestershire sauce

1

tablespoon

spicy brown mustard

1

teaspoon

kosher salt

1/2

teaspoon

black pepper

Pinch

crushed red pepper flakes
Instructions
Preheat oven to 350 degrees. Line a rimmed baking sheet with parchment paper. Place the cherries on the prepared baking sheet, cut-side up. Roast for 30 minutes. Remove from oven and set aside.

Melt butter in a large, heavy-bottomed pot over medium-high heat. Add the onion and sauté until translucent. Add the garlic and cook for another minute.

Add the cherries and remaining ingredients to the pot. Bring to a boil, then reduce heat to low and simmer for 20-30 minutes, stirring occasionally, until slightly thickened.

Remove from heat and blend using an immersion blender until smooth (or allow to cool slightly and blend in a regular blender, but always be very careful when blending hot liquids!). At this point, assess the thickness of your sauce. If you would like it to be a bit thicker, return to the heat and simmer for another 10-20 minutes until your desired thickness. Taste and add more salt or crushed red pepper as needed/desired.

Allow to cool; pour into jars and store in the refrigerator.
Notes
Add more crushed red pepper flakes to increase the heat to suit your tastes.
Approximately 4 cups of sauce
While I received the aforementioned products from OXO for this post, I was in no other way compensated for participating in the challenge.