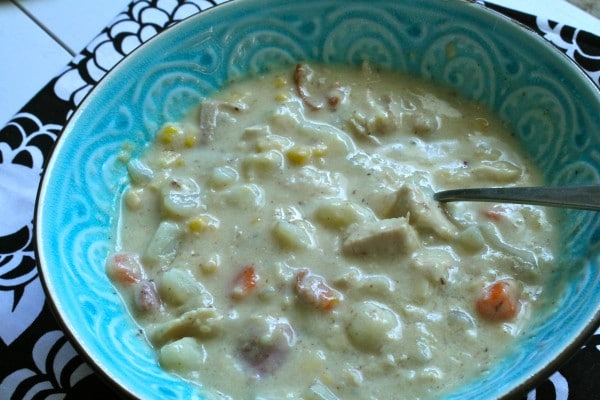 It's the new year!
And that's all I'll say about that. Trust me, you've read it all already anyway, and I'm sure you're tired of it at this point. So let's just move on with our post-holiday recovery, shall we?
You can't kid me – you might want to lose some of that holiday weight, but we all know that you don't really want to be eating salads for the rest of January. We also know that you've got some leftover turkey squirreled away in your freezer from the various recent family dinners. And to top it all off…it's cold. And what you really want is some warm, creamy soup.
My friend Julia recently made some gorgeous, creamy corn chowder that I instantly knew I wanted to make. Not only is this soup chock-full of veggies (you could even add more if you like), it also makes use of some of that leftover turkey…and the best part? There is only 1/2 cup of half and half in the entire recipe. That's right, this recipe manages to produce a creamy, delicious, comforting soup without adding significantly to your waistline. It's exactly what we need to start off this new year.
Adapted from The Roasted Root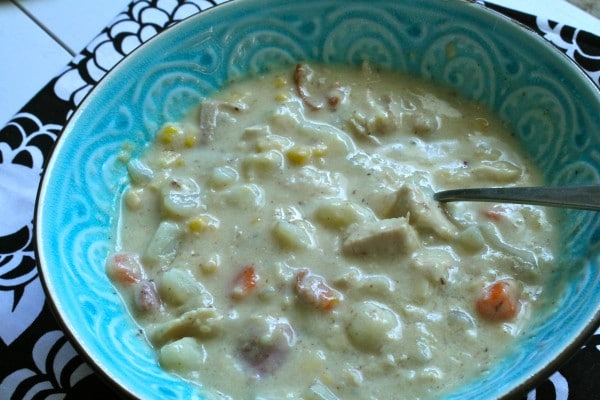 Ingredients
3

slices

thick-cut bacon

cut into pieces

1-2

tablespoons

butter

3

tablespoons

flour

1

yellow onion

diced

3

carrots

peeled and diced

1

large russet potato

peeled and diced

2-3

cloves

garlic

minced

1

bag frozen corn

1

quart

chicken broth

divided

1/2

cup

fat-free half and half

2

cups

cooked

diced turkey

Black pepper to taste
Instructions
Place about half of the corn kernels in a blender with 1 cup of the chicken broth and all of the half and half. Blend until smooth and creamy; set aside.

In a large dutch oven, cook the bacon pieces until crispy. Remove with a slotted spoon to drain on paper towels. Pour the fat into a small bowl.

Return the pan to medium-high heat. Add in about 1 tablespoon of the bacon fat and the butter. Add the onion, carrots, and potato, cooking until onion is soft and translucent. Add the garlic and cook 1 minute more.

Sprinkle the flour over the cooked vegetables and stir to combine. Cook for about 1 minute, then slowly pour in the chicken broth, stirring constantly. Stir until thickened, then add the rest of the corn, the blended corn mixture, the turkey and the cooked bacon. Reduce heat to medium-low, and simmer for 25-30 minutes, stirring occasionally, until potatoes are tender.

Add salt and pepper to taste.