Summer-sweet strawberries, goat cheese, basil, and balsamic vinegar top a thin and crispy pizza crust for a flatbread that will blow your taste buds away.
I am really into strawberries and goat cheese right now, could you tell? I mean, this is only the second time in just over a month that I have shared a savory recipe calling for sweet strawberries and tangy goat cheese. (I'm referring to my
Strawberry and Goat Cheese Freekeh Salad
, in case you're new here.)
Remember last fall when I was sent 10 pounds of fresh cherries and a bunch of fun tools from OXO to create some amazing cherry recipes? I made you Cherry Barbecue Sauce and Apple Cherry Butter and couldn't get over how much fun it was getting enough fruit for a small army delivered to my doorstep. So when the fine folks at OXO (and truly, they are some of the finest) (she said in the least creepy way possible) invited me to participate in The Incredible Hull – a similar challenge with Driscoll's strawberries – you know that I was all over that.
For our posts, we were sent a flat of strawberries and a whole passel of OXO tools to use in our recipes, including their brand new strawberry huller. I have used other strawberry hullers in the past but honestly, wasn't that blown away by them – it seemed easier to just use a paring knife.
Never again. This little sucker has "huller blades" that go into the top of the berry and grab the entire hull. Everything comes out cleanly, the strawberry stays intact, and it goes so quickly that hulling and entire flat of berries seems like nothing.
You know I wouldn't tell you that if it wasn't true.
For this recipe, I knew immediately what I wanted to do – pizza. I know, it seems weird, but trust me here. We are going to make our own easy pizza dough – I don't even use a mixer for this, I just rely on my
favorite wooden spoon
to help me get the job done – then top it with just a drizzle of olive oil, sliced strawberries, fresh basil, and crumbled goat cheese. Pop it in the oven on top of a pizza stone to get an extra crispy, perfect crust. Once it comes out of the oven, we'll top it with a bit more basil and drizzle it with some reduced balsamic vinegar.
I had a friend over to help me test this recipe, and I am not exaggerating when I say that this flatbread disappeared in about 10 minutes. There was no joking around with this one. Crispy, chewy pizza crust, sweet strawberries, tangy goat cheese, earthy basil, and rich balsamic? Excuse me, I think I need to go make another batch of this right now.
Because the folks over at OXO and Driscoll's think you're super swell, they want to offer you the chance to win some awesome prizes! Use the widget below to enter to win the following prizes, valued at $350:
$70 Gift Card to OXO.com
Driscoll's Berries for 1 Year (Coupons valued at $260)
What are you waiting for? Hurry up and enter – the giveaway ends on Friday, May 30 at 5 pm EST.
Note that I have not given you very exact measurements for the topping ingredients – Everyone likes their pizzas and flatbreads topped a little differently, so add as much as you like. Be cautious not to add too much to the top, though – the strawberries are juicy enough that adding too many could cause your flatbread to become soggy instead of crispy, which is not good eats.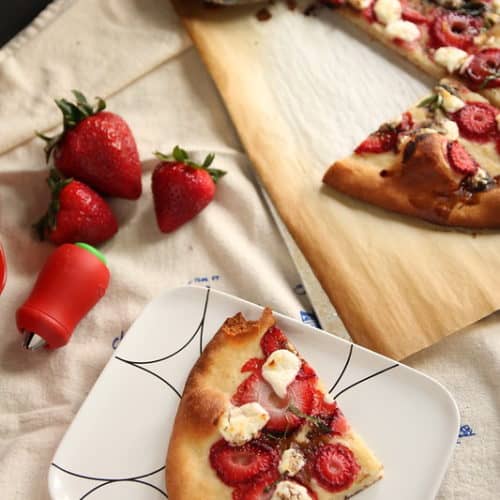 Ingredients
For the dough:
1

package

2 1/4 teaspoons instant yeast

1

tablespoon

sugar

1 1/4

cups

warm water

4

tablespoons

olive oil

3

cups

bread flour

1 1/2

teaspoons

kosher salt
For the flatbread:
1

cup

balsamic vinegar

1/2

tablespoon

olive oil

Sliced strawberries

about 1 cup

Crumbled goat cheese

about 2 ounces

Fresh basil

cut into thin ribbons
Instructions
In a large bowl, combine the yeast, sugar, warm water, and olive oil. Add the salt and flour, 1 cup at a time, stirring between each addition, until a shaggy dough forms. Turn dough out onto a well-floured surface and knead until the dough becomes smooth and elastic, 5-7 minutes.

Place dough in a greased bowl, turning to coat the top lightly with oil. Cover lightly with a tea towel and set in a warm place to rise until doubled, about 1 hour.

While dough rises, pour vinegar into a small saucepan. Bring to a boil over medium heat, then reduce heat and simmer, stirring occasionally, until the mixture has reduced to about 1/4 cup. Set aside to cool.

When dough has risen, preheat oven to 450 degrees. If using a pizza stone, place it in the oven to preheat.

Turn dough out gently onto a lightly-floured surface. Divide in half - set aside one half for pizza another time. Roll the remaining half very thinly with a rolling pin, no more than about 1/8 inch thick. Place onto a sheet of parchment paper on an unrimmed baking sheet.

Drizzle dough with olive oil and brush to lightly coat. Top evenly, but not too excessively, with the sliced strawberries, goat cheese, and some of the basil.

Using the baking sheet as a baking peel, transfer the pizza onto your preheated pizza stone. (If not using a pizza stone, just place the baking sheet in the oven). Bake for about 15 minutes, or until the crust is golden and crisp. Remove from oven, drizzle with a couple of tablespoons of the balsamic vinegar (you will have some left over), slice and eat.
I received product from OXO and Driscoll's for use in developing this recipe and post, but all opinions are my own.