Can I talk with you guys about a real problem in my life for a hot minute?
I'm terrified of finding a new hair therapist.
My hair may look all straight and wonderful in my head shots, but in reality? This:
And let me tell you something. Very few people out there actually know how to cut curly hair. Last time I went to someone new, I ended up spending $200 on a haircut that I ultimately had to get fixed about 2 seconds later. Only those of whom have had a truly bad haircut will understand the gravity of this situation.
This is a real problem, people.
I recently found myself in desperate need of a color but unable to get my regular hair therapist, which meant entrusting my hair to someone new. The stress of this was unbelievable. (The fact that I even found this situation stressful was unbelievable, but we'll leave my vanity issues for another day.) I still didn't let her cut it (you've gotta walk before you can run, you know), but I did at least leave the salon this week with my red hair refreshed and vibrant again. Problem partially solved.
Thank you for letting me get this off my chest. And now that I've bored you to death, back to our regularly scheduled programming…
Is anyone else hoarding the last of the summer sweet corn? Having grown up basically in the middle of a cornfield, I am especially appreciative of this summer blessing. Trust me, if you ever find yourself with the opportunity to buy "peaches 'n cream" sweet corn: DO IT. In fact, stock up. Cut if off the cob, bag it, tag it, and freeze it for the middle of winter. Come January, you will be so glad for your corn hoarding.
Could anything be better than creamy risotto studded with succulent sweet corn? If there is, I'll eat my hat.
Totally kidding – people with curly hair don't wear hats. I'll just eat another bowl of risotto.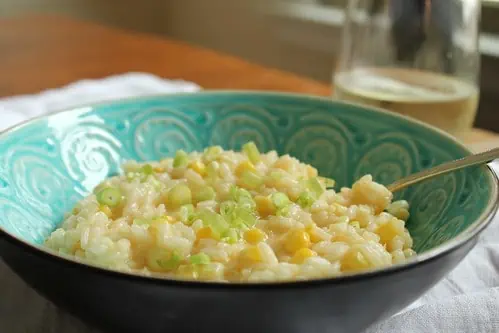 Ingredients
2

tablespoons

butter

divided

1/2

small yellow onion

diced

1

cup

Arborio rice

1/3

cup

dry white wine

1

quart

chicken or vegetable stock

1

cup

sweet corn kernels

from 1-2 cobs of corn

1/4

cup

shredded Parmesan cheese

Green onion for garnish

optional
Instructions
In a large heavy-bottomed pot or Dutch oven, melt 1 tablespoon of the butter over medium-high heat. Add the onion and cook until translucent, 2-3 minutes. Add the rice and cook another 2-3 minutes, stirring frequently.

Add the wine, and stir for about 1 minute. Reduce the heat to medium, and begin adding the stock about 1/4-1/2 cup at a time, stirring almost constantly and allowing the rice to absorb the previous addition before adding more.

When about half of the stock has been added, add the corn to the pot and continue with adding the stock as before. When most of the stock has been used, begin tasting periodically - when the rice is almost completely cooked through, add one last addition of stock, and when the risotto is still creamy, add the last tablespoon of butter and the Parmesan cheese, stirring to combine. Taste for seasoning, and serve garnished with a bit of green onion, if desired.