These pickled cucumbers are a quick and easy intro to pickling vegetables at home. These simple cucumbers are crunchy, tangy, a little sweet, and easy to customize to your own tastes!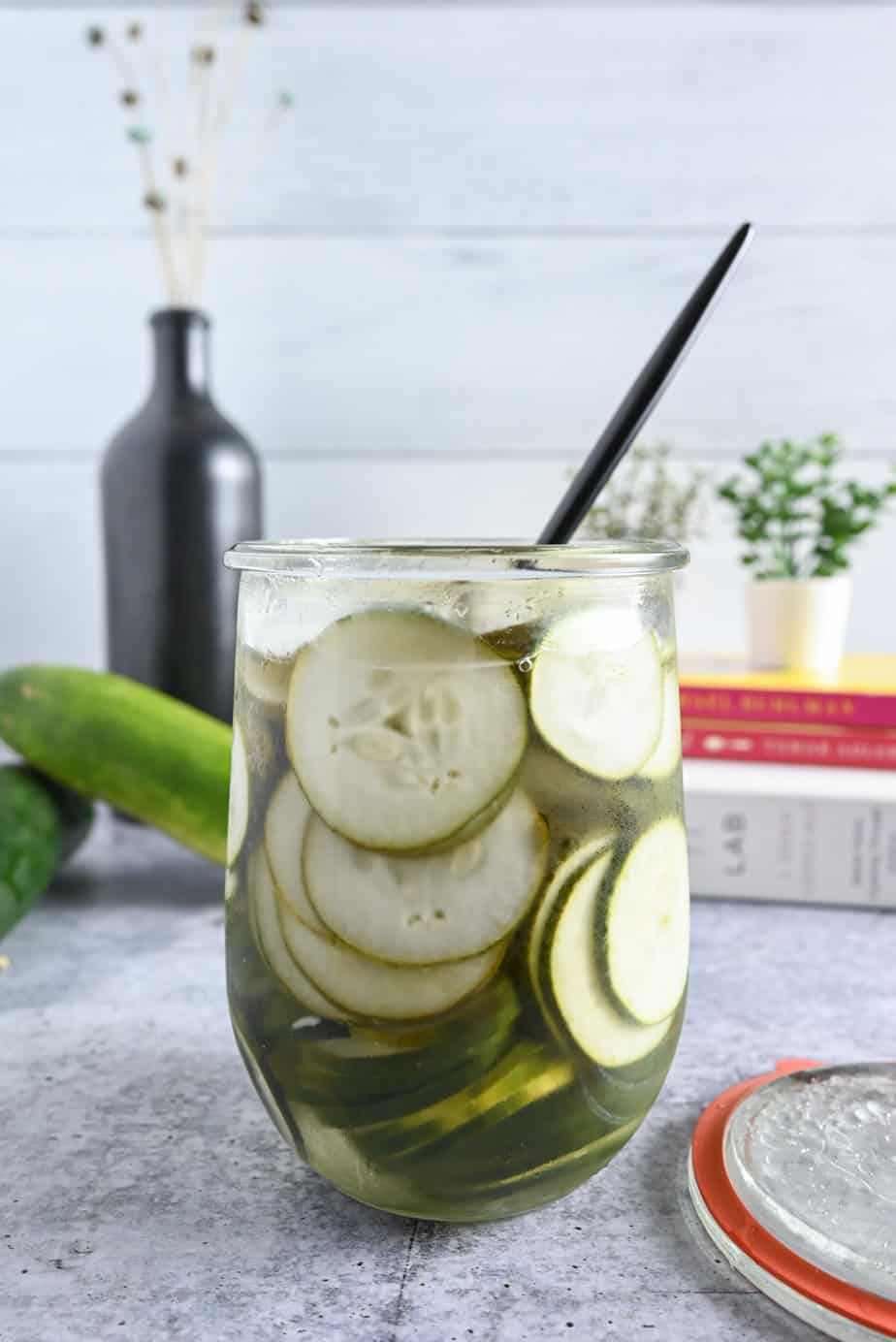 This post contains affiliate links.
My mother learned to cook from her grandmother, so she naturally collected a number of Ma-ma's recipes over the years.
This recipe for quick pickled cucumbers is one of the first recipes that I really recognized as being a family recipe as a kid.
Even now, when I think of our family recipes, my first thought isn't necessarily of her fruitcake cookies or angel food cake – it's of these simple little cucumbers.
Perhaps that's because my momma made them so often. They were one of the first things she'd make the minute fresh cucumbers hit the farm stand, and you were almost guaranteed to find a bowl of them in the fridge at all times until late September.
Pickled cucumbers may not be anything fancy, but one bite takes me back to my great-grandmother's kitchen, to my grandmother's kitchen, and to my mother's kitchen. And that's a pretty special thing.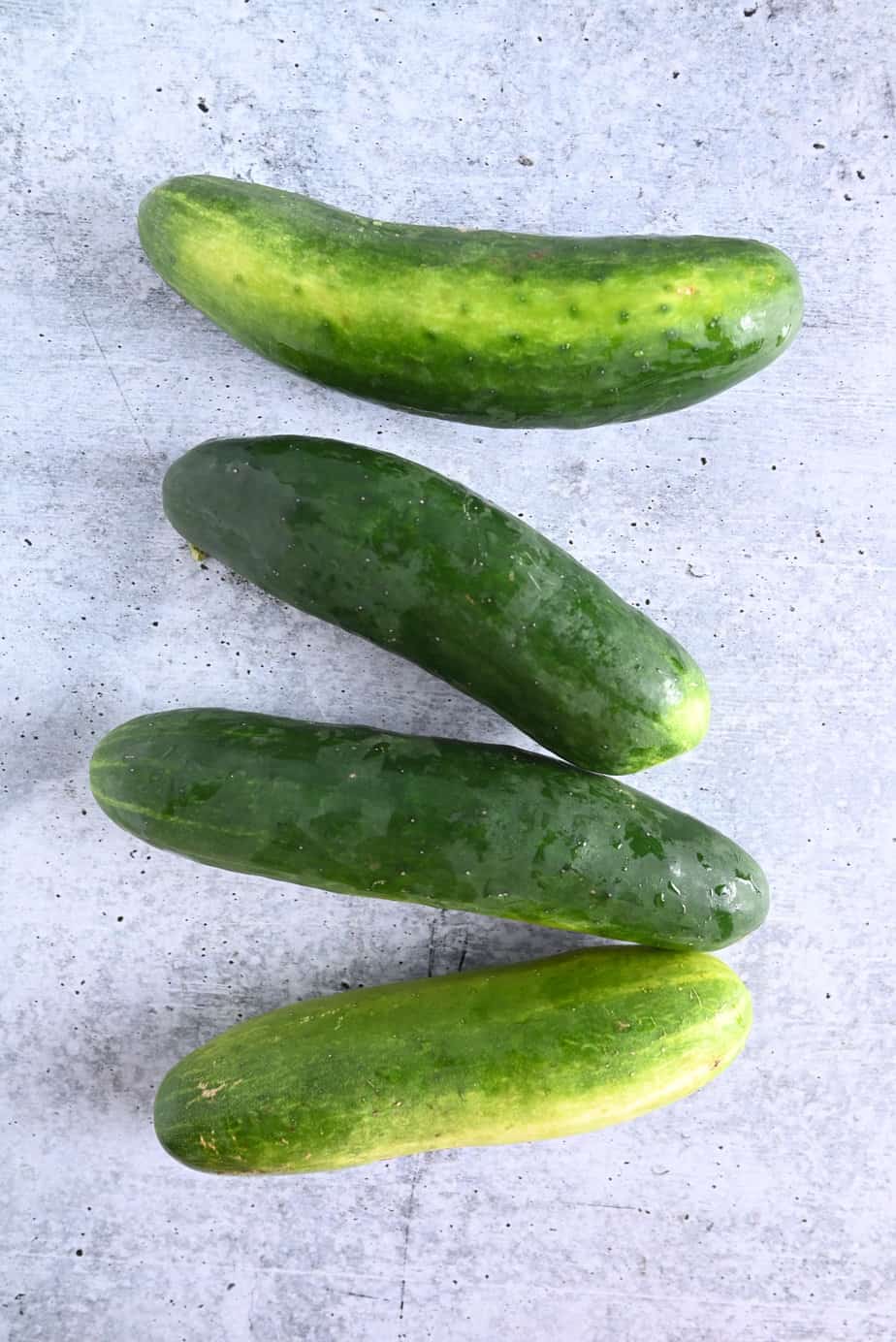 MY GREAT-GRANDMOTHER'S PICKLED CUCUMBERS
I know that you're probably looking at the name "pickled cucumbers" and thinking, "Isn't that redundant?" After all, pickles are made from cucumbers.
And yeah, you'd be right about that. But these aren't dill pickles or bread and butter pickles – they're simply…well, pickled cucumbers.
Here's what I mean: These are the simplest pickles possible. There aren't any spices or fancy vinegars or herbs added. (Although you can add things if you like. Skip down to "Recipe Variations" to learn more!)
These are a totally simple, dressed-down cucumber pickle. The vinegar brine is incredibly simple, letting the cucumbers really shine.
I am weird about most pickles; I don't really like a lot of pickles and I really don't like dill pickles, but I can never get enough of these pickled cucumbers.
They are super crunchy, super tangy from the vinegar, a little bit sweet, and super refreshing.
Oh, and super easy to make.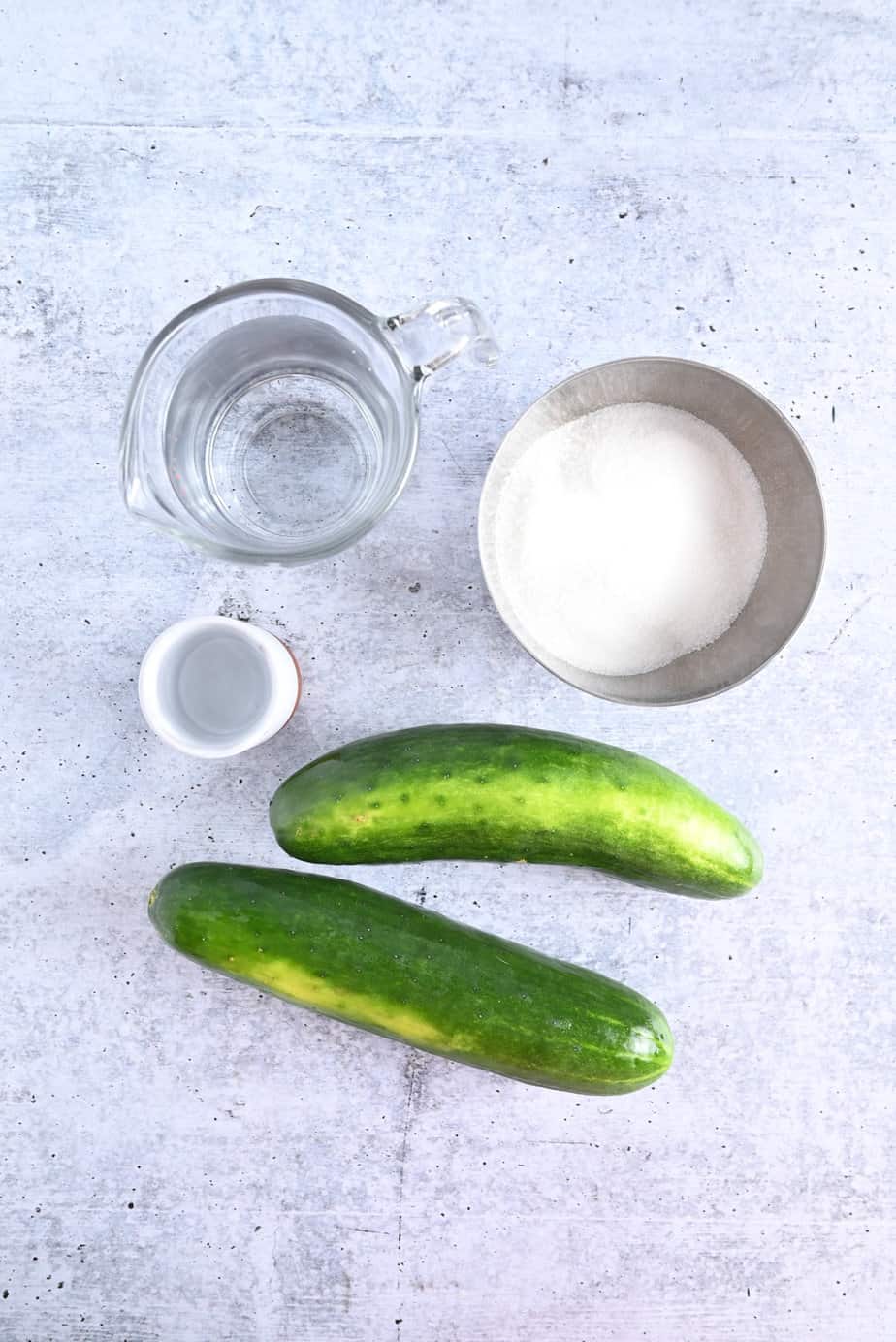 HOW TO MAKE PICKLED CUCUMBERS
Think of this as your introductory pickle recipe. Once you make these, you'll be less intimidated to try recipes like pickled garlic scapes, pickled peppers, or pickled green beans.
4 simple ingredients
You only need 4 ingredients to make my great-grandmother's quick pickled cucumber recipe:
¾ cup granulated sugar
1 cup white vinegar
¼ cup water
1-2 sliced cucumbers
As you might suspect, this is not a recipe you need to be especially precious about. We aren't going to process (can) these, so you can play it a little more fast and loose with how many cucumbers you add.
I usually use 1 large cucumber or 2 small-to-medium cucumbers for the amount of brine listed in the recipe.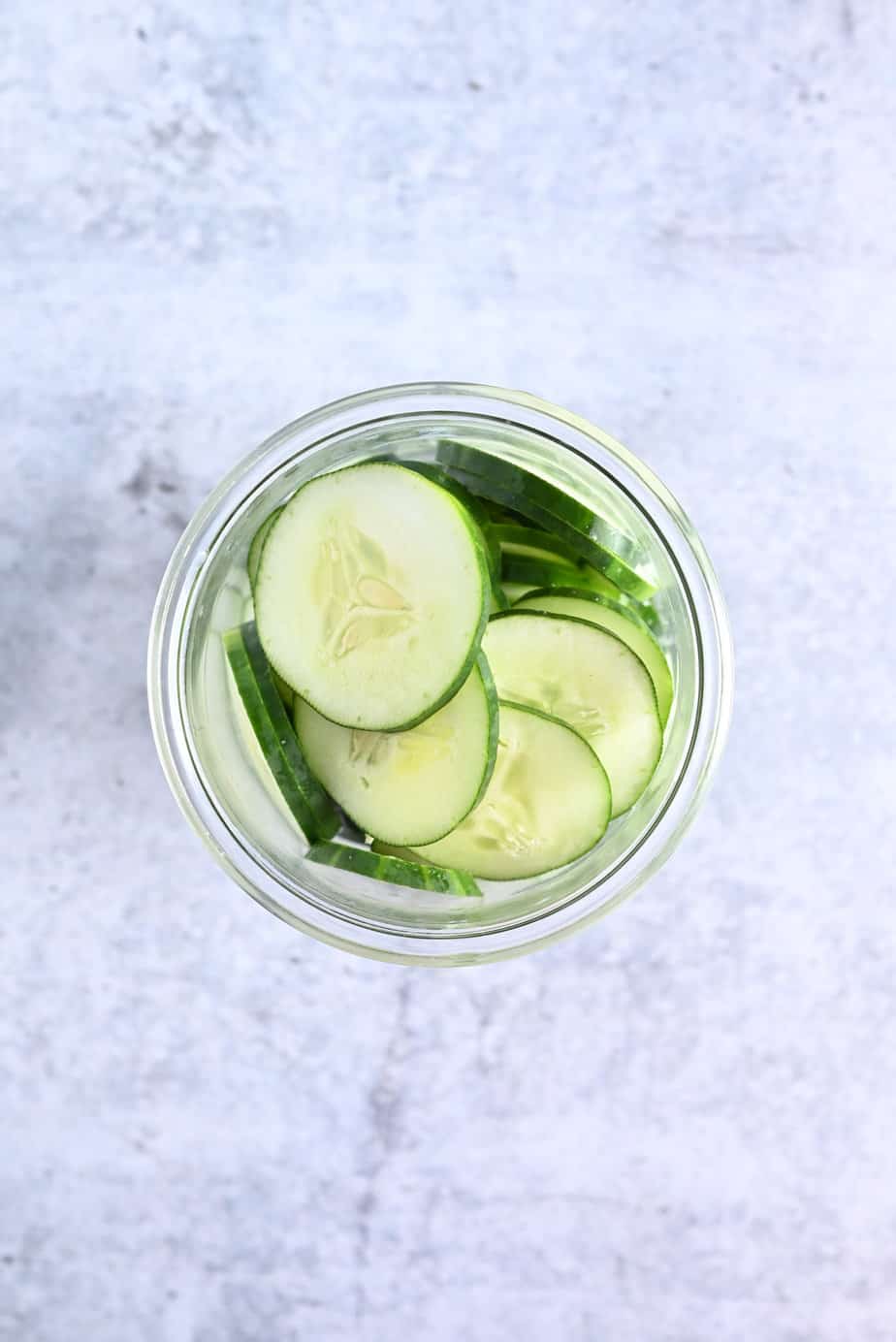 What kind of cucumbers should I use?
Again, this is meant to be a simple recipe, so you don't need to be particular about what kind of cucumbers you use here.
My great-grandmother and mother always used regular ol' American cucumbers. You could also use English cucumbers or pickling cucumbers if that's what you have on hand.
Whether or not you peel the cucumbers is up to you. I would give the cucumbers a taste first; if the skins are bitter, definitely peel them. If not, leave them on if you want!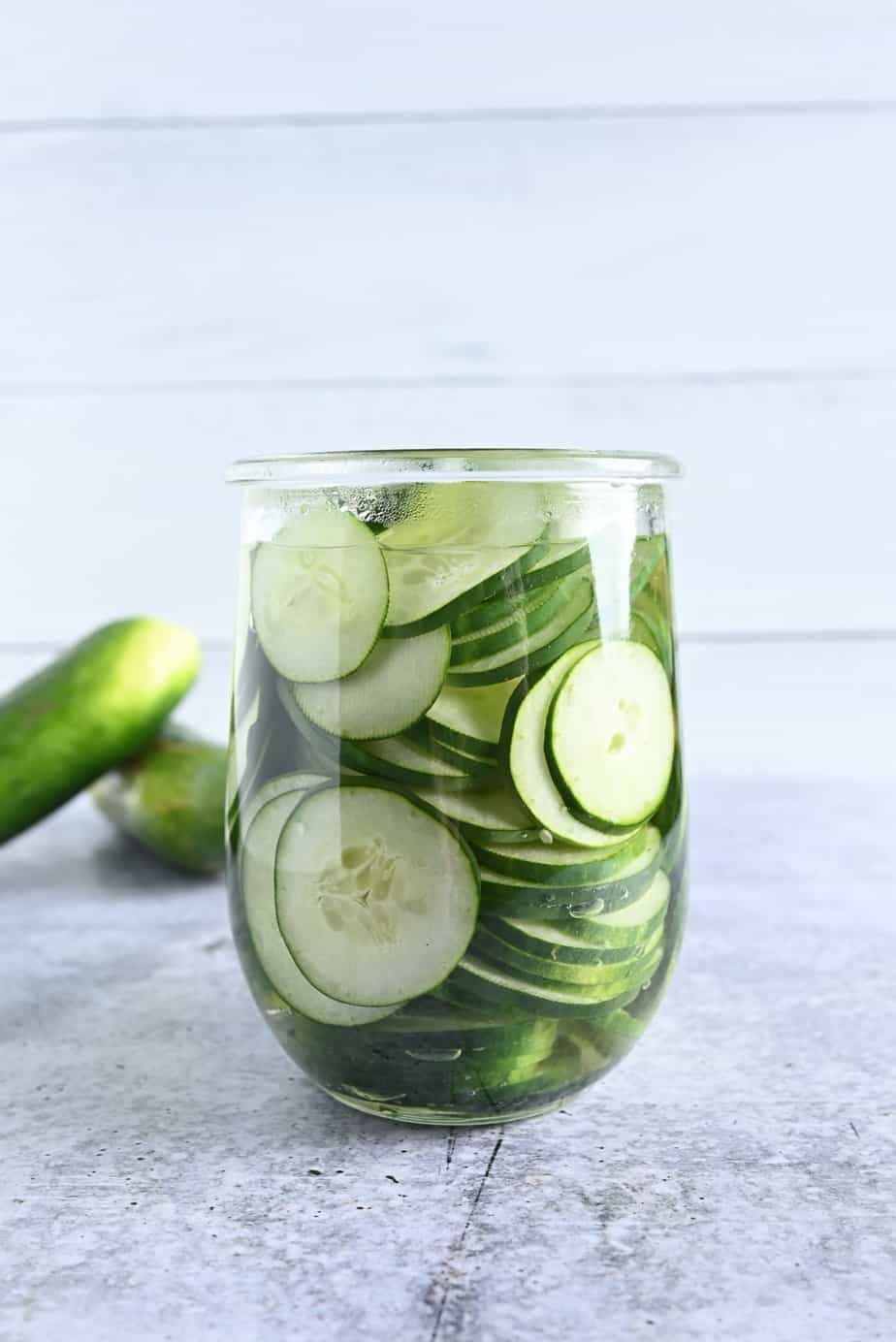 Do I need any special equipment for these?
I've got more good news for you: You don't need any special equipment to make these pickled cucumbers.
You'll need a small saucepan, a clean glass jar or bowl with a lid, and a couple of measuring cups.
That's it!
I will often use a mandoline slicer to get uniform cucumber slices, but you can use a sharp knife if that's what you have.
That's the beauty of making refrigerator pickles: you don't have to worry about getting special canning equipment! Like I said, it's a great primer to making more advanced pickles.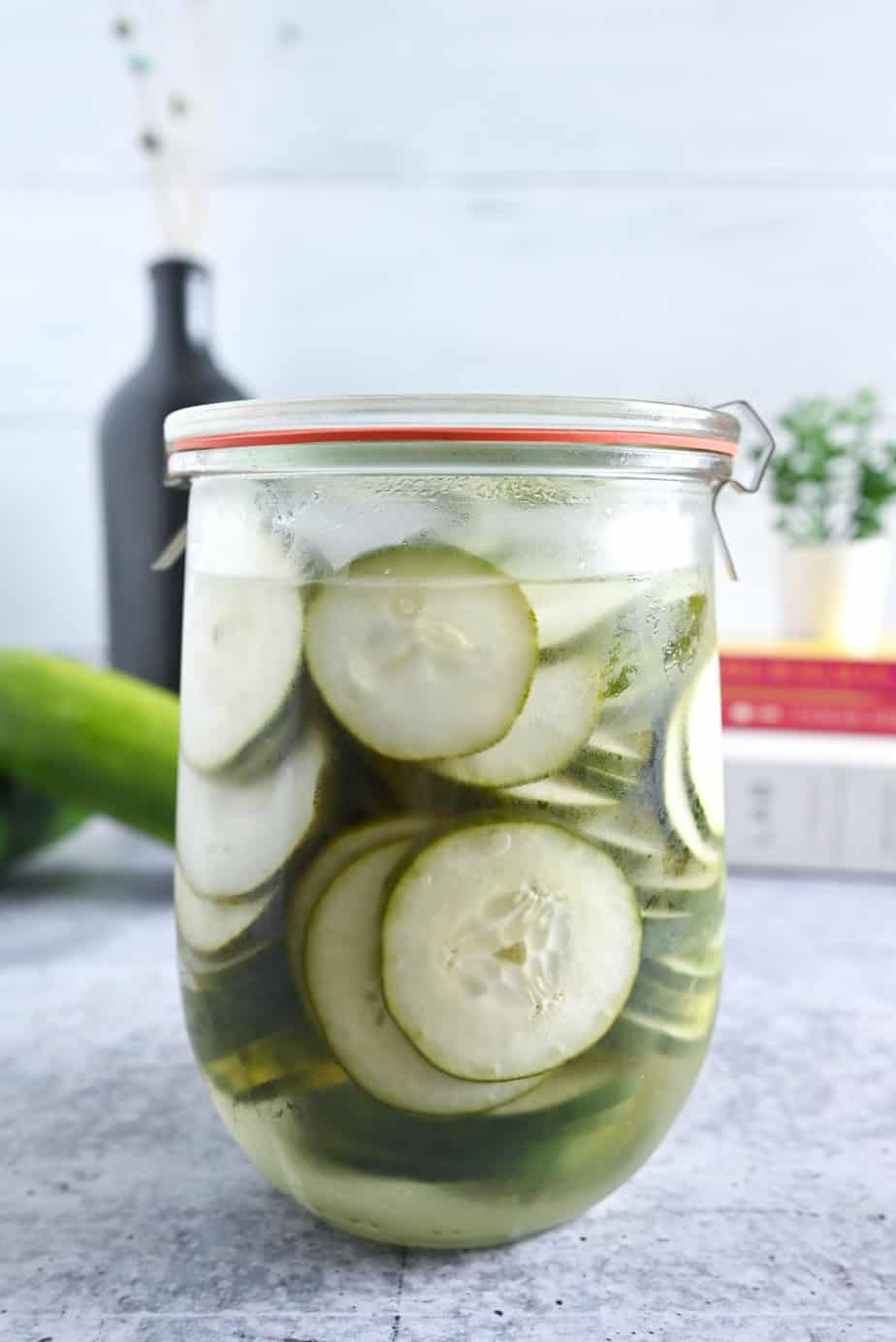 Making this recipe
Slice your cucumbers as evenly as possible. I usually like to slice mine just a bit thicker than ⅛-inch using my mandoline.
Place the slices in a clean glass jar or bowl with a lid. A jar is best for storage, but my mom always kept hers in a big bowl. Use what you have!
In a small saucepan, combine the water, sugar, and vinegar and bring this to a boil. Give it a quick stir to make sure the sugar has dissolved, then pour the hot brine over the cucumbers.
Cover loosely and cool to room temperature. Tighten the lids and refrigerate.
You can eat these within a few hours, but they're best if you let them sit for a day before enjoying. They really just get better with time!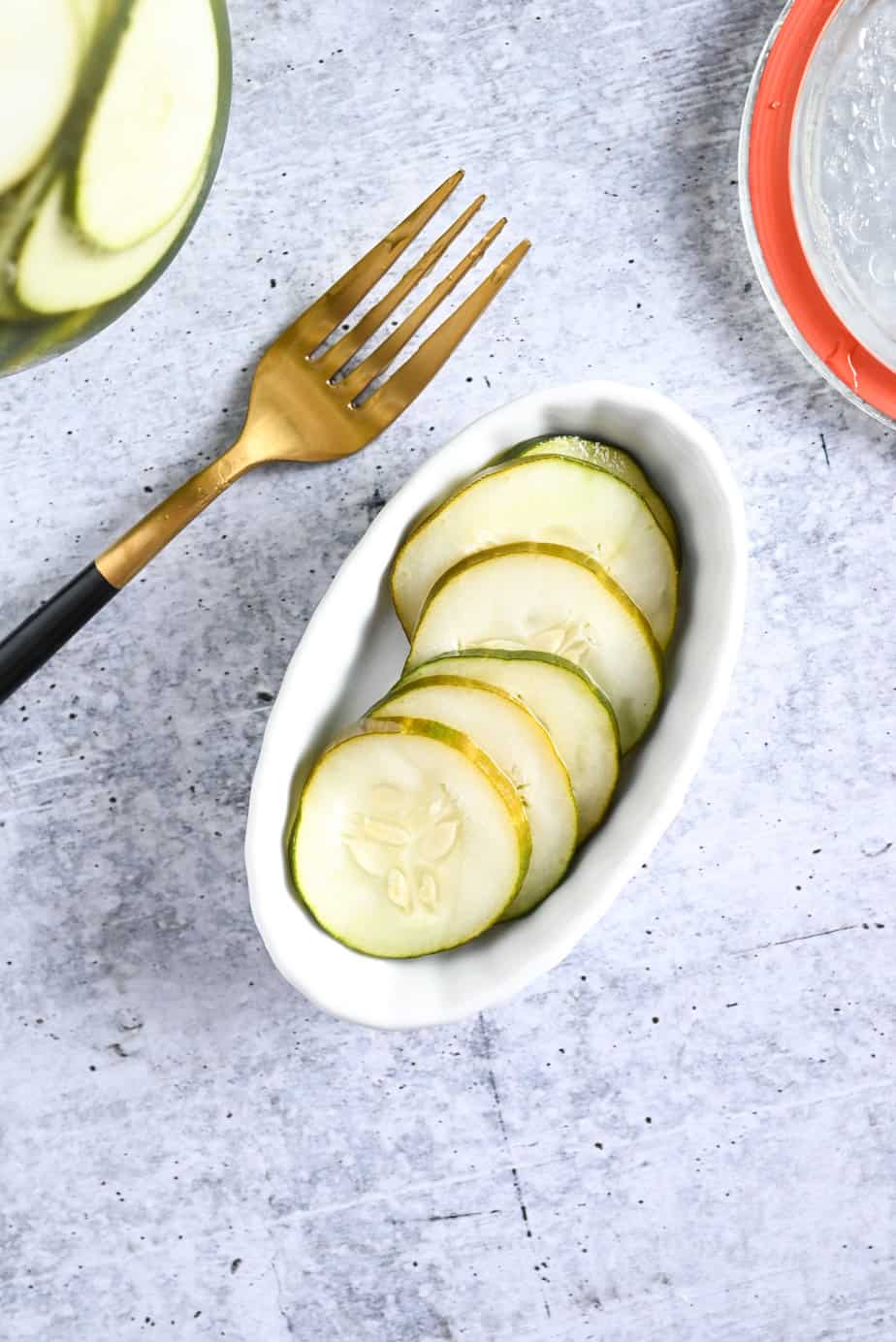 STORAGE
Since these are not processed pickles, they need to be stored in the refrigerator.
How long will pickled cucumbers last? Honestly…a very long time.
Use a clean fork to remove the pickled cucumbers from the jar and make sure the edge of the jar stays clean and they'll last almost indefinitely in the fridge, although I find that they're best within the first couple of months.
RECIPE VARIATIONS
Ok, so my Ma-ma's recipe is super straightforward: cucumbers and vinegar and not much else.
But that doesn't mean that we've never gotten more creative with these!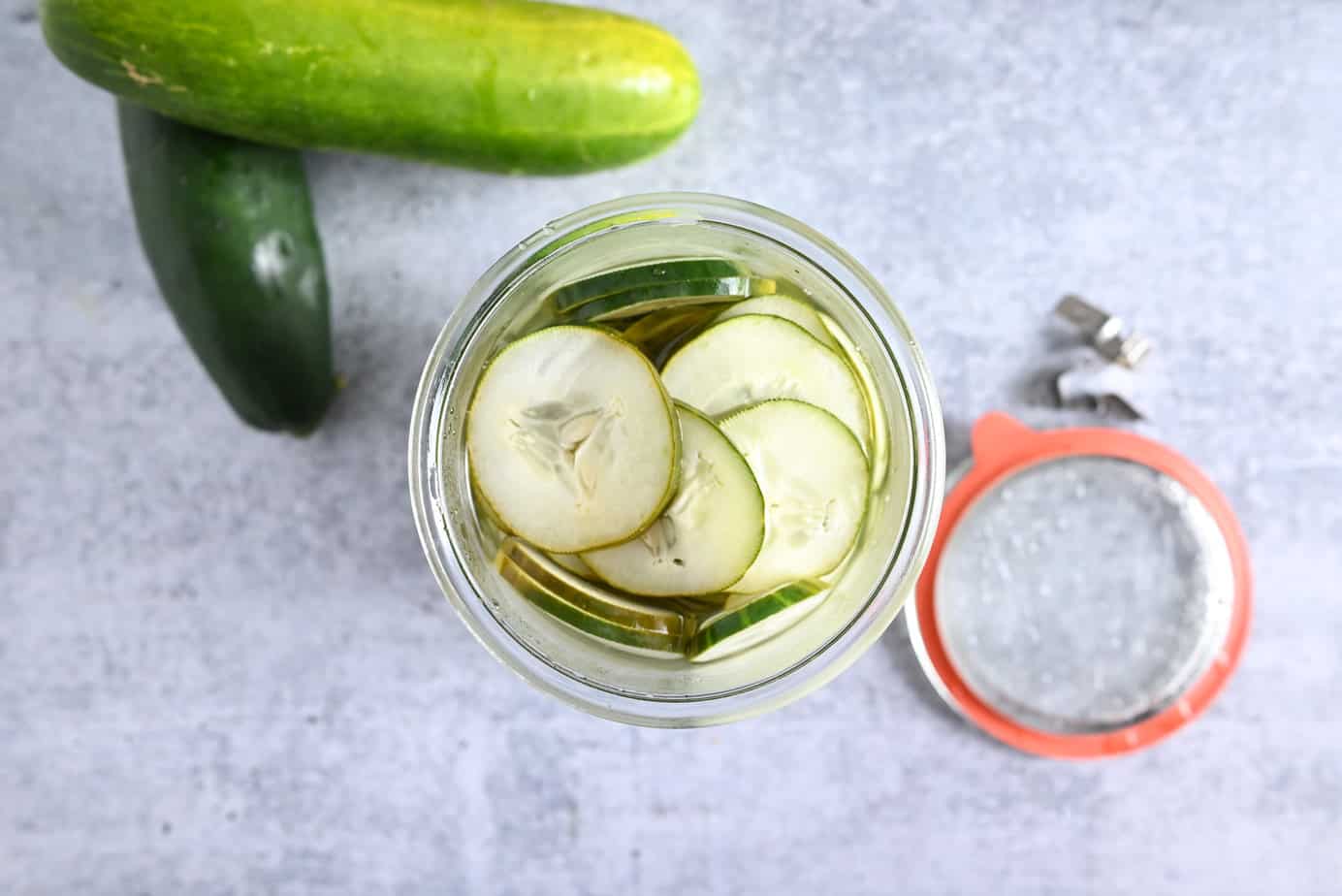 Vinegars
One of the easiest ways to customize your quick pickled cucumbers is by using different vinegars.
While white vinegar is the go-to for pickles and was the vinegar we always used growing up, there are more interesting vinegars you could try that would add more flavor to your pickled cucumbers.
Some of our favorites are:
Apple cider vinegar
Red wine vinegar
White wine vinegar
Rice vinegar (aka rice wine vinegar)
Rice vinegar is especially beloved around here for this recipe!
Additional veggies
You can also add other veggies or herbs to your pickled cucumbers.
Thinly sliced white onions or thinly sliced green bell peppers were always popular with our family. Simply replace some of the cucumbers with either or both of these and add them to the jar.
You could also add as much fresh dill as you like or even throw in a garlic clove!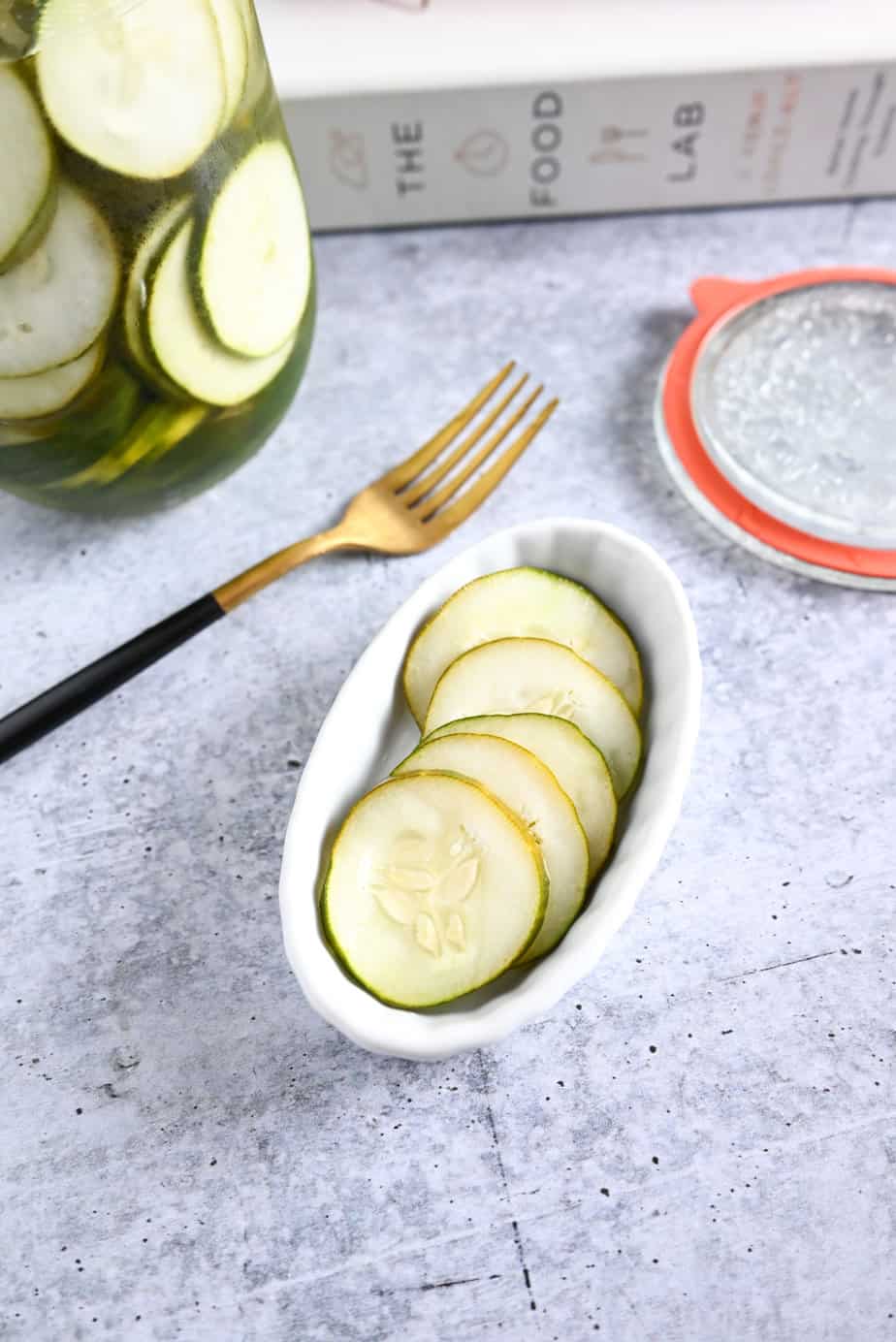 WAYS TO USE THESE SIMPLE PICKLES
Growing up, my family always ate our pickled cucumbers straight out of the bowl as a side dish, more like a cucumber salad than actual pickles.
As an adult, I still eat them straight from the jar, but I also love them on burgers and sandwiches as well. I love the crunch and tangy bite they bring without competing with the flavors of the sandwich.
They are also right at home on a charcuterie platter alongside your favorite cheeses, homemade mustards, flatbread crackers, and nuts.
If you've been looking for ways to use your bounty of summer cucumbers, I hope you'll give my great-grandmother's pickled cucumbers a try. This is a family favorite that is worth sharing.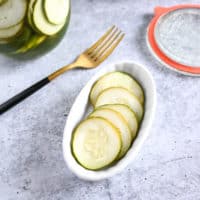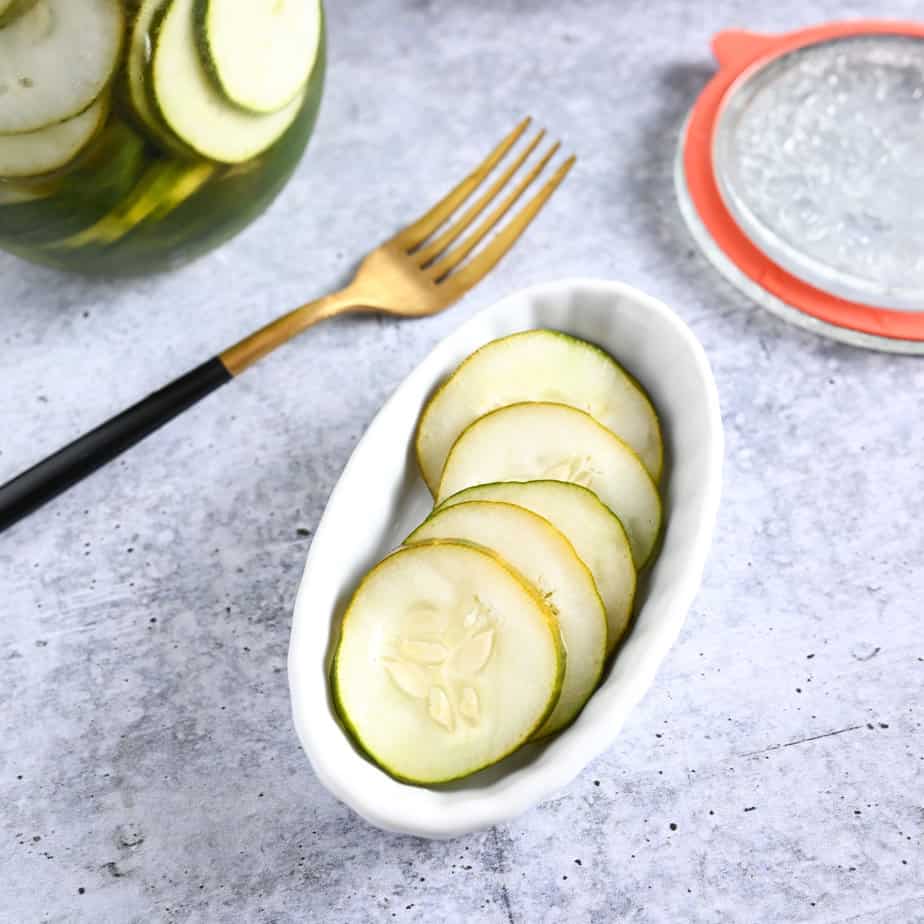 Pickled Cucumbers
These pickled cucumbers are a quick and easy intro to pickling vegetables at home. These simple cucumbers are crunchy, tangy, a little sweet, and easy to customize to your own tastes!
Print
Pin
Rate
Ingredients
¾

cup

granulated sugar

1

cup

white vinegar

¼

cup

water

1-2

sliced cucumbers

or onions, green peppers, etc.
Instructions
Place 1-2 sliced cucumbers, onions, green peppers, or any combination thereof in a jar or bowl.

Combine the sugar, vinegar, and water in a saucepan and bring to a boil. Pour over the sliced vegetables. Add fresh dill to taste, if desired. Refrigerate for several hours or overnight. Store in the refrigerator.
Notes
Makes 1 quart.
Whether you peel your cucumbers is up to you. I suggest giving the cucumbers a taste; if you find the skins to be bitter, peel them before slicing.
I like my slices to be just over ⅛-inch, but you can slice them as thick or as thin as you like.
Try swapping the white vinegar for rice vinegar, apple cider vinegar, or red wine vinegar for a different take on this recipe.
Nutrition
Calories:
82
kcal
|
Carbohydrates:
19
g
|
Protein:
0.2
g
|
Fat:
0.1
g
|
Saturated Fat:
0.01
g
|
Polyunsaturated Fat:
0.001
g
|
Monounsaturated Fat:
0.001
g
|
Sodium:
2
mg
|
Potassium:
52
mg
|
Fiber:
0.3
g
|
Sugar:
19
g
|
Vitamin A:
27
IU
|
Vitamin C:
1
mg
|
Calcium:
8
mg
|
Iron:
0.1
mg