Cranberry Cream Cheese Dip is the easiest holiday appetizer and gives new life to your favorite cranberry chutney recipe.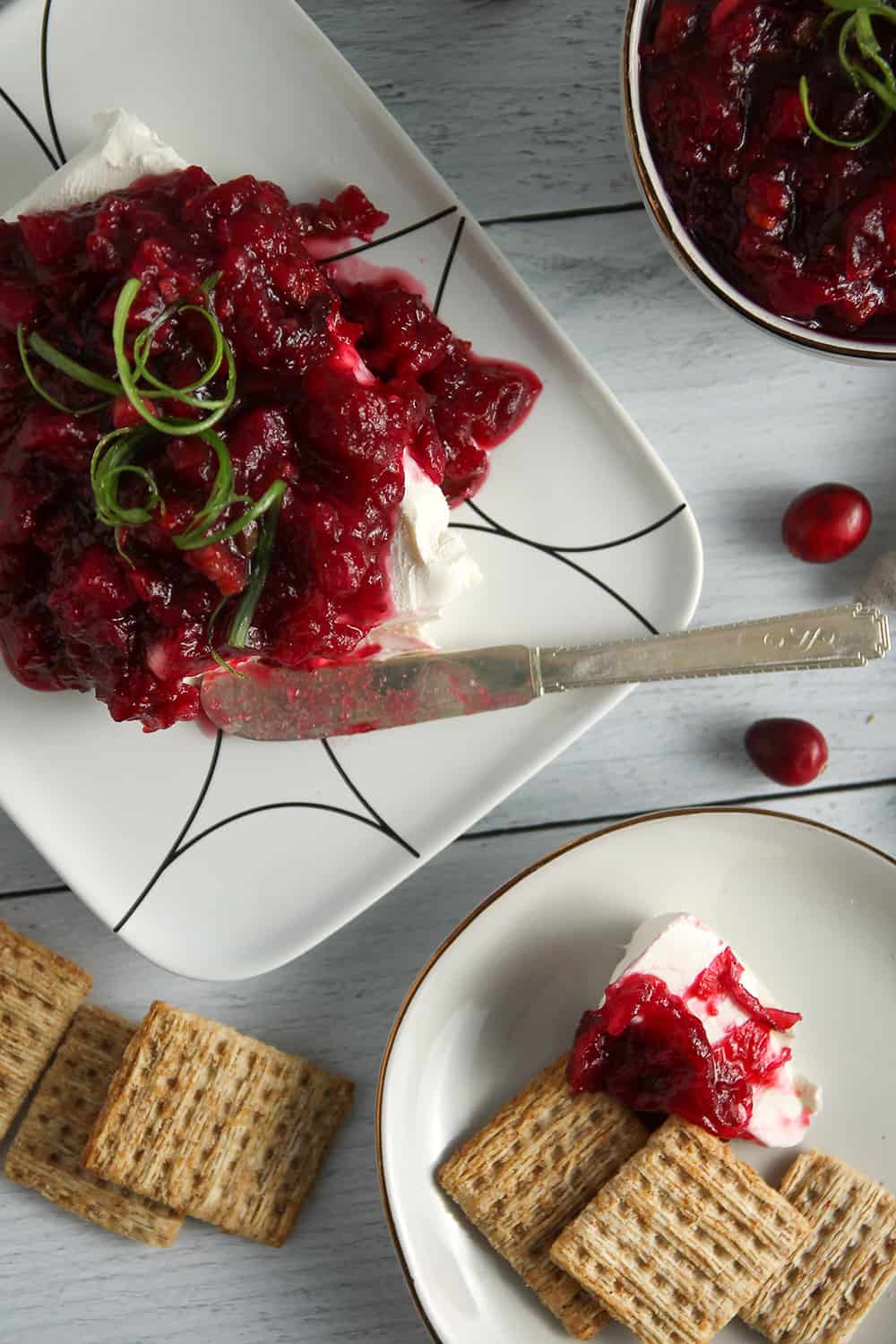 I realize that this year I am really letting my love for cranberries shine.
Between Cranberry Nut Bread, Sugared Cranberries (adorning Gingerbread Layer Cake), and now this Cranberry Cream Cheese Dip…well, I guess I'm starting to feel a little obsessed.
But can you blame me? That tart fresh cranberry flavor is just so good, especially as it cuts through some of the sweetness that is so prevalent this time of year.
Not to mention that I really feel like I have to take advantage of the plethora of fresh cranberries while they are available. As much as I love dried cranberries, there's just something special about fresh cranberries.
So what better way to embrace the seasonality of this little fruit than to find a way to make them a part of your holiday appetizer spread?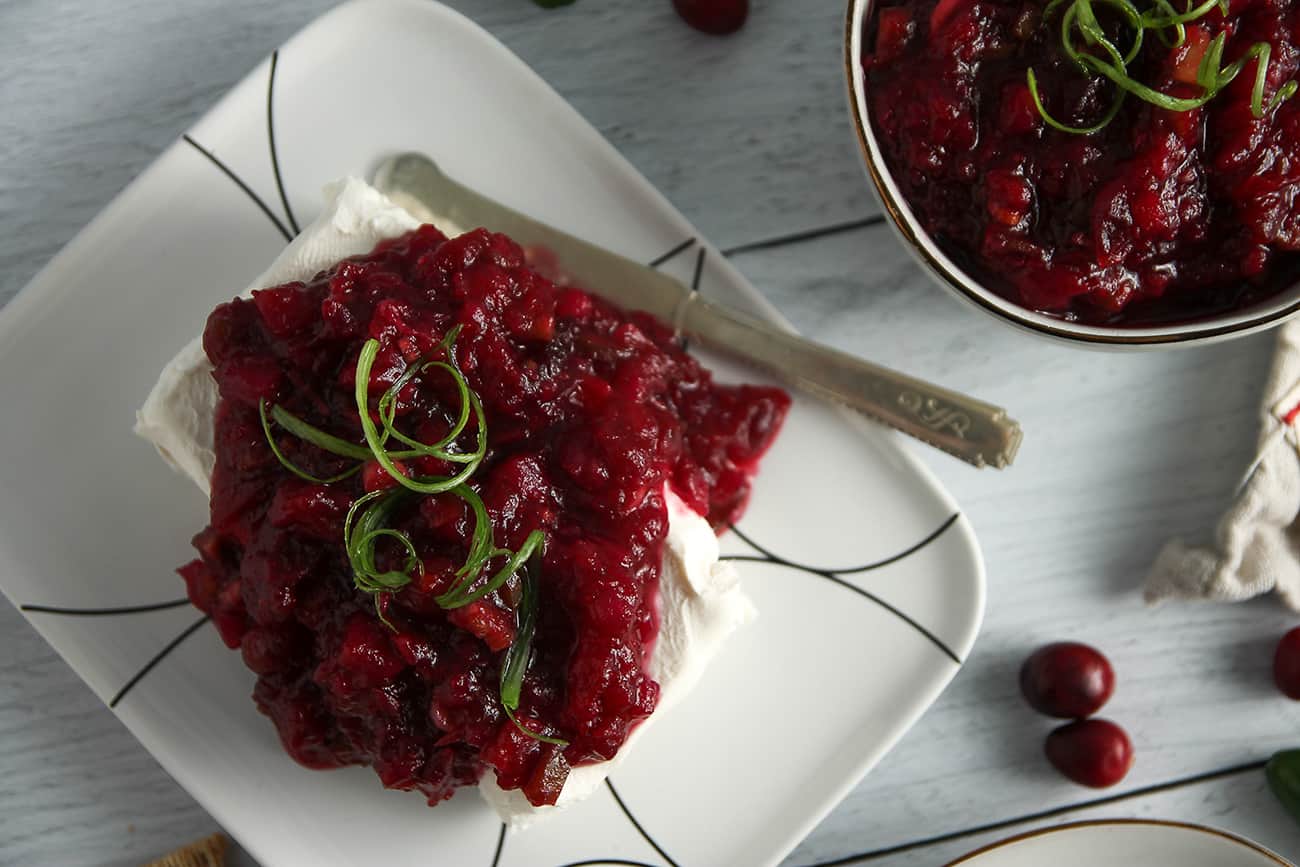 CRANBERRY JALAPEÑO CREAM CHEESE DIP
My Aunt Julie's Texas Cranberry Chutney recipe has been one of my most popular seasonal recipes for years. It is tart, sweet and spicy all at once.
Whether you pair it with turkey or ham or just spread it on a Texas Roadhouse Roll, it's a holiday condiment that my dad and uncle can eat by the spoonful.
So when I was headed to the store recently to pick up ingredients to reshoot the photos, I couldn't help but think, "Why not pair cranberry chutney and cream cheese?"
What's not to like? Tart cranberries, spicy jalapeños and tangy cream cheese. Served up with a nice crispy cracker?
Well, it sounded like pure deliciousness.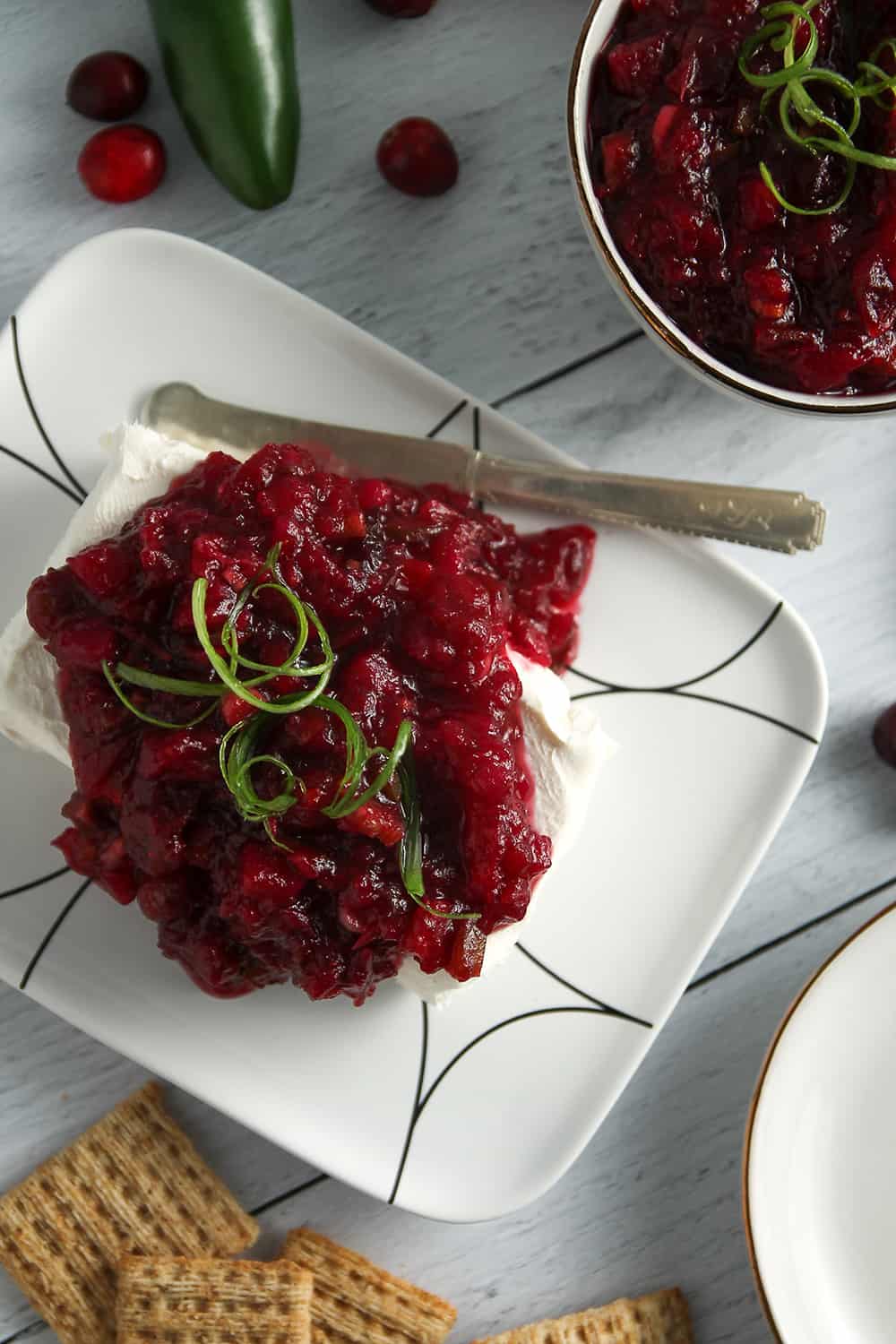 SPICY CRANBERRY CREAM CHEESE DIP RECIPE
Making Cranberry Cream Cheese Dip technically only takes two ingredients in and of itself: cream cheese and cranberry chutney.
Now, obviously I recommend using my Texas Cranberry Chutney recipe. Clearly I am biased, but I promise that it's easy to make and is so, so delicious.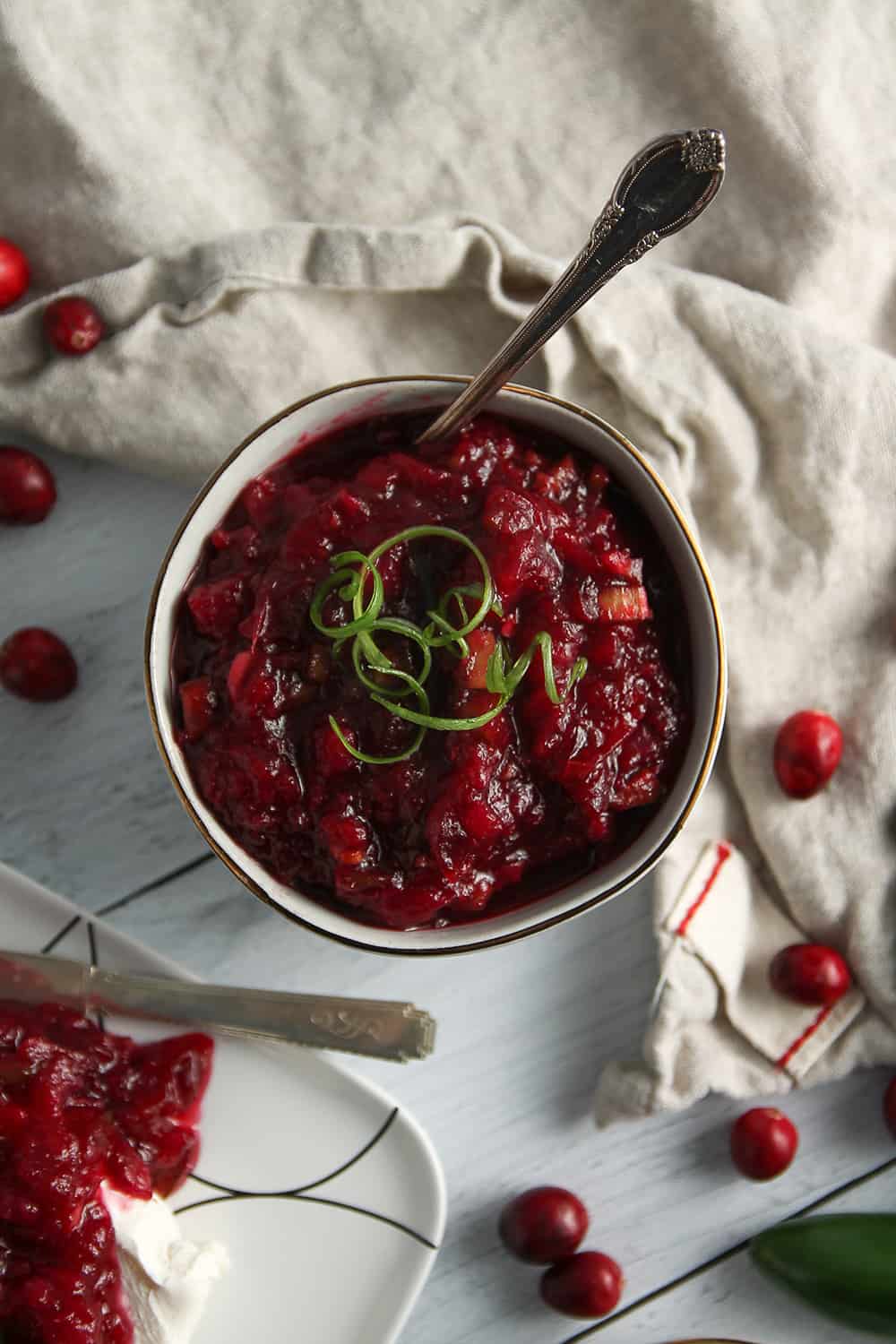 Plus, you can serve up the rest of the chutney with your holiday turkey or ham. Two birds, one stone.
If you happen to have a store-bought cranberry chutney that you like, you can certainly go for that, but just make sure it has some spice to it. You'll want it to pair with the tangy cream cheese!
Now, you could certainly spread softened cream cheese onto a plate and spoon the chutney on top, but I wanted to go even easier than that. So I just spooned the chutney over the top of the block of cream cheese to make my Cranberry Cream Cheese Dip.
Serve Cranberry Cream Cheese Dip up alongside your favorite crackers and let everyone dig in!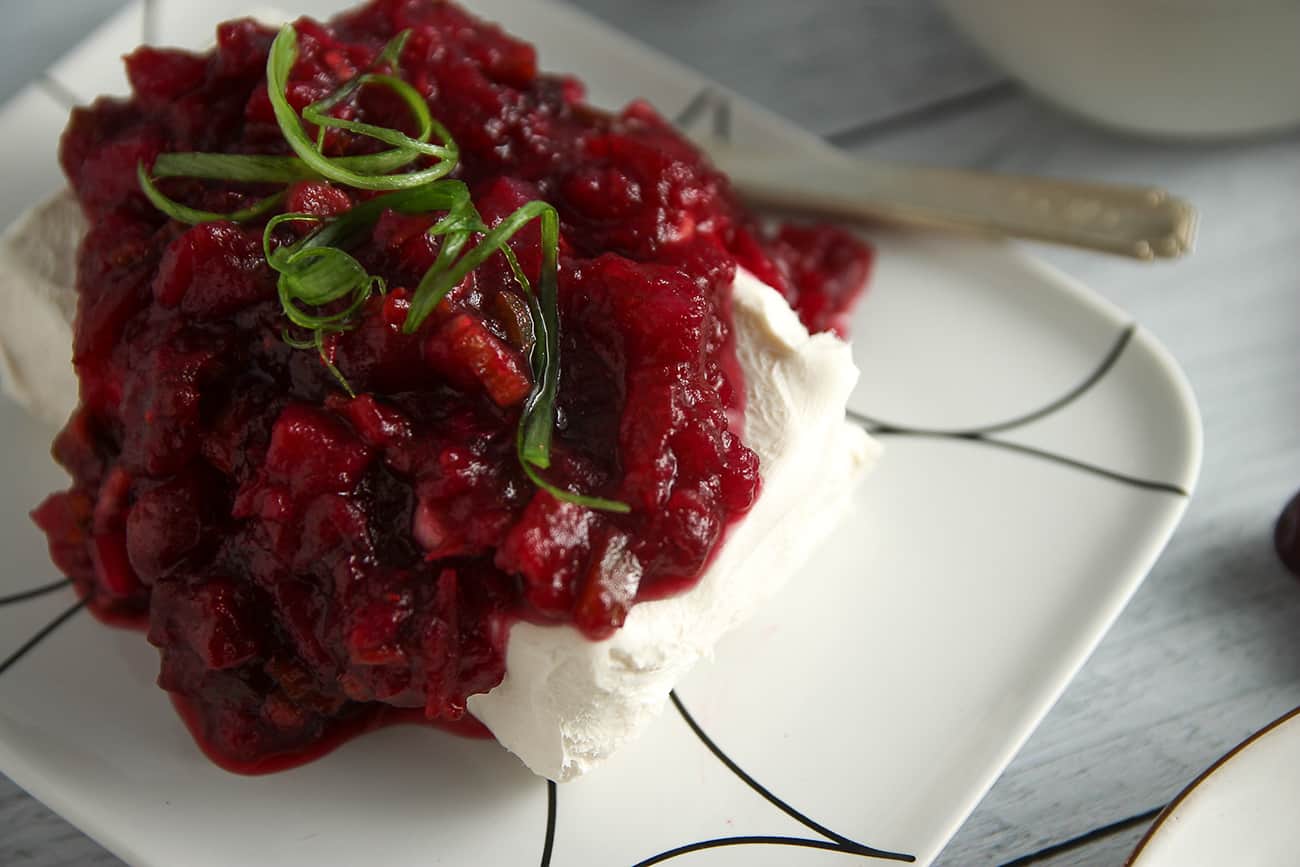 MORE HOLIDAY APPETIZERS
If you're looking for more holiday appetizer recipes to round out your meal, I've got ya.
Cream Cheese Ranch Rollups are consistently the most popular recipe on my site – with good reason. They will disappear in a flash from any table!
Roasted Garlic Parmesan White Bean Dip is a "fancier" twist on hummus. Serve it alongside pita chips or veggies for a healthier option.
If you just want more cheese (who doesn't?), Pineapple Pecan Cheese Ball is a little salty, a little sweet, and so, so good. (It was my momma's favorite!)
Because we can't help but combine appetizers and dessert, try Apple Crisp Baked Brie. Melty brie with an apple crisp topping? Yes, please!
Roasted nuts are always a hit alongside any cheese or charcuterie tray. Maple Rosemary Roasted Nuts are a delicious take on this classic.