Quick Moroccan Chicken Stew is a flavorful weeknight meal, packed full of tender chicken and rich spices. Serve it alongside Ginger-Turmeric Rice for complete meal all in one bowl!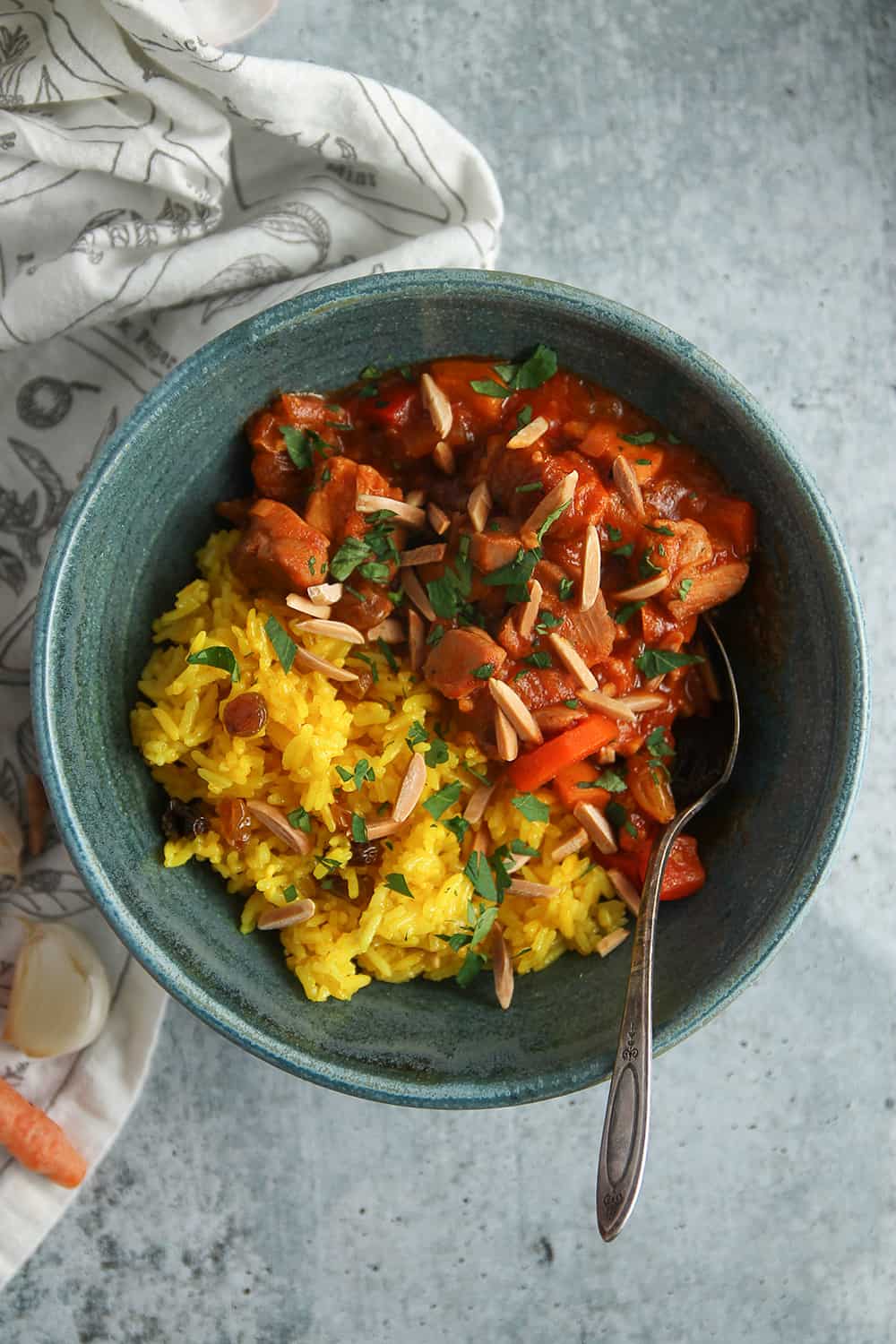 Nearly 8 years ago, I started a little food blog as a way to keep myself occupied in the evenings. I didn't have many expectations for it, aside from knowing my mother would obsessively read it.
8 years later, I can say without hesitation that one of the unexpected blessings (#blessed) of starting this site has been the people whom I have met. I have made some of my best friends in the world because of blogging. I wouldn't trade that for anything.
One of those people is Julia from The Roasted Root. Now, Julia and I are…well, a bit different.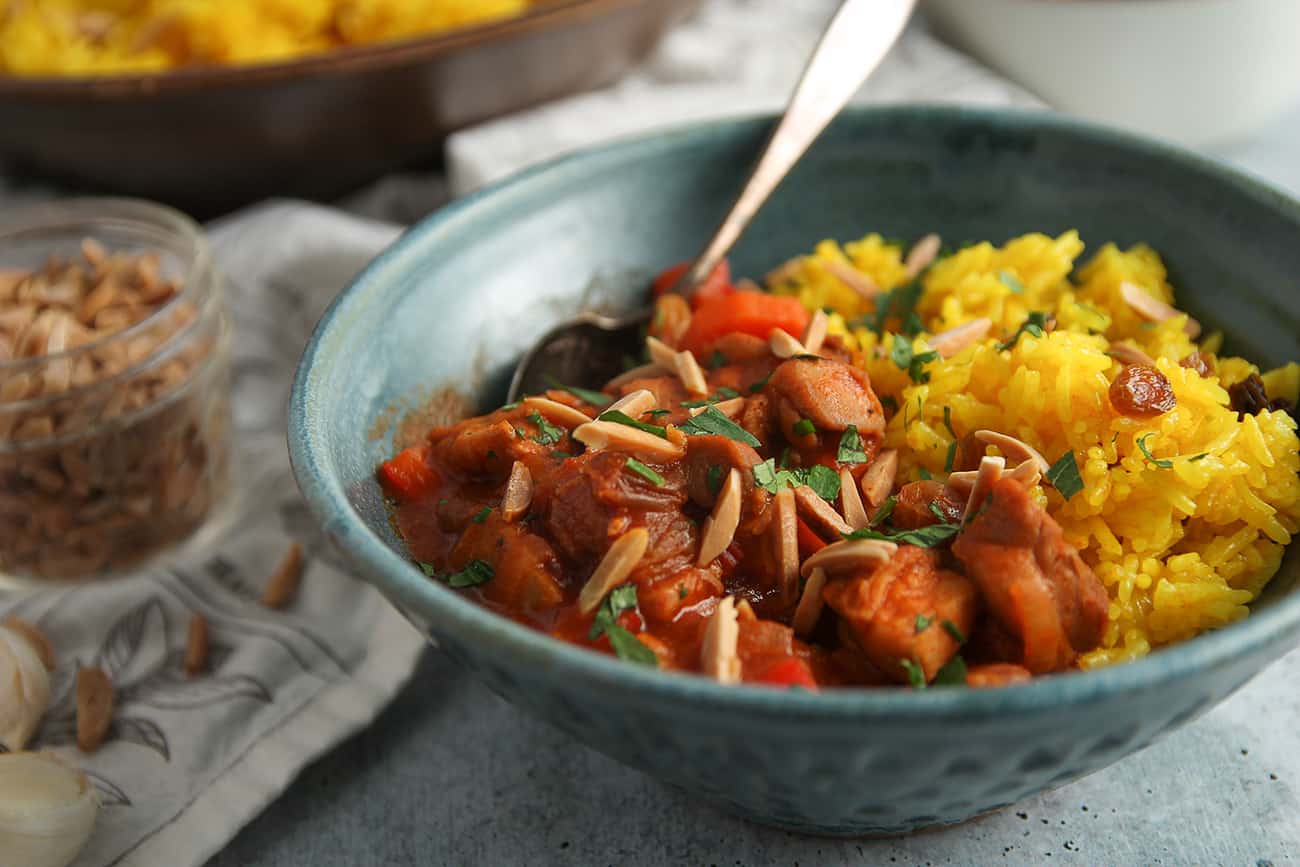 She lives in the Lake Tahoe area. I live in Middle-of-Nowhere, Illinois.
She loves hiking, skiing, biking, and all sorts of outdoor activities. I am happiest staying indoors.
She is the queen of healthy recipes. I…well, I am the queen of powering through pounds of butter in almost no time at all.
And yet we found each other in this big Internet world and became fast friends. She was a bridesmaid in our wedding and wept alongside us when Momma passed away. We've been tattooed together, laughed together, and gotten into numerous shenanigans together.
Seriously. All the shenans.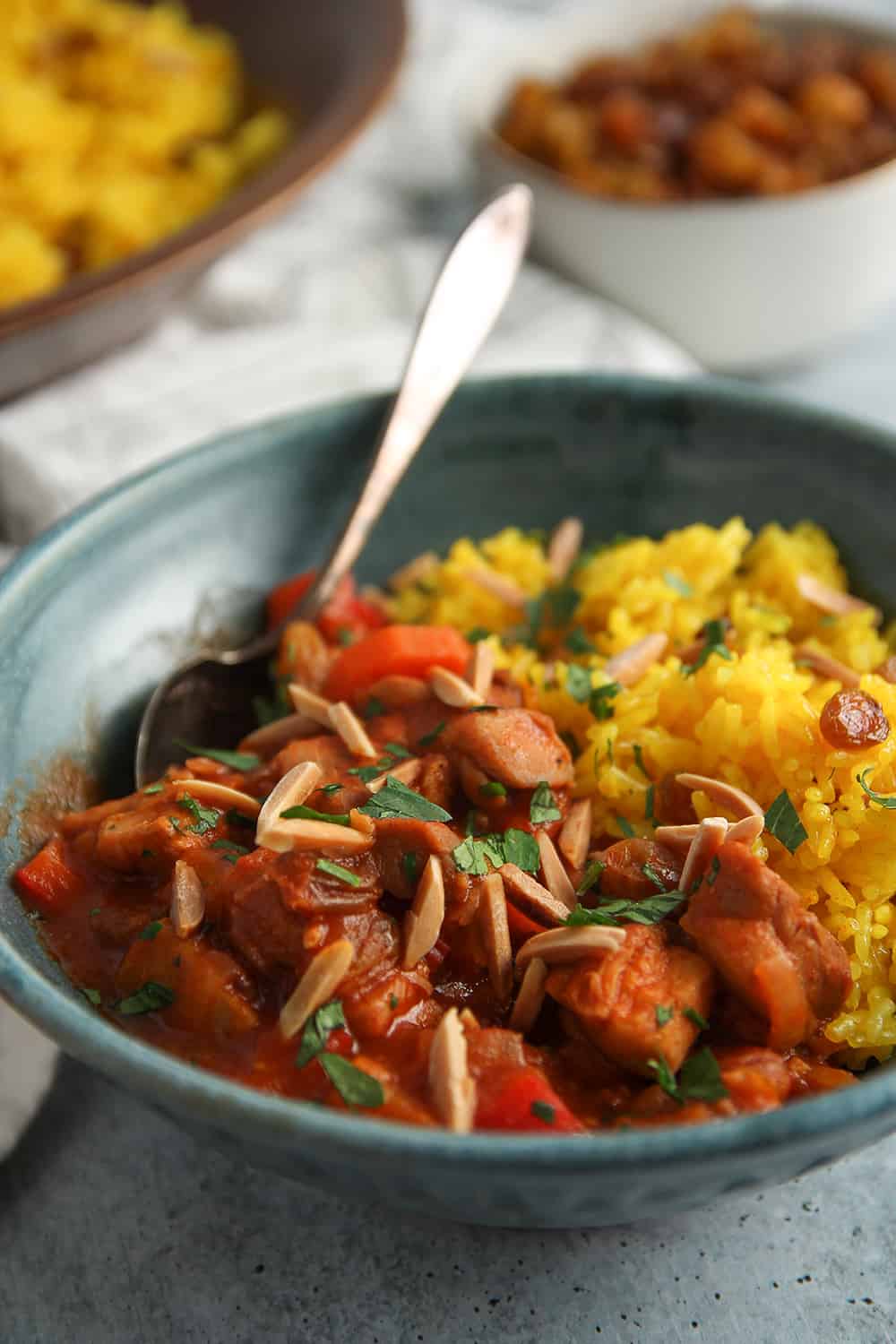 And when Julia tells me something is delicious, I believe her.
So when she announced she was writing another cookbook, I was stoked. And let me tell you, Paleo Power Bowls: 100 Easy, Nutrient-Dense, Anti-Inflammatory Meals does not disappoint.
Now, if you aren't paleo, don't worry. I'm not either. Far from it.
But you don't need to be paleo to enjoy the recipes in Paleo Power Bowls. They're simply good-for-you recipes, and you can always make simple ingredients swaps that work for your diet if you want or need it. Julia even makes some substitution recommendations based on differing diets.
One of the recipes that I actually helped Julia test for the cookbook and was excited to make again when the book arrived was Quick Moroccan Chicken Stew.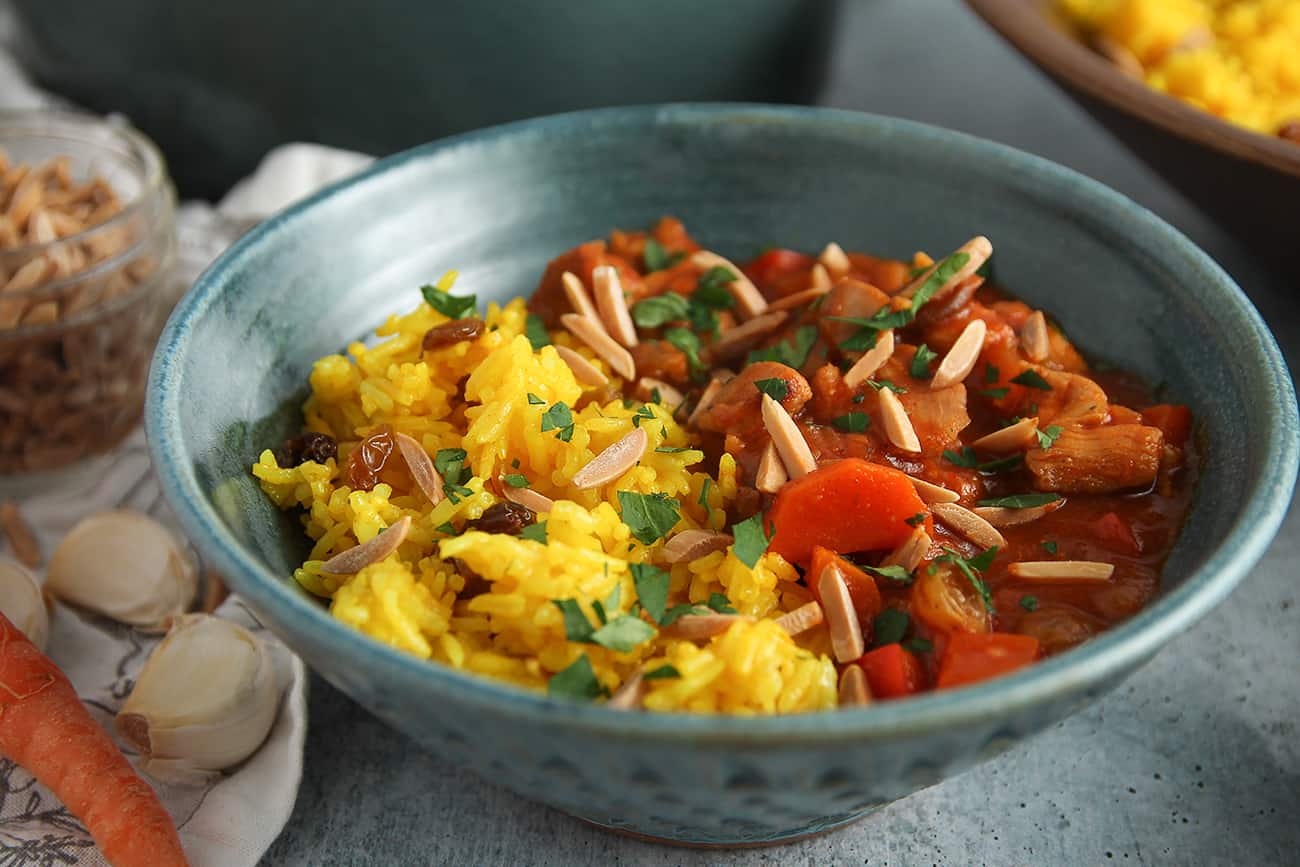 ONE-POT MOROCCAN CHICKEN STEW
Guys, this Moroccan Chicken Stew is seriously easy and seriously delicious. Bonus, it's made all in one pot, so there's not much cleanup at the end of the day.
I made just a couple of minor tweaks to Julia's original recipe, namely swapping in diced boneless/skinless chicken thighs for the bone-on/skin-on thighs. Alex is weird about bone-in chicken, so I just opted to bypass him being weird.
Well, at least about that. He did marry me, after all, so 100% normalcy is never to be expected. Bless him.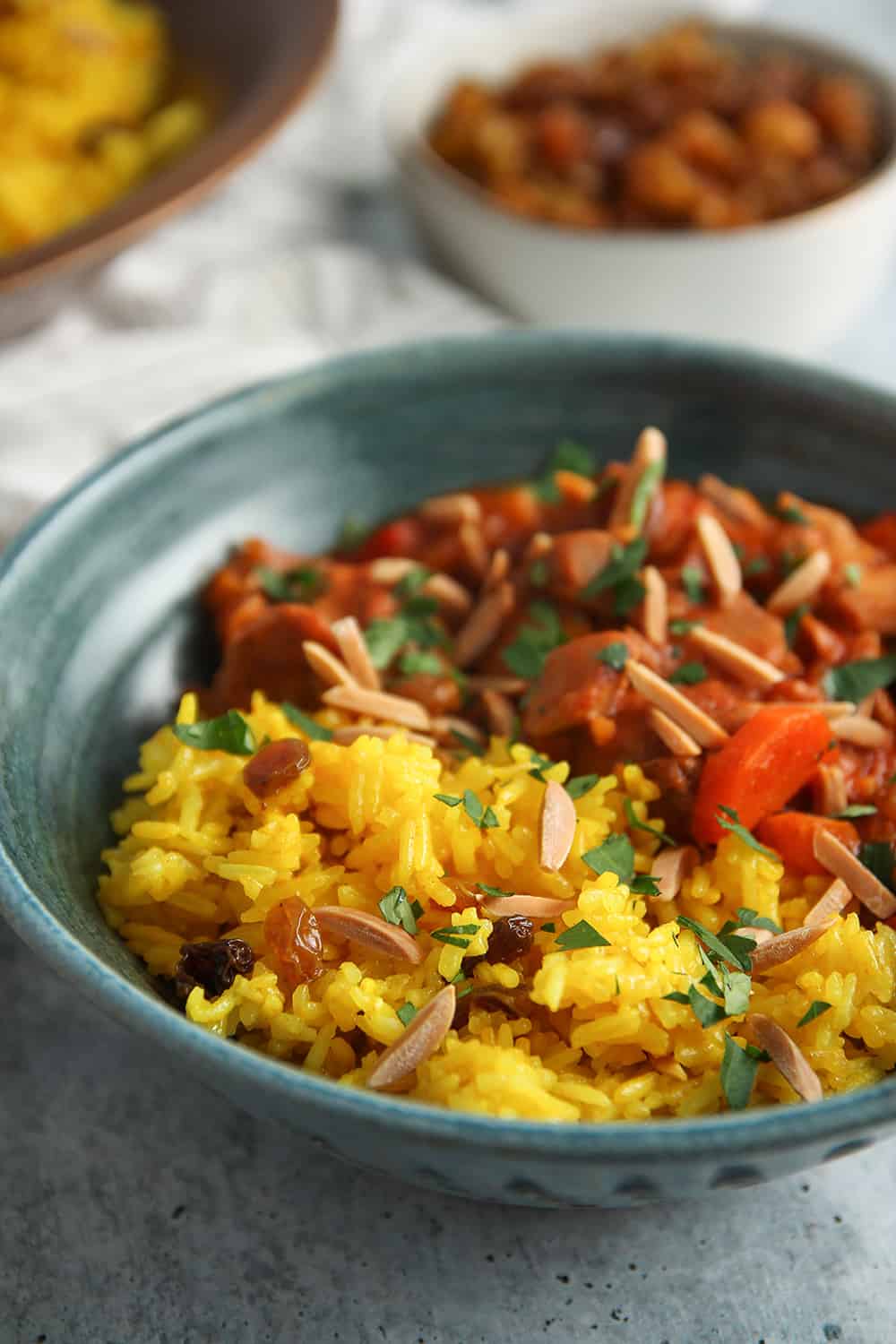 This Quick Moroccan Chicken Stew is bursting with warm, rich spices. Cinnamon, cumin and coriander bring in just the right amount of warmth to the chicken and vegetables.
One of my personal favorite parts of the stew is the golden raisins. They plump up as the Moroccan Chicken Stew simmers, and lend the perfect sweetness to the dish.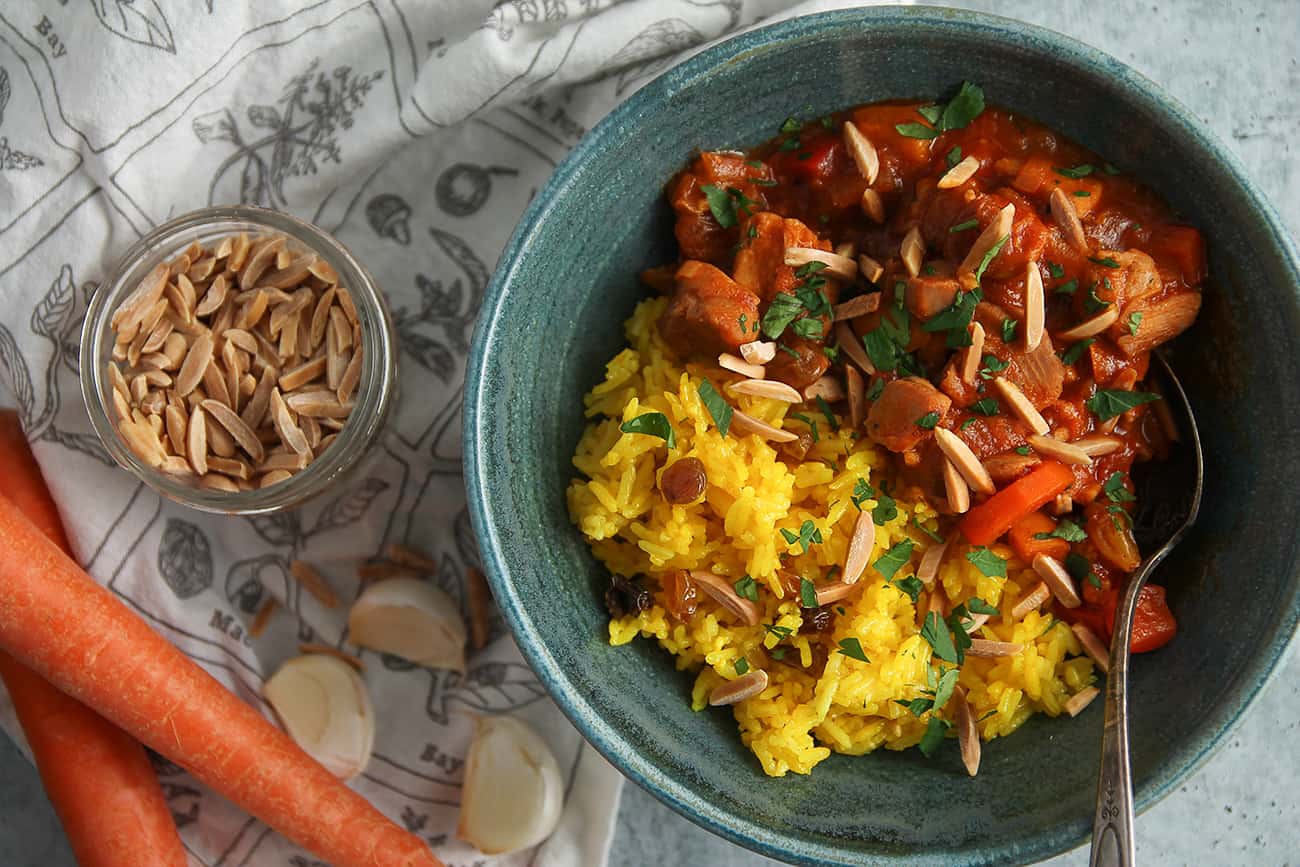 And don't forget to serve it with toasted slivered almonds! The nutty crunch is absolute perfection.
Ok, but if you're going to make Quick Moroccan Chicken Stew, make sure you serve it with Ginger-Turmeric Rice.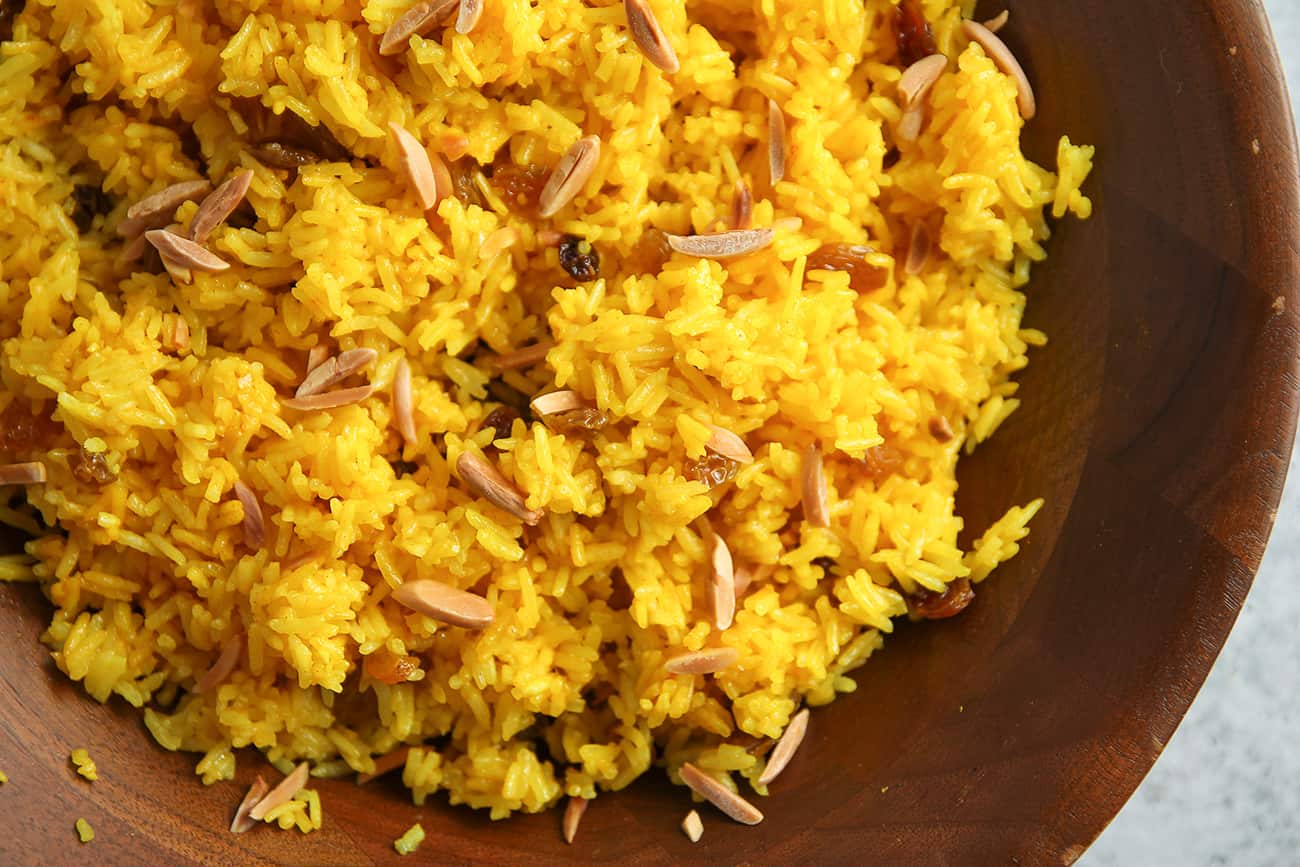 GINGER-TURMERIC RICE
I know it adds one more pot to clean, but I really must insist you make this Ginger-Turmeric Rice with your Moroccan Chicken Stew. It cooks while the stew simmers, so everything will be done at the same time.
You can serve Ginger-Turmeric Rice with just about anything you like. It's a great side dish for any protein. Like the stew itself, the rice has golden raisins in it, but you could always leave those out if you want to serve it with something they might not go with.
Choose your own adventure, if you will.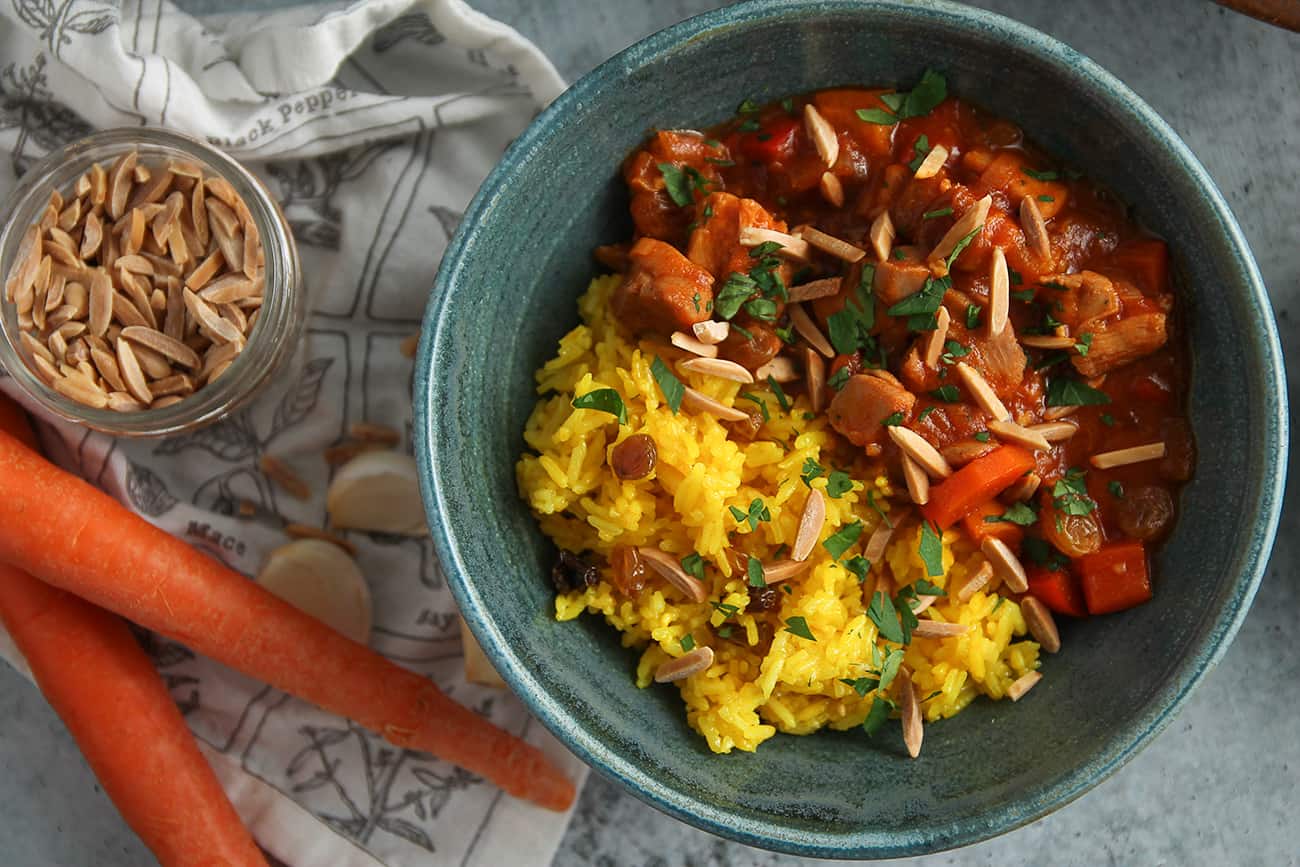 Make sure to use a good long-grain rice, such as a jasmine rice or basmati rice. You'll be glad you did.
For more of Julia's recipes, make sure to check out Blueberry Mango Smoothie, Massaged Kale Salad with Blueberry Vinaigrette, and Paleo Strawberry Crumble.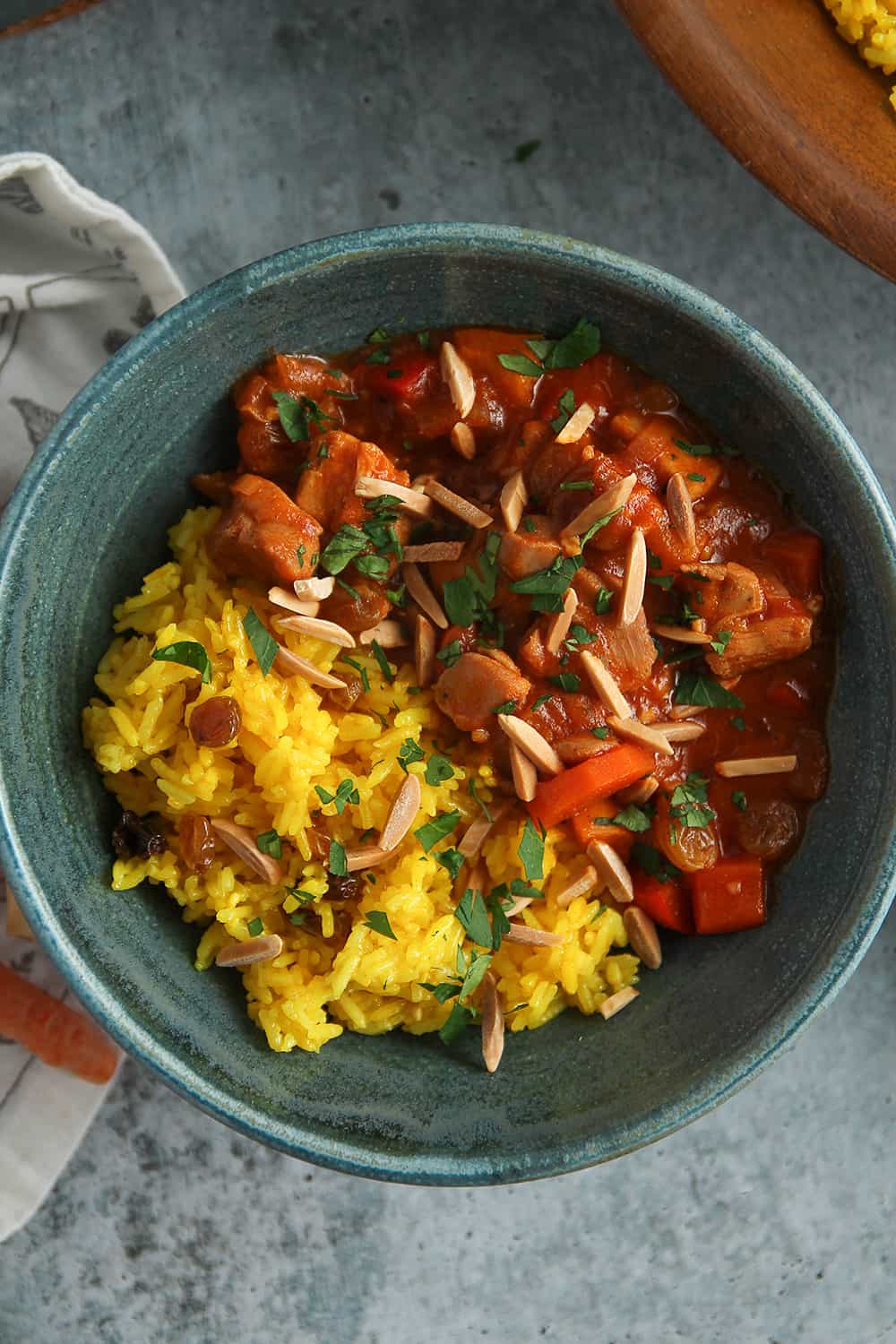 This post may contain affiliate links. We are a participant in the Amazon Services LLC Associates Program, an affiliate advertising program designed to provide a means for us to earn fees by linking to Amazon.com and affiliated sites.