This Homemade Yellow Cake is simple to whip up any time you need a quick dessert. Pair this classic cake with the frosting of your choice or top it with berries and whipped cream. No matter how you enjoy it, you're sure to want to make this again and again.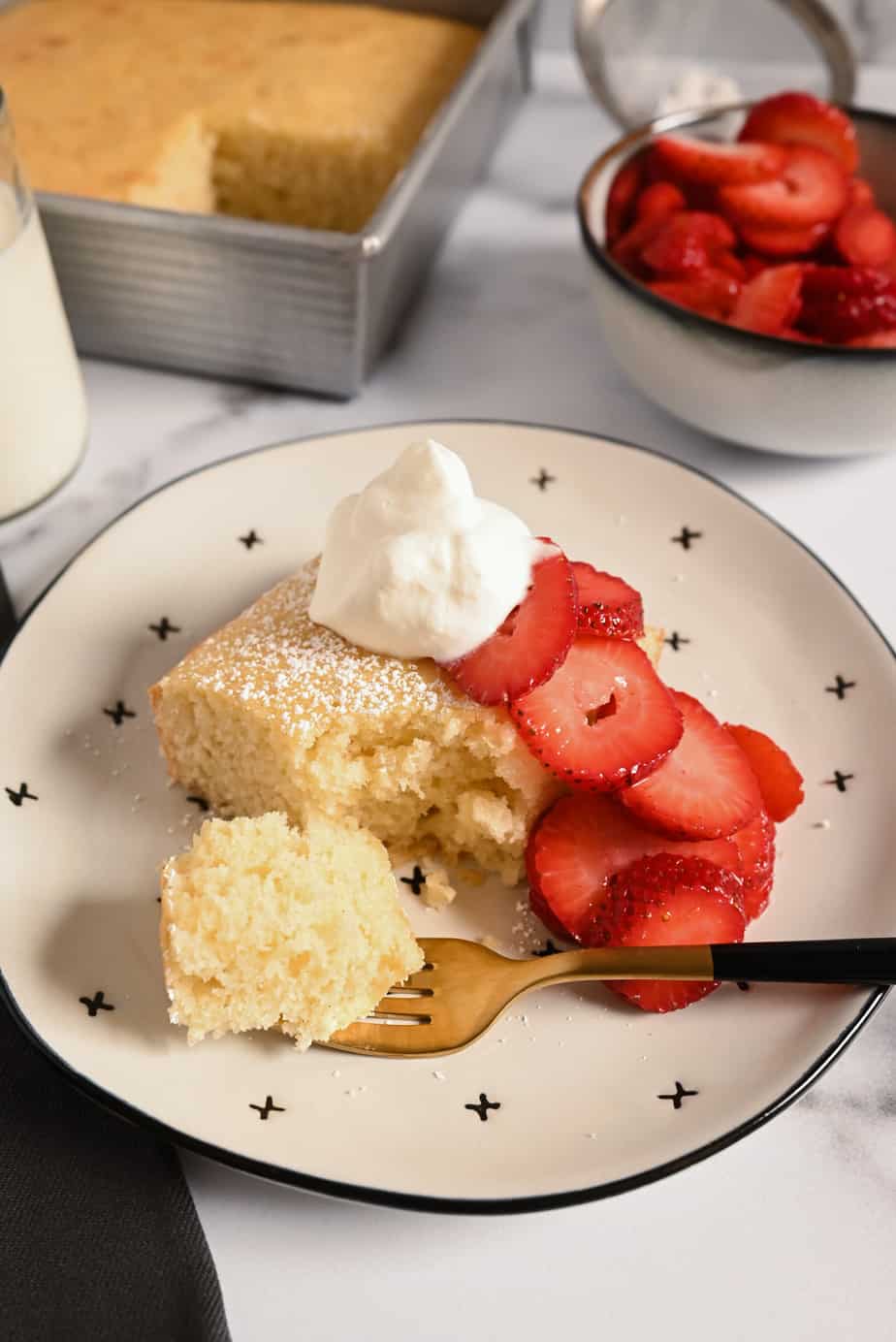 This post contains affiliate links.
A couple of weeks ago we stopped by my in-laws' on a Sunday afternoon. My father-in-law was out of town so my mother-in-law had spent the morning puttering around the kitchen.
I walked in to find a pan of cake cooling on the counter, with a small bite already taken out of the corner.
"I made a little yellow cake. It's my mother's recipe; she used to whip it up whenever she needed a quick and easy dessert."
I, of course, immediately cut myself a piece. I took one bite and declared that I had to have the recipe.
So into the recipe box we went, grabbing this recipe so I could share it with all of you. Because believe me when I say – this may be the best yellow cake I've ever had.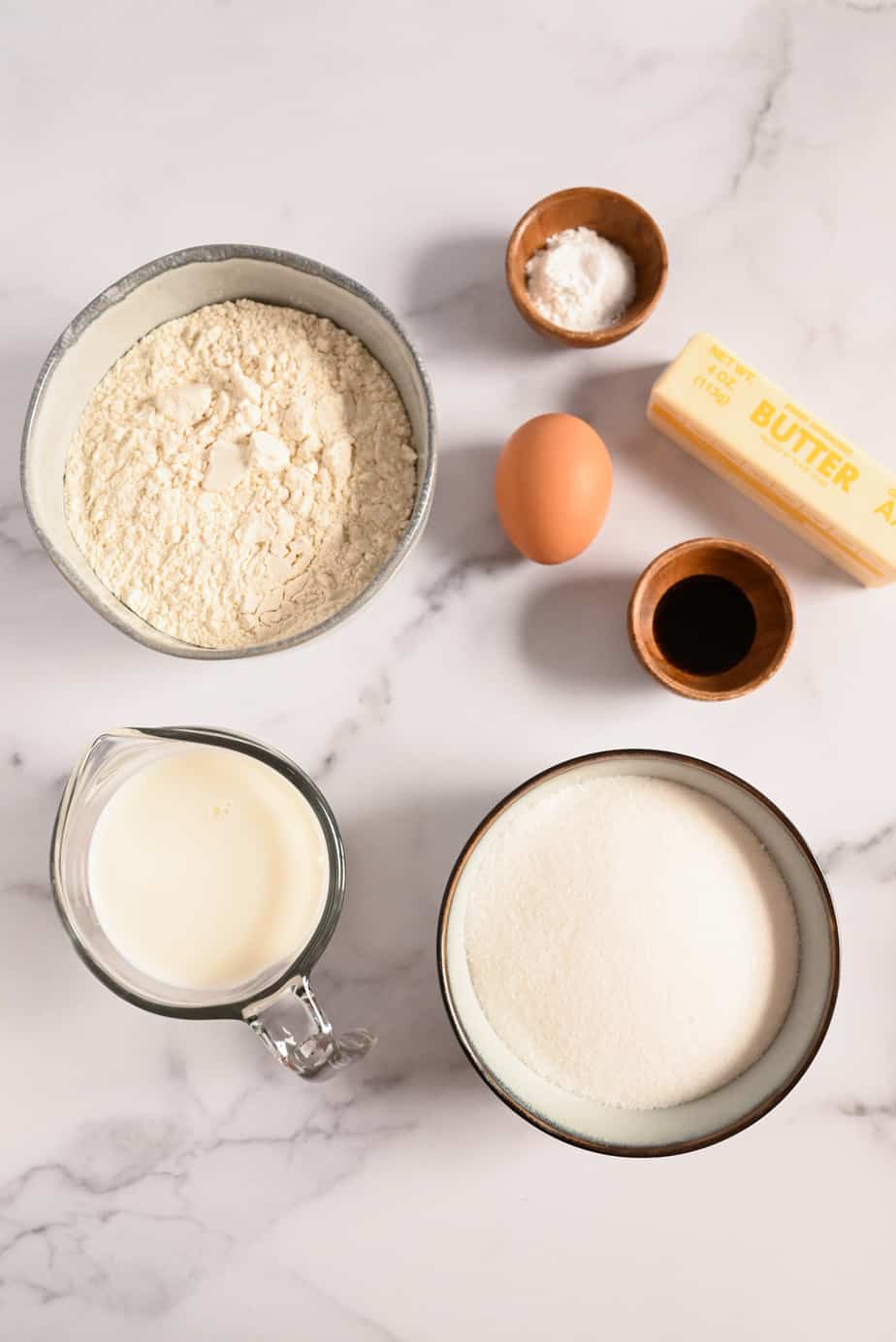 WHITE CAKE VS. YELLOW CAKE
If you've ever found yourself standing in the middle of the cake mix aisle at the grocery store, you might have wondered, "What the heck is the difference between all of these cakes?"
You've got white cake, yellow cake, vanilla cake, lemon cake, Funfetti cake…the list goes on.
The two main non-chocolate cakes you're likely to come across are white cake and yellow cake. So what's the difference between them?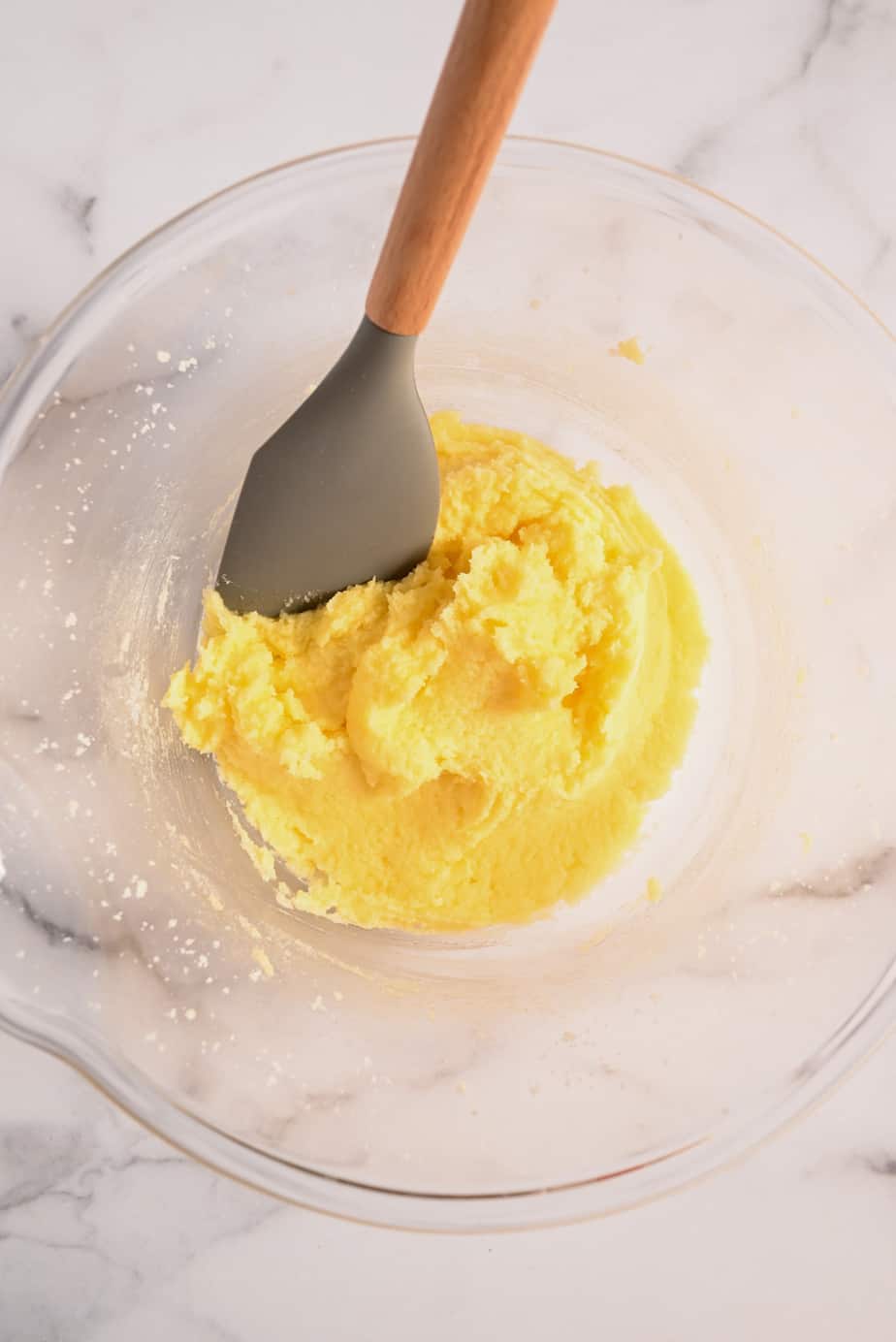 What is white cake?
White cake is so named because of its stark white color. It is so white because it only uses egg whites instead of whole eggs.
White cake also often uses a mixture of shortening and butter to help keep it white. It's also not uncommon for it to use clear (imitation) vanilla.
Funfetti cake is a type of white cake. It uses a white cake base since the colorful sprinkles really pop against the white color.
Angel food cake is another type of white cake, although it is one that doesn't use any fat in it at all.
A lot of vanilla cakes from bakeries, especially wedding cakes, are white cakes. The white color is thought to be more elegant, and the fillings and frostings really stand out with a white cake.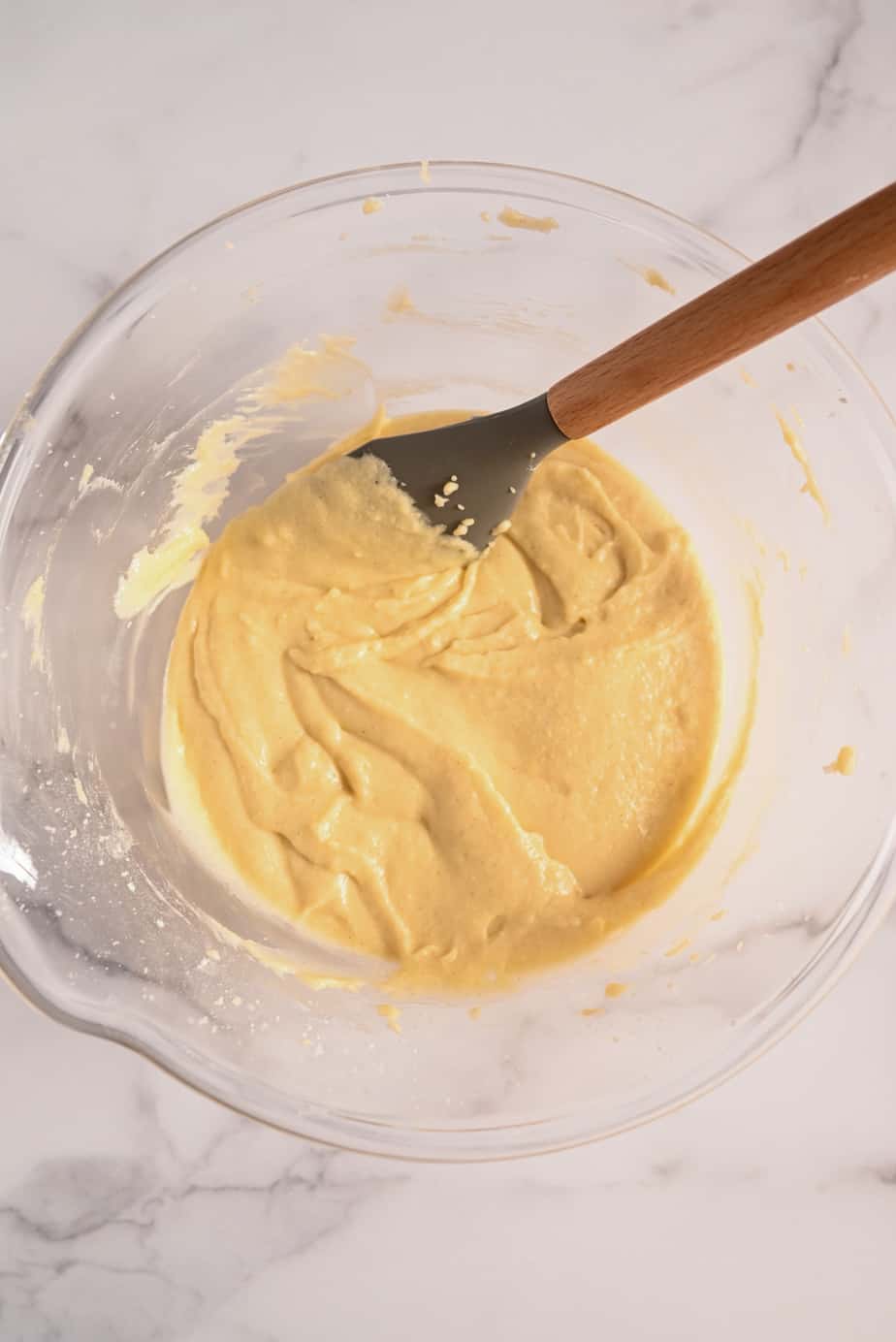 What is yellow cake?
Yellow cake, on the other hand, is made using both egg whites AND egg yolks. It also relies on butter as the fat.
It's the combination of the egg yolks and the butter that gives yellow cake its color. The egg yolks also make yellow cakes more tender than their white cake counterparts.
As you might imagine, this also means yellow cakes are more buttery, moist, and often have more vanilla flavor, since you can add as much pure vanilla as you'd like without worrying about the color of the cake.
It's also easy to make different flavors of yellow cake! Peanut butter cake and pineapple upside-down cake are two of my personal favorites.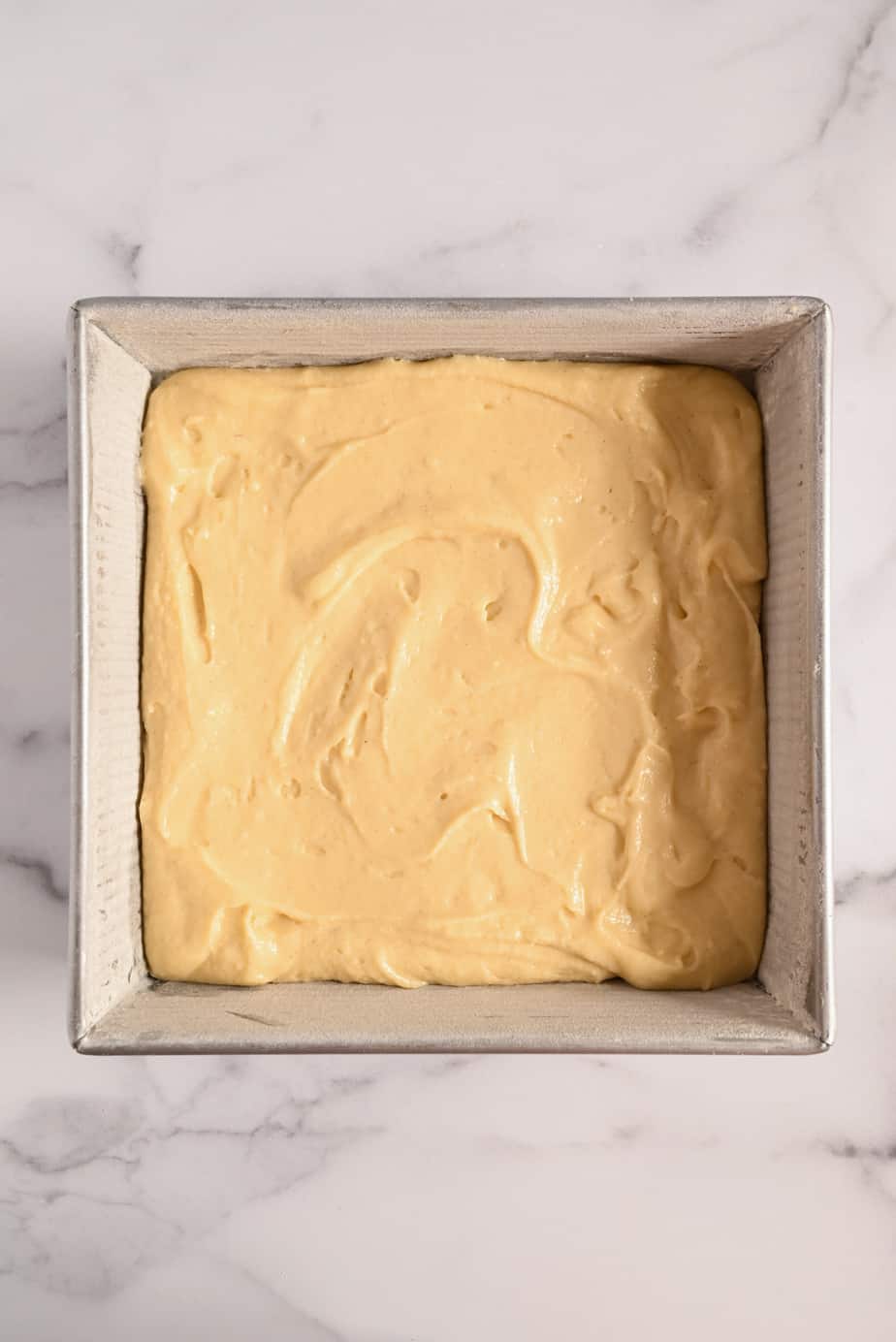 HOW TO MAKE HOMEMADE YELLOW CAKE
Grandma Jeanette's yellow cake recipe is so simple to throw together. I can totally see why it was her go-to easy dessert.
This recipe makes one 9-inch cake – perfect for serving a small handful of people.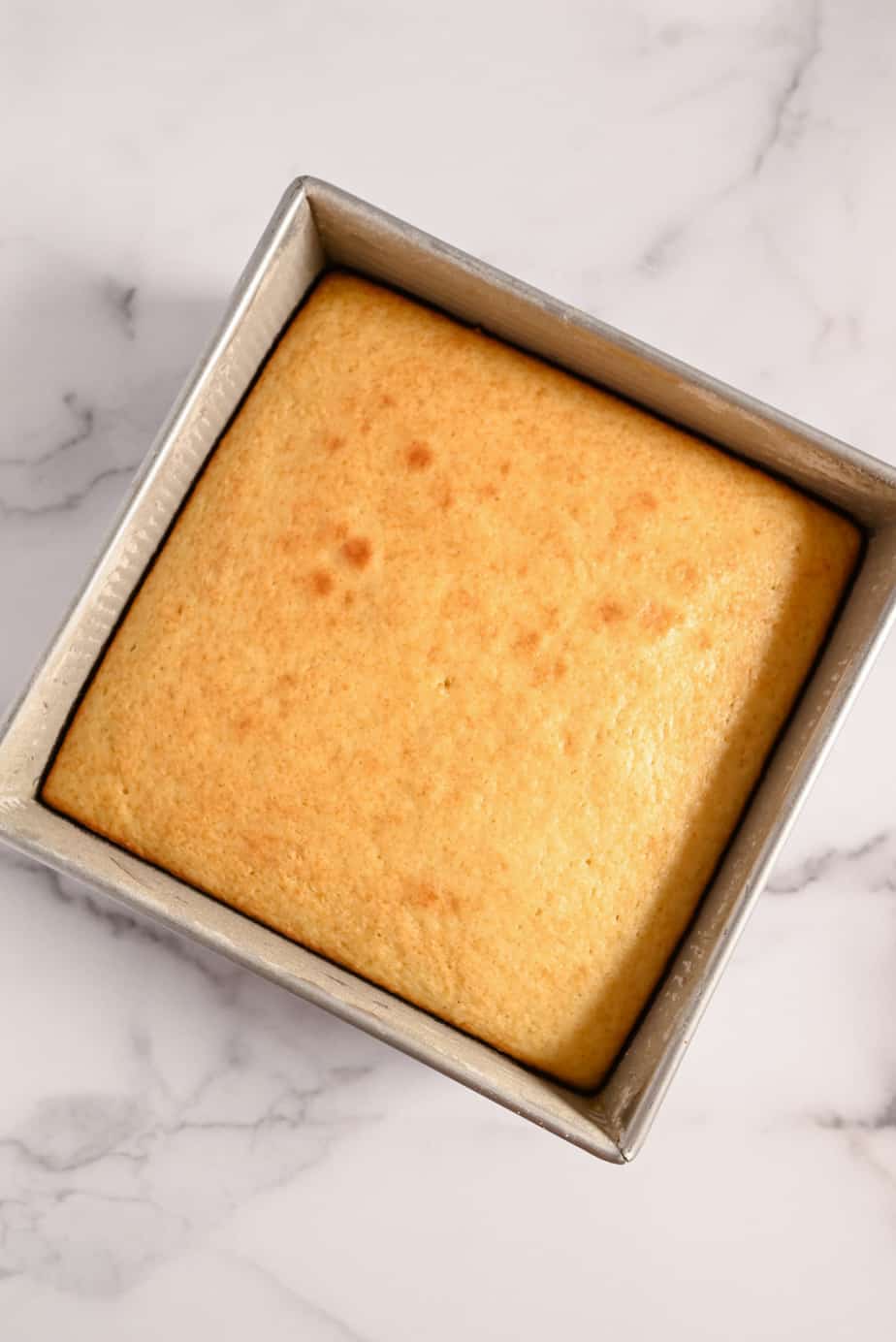 Cake Ingredients
As you'd probably expect from an easy recipe, the ingredients list for this cake is very straightforward:
1 ⅓ cups granulated sugar
½ cup unsalted butter, softened
1 large egg
2 cups all-purpose flour
2 teaspoons baking powder
¼ teaspoon fine sea salt
1 cup milk
1 teaspoon vanilla
Odds are good that you have everything you need to make this recipe already on hand.
Because I'm bougie, I like to use vanilla bean paste in this cake, but you can certainly use whatever vanilla you have on hand.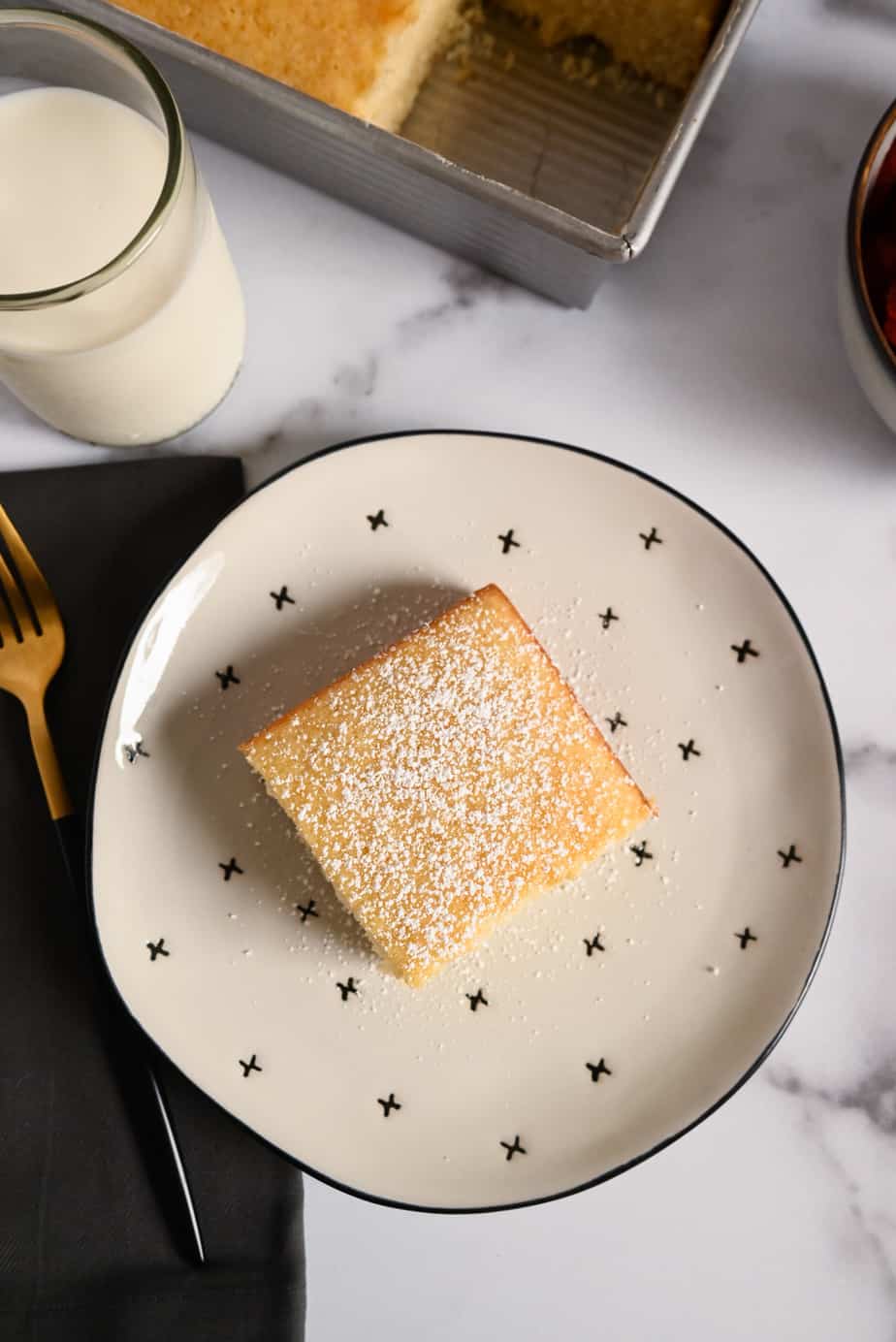 Tools
As I mentioned above, this homemade yellow cake recipe makes one 9-inch cake. Jeanette always baked her cake in a 9-inch square cake pan, but you could use a 9×2-inch round pan if you prefer.
I also like to use my electric hand mixer for this recipe. It's quicker for me to pull out and use than my stand mixer, and I'm all about quick and easy here.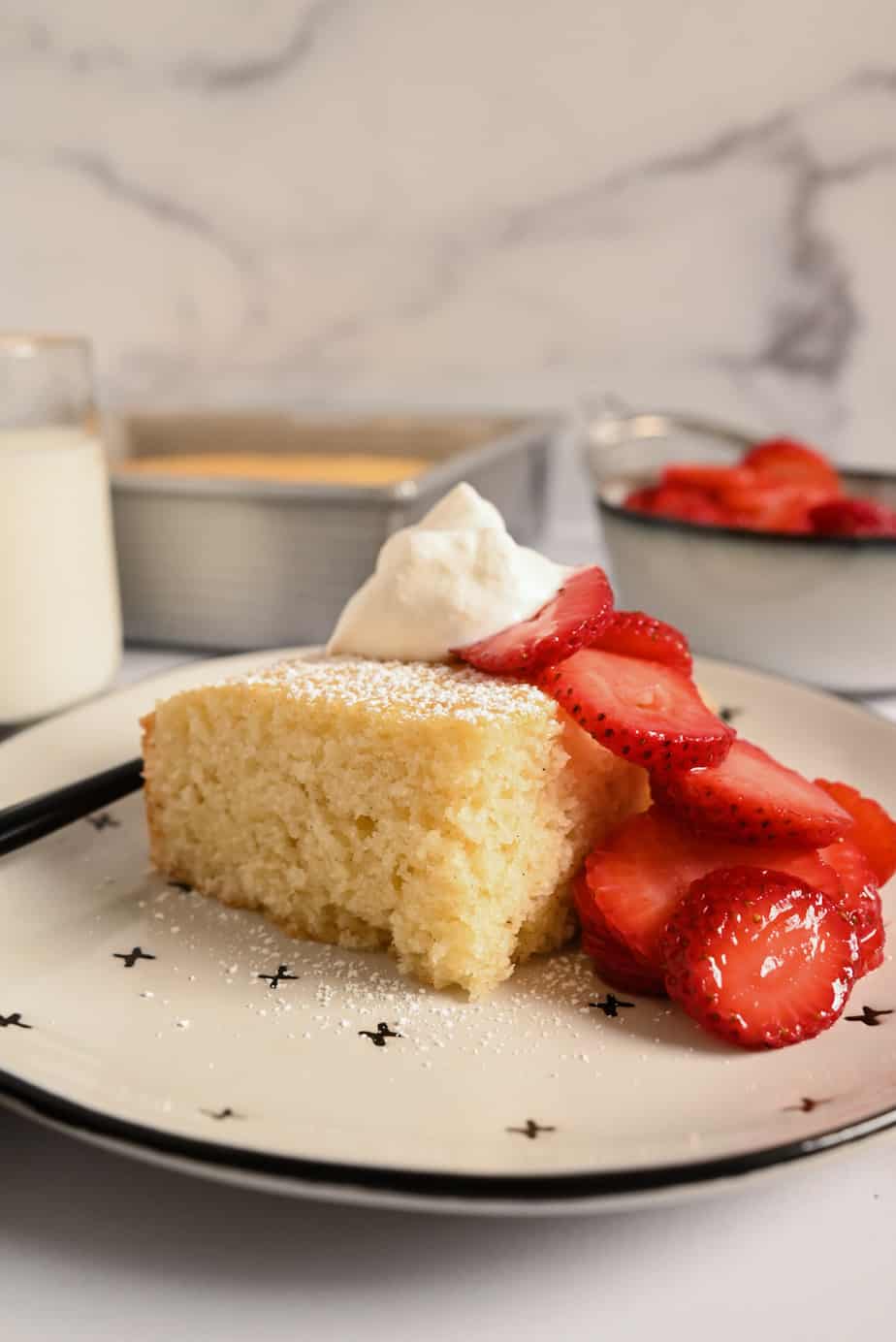 Making this recipe
I am able to have this cake batter mixed and in the oven in about 10 minutes. Yes, that quickly! And with this cake's 35-minute bake time, that means you can have fresh-from-the-oven cake in well under an hour.
Start by creaming together the butter and sugar on medium speed until light and fluffy. This is the part of making this batter that will take the longest – about 3-5 minutes.
Don't try to skimp out on that time, though! Making sure the butter and sugar are fluffy makes for a great texture in your cake.
Add the egg and beat well.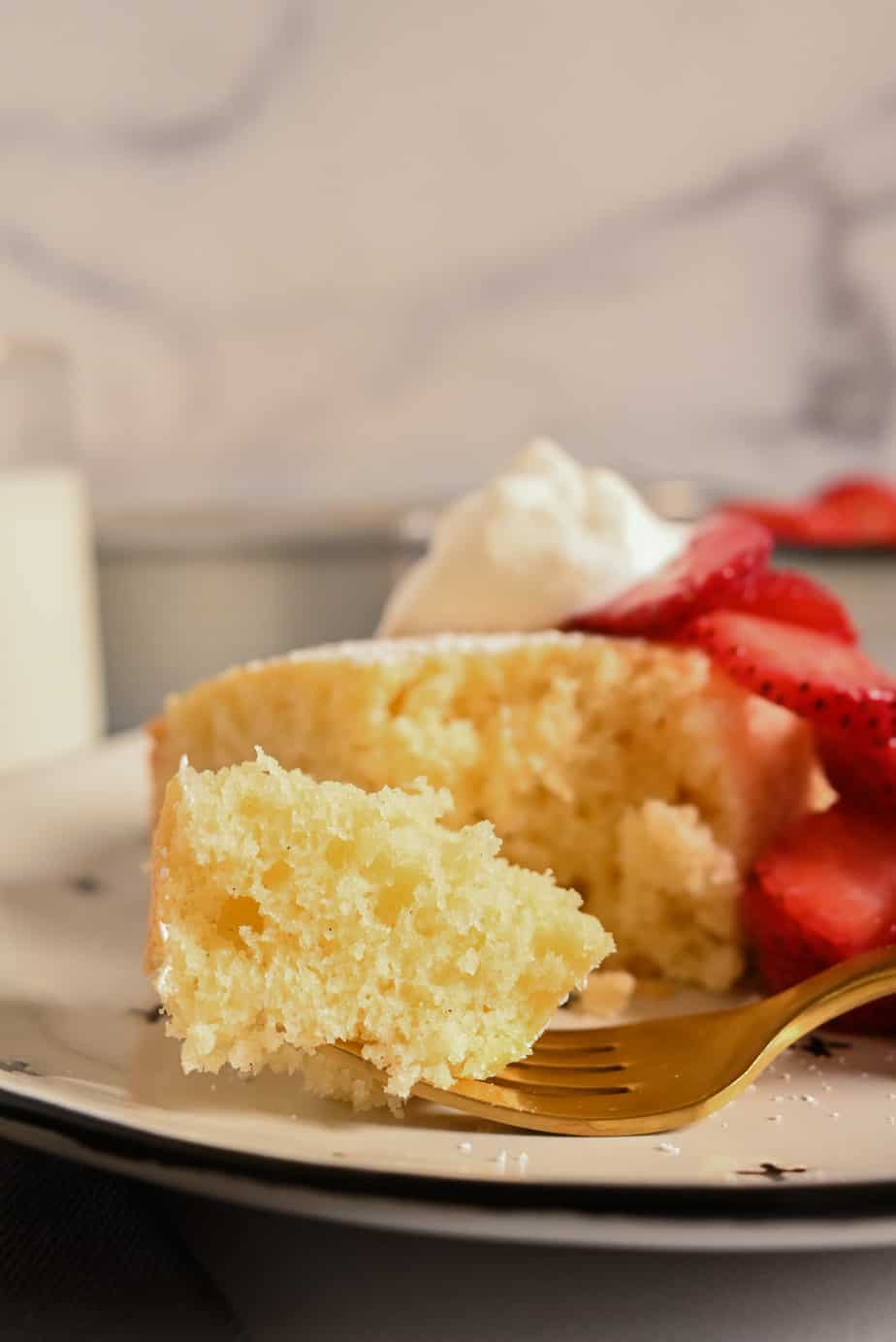 In another bowl, whisk together the flour with the baking powder and salt. In a measuring cup, add the vanilla to your milk.
Now add half the flour, then all of the milk, then the rest of the flour. Make sure you mix until just combined after each addition.
I actually like to stir in the last addition of flour, just to make sure I don't accidentally overmix the batter.
Grease and flour your cake pan and spread the batter into it. Bake for about 35 minutes. The cake is ready when it is golden and a toothpick inserted into the center comes out clean.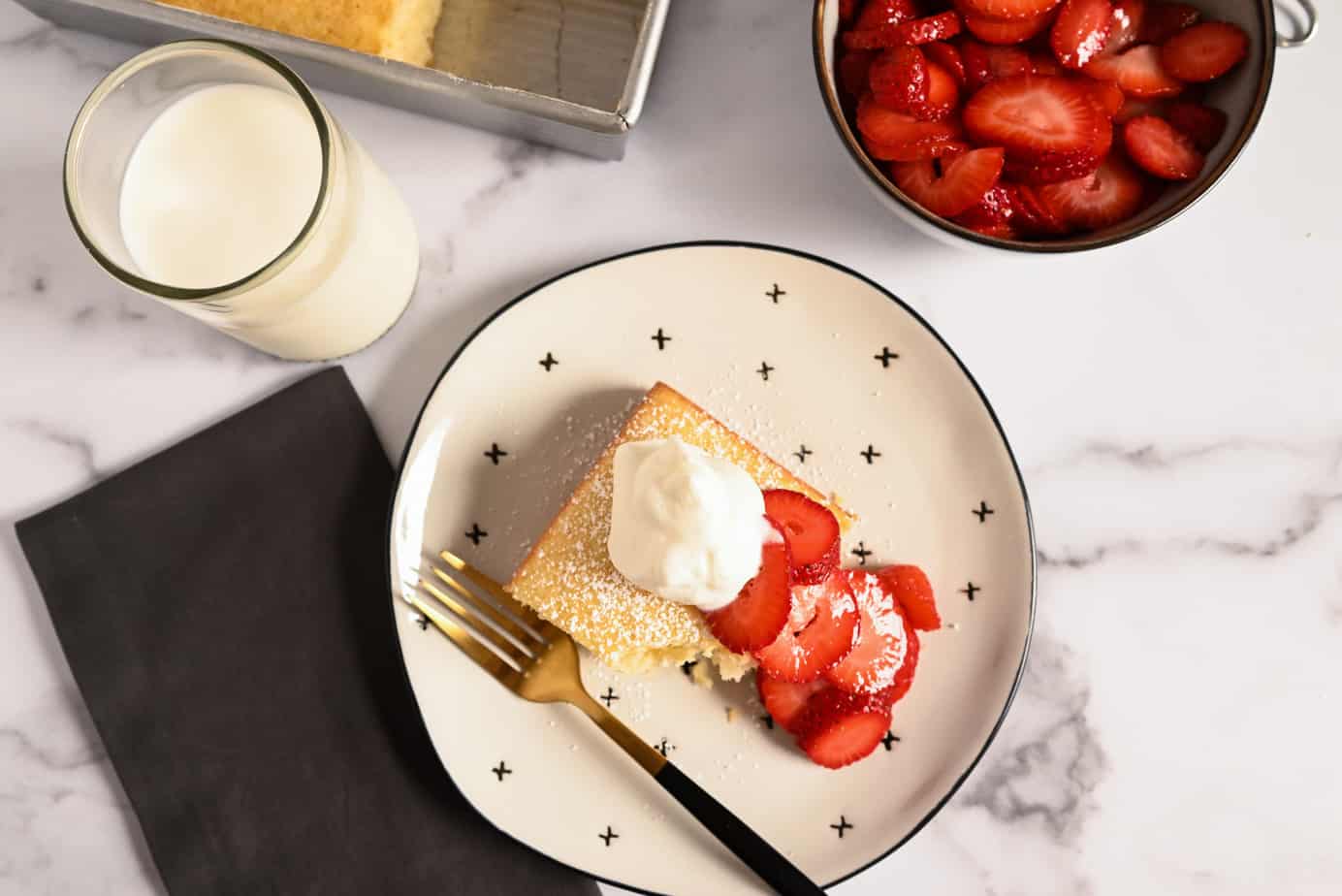 WAYS TO SERVE THIS SIMPLE CAKE
Want to know a secret? Our family doesn't usually frost this cake.
We like to serve it with some macerated strawberries and a bit of whipped cream. It's reminiscent of strawberry shortcake when served this way, and it is so good.
But you can absolutely frost this cake however you like. Yellow cake with chocolate frosting is obviously the most popular option, but it's not the only one!
Try topping your homemade yellow cake with your favorite vanilla buttercream, a strawberry frosting, or even a tangy cream cheese frosting.
If you'd like to make this into a layer cake, you can double the recipe and bake it in two 9-inch pans. Then you can fill it with anything your heart desires! Fresh berries, jam, lemon curd, or a simple ganache are all great options.
Whether you're making this yellow cake for a last-minute dinner guest or whipping it up for a birthday celebration, this is one recipe that's sure to become a favorite in your rotation.