Cheddar Bacon Scones are studded with cheese and bacon for a savory scone that is as perfect for a weekend breakfast as it is for an afternoon coffee break.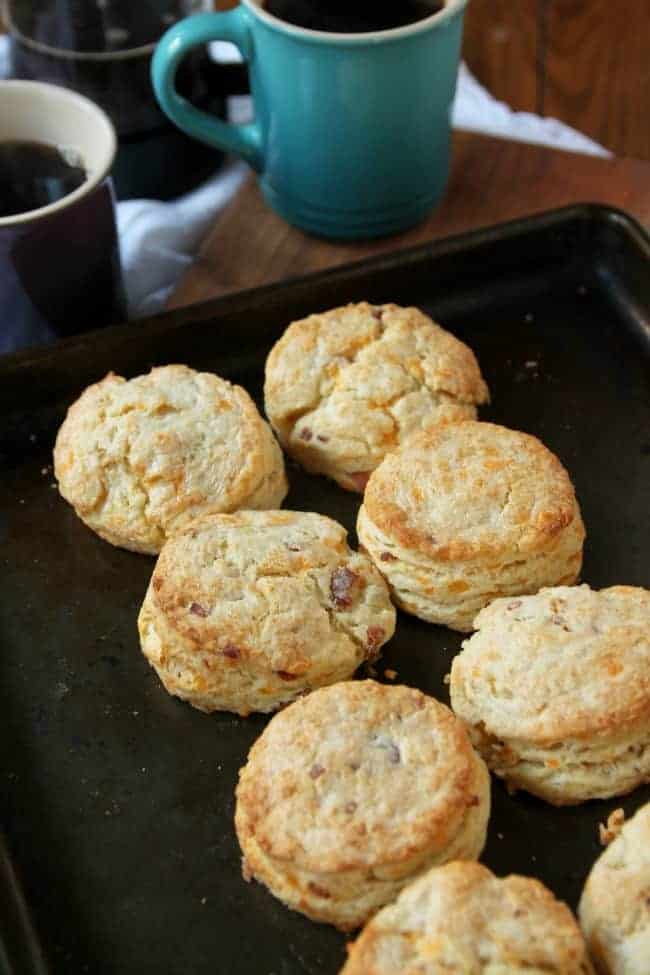 I have a real love for scones.
Sweet scones, savory scones…really, it doesn't matter. I love them all.
There is a local coffee shop that I frequent – not because I like coffee (because I actually don't), but because a.) they carry my favorite green tea and b.) their scones give me life.
(Coincidentally, this is the same coffee shop that inspired my Amish Breakfast Cake recipe.)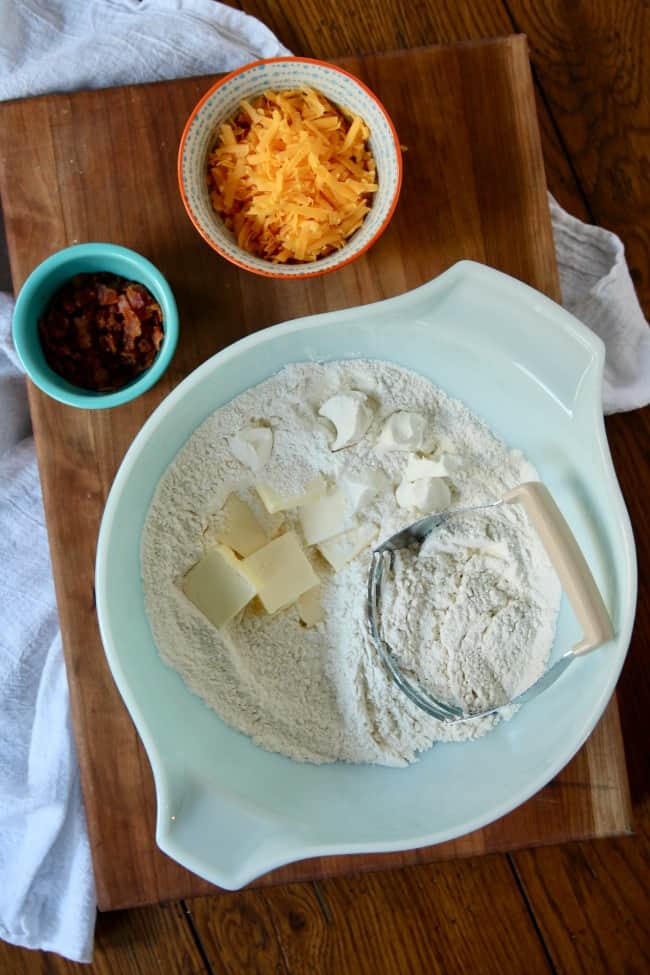 They always have a variety of sweet scones and one savory option, with the flavors varying depending upon the season and what's available – and probably what they feel like making, to be honest. I flip-flop on whether I go for sweet or savory, but when there's a Cheddar Bacon Scone available? That's always the answer.
The other day I decided I would whip up my own batch of Cheddar Bacon Scones – mostly so that I could "test" several of them (quality control is important, you know) without having to pay for multiple scones.
I should teach a class on budgeting.
At any rate, I adapted my Sweet Potato Biscuit recipe to create these Cheddar Bacon Scones. In addition to butter, I cut in a few tablespoons of cream cheese – because cheese. Also because cream cheese is tangy. And delicious. Again I say – because cheese.
Ok now…let's talk for a second about how this is not a low-fat recipe. It's just not. Cheese, butter, bacon…and cream. Yes, I used cream as the liquid in this recipe.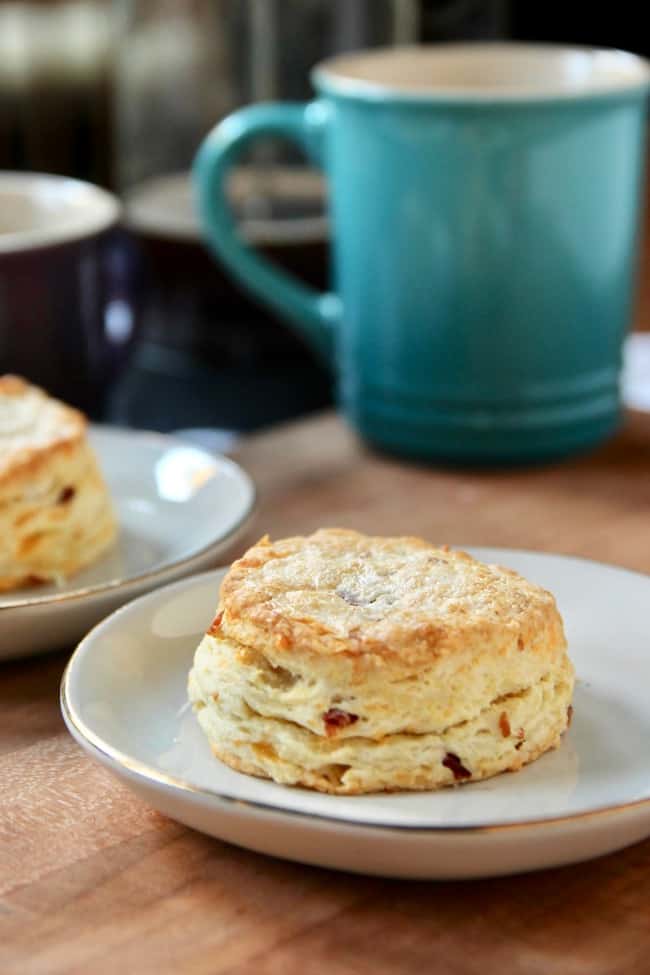 I have made cream scones in the past (such as my Cranberry Ginger Cream Scones) that allowed cream to play the part of both fat and liquid the recipe. And that works quite well and is very lovely. But…I was feeling a little extra indulgent when I made these and decided to go over the top with both butter and cream here.
(For the record, my friend Christina also likes to go the butter + cream route. Case in point: her Small Batch Meyer Lemon Scone recipe. I've always known there was a reason we were friends!)
Feel free to swap in whole milk or buttermilk for the heavy cream if you like – but that's as much as I'll allow! No skim milk, ya hear? It is too thin and just doesn't have the body we want for this kind of recipe.
Just consider these a treat yo'self moment. I'm happy to help.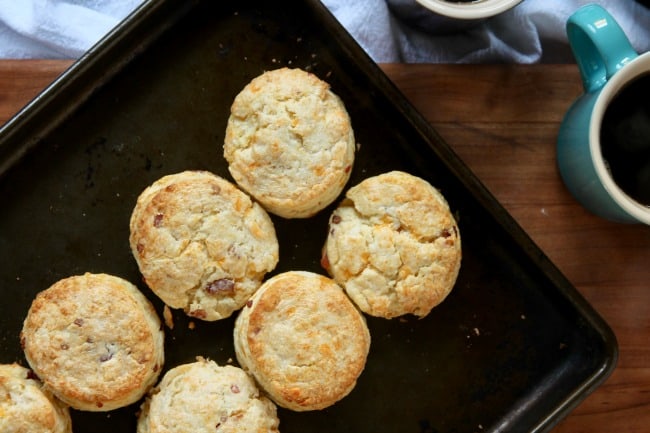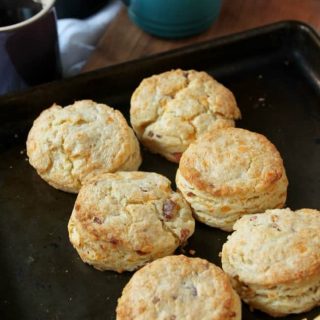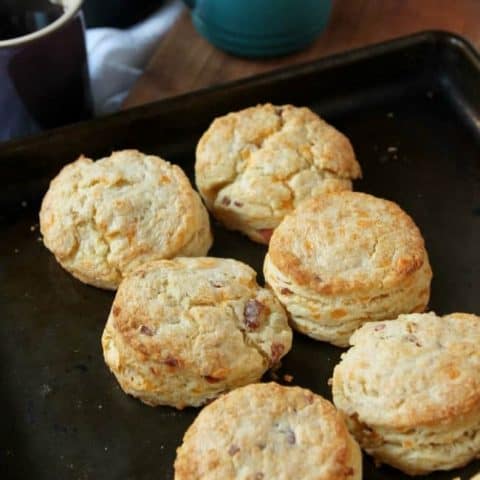 Ingredients
2

cups

flour

1

tablespoon

baking powder

1/2

teaspoon

baking soda

1/4

teaspoon

salt

4

tablespoons

unsalted butter

cold

1 1/2

ounces

(3 tablespoons) cream cheese

cold

3

strips bacon

cooked and crumbled

1/2

cup

shredded sharp cheddar cheese

1

cup

cream

plus 1 tablespoon for brushing the tops**
Instructions
Preheat oven to 425 degrees.

In a large bowl, whisk together the flour, baking powder, baking soda and salt. Cut the butter and cream cheese into pieces, and use a pastry cutter to work the fat into the dry ingredients until the butter and cream cheese are in pea size pieces.

Stir in the bacon and cheddar cheese. Stir in the cream until just combined.

Turn the dough out onto a lightly floured surface and knead just enough to bring the dough into a disk. Fold in half; pat the dough back into a disk and fold in half again. This will help form some layers in the finished scones.

Roll or pat the dough to 1/2 inch thick. Use a 2-inch cutter to cut out the scones, placing them close together on an ungreased baking sheet and re-rolling dough scraps as needed. Brush the tops lightly with additional cream.

Bake for 12-15 minutes, or until golden brown.
Notes
**If using both butter and cream puts you over the edge, I will accept whole milk or buttermilk as acceptable substitutions for the cream.
Nutrition
Calories:
309
kcal
|
Carbohydrates:
23
g
|
Protein:
6
g
|
Fat:
22
g
|
Saturated Fat:
12
g
|
Polyunsaturated Fat:
1
g
|
Monounsaturated Fat:
6
g
|
Trans Fat:
0.2
g
|
Cholesterol:
59
mg
|
Sodium:
380
mg
|
Potassium:
82
mg
|
Fiber:
1
g
|
Sugar:
1
g
|
Vitamin A:
673
IU
|
Vitamin C:
0.2
mg
|
Calcium:
151
mg
|
Iron:
2
mg