Homemade tzatziki is fresh and bright. Made with Greek yogurt, cucumber, dill, and lots of lemon juice, this simple sauce is excellent with everything from pita chips to grilled vegetables.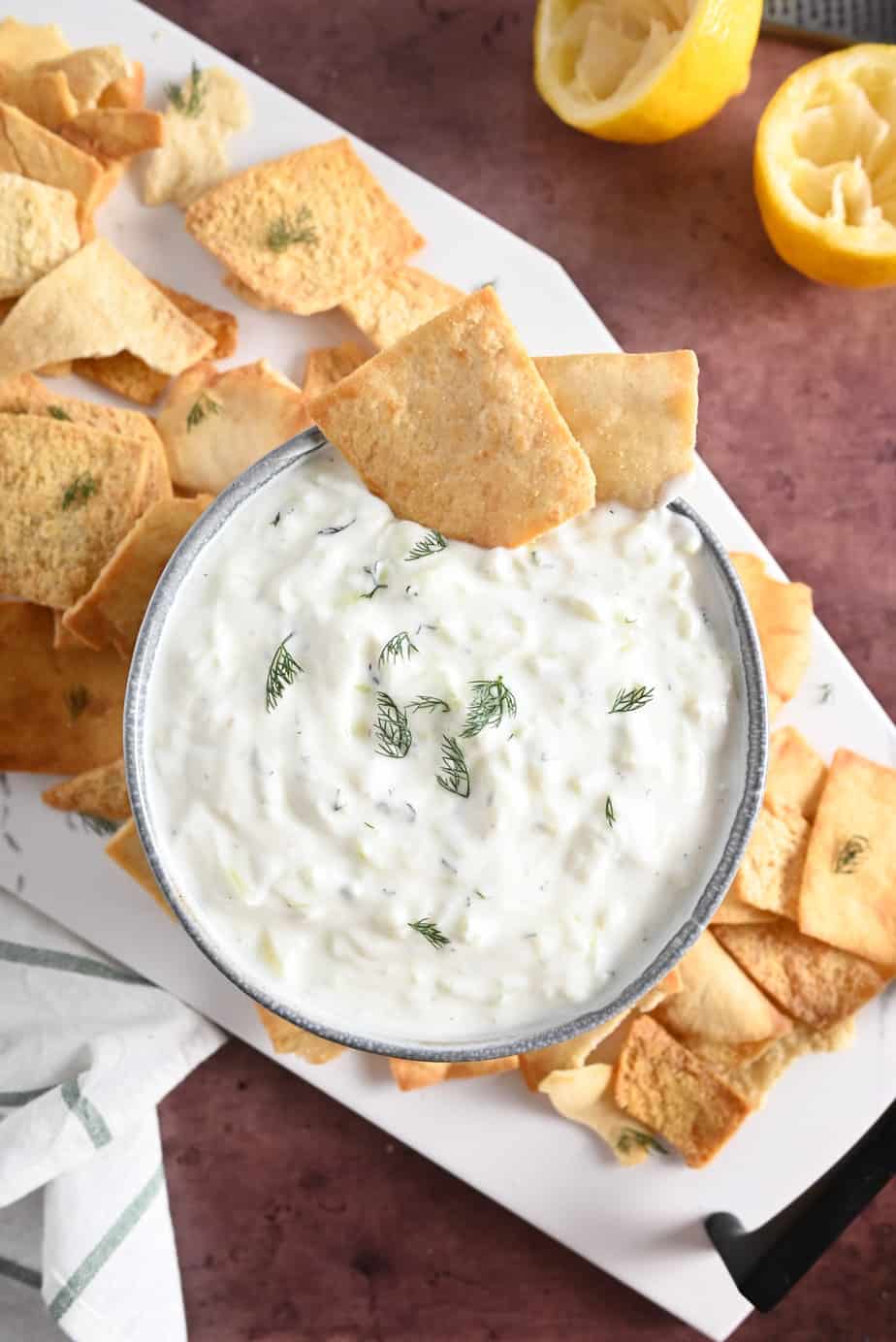 This post contains affiliate links.
Being a food blogger who is married to a chef is a funny thing.
These days, thanks to our schedules and life stage, Alex is most often the one cooking dinner while I am always the one handling any desserts, breads, or other baked goods.
That being said, there are a handful of things that Alex prefers for me to make.
It's not that he can't make them – remember, he works in a kitchen full time – it's that he just likes them better when I make them.
(Is this similar to how grilled cheese sandwiches always taste better when your mom makes them?)
Homemade hamburger helper (aka "chili mac" at our house) is one of them. Cream cheese ranch roll ups and pickled cucumbers are two others. Tzatziki sauce is also on that list.
This homemade tzatziki is a household summer favorite. Once garden-fresh cucumbers start rolling in, there's almost always a container of this tzatziki in the fridge, ready for serving with our dinners or simply digging into with pita chips.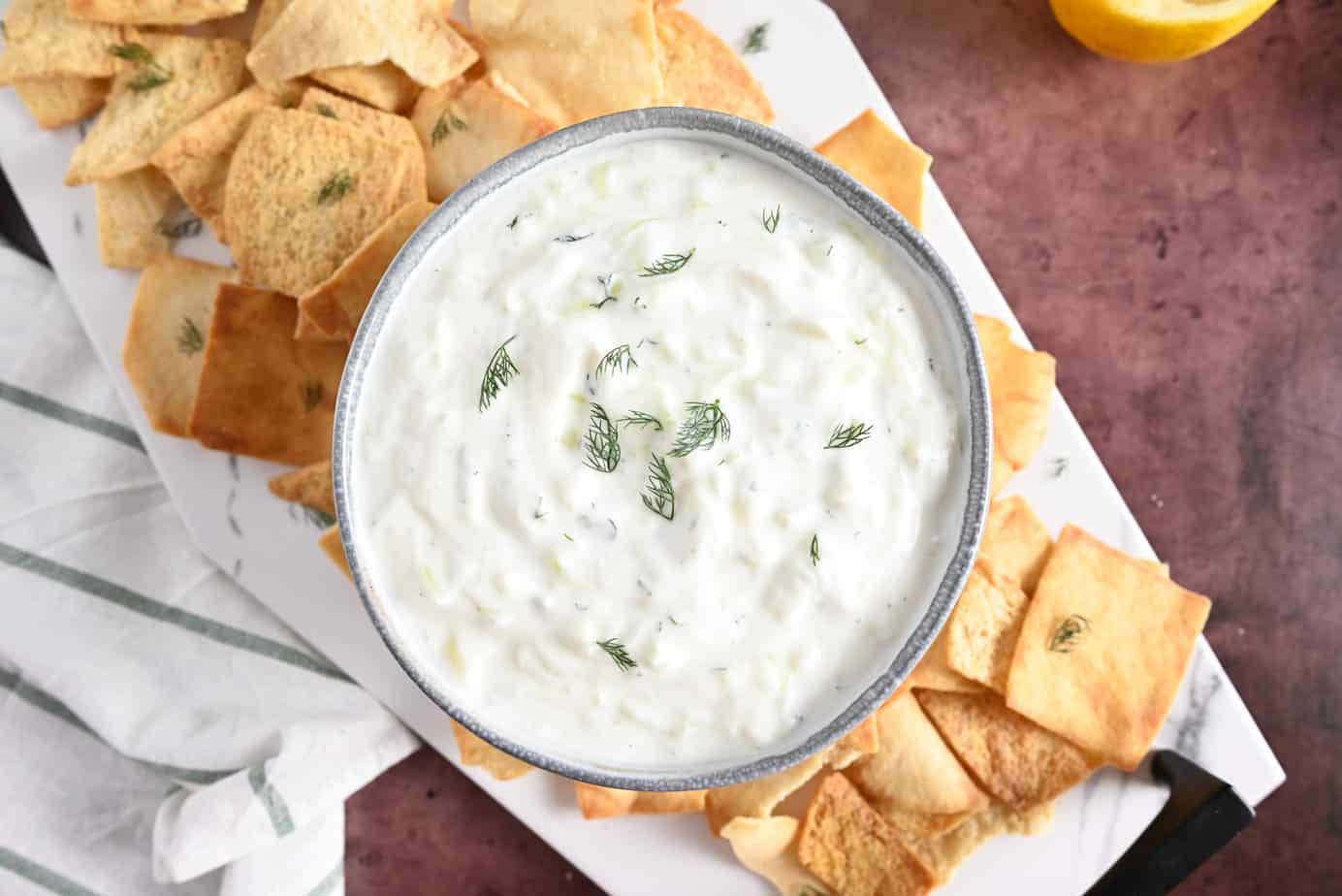 WHAT IS TZATZIKI?
Tzatziki is a Mediterranean dip or sauce. Even though tzatziki sauce is most commonly associated with Greek food, there are variations on this sauce throughout the Mediterranean and Middle East.
Tzatziki is made from yogurt mixed with cucumbers, garlic, salt, fresh herbs, olive oil, and lemon juice or vinegar.
There are tons of regional variations on this recipe, so it's hard to identify what is the most "authentic." This tzatziki recipe is closest to what I've had at Greek restaurants, although in Greece it would be made with goat or sheep's milk yogurt.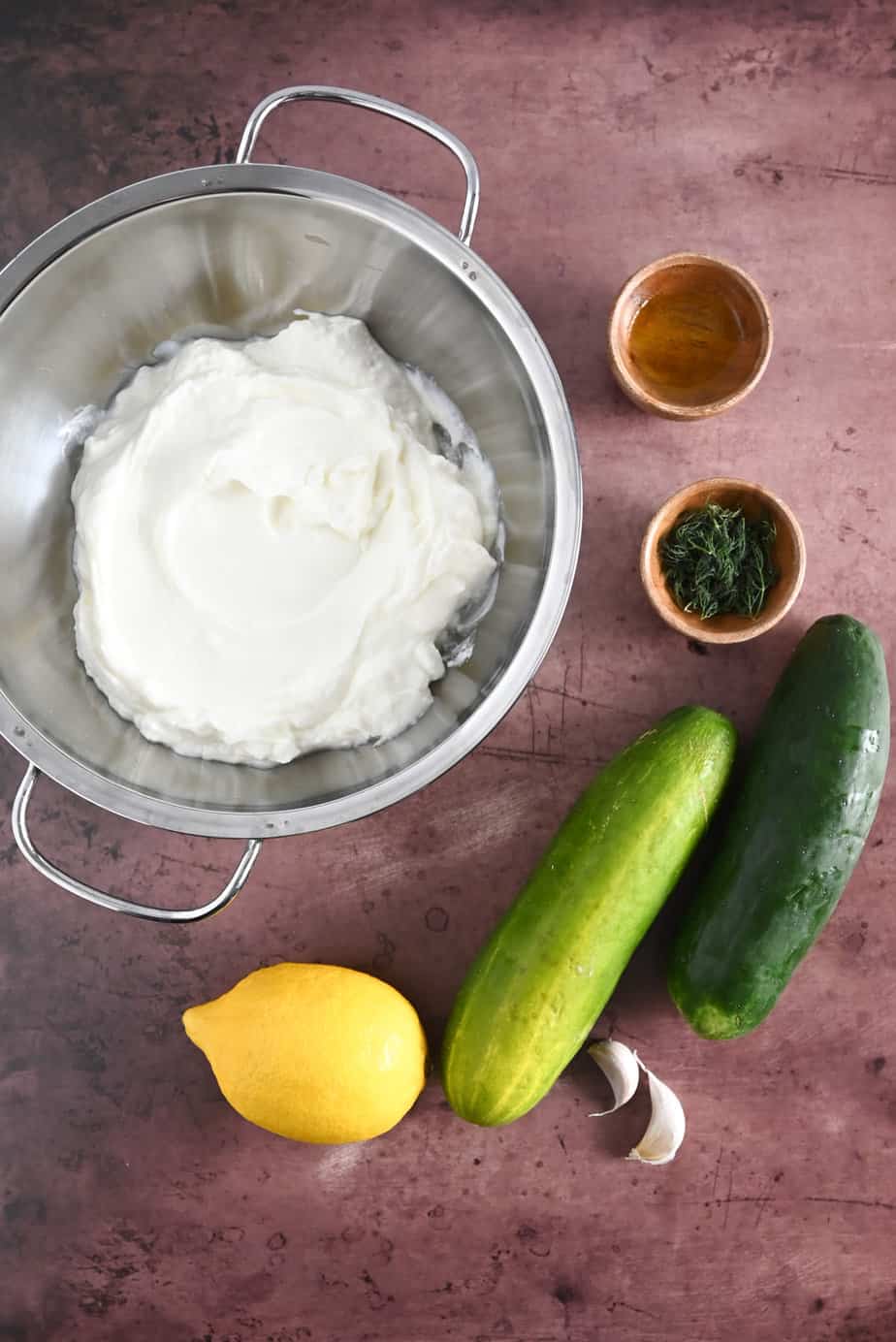 How to pronounce tzatziki
Not sure how to pronounce tzatziki? I've got you!
Tsah-zee-key
There you go! The more you know.
HOW TO MAKE HOMEMADE TZATZIKI SAUCE
Even though Alex may always ask me to make our homemade tzatziki, it's really easy to make. And it's so versatile and refreshing, you'll find yourself whipping it up every chance you get!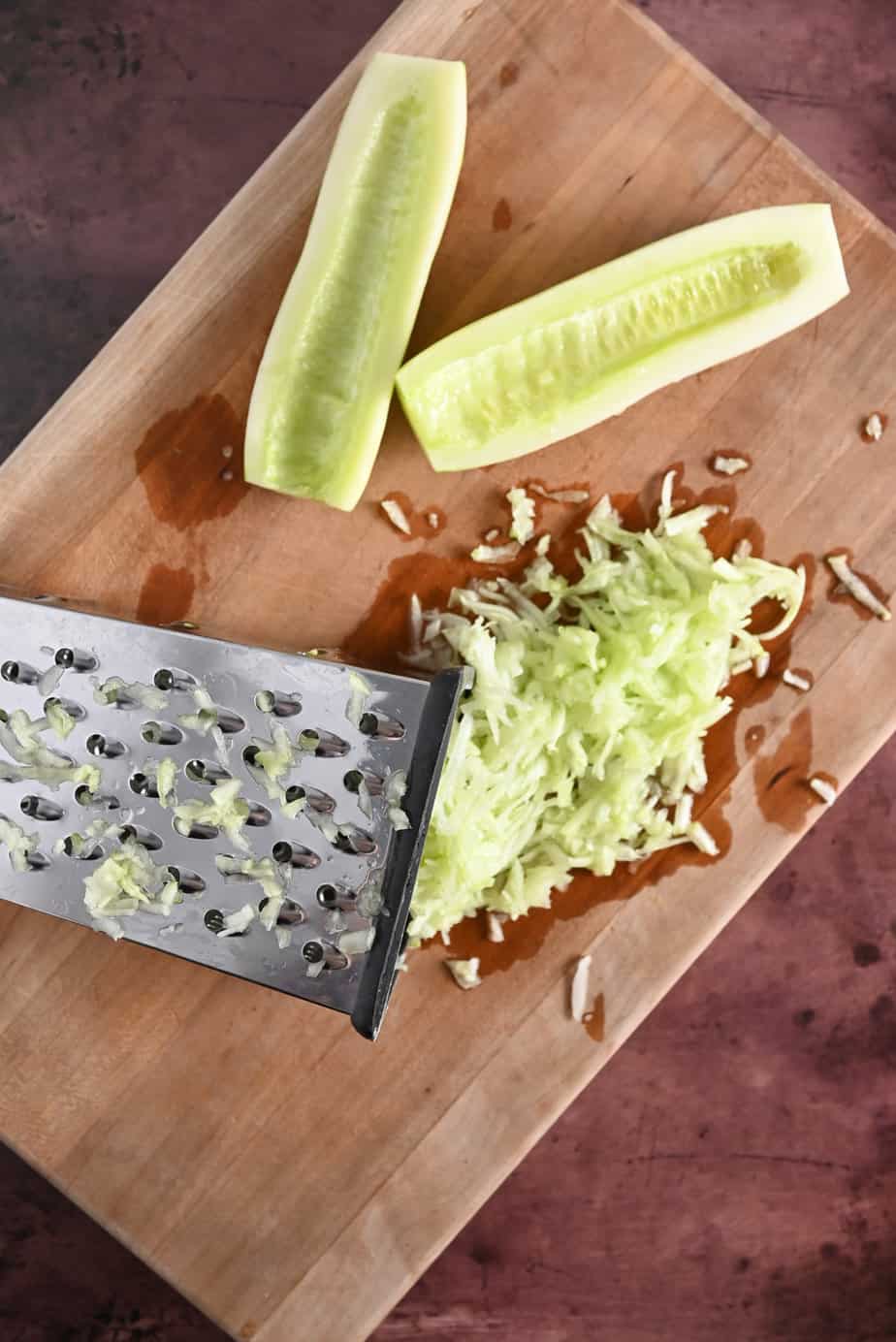 Tzatziki sauce ingredients
Remember, since there are many regional variations on this dish, there are some slight variances in the ingredients used.
For example, some recipes call for mint instead of fresh dill, or a combination of the two herbs.
This is what we use in our tzatziki sauce, but feel free to play around based on what you like and have on hand:
1 large or 2 small cucumbers
24 ounces whole milk Greek yogurt
Juice of 1-2 lemons
1 tablespoon extra virgin olive oil
1-2 cloves garlic, grated or finely minced
1 tablespoon chopped fresh dill
Salt & pepper to taste
I will often use American cucumbers for this, since they're easiest to find at the farmer's market around here, but you can use English or Persian cucumbers instead.
Remember that everything in this recipe can be adjusted based on your tastes.
Our family prefers dill to mint and we like a lot of lemon juice in almost everything (including this recipe). You can always use less lemon juice, up the amount of dill, use less or more garlic…it's all up to you!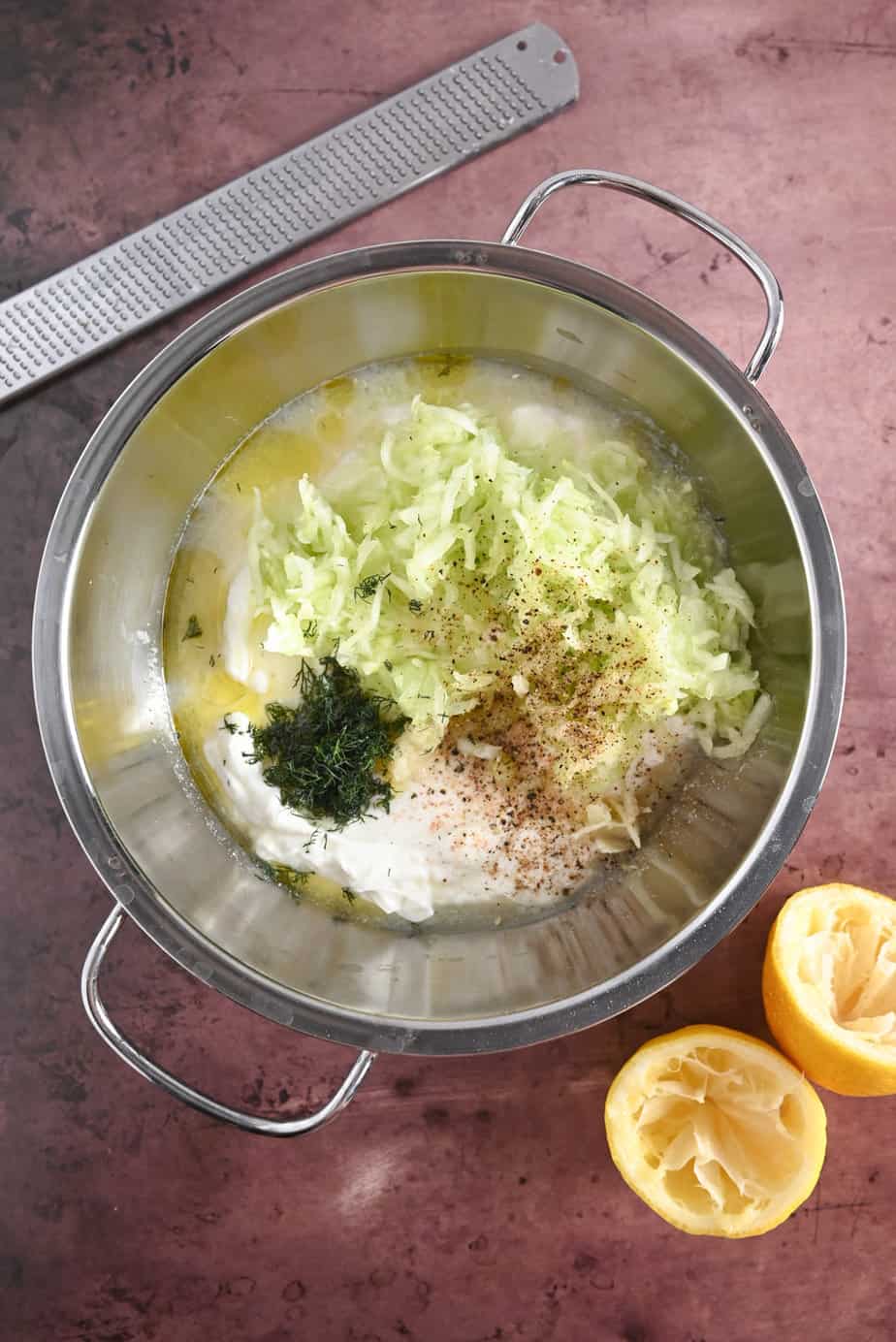 What if I can't find Greek yogurt?
Greek yogurt is pretty easy to find in nearly all grocery stores these days. That said, you can use strained plain yogurt instead if your store is out of Greek yogurt!
Grab a container of full fat/whole milk plain yogurt. Place a fine mesh strainer over a bowl and line the strainer with cheesecloth.
Add the yogurt to the strainer. Cover it with the edges of the cheesecloth and place it in the refrigerator for several hours or overnight.
If you want to speed this process up, you can place a plate on top of yogurt with a weight (such as a bowl or a can of beans) to press down on the yogurt.
This process will remove a lot of the whey from the yogurt, giving it a much thicker consistency! Use this strained yogurt in place of Greek yogurt in nearly any recipe.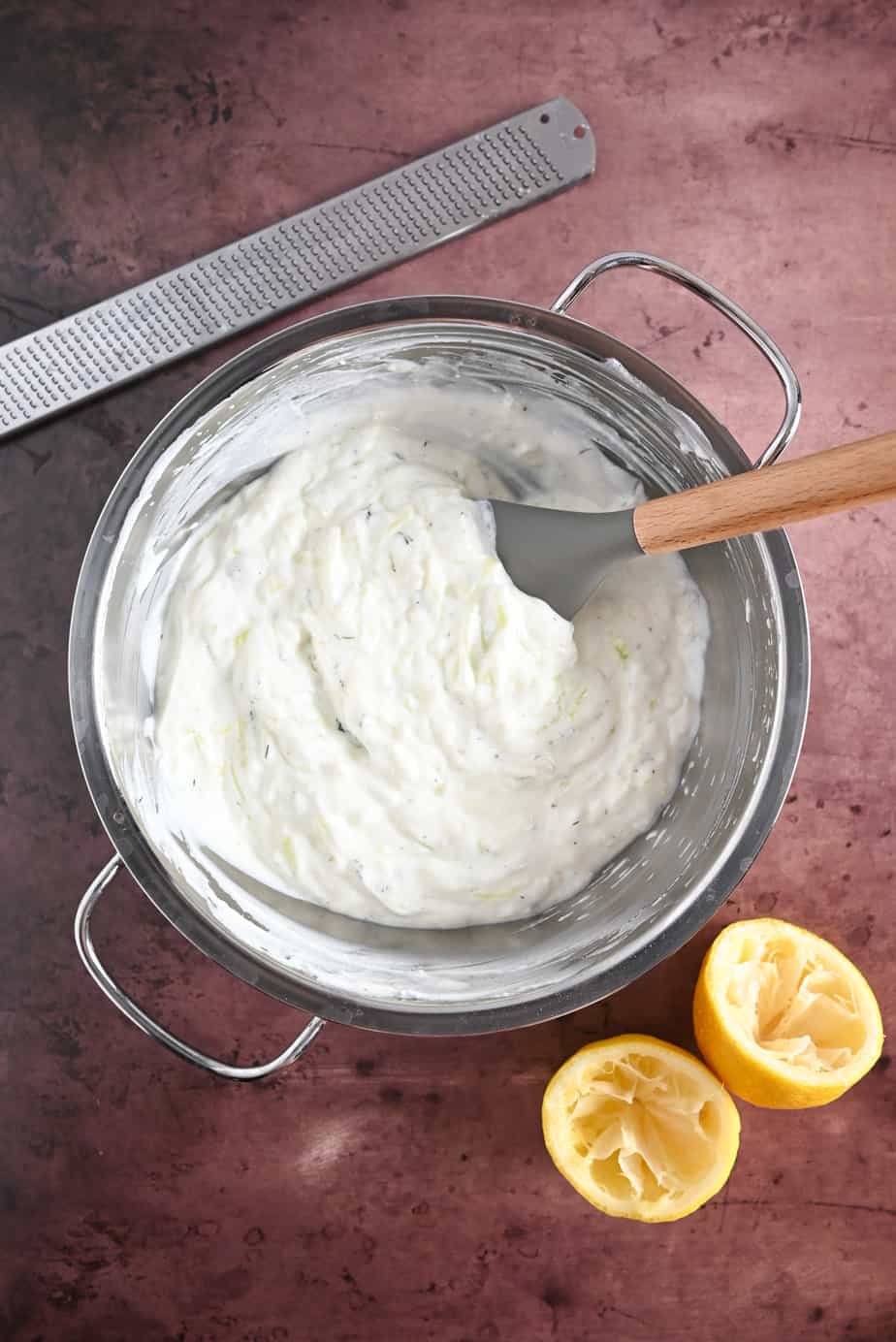 Helpful tools
You'll want to have a box grater on hand to grate the cucumber.
You may also want to use a clean tea towel to help you squeeze the water out of the grated cucumber, although you can simply use your hands for this as well.
Other than that, everything else is pretty standard: A bowl, a spoon, and a knife!
Making homemade tzatziki
The only part of the recipe that requires any real work at all is preparing the cucumber.
Cucumber has a lot of water in it, which can seep out and make your tzatziki sauce really runny and watery.
To combat this, peel the cucumber and cut it in half lengthwise. Use a spoon to scoop out and discard the seeds – cucumber seeds don't add any flavor and will just water down the sauce more.
Grate the cucumber and then use your hands (or a clean tea towel) to squeeze out as much of the water from the cucumber as you can. You'll be surprised how much water you'll get out of it!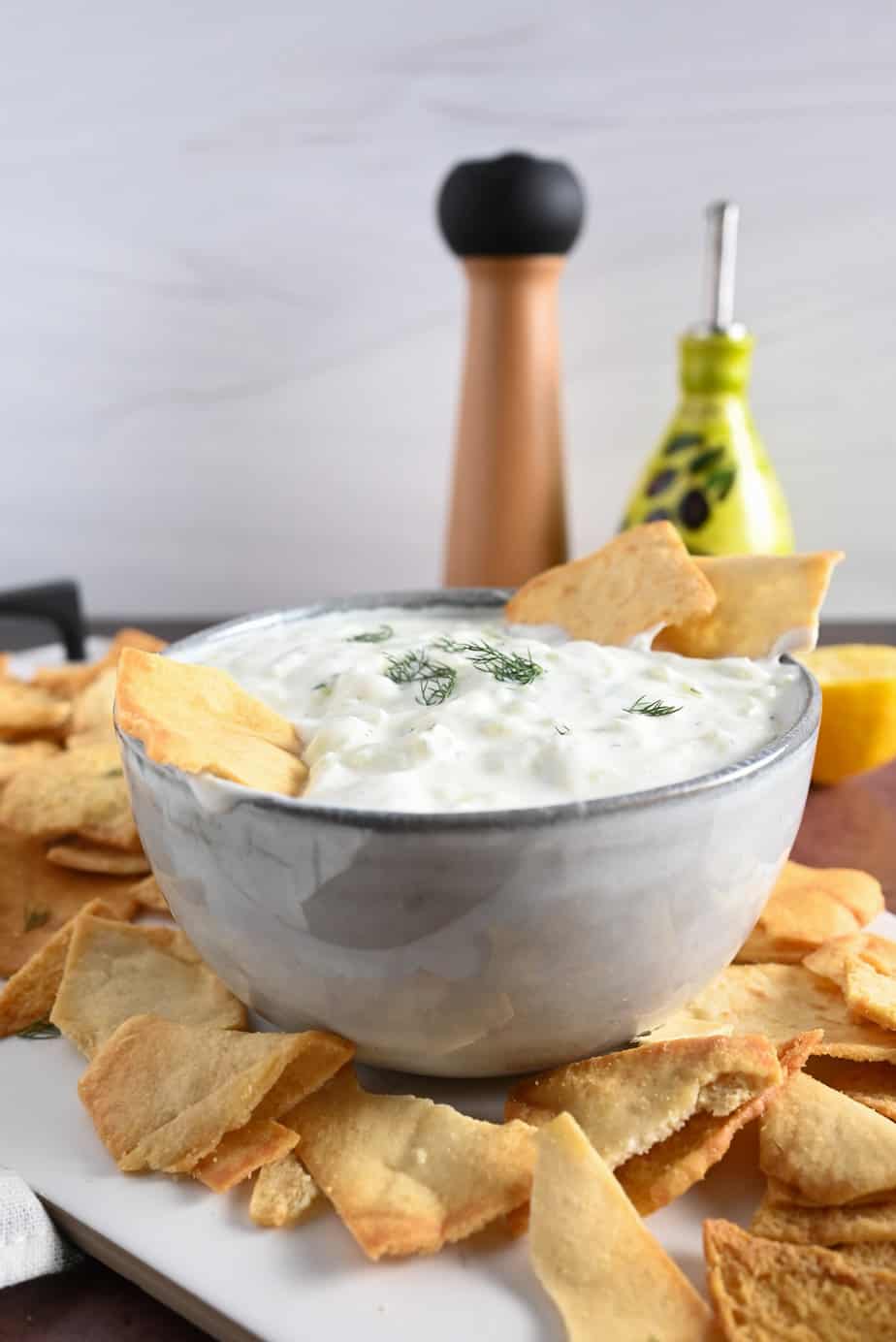 Once the cucumber has been drained, add it to a bowl with the yogurt, juice of 1 lemon, olive oil, minced garlic, and chopped dill.
Give the mixture a stir and then taste it. Add salt and pepper to taste and adjust the other ingredients as desired – add more lemon juice, more dill, some fresh mint, etc.
You can serve the tzatziki sauce right away, but it's even better if you let it rest in the refrigerator for a couple of hours before serving. You'll be surprised at how much the flavors pop after just a couple of hours!
STORAGE
Keep your tzatziki sauce in an airtight container in the refrigerator. I will often store it in the container the yogurt came in!
This sauce will keep for up to 3 days. After that, the herbs and cucumber can get a little funky, so I do recommend eating it within 3 days. Although that's certainly never been a problem at our house!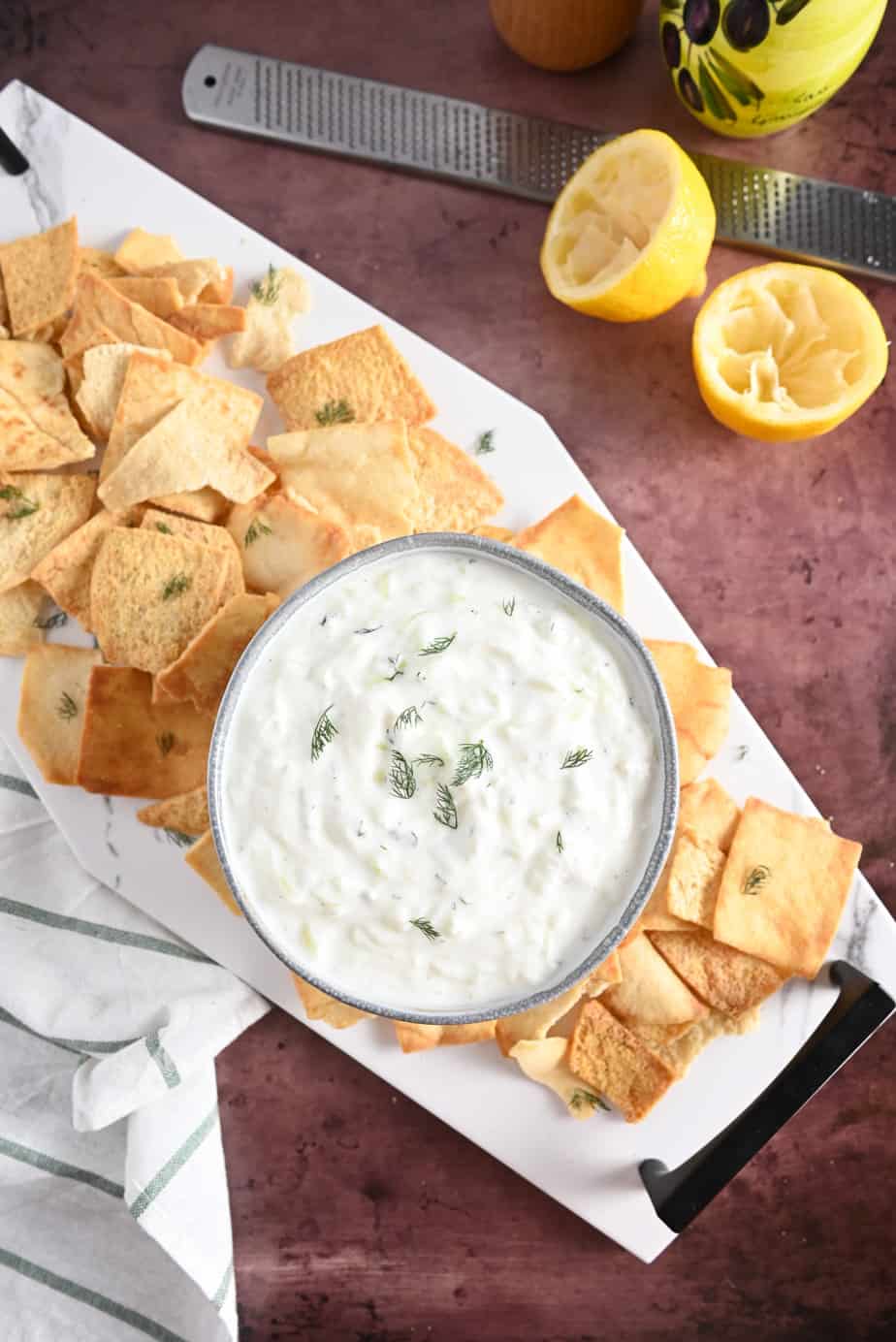 SERVING SUGGESTIONS
Ok, so what do you do with this sauce?
Homemade tzatziki makes a great appetizer with pita chips or warm pita bread and fresh veggies. Put it out alongside white bean dip and watch it disappear!
Try it as a sauce on everything from grilled vegetables to Greek chicken to turkey burgers and more. You could even use it as a salad dressing if you want!
Or you can be like my two-year-old and dig right into it with a spoon. I promise I won't tell anyone if you do.
If you're looking for a way to use up some of those summer cucumbers, this bright and refreshing homemade tzatziki recipe has your name all over it.