Peach hand pies are the ultimate late summer dessert. With a buttery pie crust, filling made with summer-ripe fresh peaches, and crunchy sugar on top, these are hand-held gems of peach pie goodness.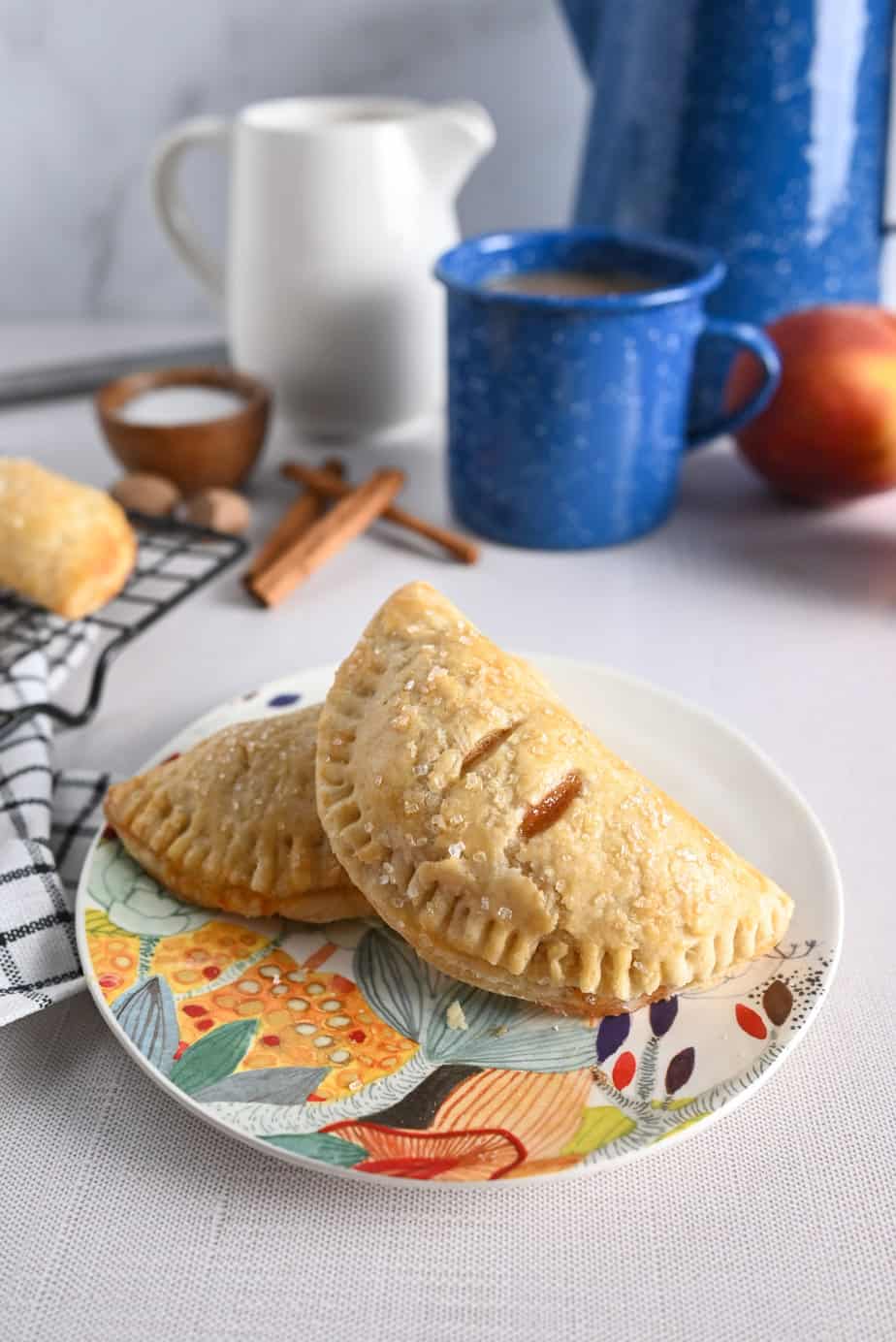 This post contains affiliate links.
If your grocery stores and farmer's markets are anything like ours are right now, then they're positively full to bursting with the most gorgeous fresh peaches ever.
I could eat them every day on my cereal (Crispix forever, please and thank you), over classic shortcakes, in peach ice cream, in peach cobbler, and about 100 other ways and never get tired of them.
The other week, while I was fiddling around with some fall hand pie recipes for my full-time job, my friend Bethany suggested I made peach hand pies.
Since she's one of my favorite taste testers and, as a mom of a newborn, definitely deserves some peach hand pies, I was happy to take her suggestion.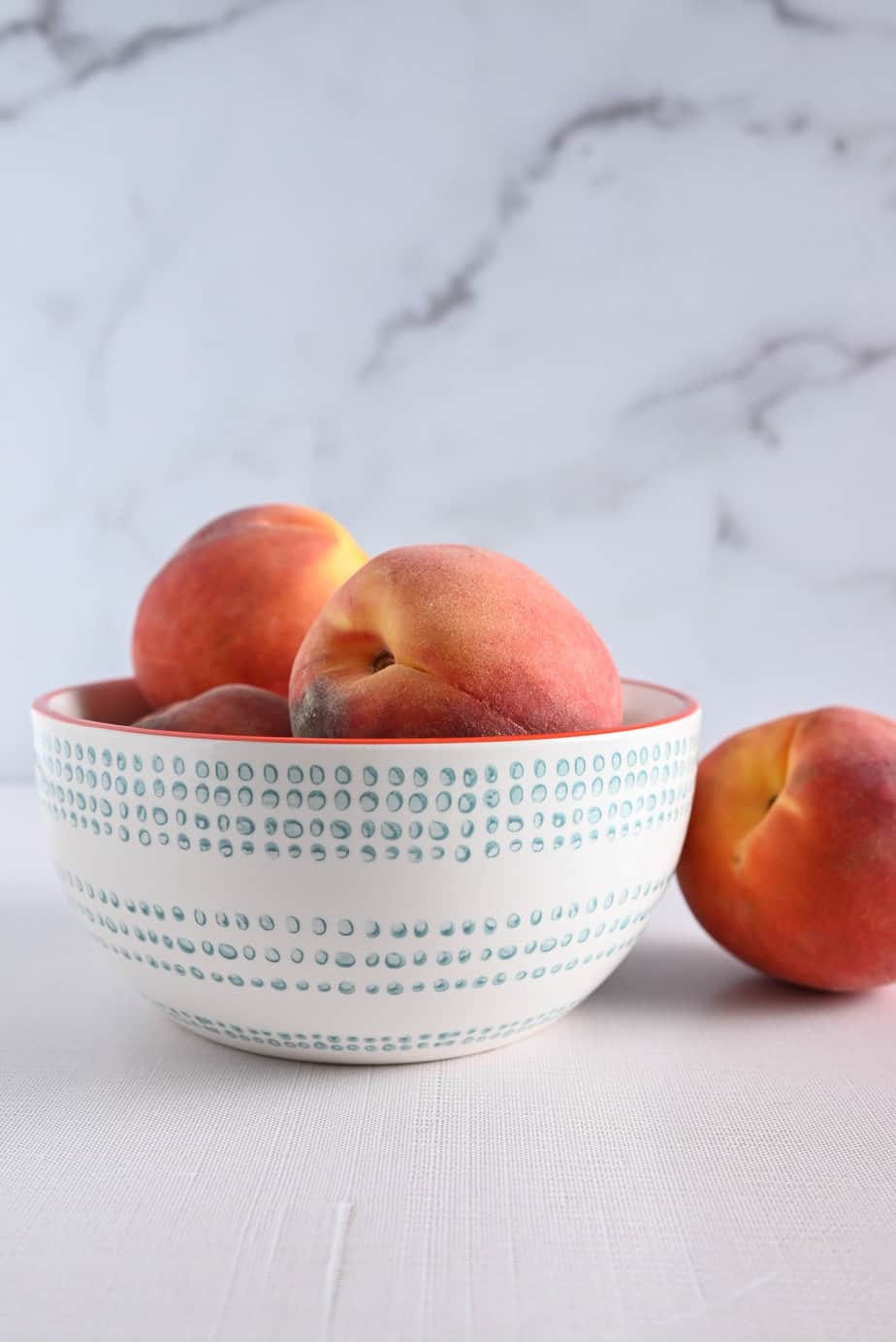 WHAT ARE HAND PIES?
Hand pies are exactly what they sound like: miniature pies that you can hold in your hand!
Lots of different cultures have their own version of hand pies, whether they be sweet or savory. Spain and Latin America have empanadas, the U.K. has pasties, India has samosas, Russia has piroshki…and that's just a very small handful of examples.
Hand pies versus turnovers
Hand pies and turnovers (such as apple turnovers) are very similar, but do have some slight differences.
Turnovers are usually made with puff pastry, while hand pies can be made with a variety of different types of pastry. In the case of these peach hand pies, they are made with pie crust.
Turnovers are also always formed by folding a piece of dough in half with the filling in the middle. Usually a square piece of puff pastry is folded in half to make triangle-shaped pastries.
Hand pies can be a variety of shapes, whether the dough is folded in half like this recipe or cut into rounds, squares, rectangles, etc.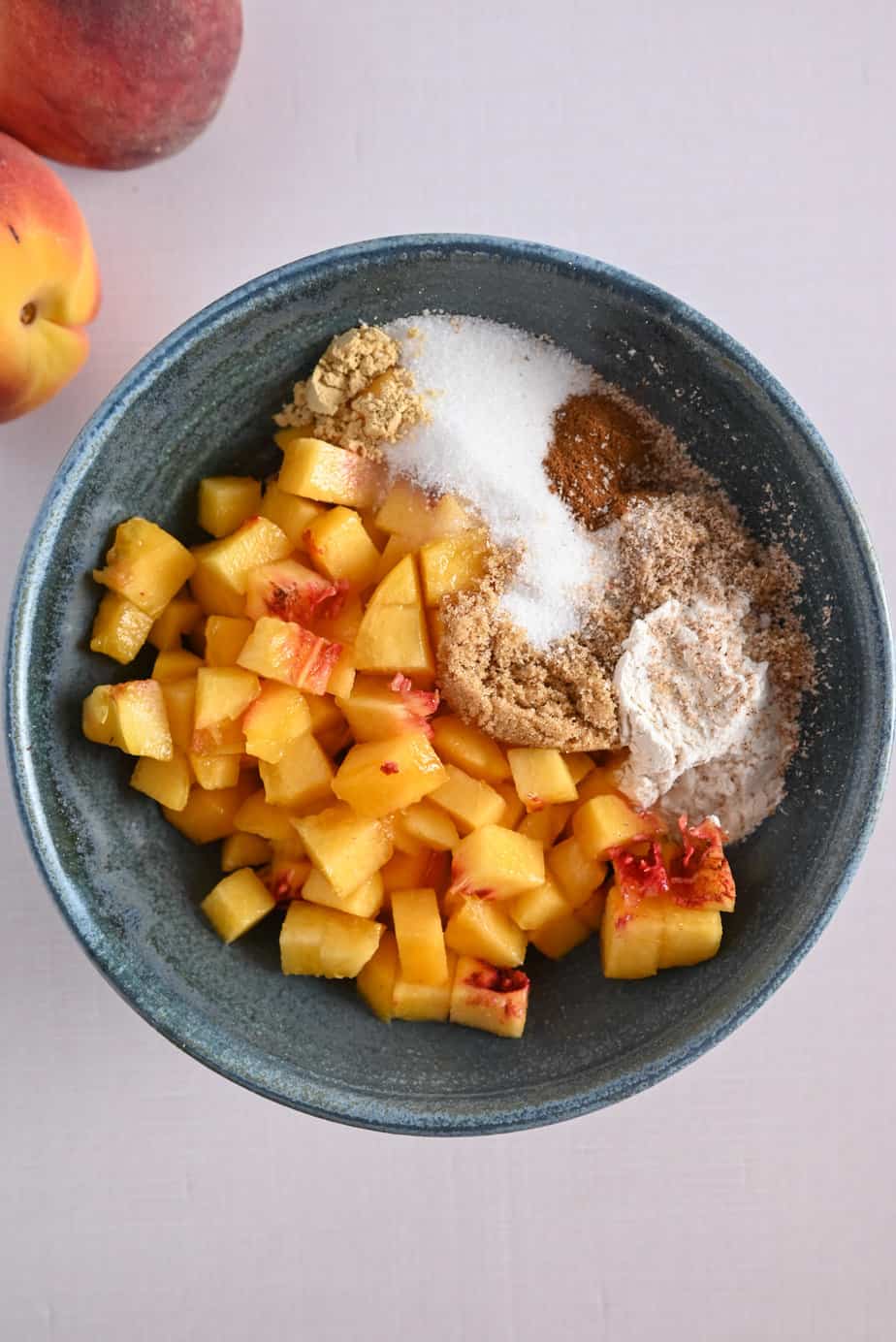 HOW TO MAKE PEACH HAND PIES
These peach hand pies are adorable and are sure to impress anyone you serve them to. But I promise you, they aren't as hard as they seem to make!
What pie crust should I use?
I know that the pie crust thing is where I lose most people in my love for making pie.
And yes, I really do love (LOVE!) making homemade pie crust, whether it's for a full-size sweet potato pie or rhubarb pie or for these little beauties.. It just takes a bit of practice to get the hang of.
But if you aren't sure about making your own crust, that's ok. You can absolutely make these hand pies with your favorite refrigerated pie crust.
Just make sure that any pie crust you buy or make is enough for a 9-inch double-crust pie. This should give you around a dozen 5-inch hand pies.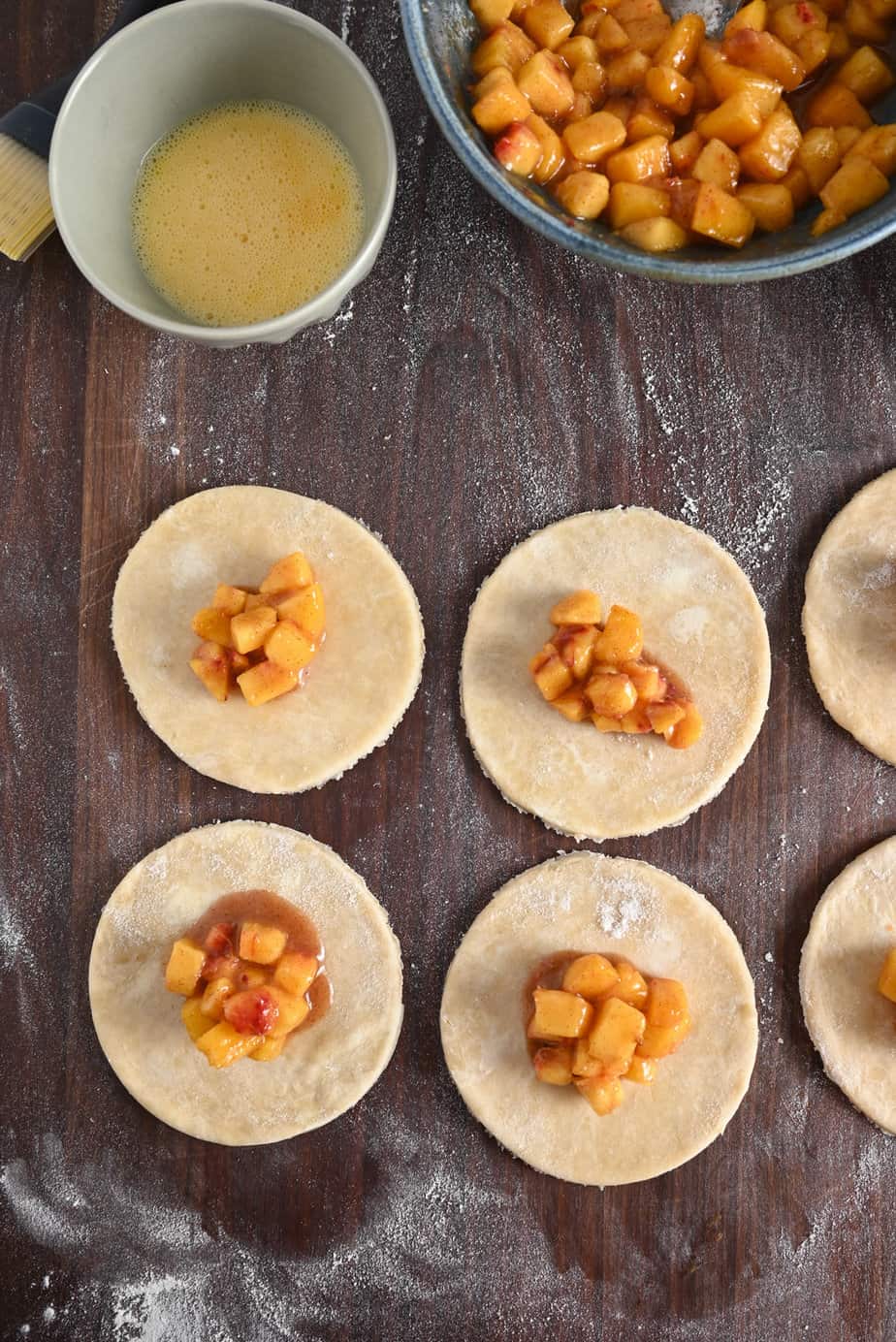 Filling ingredients
The filling is the real star of this show. After all, we want to show off those perfect summer-ripe peaches!
This filling comes together with:
Fresh peaches: We'll use 2 large fresh peaches for this recipe. If your peaches aren't very big, use 3 smaller peaches instead.
Brown sugar and granulated sugar: The sugar adds sweetness to the filling. I like the richness the brown sugar adds, but didn't want it to overpower the peaches. Balancing it with granulated sugar allows the flavor of the peaches to shine through.
Flour: We can't have a runny hand pie filling! Just a bit of flour thickens up the filling just the right amount.
Spices: Cinnamon is always the go-to for peaches, and I agree that it's a must! But my real must-have with peaches is ground ginger. I love what it adds to anything with peaches! A smidge of ground nutmeg is also welcome here.
A squeeze of lemon juice: Don't sleep on the lemon juice! It brightens the filling just a bit and really brings it all together.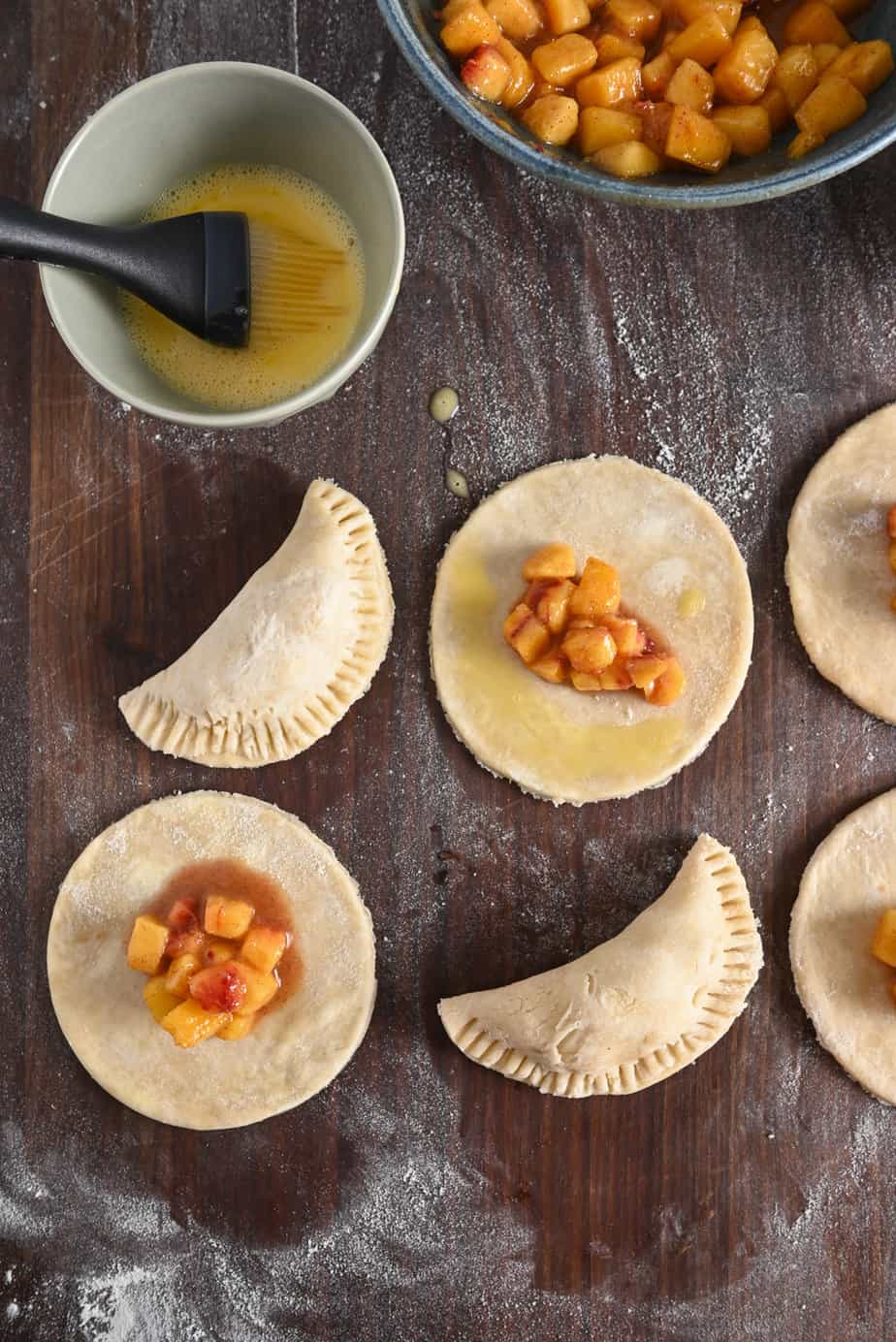 Making this recipe
Start by mixing together your filling.
Peel, pit, and dice the peaches. Remember that the hand pies are going to be pretty small, so cut the peaches accordingly.
Mix the diced peaches together with the sugars, flour, spices, and lemon juice. Set the filling aside while you prep the pie crust.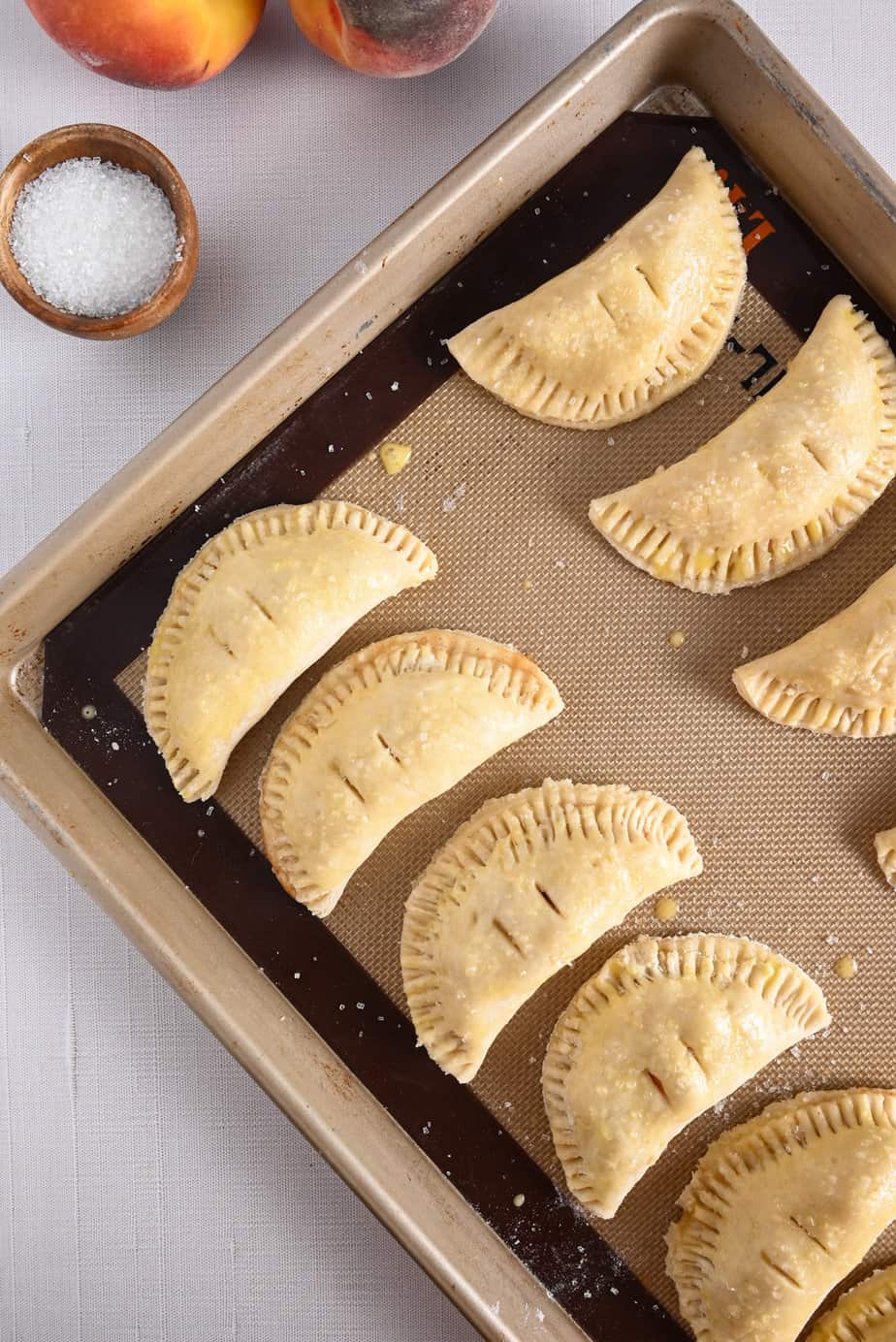 If you're using a homemade pie crust recipe, roll out the pie dough into a 15×18-inch rectangle onto a well-floured surface.
If you're using a refrigerated crust, unroll both crusts onto a well-floured surface and give them a roll with your rolling pin. You want to make sure they are nice and thin.
Use a 5-inch cookie cutter to cut out as many 5-inch circles as you can from the pie dough. You can re-roll the scraps as needed, but keep in mind that the crust will get tougher the more you work it.
You should be able to get about 12 circles from the full batch of pie dough.
Place a heaping spoonful of the peach filling in the center of each dough circle, leaving behind as much of the juice as possible. Don't overfill the pies – you don't want them to burst!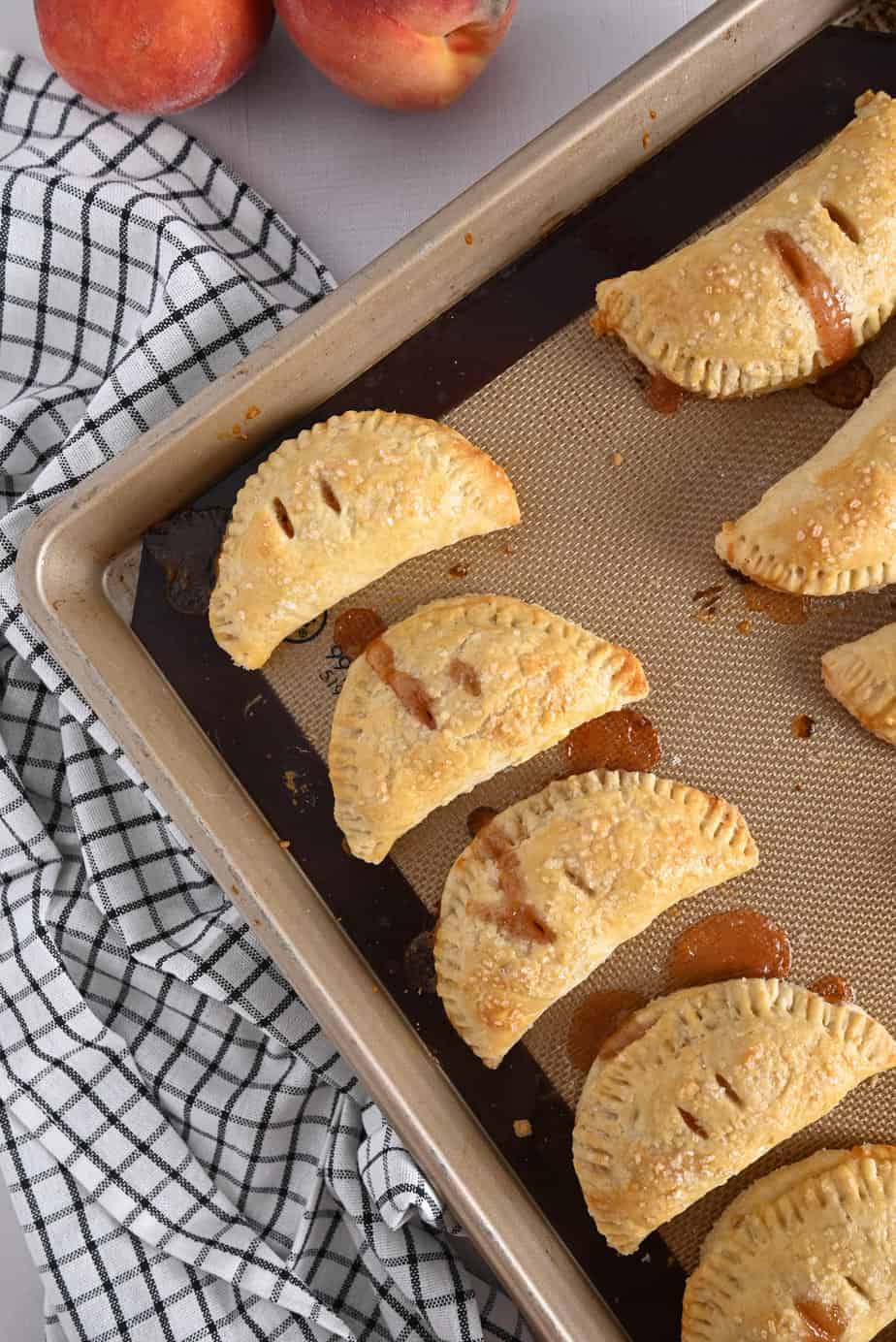 (If you have any leftover filling, toss it into an oven-safe ramekin and top it with leftover pie crust scraps for a tiny pie just for you.)
Brush egg wash around half of each dough circle, fold the pies in half, and crimp the edges shut with a fork.
Place the pies on a lined baking sheet, cut 2 slits in the top of each pie, brush the tops with egg wash, and sprinkle some sparkling sugar on top.
Let the pies bake for 25-30 minutes. They're done when the crust is golden brown on the top and bottom of the pies and the filling is bubbly.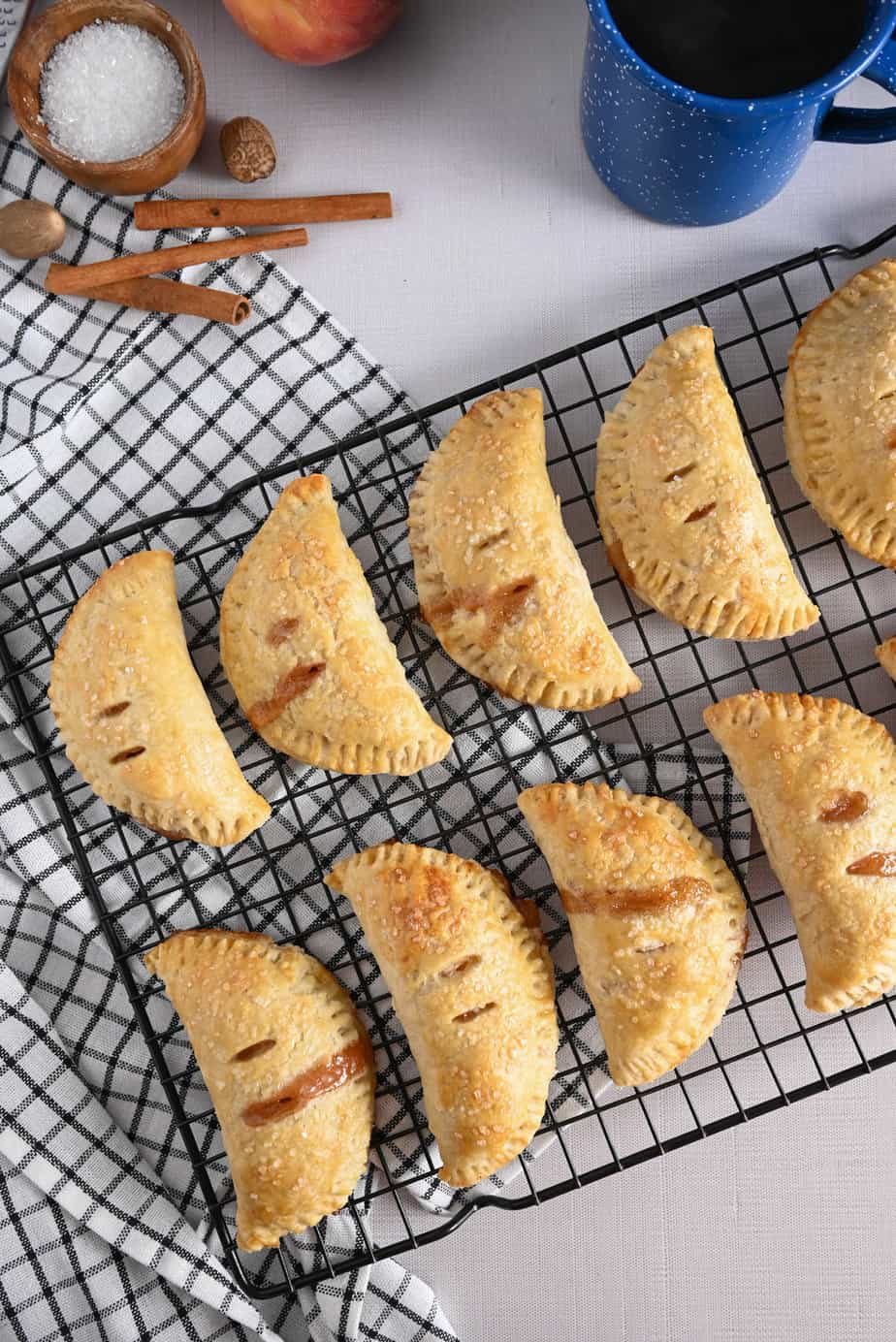 STORAGE AND FREEZING
If you're anything like me, good luck not eating all of your peach hand pies the moment they come out of the oven.
If you do have better self control than I do, store cooled hand pies in an airtight container for up to 2 days.
The crust will be flakiest on the day they're made, but they'll still be delicious a couple of days later. You could also reheat leftover hand pies in a toaster oven to bring back some of that fresh-baked feel!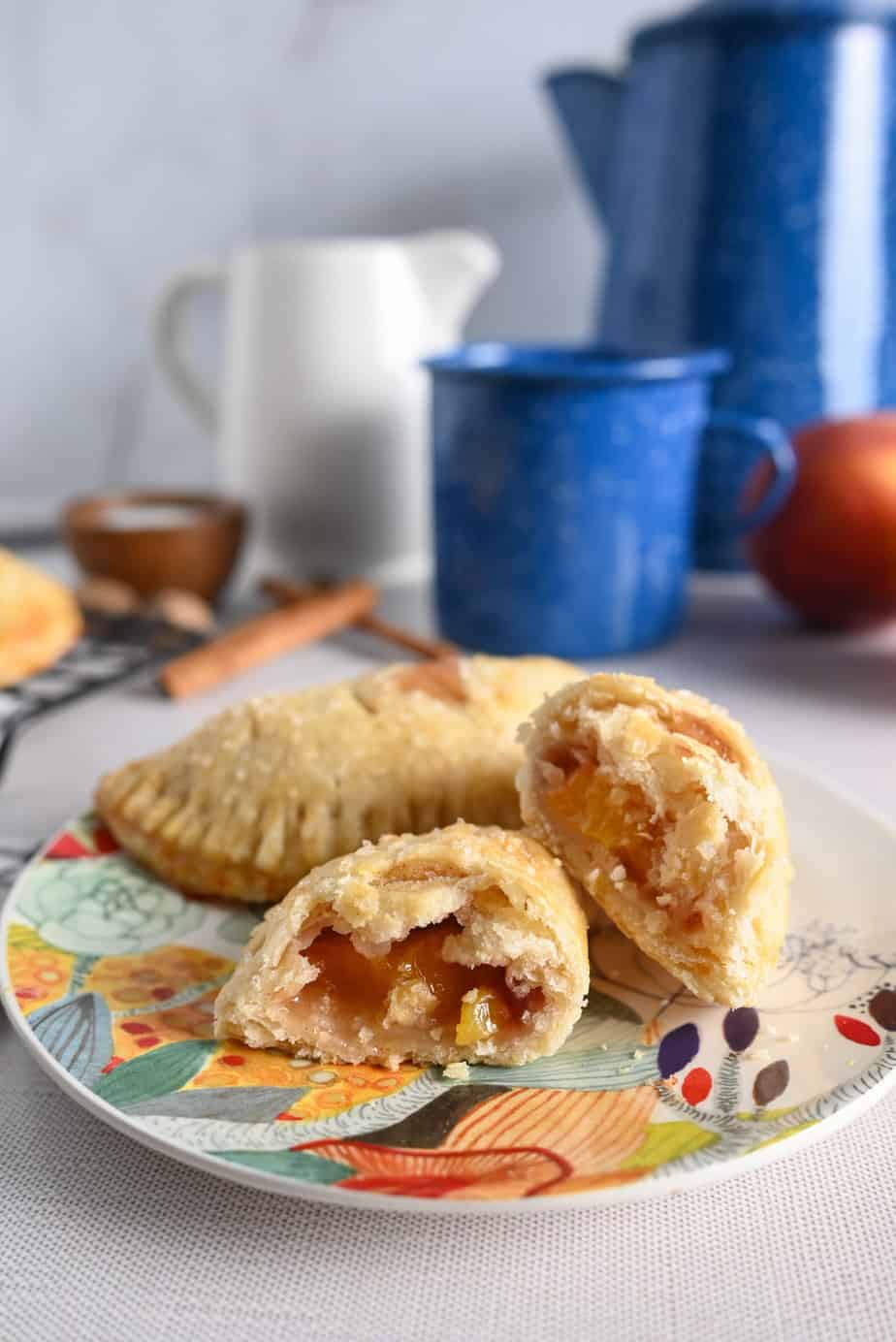 Can you freeze hand pies?
Ok, so here's the real magic of making hand pies: You can freeze them and bake as many as you like at a time later on.
That's right! You can have a freshly baked peach hand pie in the middle of winter if you want. Here's how to do it:
Place the assembled hand pies on a parchment-lined baking sheet. Cut 2 slits into the top of each pie but do not brush them with the egg wash.
Place the baking sheet with the pies into the freezer and freeze until solid. Store the frozen hand pies in a zip-top freezer bag for up to 6 months.
When ready to bake, place as many of the frozen pies as you like on a lined baking sheet; optionally brush each pie with egg wash and sprinkle with sparkling sugar before baking. Bake the pies at 400°F for 25-30 minutes.
And that's it! Homemade, fresh-from-the-oven peach hand pies in 30 minutes. Trust me, your future self will thank you for freezing some of these for later.