Not sure what to do with your garlic scapes? Pickle 'em! These pickled garlic scapes are tangy, crunchy, and can be used in so many ways.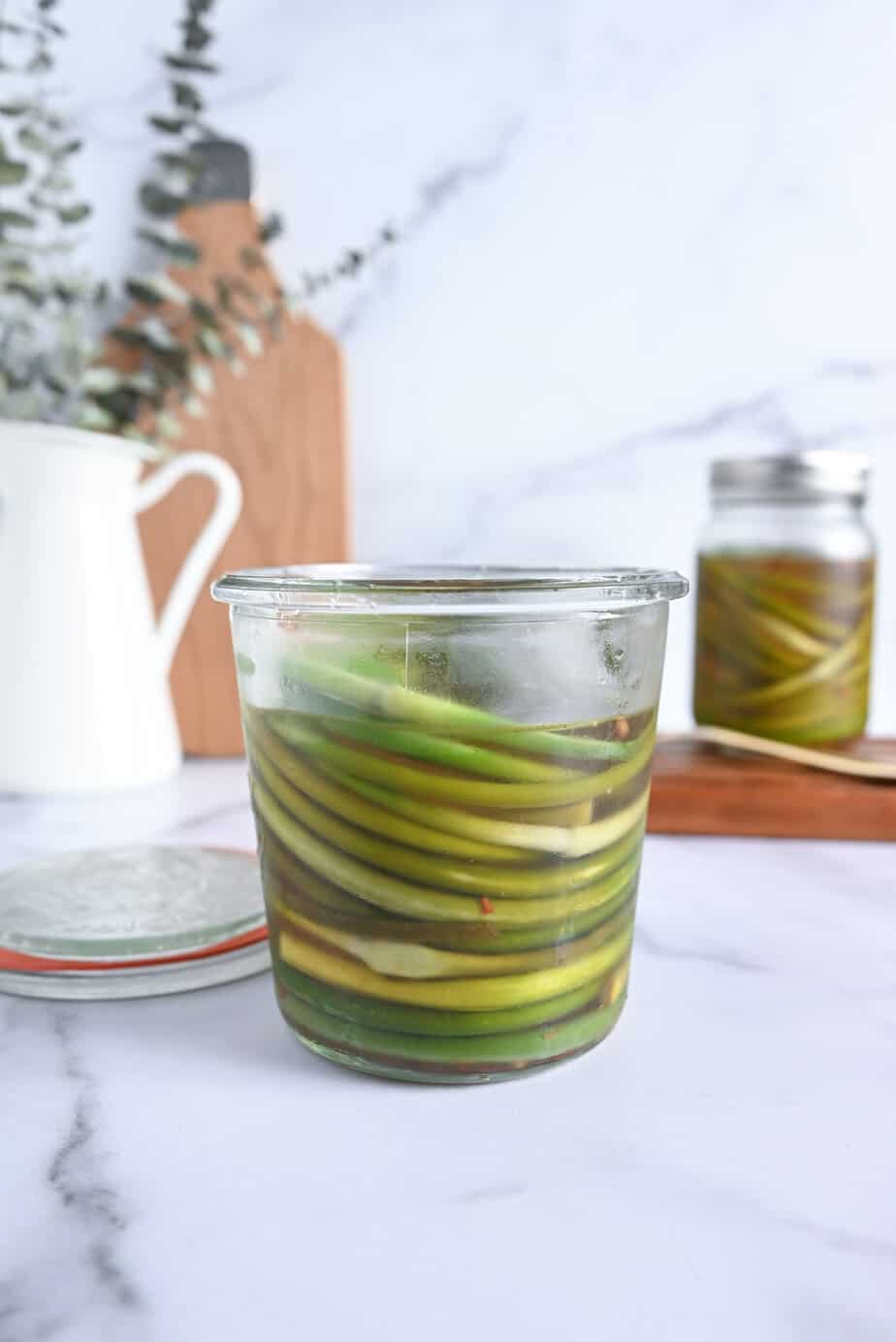 This post contains affiliate links.
When we bought our house and moved back to Central Illinois after several years in the Chicago suburbs, one of the things we did was join a local CSA.
CSAs are a great way to support your local farmers and perhaps even try some new-to-you seasonal produce. (Learn more in What is a CSA?)
There are a few things I've become obsessed with as a result of our CSA membership over the years. Sauteed radishes, green garlic, super peppery arugula, and garlic scapes all make the list.
This year, I decided to try my hand at pickling garlic scapes, using an adapted version of my friend Megan's pickled red onions, and I'm so glad I did.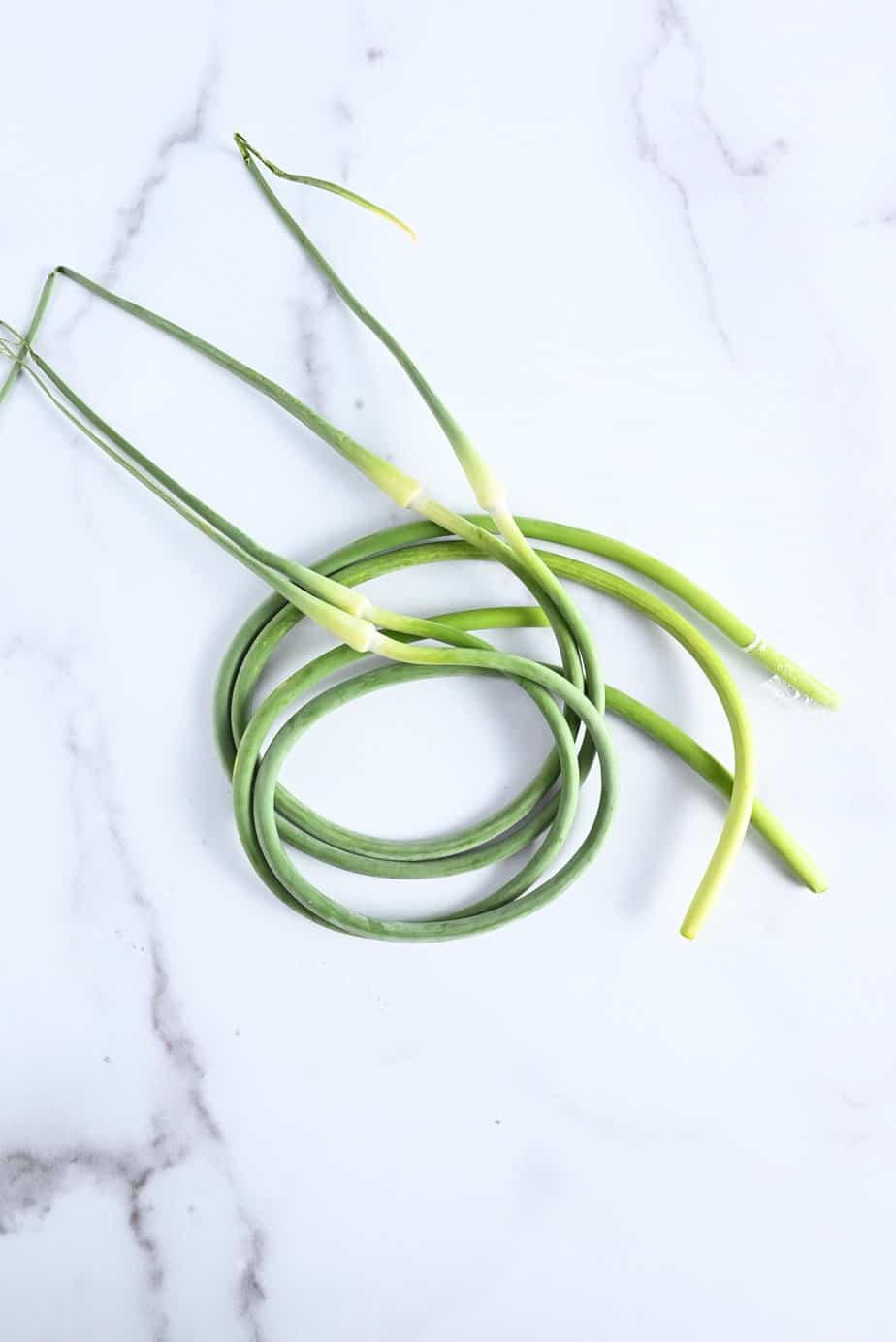 WHAT ARE GARLIC SCAPES?
If you've never actually had a garlic scape, you are probably wondering what the heck they even are.
Garlic scapes are the curly green stem and bud of hardneck garlic, which is the type of garlic plant typically grown in the US and Canada.
If you left them on the plant, they would eventually flower. Most farmers, however, cut them off to allow the plants to put their energy toward the garlic bulbs.
All the better for us, since it means we get to eat them!
Garlic scapes are available for only a short time in late spring, so if you see them at the farmer's market or your local grocery co-op, be sure to grab a few bunches!
You can store your garlic scapes in the crisper drawer of your fridge for a couple of weeks.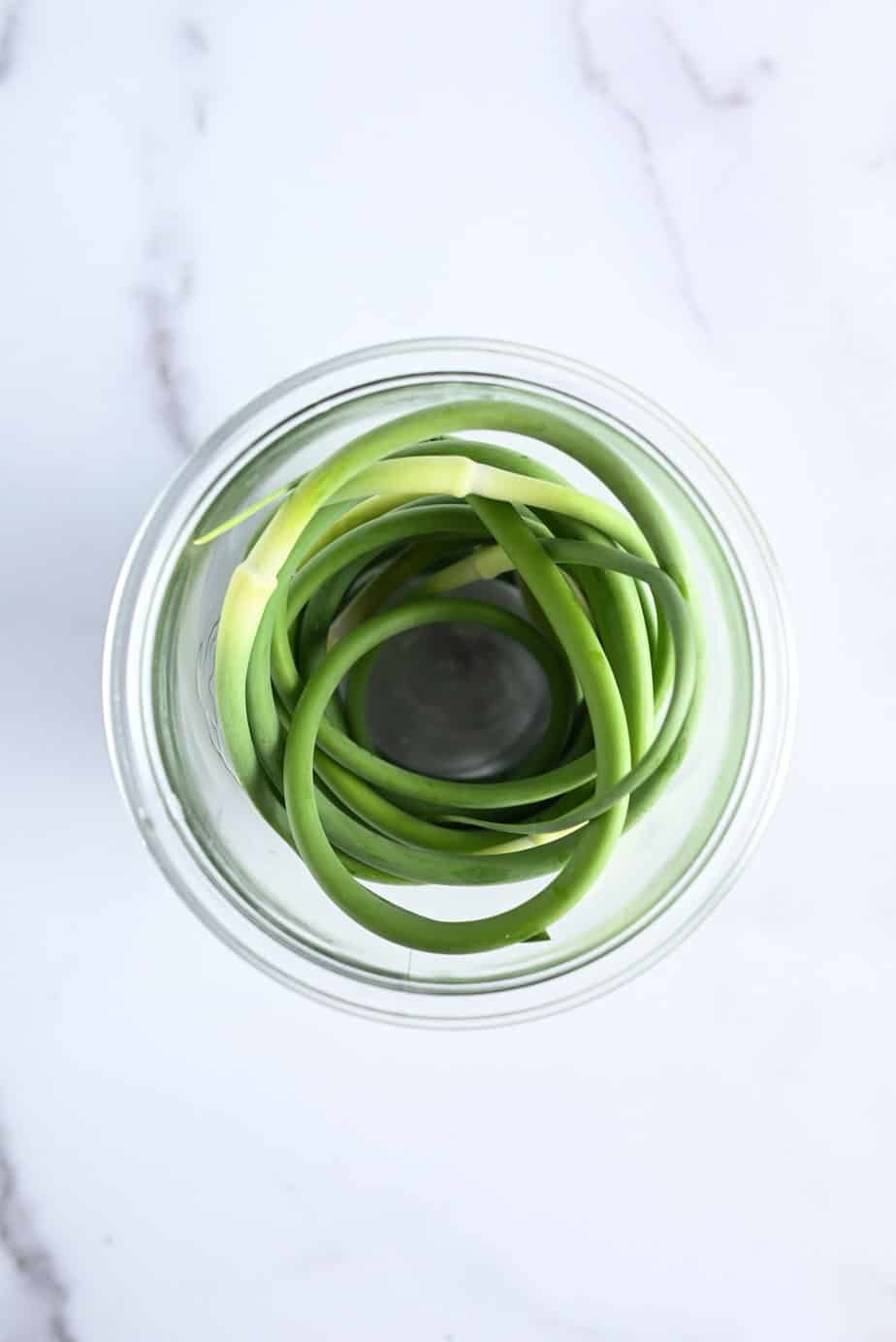 What to do with garlic scapes
So what can you actually do with this odd little vegetable? So many things!
Garlic scapes taste like a milder form of garlic cloves. Think of it as being similar to how green onions taste oniony, but aren't as strong as your standard white onion. (This isn't a perfect analogy, but you get the idea.)
Since they still taste like garlic, you can finely mince the scapes and use them anywhere you'd use garlic. Add them to softened butter along with some herbs and use them to make garlic and herb swirl bread.
Cut them into small pieces and toss them into any stir fry.
You can saute or roast them in some butter and add toss them with other roasted vegetables or use them as a burger topping.
Garlic scape pesto is also excellent! You can make a very strong pesto using only garlic scapes, or you can mix them into other pesto recipes, such as arugula pesto.
But my current obsession? Pickled garlic scapes.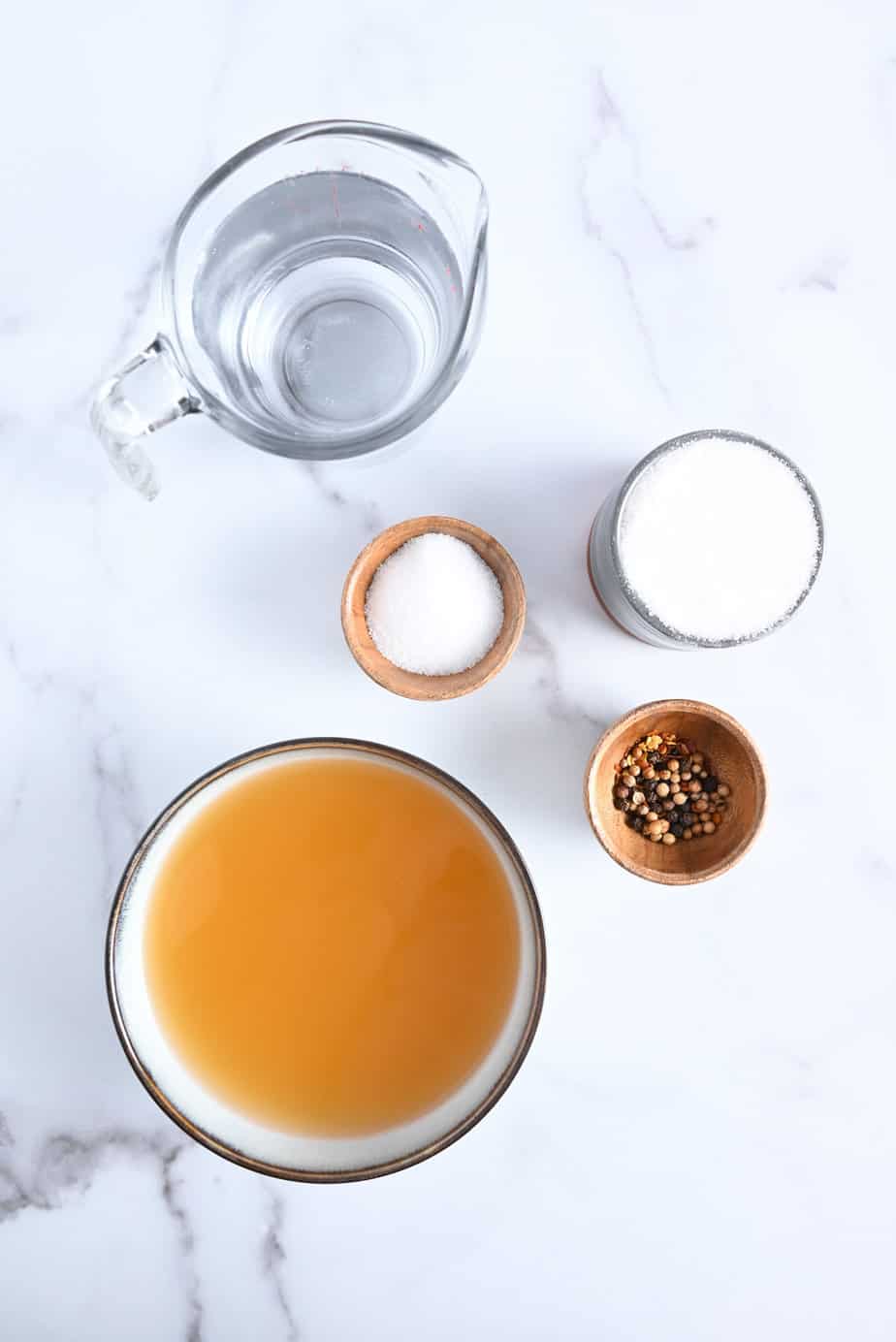 HOW TO PICKLE GARLIC SCAPES
One of the unexpected benefits of having a husband who works at a farm-to-table restaurant and a best friend who loves to can is that I am often surrounded by pickled vegetables without having to do any of the work myself.
Aside from making several batches of my great-grandmother's pickled cucumbers each year, I usually leave the pickling to the two of them.
But I decided that this was the year to try my hand at pickling my own garlic scapes. They're simple to make and there are so many ways to use them!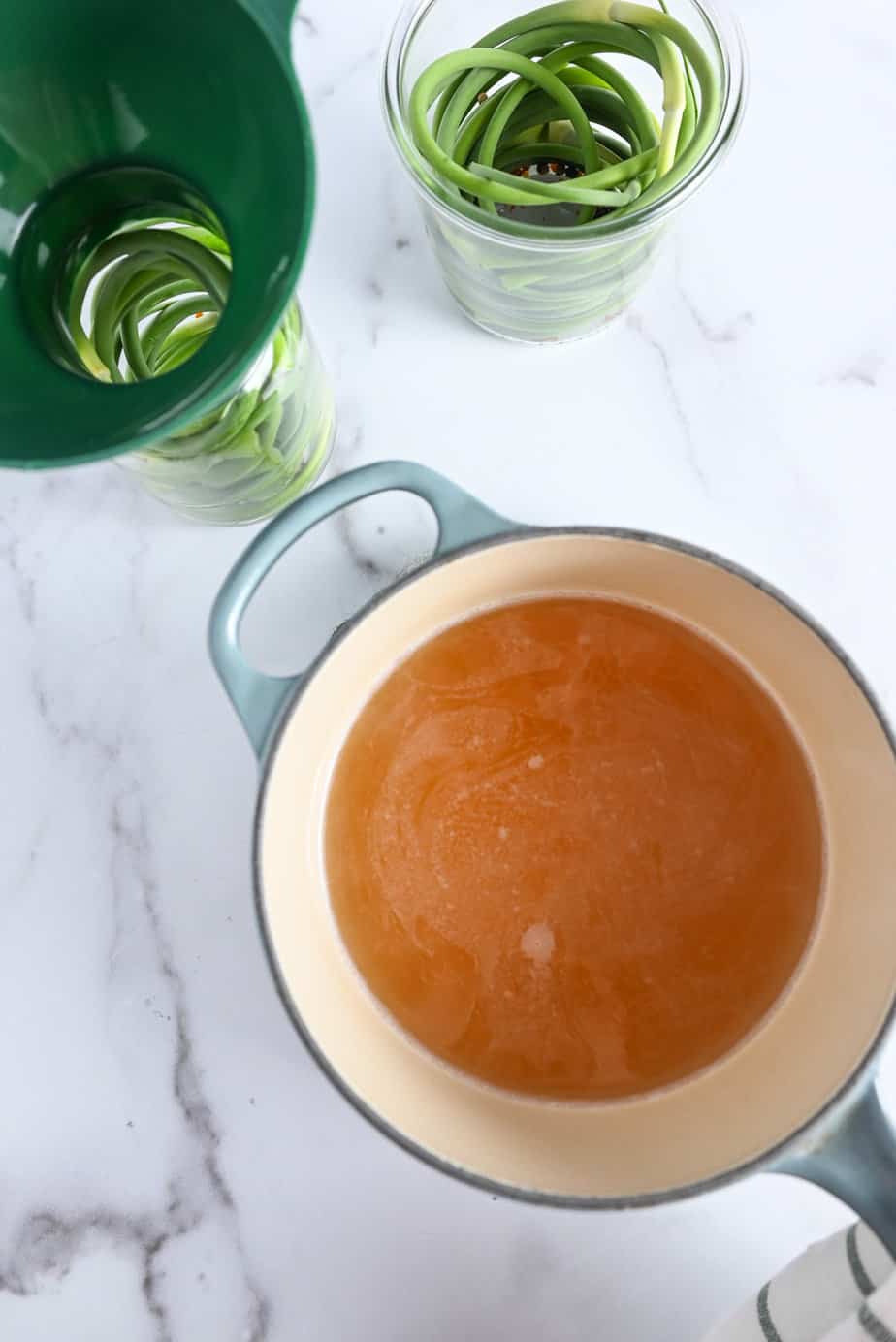 Recipe ingredients
To make your pickled garlic scapes, you'll need:
2 bunches garlic scapes (about 16 scapes)
½ teaspoon coriander seed
¼ teaspoon crushed red chile flakes
¼ teaspoon black peppercorns
1 ⅓ cups apple cider vinegar
1 cup water
½ cup granulated sugar
1 tablespoon plus 1 teaspoon fine sea salt
In the years that we have been CSA members, we have always gotten multiple bunches of garlic scapes over the course of a few weeks. If you don't belong to a CSA, pop over to your farmer's market or your co-op grocery to pick some up.
I love the tang that apple cider vinegar adds to anything it's in, so I chose to use that in this brine in place of white vinegar. If you don't have apple cider vinegar, feel free to use white vinegar instead.
For a spicier version, feel free to up the amount of red chile flakes.
If you happen to have pickling salt on hand, you can use that instead.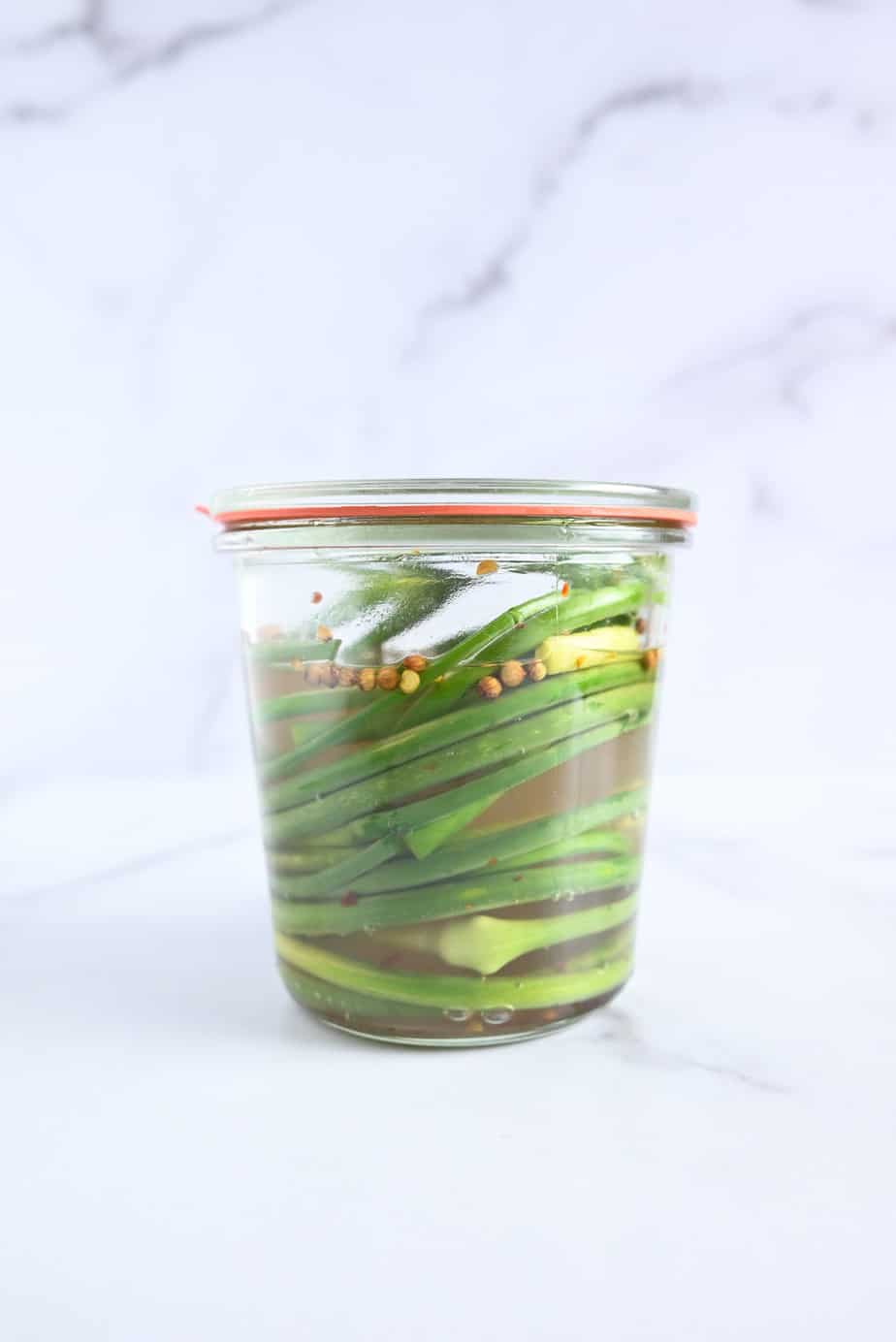 Equipment
Full disclosure: I do NOT can. I leave that to my girl Megan.
Since these are refrigerator pickles, you don't need any special equipment. I recommend having:
2 pint jars with tight-fitting lids: You can use Mason jars, Weck jars, or your favorite canning jar.
Small saucepan
Canning funnel: This is technically optional, but it makes it so much easier to add the hot brine to the jars without making a mess!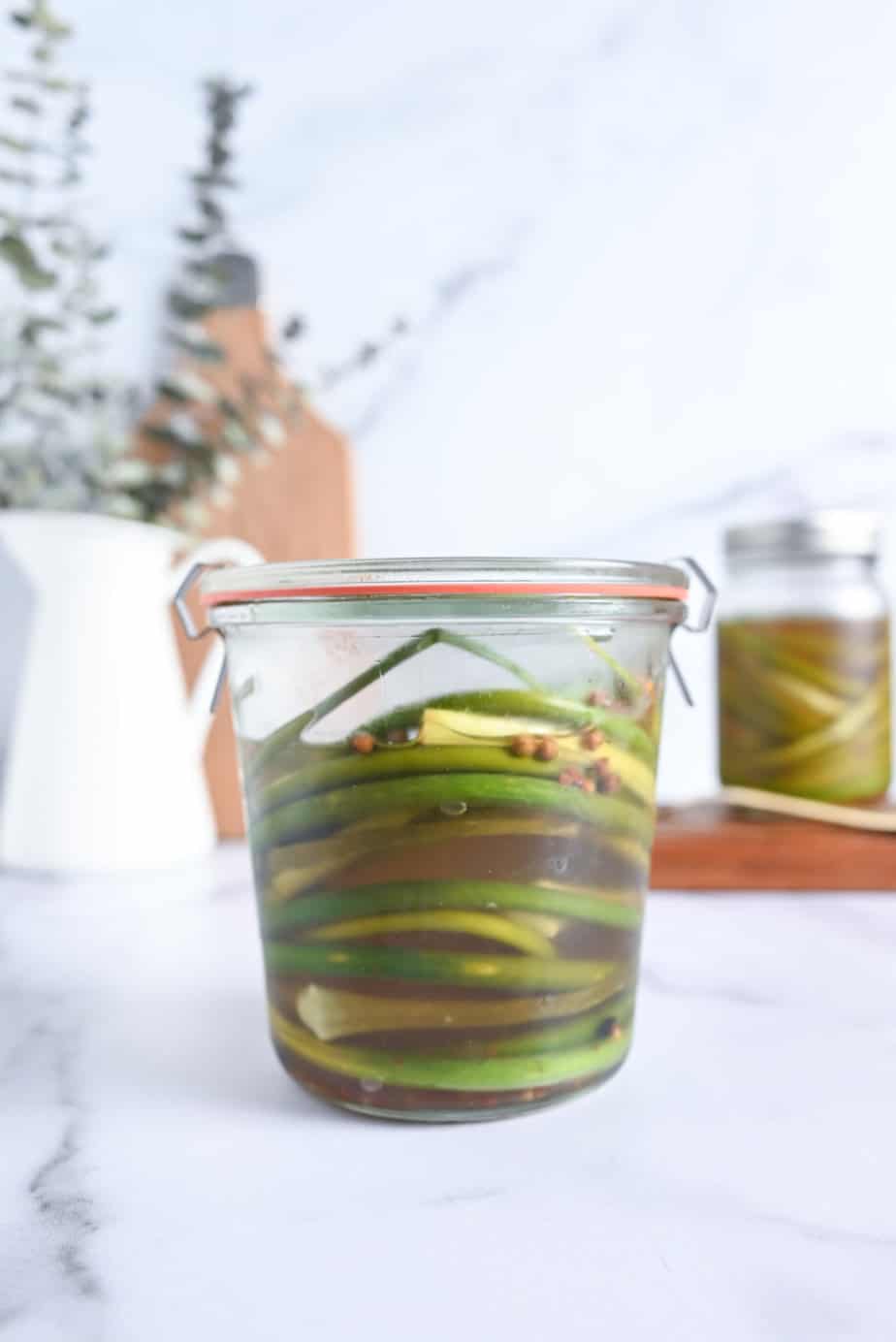 Making this recipe
Start by dividing the garlic scapes between two pint-size jars.
I like to twist the scapes and nestle them along the edges of the jar, but you can also cut them into pieces and place them in the jar.
Mix together the spices: coriander seed, chile flakes, and peppercorns. Divide the spices evenly between the two jars.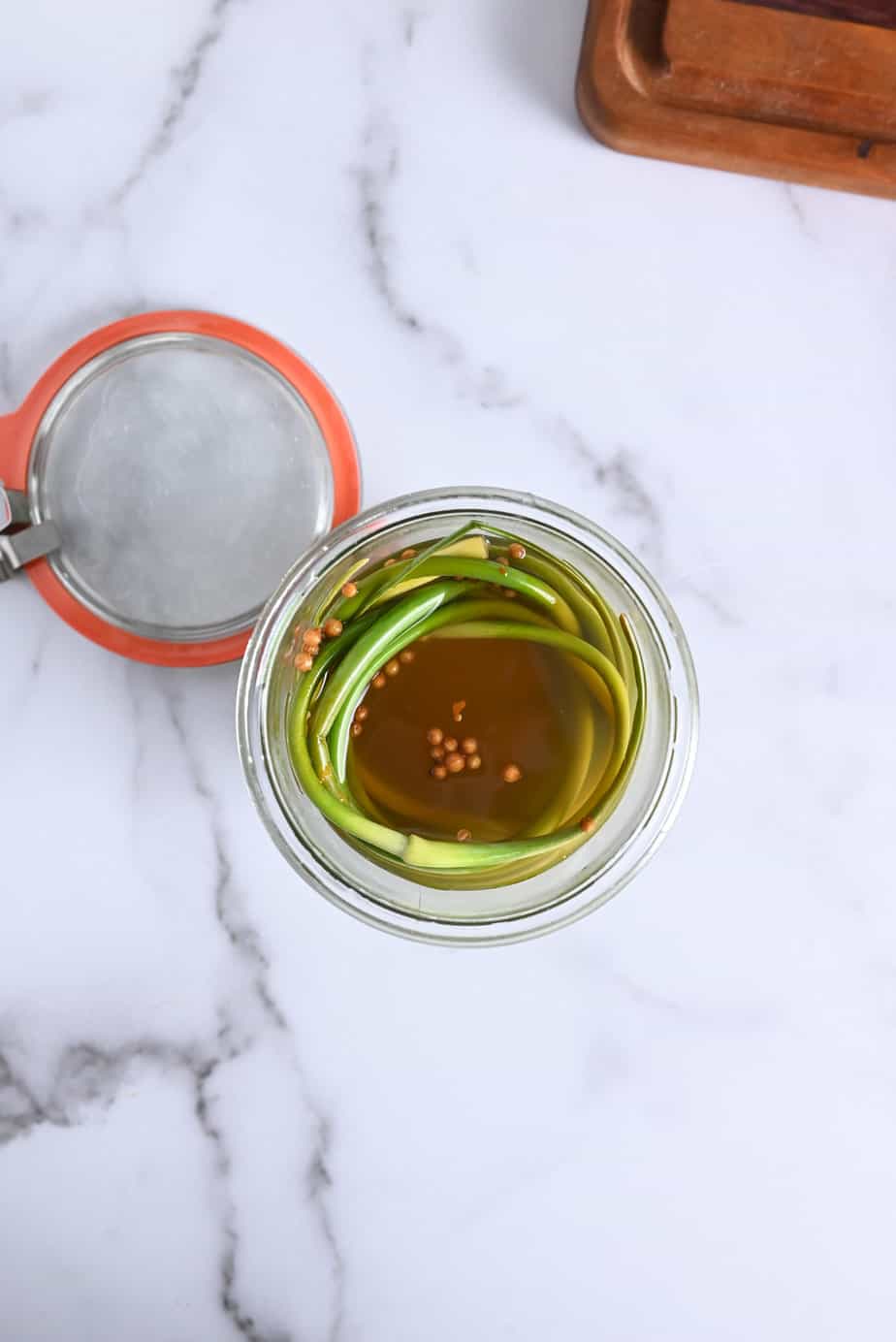 Add the vinegar, water, sugar, and salt to the saucepan, and bring the mixture to a boil. Once it reaches a boil, give the brine a stir just to make sure the sugar and salt have dissolved.
Remove the brine from the heat and very carefully (remember, it's hot!) divide it into the jars, pouring it over the scapes.
The brine may not fully cover the scapes – that is ok. They will shrink down slightly as they pickle.
Loosely add the lids to the jars and let the pickles cool to room temperature. Once they have cooled, tighten the lids and store the jars in the refrigerator.
Let the pickles…well, pickle…for at least 1 week before you dig in. The flavor will only continue to develop and improve with time!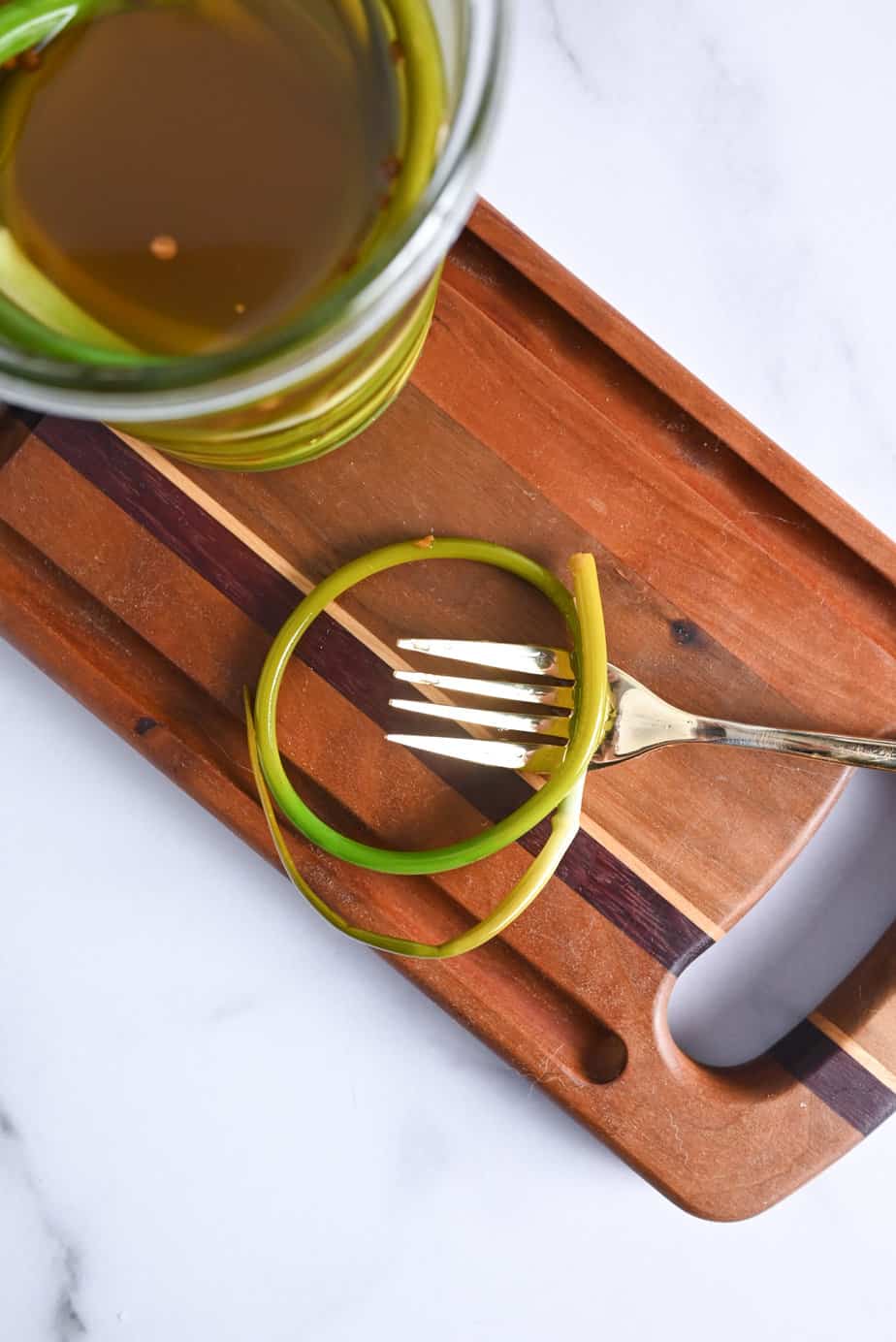 HOW TO USE PICKLED GARLIC SCAPES
Alright, so let's talk about what you can do with your freshly pickled garlic scapes.
Try adding these to your next charcuterie platter! Their tangy flavor is the perfect complement to salty cured meats, creamy cheeses, spicy mustards, and local honey.
Mince them up and add them to salad dressings. They would be incredible in ranch dressing and would really jazz up a dressing made with ranch dressing mix.
You could even finely chop them and add them to your favorite egg salad or tuna salad for tons of flavor and some added crunch. The same goes for adding them to potato salad!
I hope you give these pickled garlic scapes a try next time you see them. They'll make you anxiously await garlic scape season every year!