Looking for a quick, easy and healthy dinner? Look no further than Smoked Sausage and Roasted Vegetables – a one-pan dinner wonder!
Hi! Remember me?
I know I have fallen off the grid a little bit. I'm still hanging around on social media (so follow me on Instagram and Facebook if you want proof that I'm still alive!), but I've been working (a lot) and the wedding is one month from today so…things might continue to be a bit sporadic around here until after the wedding craziness dies down.
But in the meantime, I'll give you a few life updates:
Some of my sweet friends recently threw me a pre-wedding brunch. I'm not a fan of showers (I hate games and small talk) so I've been refusing to call it one, but I would happily take this little gathering with this group of girls any day. Also: Wedding brunch = Best excuse to eat all the carbs.
I had my wedding dress fitting a couple of weeks ago. No, you don't get any sneak peeks of the dress – that would be cheating! So instead I will just show you my best friend's chubby-cheeked baby – he is my favorite little buddy. I think he could probably stand in as best man, what do you think? I'm sure Alex's brother won't mind.
In related news, this little nugget's momma is officiating our ceremony and, let me tell you, interpreting Illinois marriage laws to make sure she has completed all of the necessary paperwork to do so has been an interesting adventure. Someone just promise me Alex and I will be married at the end of April 18th, ok? 'Kthanks.
In non wedding-related news, Instagram followers will recognize this beautiful water-inspired
silk scarf from the World Vision Gift Catalog
that I've been wearing in anticipation of World Water Day this Sunday (March 22). Right now
World Vision
is conducting a Water Now social media campaign to bring awareness to the astounding need for clean water around the world leading up to World Water Day. The need for clean water worldwide is great – an estimated 3.5 billion people around the world do not have access to enough safe drinking water – and it is so easy to bring awareness and add your voice. Head over to the
Water Now webpage
to see who is speaking out and to learn how to add your voice.
And, finally – in case you think I might have forgotten how to bake – I haven't! I've been enjoying playing with recipes from
Dessert for Two's cookbook
lately. I promise that the recipe in the photo above is coming soon (with "soon" being a relative term these days) – but for now, suffice it to say that I am obsessed with Christina's first book and suggest you hightail it over to Amazon and pick yourself up a copy, too.
And now, a recipe! Glory be! This one-pan wonder is one of our go-to dinners these days. It is quick and easy, filling and good for you. To make it even quicker, cut and season everything ahead of time, and pop it in the oven when you are ready for dinner. You're just 30 minutes away from a satisfying dinner.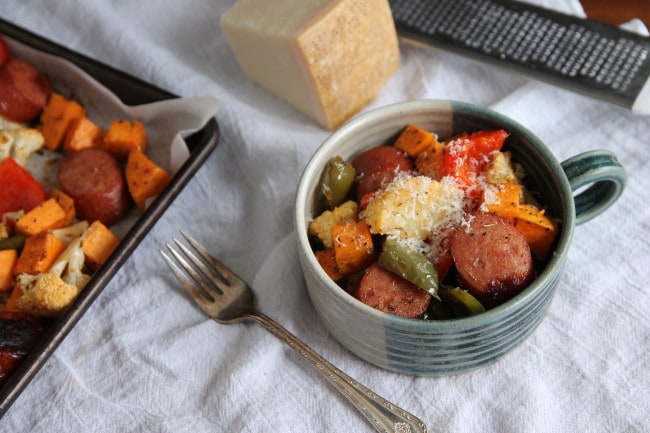 Ingredients
1

pound

smoked sausage

pork, turkey or beef - your choice

2

bell peppers

1

sweet potato

peeled

1/3 to 1/2

head of cauliflower

1

teaspoon

kosher salt

Fresh black pepper

1/2

teaspoon

Garlic powder

1/2

teaspoon

smoked paprika

1/2

teaspoon

dried oregano

1/2

teaspoon

dried basil

1/2

teaspoon

ground cumin

2-3

tablespoons

olive oil
Instructions
Preheat oven to 375 degrees. Line a rimmed baking sheet with parchment paper. Set aside.

Cut sausage and vegetables into relatively uniformly-sized pieces - about 1/2 to 1 inch. Cut harder vegetables such as potatoes and cauliflower into slightly smaller pieces, and faster-cooking vegetables into larger pieces - the goal is to have everything done at around the same time.

Place all vegetables and the sausage into a large zip-top bag or a large bowl and toss with the olive oil, salt, pepper and spices to coat. Spread evenly onto the prepared baking sheet and roast for 30-40 minutes, stirring halfway through, until vegetables are cooked and sausage is browned. Serve topped with fresh parmesan cheese, if desired.
Nutrition
Calories:
483
kcal
|
Carbohydrates:
20
g
|
Protein:
16
g
|
Fat:
38
g
|
Saturated Fat:
12
g
|
Polyunsaturated Fat:
4
g
|
Monounsaturated Fat:
19
g
|
Cholesterol:
81
mg
|
Sodium:
1592
mg
|
Potassium:
695
mg
|
Fiber:
4
g
|
Sugar:
6
g
|
Vitamin A:
10010
IU
|
Vitamin C:
101
mg
|
Calcium:
50
mg
|
Iron:
2
mg
*World Vision provided the lovely scarf, but I received no payment for promoting World Water Day and all opinions are 100% my own.