Tortellini, Kale and White Bean Soup is quick and easy and perfect for warming you up from the inside out.
Time for a confession.
Seriously, how many times a month do I confess things to you guys? Anyone out there starting to feel like a priest?
I have never been trick or treating.
…
I know.
But, before you start drinking the haterade, let me 'splain.
1.) I have never been much of a fan of Halloween. I am way too easily spooked by things, and not in a "fun" way. More in a "I'm going to crap myself" kind of way. Scary movies? Not my thing. People in creepy masks? Definitely not my thing.
b.) I was the weird 4-year-old who didn't like candy.
Please still be my friend.
The neighborhood we lived in when I was little primarily consisted of families with teenagers or empty nesters. Even if the first two things did not apply, there would have been little point in trick or treating, since I would have been by myself. Which is sad and lonely on a number of levels.
Hashtag only child problems.
BUT. Had I been one to ever go trick or treating, you can be darn sure that I would have wanted something hearty and warm to fill me up beforehand. When you live in the midwest, you plan for wearing a coat over/under your costume and needing something warm immediately before and after you've pillaged the neighbors' candy bowls.
If I were going trick or treating this year, this is the soup I would want to eat immediately before. And after.
This Tortellini, Kale, and White Bean Soup was a total experiment. A throw-everything-in-the-pot-and-see-what-happens kind of situation. And I'll tell you, what happened was surprisingly good.
We start with a tomatoey broth layered with sautéed onion and garlic and seasoned with Italian herbs. Throw in some white beans, a package of cheese tortellini, a few handfuls of chopped kale, and top it off with a little freshly grated Parmesan cheese, and you've got yourself a bowl full of comfort.
Serve it up alongside your favorite bread (maybe some Rustic Sourdough Bread, Buttery Sourdough Rolls, or Cracked Wheat Rolls) and this is a meal that will keep you full and warm for hours.
Though it will really help if you are going out dressed as an Eskimo. Or a professional skier. Or a polar bear. Or…you get the idea. Stay warm out there, kids.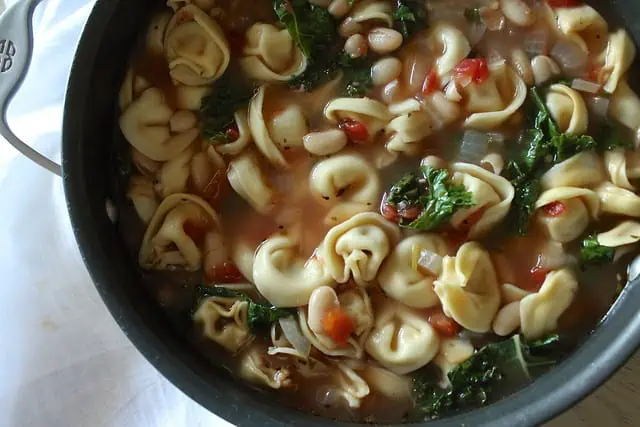 Ingredients
1/2

large onion

diced

3

cloves

garlic

minced

2

tablespoons

olive oil

1 14.5-

ounce

can petite diced tomatoes

do not drain

2 15-

ounce

cans white/cannellini beans

drained and rinsed

2

quarts

chicken stock

1

teaspoon

dried oregano

1/2

teaspoon

dried parsley

1/2

teaspoon

dried basil

1

pound

cheese tortellini

or your favorite flavor

2-3

cups

chopped fresh kale

Salt and pepper
Instructions
Heat the oil in a large dutch oven over medium-high heat. Add the onion and saute for about 5 minutes, until translucent and soft. Add the garlic, cook one minute more.

Add the tomatoes (and their juices), white beans, stock, and dried herbs. Bring to a boil and add the tortellini. Simmer until tortellini are cooked (follow package directions, mine took about 7 minutes). Add the kale and allow to wilt slightly. Season with salt and pepper to taste.