Fruitcake cookies are a delicious, bite-sized take on the traditional holiday dessert.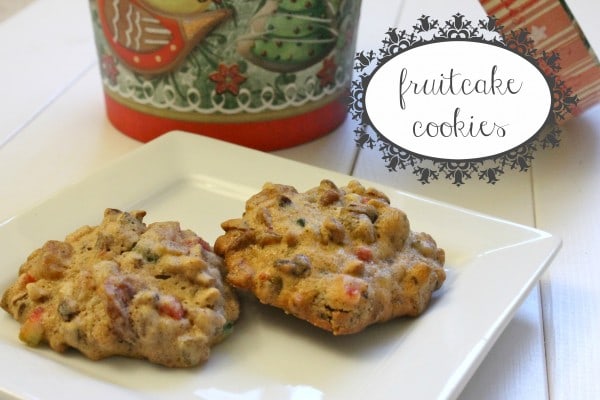 In case you hadn't noticed, it is now December, which means that it is now officially holiday baking season!
This year I have a few different treats lined up for you, which is why I am not simply calling this mini-series "Cookies for Santa"…because I am sure every now and again Santa wouldn't mind having something a little different to snack on.
But let's go ahead and start with a cookie recipe, shall we?
This recipe for fruitcake cookies is an old family favorite. In fact, they were my Uncle Mike's favorite cookie growing up.
One year, when he was in high school, my great-grandmother made a batch of these cookies and sent them home with my uncle. He was, of course, supposed to be sharing with the family…but instead, he hid them under his bed and ate them all himself!
Now, you have to understand that the original recipe makes approximately 120 cookies…and yes, he did manage to eat every. single. one. (It does help that, like actual fruitcake, these cookies get better with age.)
No one else even knew the cookies existed until my great-grandmother asked my grandmother how they were! I think perhaps the rest of the family was a little peeved, but my great-grandmother thought it was just about the cutest thing she had ever heard.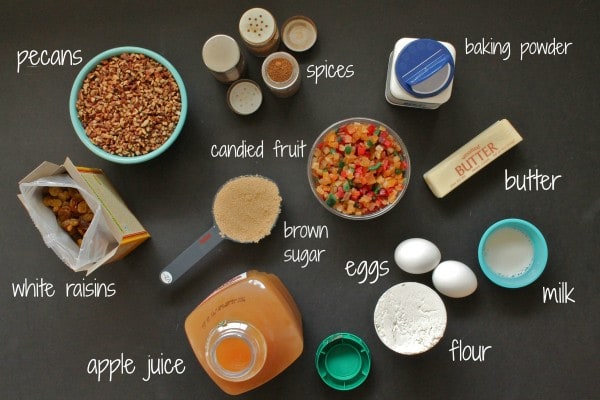 Now, before you start thinking I have completely lost my marbles in trying to convince you to buy that mysterious fruitcake fruit, you should know that King Arthur Flour has a number of options that are more natural than those you might find in your local grocery store. (For this recipe, this fruit blend is likely your best bet.)
I, however, chose to put off my normal reservations regarding preservatives and embraced the retro-ness of this recipe and used what was available at my local Jewel.
Ok, so I assuaged your fears about the candied fruit…but I can still feel you eying your computer screen with suspicion.
Admittedly, many of us – especially those of us who grew up in the north – have probably grown up with fruitcake being the butt of Christmas re-gifting jokes. But rest assured, these cookies are more like a chewy, nutty spice cookie than anything else.
My father has spent his entire adult life swearing off all forms of fruitcake, yet could not stop eating these. I think I've made a fruitcake cookie believer out of him…and I bet I can make one out of you, too!
Give these fruitcake cookies a chance. My uncle would surely encourage it.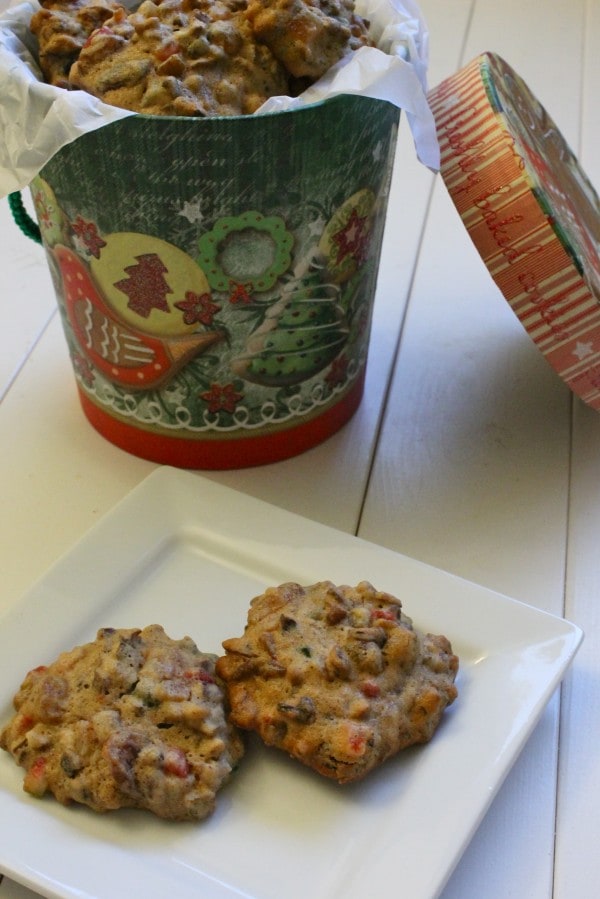 For a more traditional take on fruitcake, take a peek at my Christmas Spice Cake recipe.

Fruitcake Cookies
The original recipe makes 120 cookies. I chose to halve it to produce a more manageable amount, but if you are baking for a crowd, simply double all of the ingredients.
Ingredients
1 stick unsalted butter, softened
½ cup brown sugar, well packed
2 eggs
1½ tablespoons milk
1½ teaspoons baking soda
1½ cups flour
½ cup unfiltered apple juice (you also may substitute orange juice)
½ teaspoon ground cloves
½ teaspoon nutmeg
½ teaspoon cinnamon
3 cups chopped pecans
½ box white raisins (about 1¼ cups)
1 pound chopped candied fruit
Instructions
Preheat oven to 325 degrees. Line sheet pans with parchment paper; set aside.
In a medium bowl, stir together the chopped candied fruit with a few tablespoons of the flour. This will prevent the fruit from sticking together later. Set aside.
Sift together the spices, remaining flour, and baking soda. Set aside.
Cream together butter and sugar. Add eggs, one at at time, then milk and juice. Add the sifted dry ingredients, then fold in the nuts, floured fruit and raisins. The dough will almost seem more like a cake batter than a cookie dough in consistency - that is ok, it's how it is supposed to be.
Drop by teaspoons about 1 inch apart (cookies will not spread much at all) on the prepared cookie sheets. Bake for about 20 minutes or until golden. Allow to cool for 2 minutes on the cookie sheets before transferring to a rack to cool completely.
Cookies will last about 2 weeks at room temperature, longer in the freezer. Cookies will get even better as they age, so do not hesitate to make them a few days before you plan to serve them.