Homemade Chai Concentrate is quick and easy to make with just a handful of spices and your favorite black tea.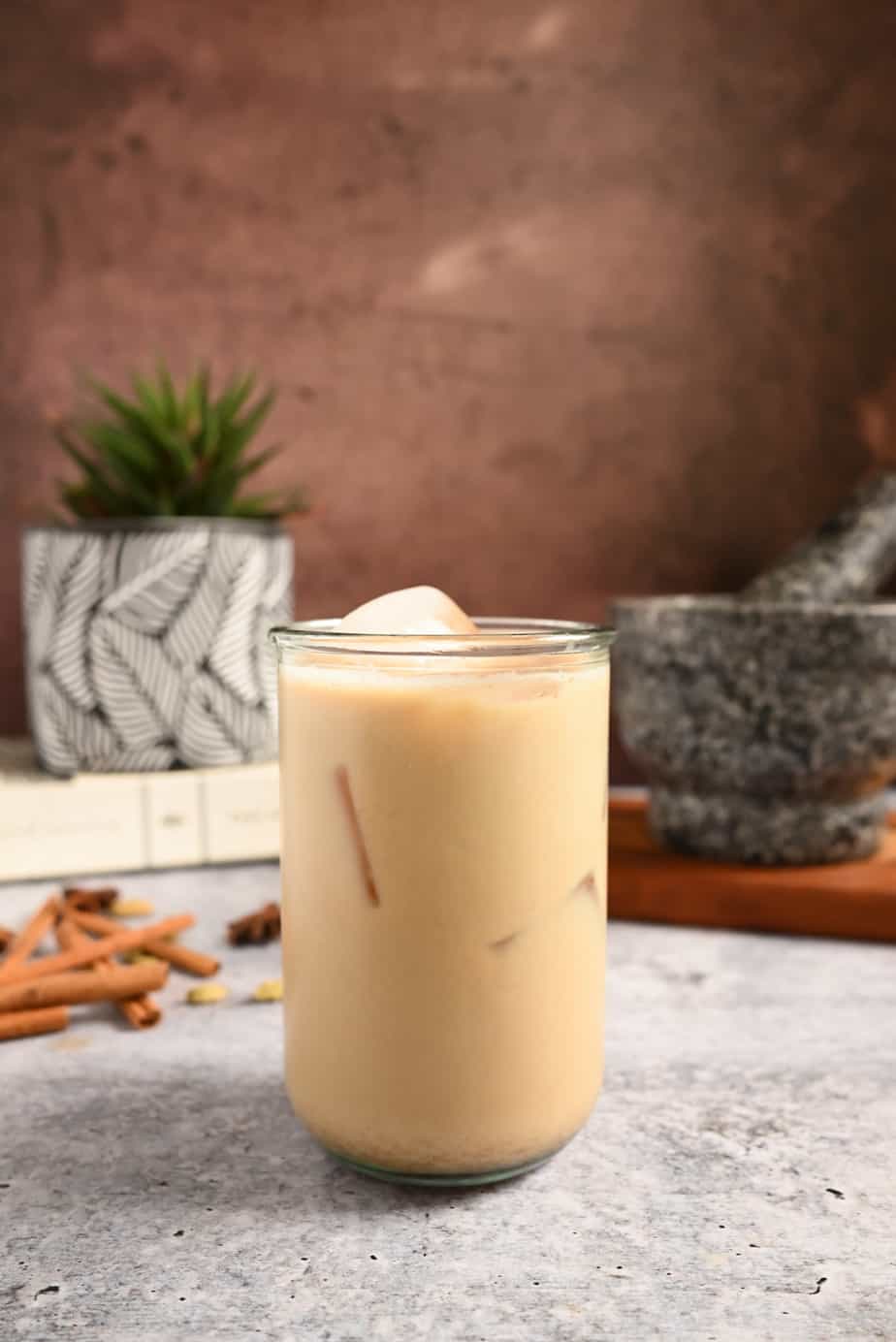 This post contains affiliate links.
You should know something about me: I don't like coffee.
To be fair, I have enough digestive issues that coffee doesn't like me much, either. So the feeling is mutual, I suppose you could say.
Either way, I am a tea girl all the way. Just like many people struggle to get their day started without a cup of coffee, I struggle to get going without my tea.
Most mornings, I'm just making myself a pot of green tea. But if I'm swinging by the local coffee shop, I'm nearly always in it for the chai.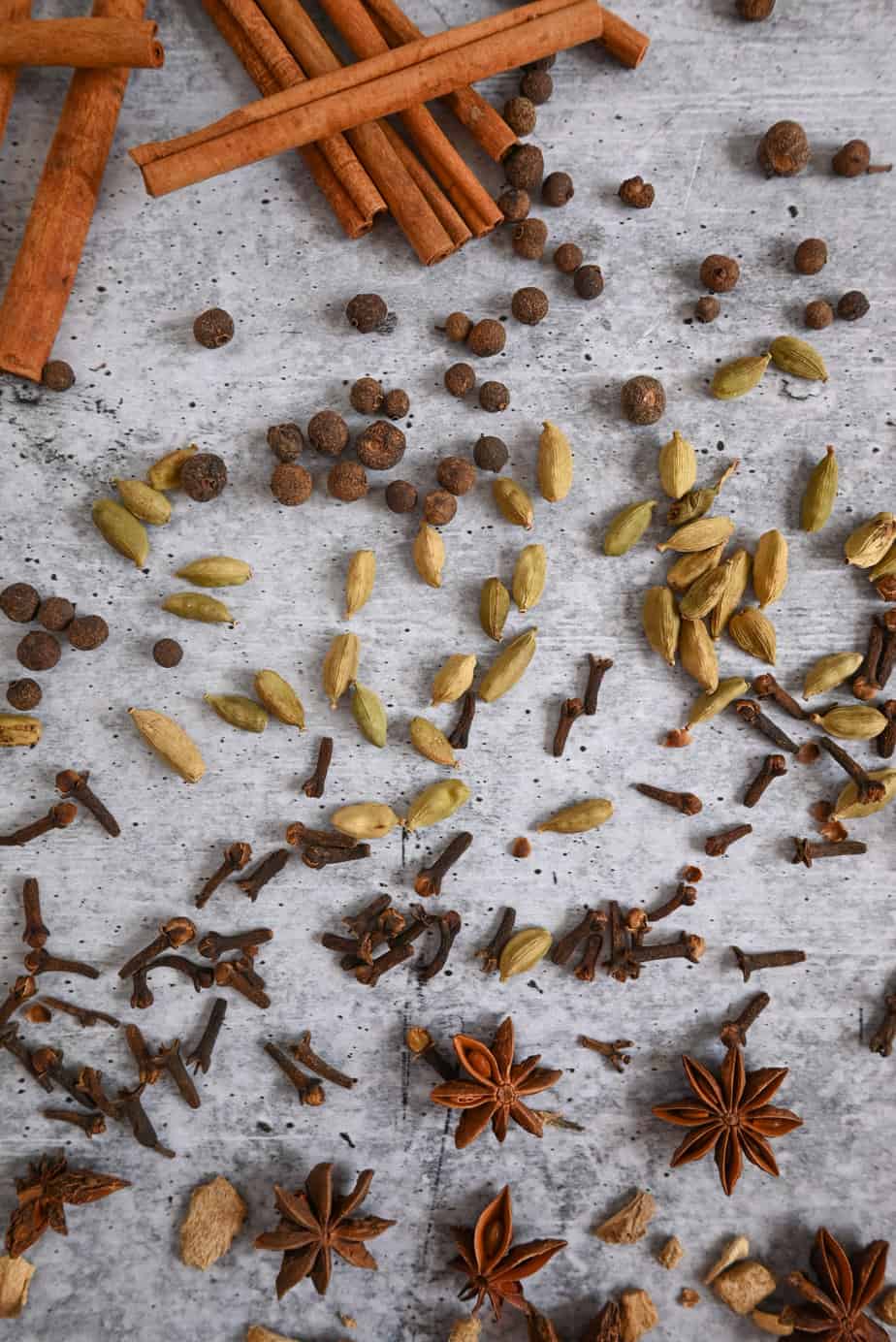 I just love the mix of spices (so much so that I put the flavors into my favorite chai sugar cookies). My ideal chai is nice and strong with plenty of zip from the ginger. I'm forever trying the chai at every coffee shop I go to.
But as much as I love supporting my local coffee shop, I also realized at some point that stopping by multiple times a week for my iced chai fix was putting a significant dent into my bank account.
It was at that moment that I determined that I could make a homemade chai concentrate that was as good, if not better, than what I could buy at the grocery store.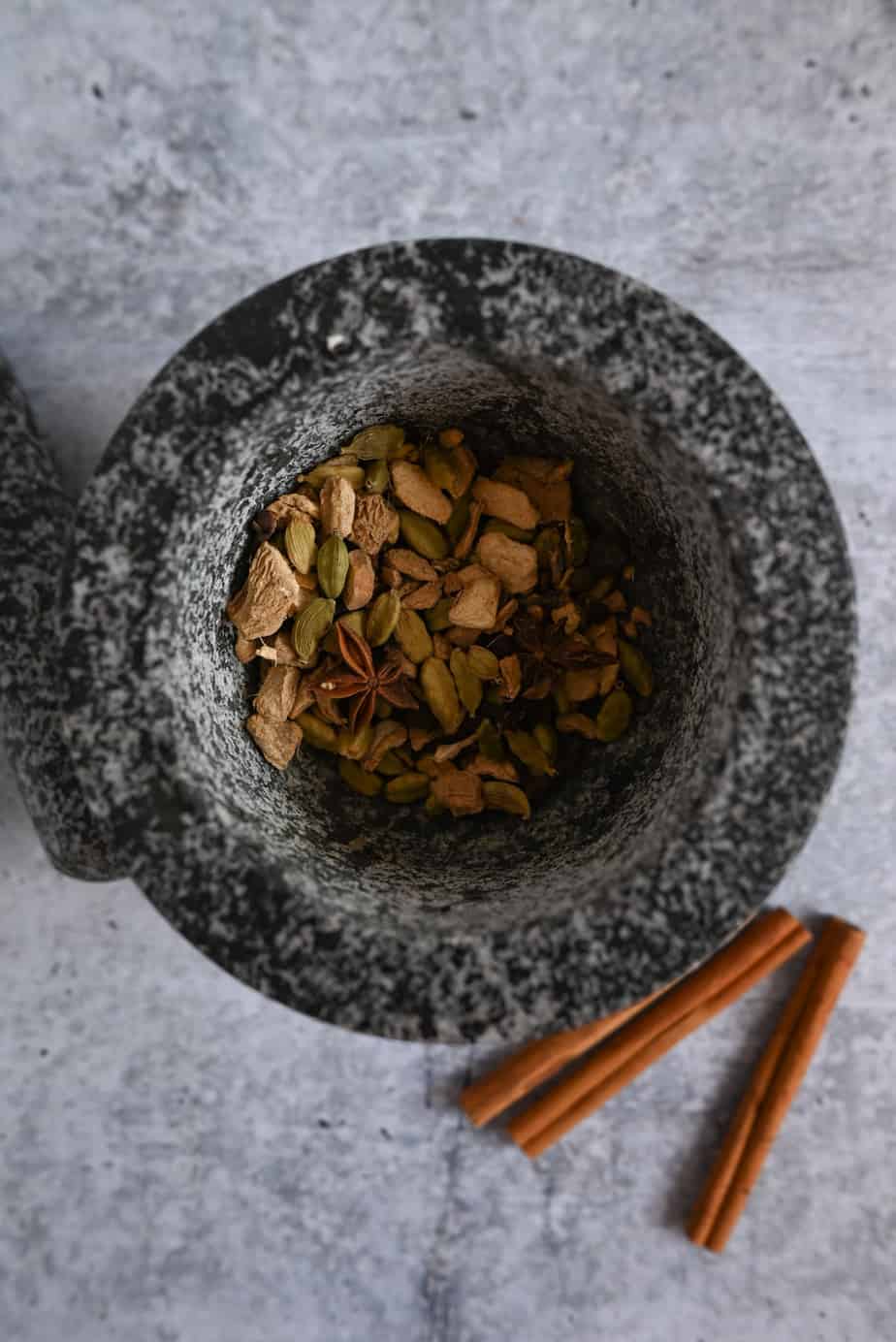 THE BEST CHAI CONCENTRATE
I have tried so many store-bought chai concentrates over the years. Seriously. TAZO, Trader Joe's, Oregon Chai…the list goes on.
But they were all missing something for me. Some were way too sweet, some didn't have enough flavor, some had way too much star anise for my liking.
It's enough to make a girl feel like the Goldilocks of chai.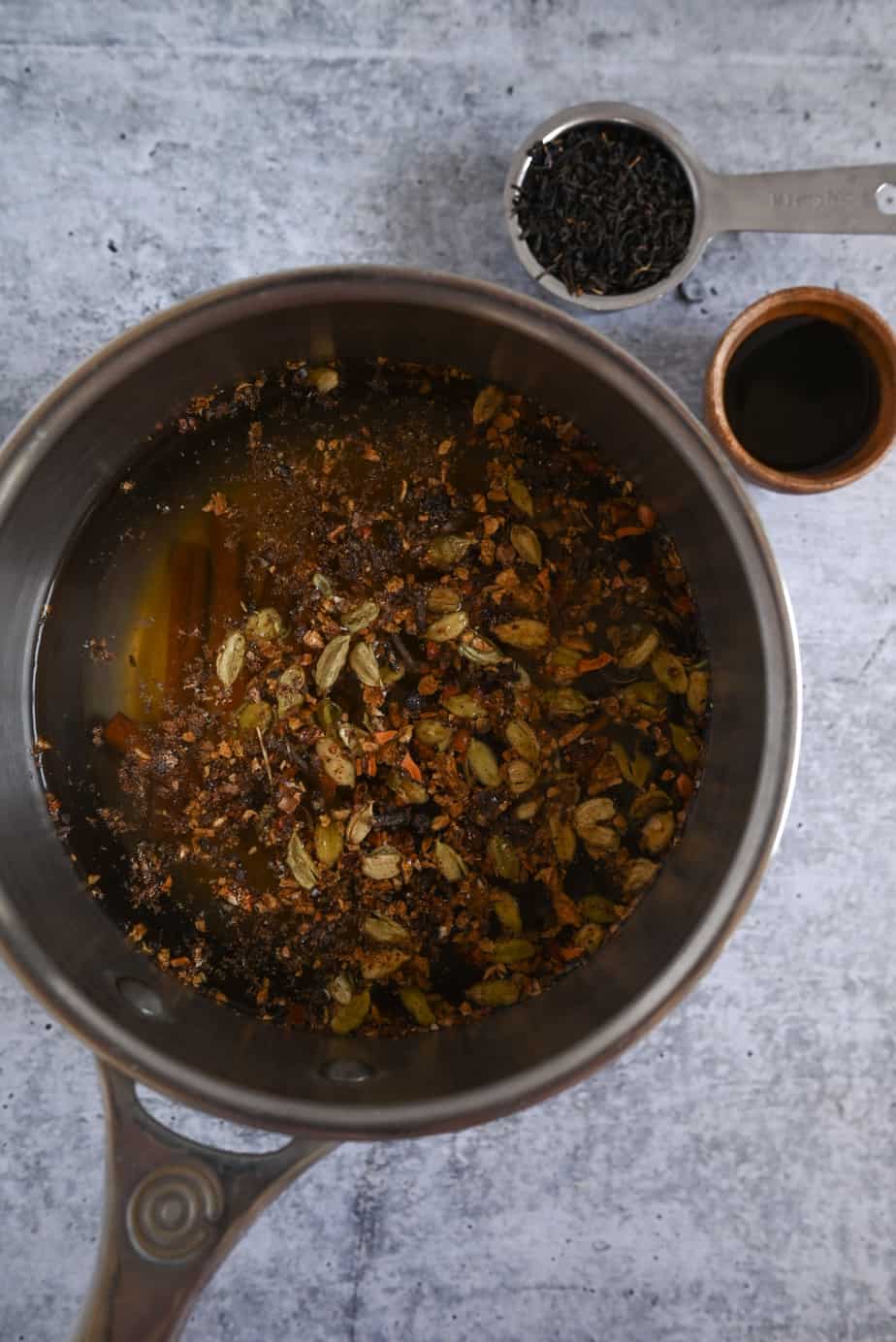 So years ago I took a recipe from The Prairie Homestead and fiddled with it. And fiddled and fiddled and fiddled some more.
I can't tell you how many times I made and tweaked this recipe until I managed to get exactly what I was looking for: a chai concentrate that is not too sweet and allows the flavors of the spices to come through.
I have made this recipe countless times since I first posted about it nearly 7 years ago and let me tell you: it holds up. It is still my go-to when I want to make chai at home and save myself a few bucks at the coffee shop.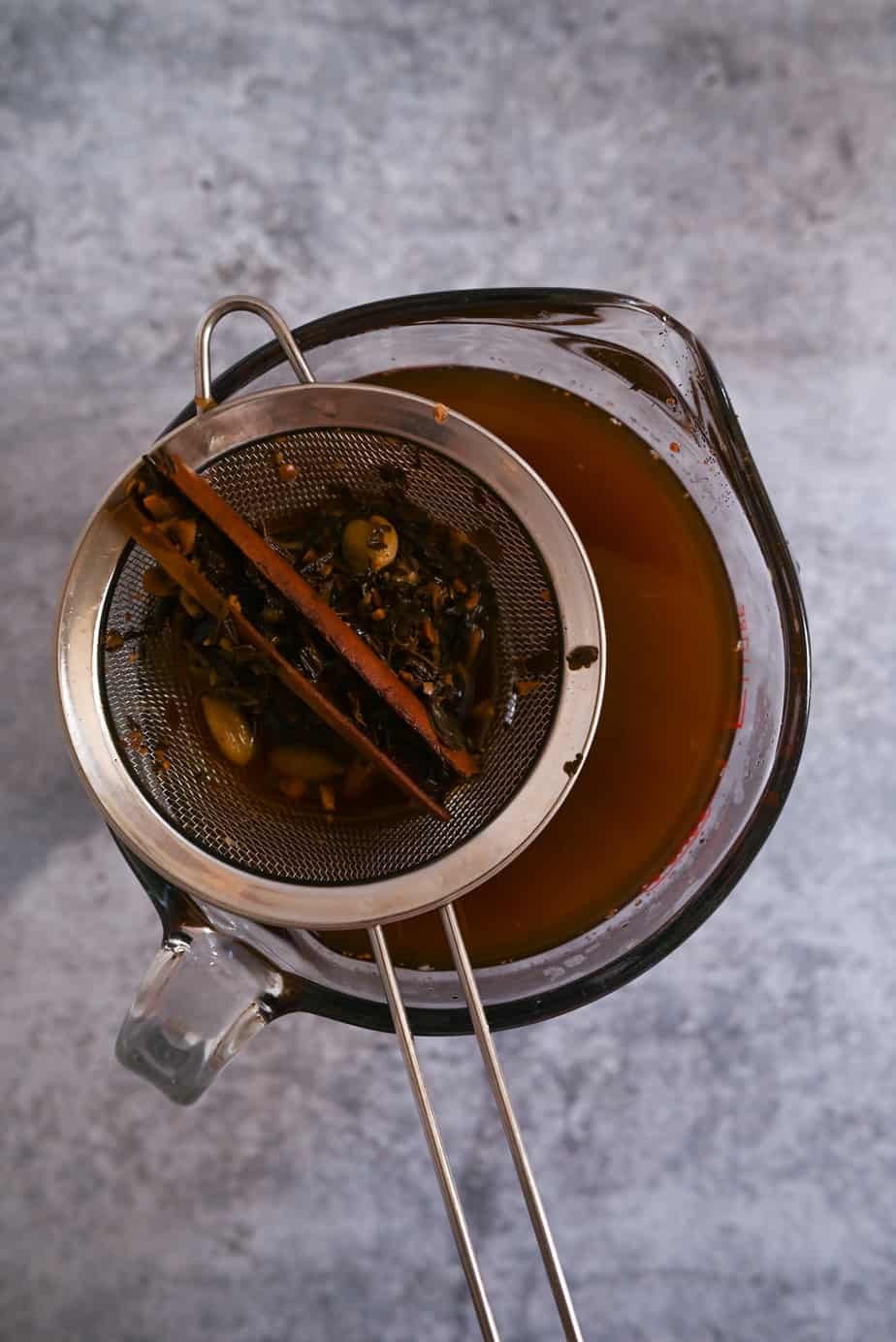 HOW TO MAKE CHAI CONCENTRATE
If you can boil water, you can make your own chai concentrate. I promise!
Whole spices
The key to this recipe is using whole spices.
Whole spices are definitely cheaper than you think. But the key is to skip the big box grocery stores!
If you have a Mediterranean or Middle Eastern market near you, they'll likely have all the whole spices you need. Or look for a spice shop near you – they should have what you'll need as well.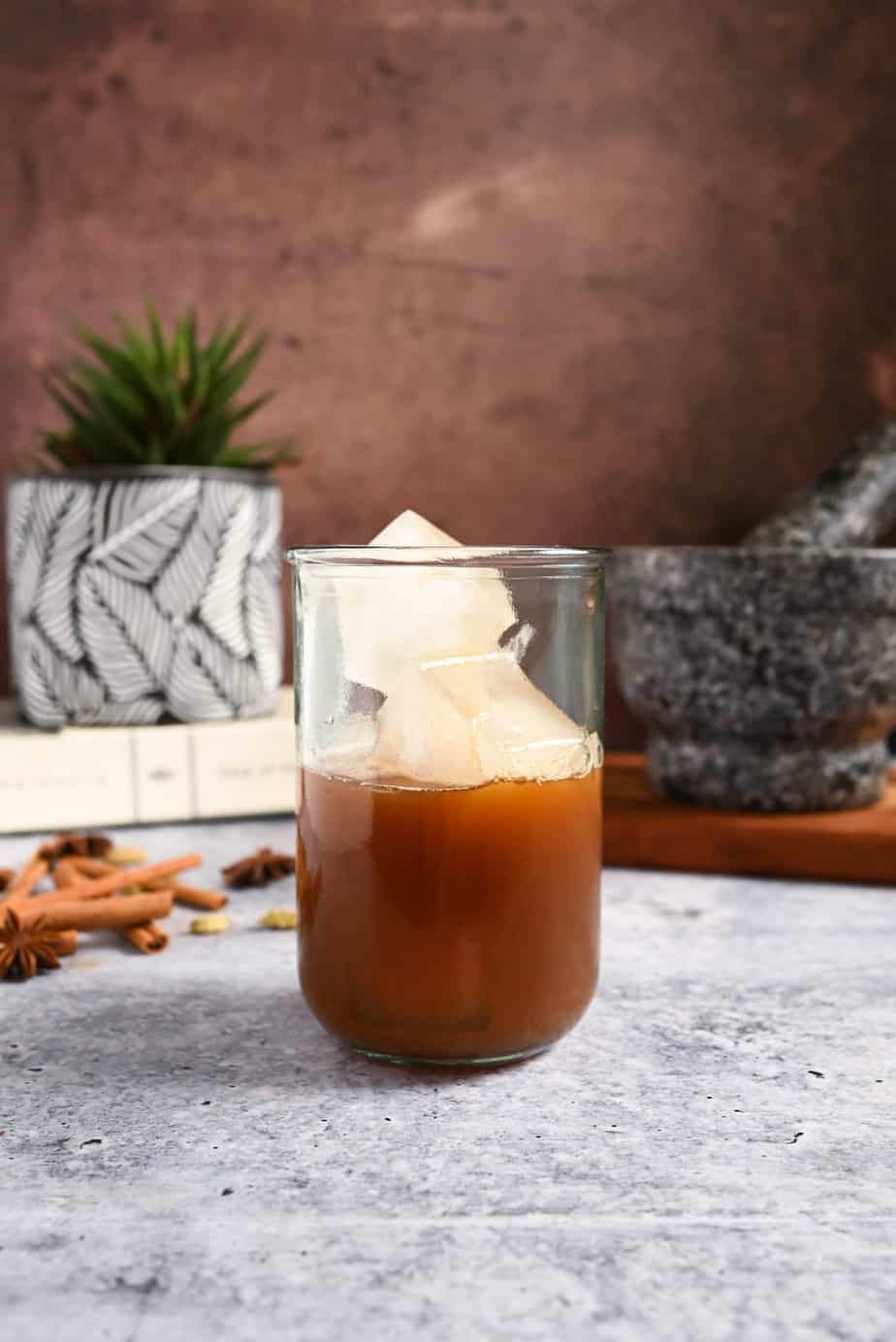 When in doubt, you can always order your spices online. They last for ages, so you'll be able to use them for cooking and baking projects for a long time.
For this recipe, you'll need:
Black peppercorns (optional)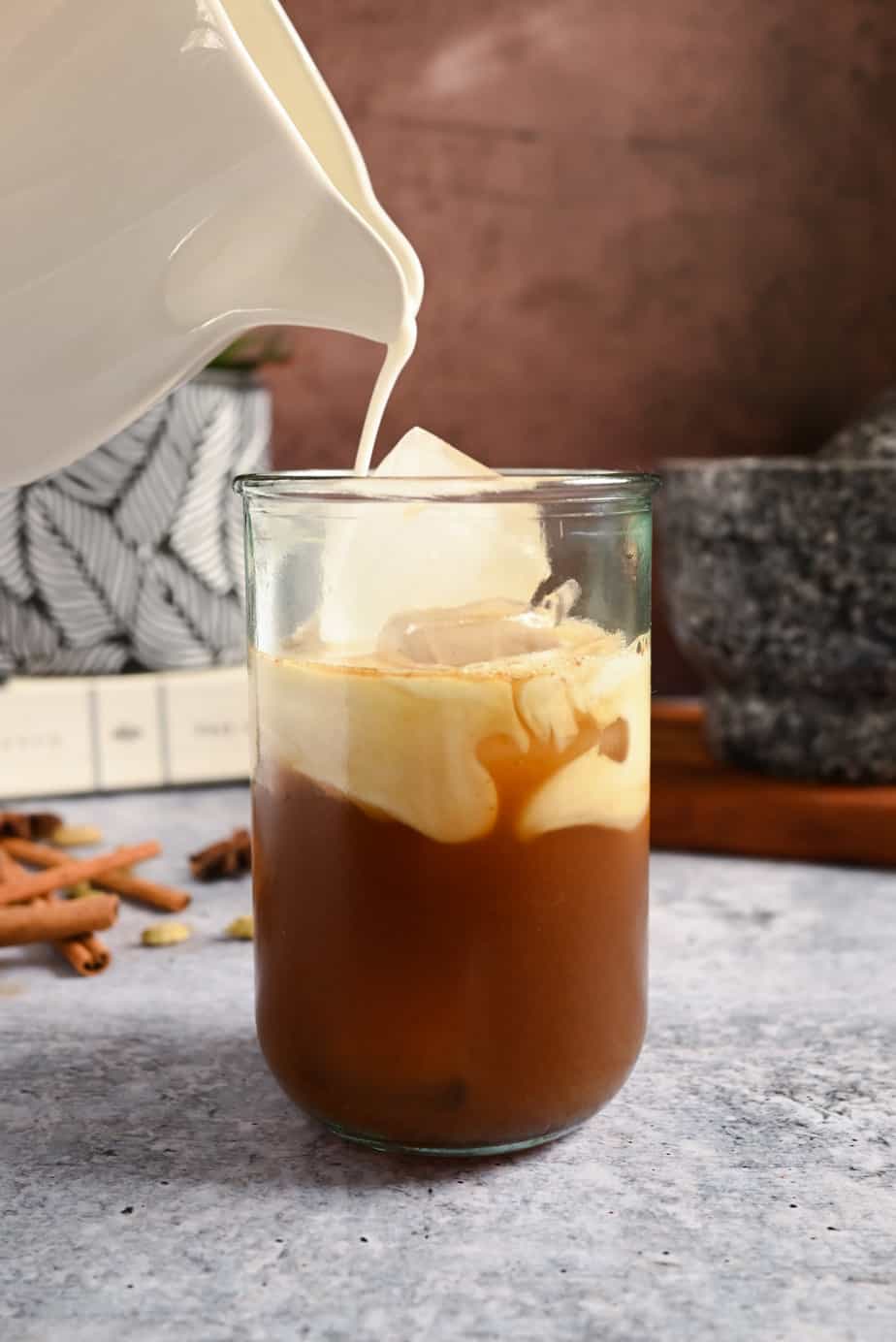 You'll also need a vanilla bean, vanilla bean paste, or vanilla extract.
The vanilla is the real key to this recipe for me. I tried it several times without the vanilla, and every time it was a little bit "blah". It was when I added the vanilla that all of the flavor notes really fell into place.
Tools
You'll primarily need a medium pot and a fine mesh strainer for this recipe.
You can also use a mortar and pestle to gently crack open the whole spices before simmering them, but it's not required.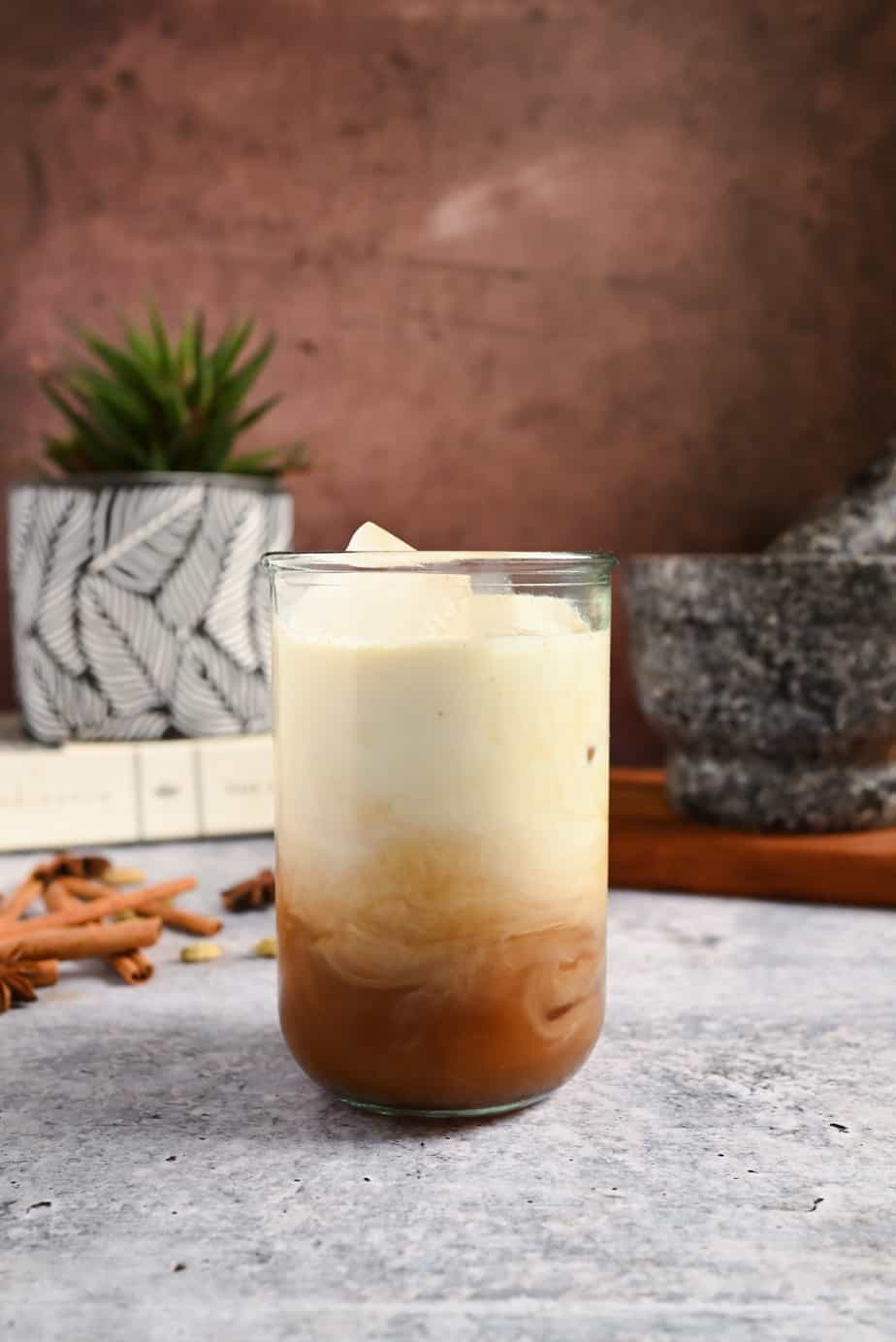 Making this recipe
To make your chai concentrate, start by combining water, honey, and the whole spices in the sauce pot. Bring this to a boil.
Reduce the heat to maintain a simmer; simmer the mixture, uncovered, for 20 minutes.
Remove the pot from the heat and add in the tea leaves or tea bags. Let the tea steep for 5 minutes.
Now you can strain out the spices and stir in the vanilla.
Pour your concentrate into the container of your choice before using or storing!
HOW TO USE THIS CONCENTRATE
Most recipes – and even store-bought concentrates – suggest mixing 1 part concentrate with 1 part milk.
I happen to like my chai, like all tea, pretty strong, so I like to use a higher ratio of concentrate-to-milk. Play around with it and see what you like – because that's the beauty of making it at home!
The other nice thing about making chai at home is you can use whatever milk you like. Dairy milk (I personally prefer whole milk), soy milk, oat milk, coconut milk…it's all up to you!
To make a chai latte
Heat your desired amount of chai concentrate in the mug of your choice. Gently heat your desired milk, then use a milk frother to foam the milk before pouring it over the concentrate.
I like to sprinkle a little cinnamon on top for some extra flavor and to make it look pretty. And voila! A homemade chai latte!
To make iced chai
Fill up a glass with ice, then add your desired amount of chai concentrate to the glass. Pour in the milk of your choice, mix, and enjoy alongside a slice of sourdough banana bread or applesauce bread for the perfect breakfast or afternoon snack.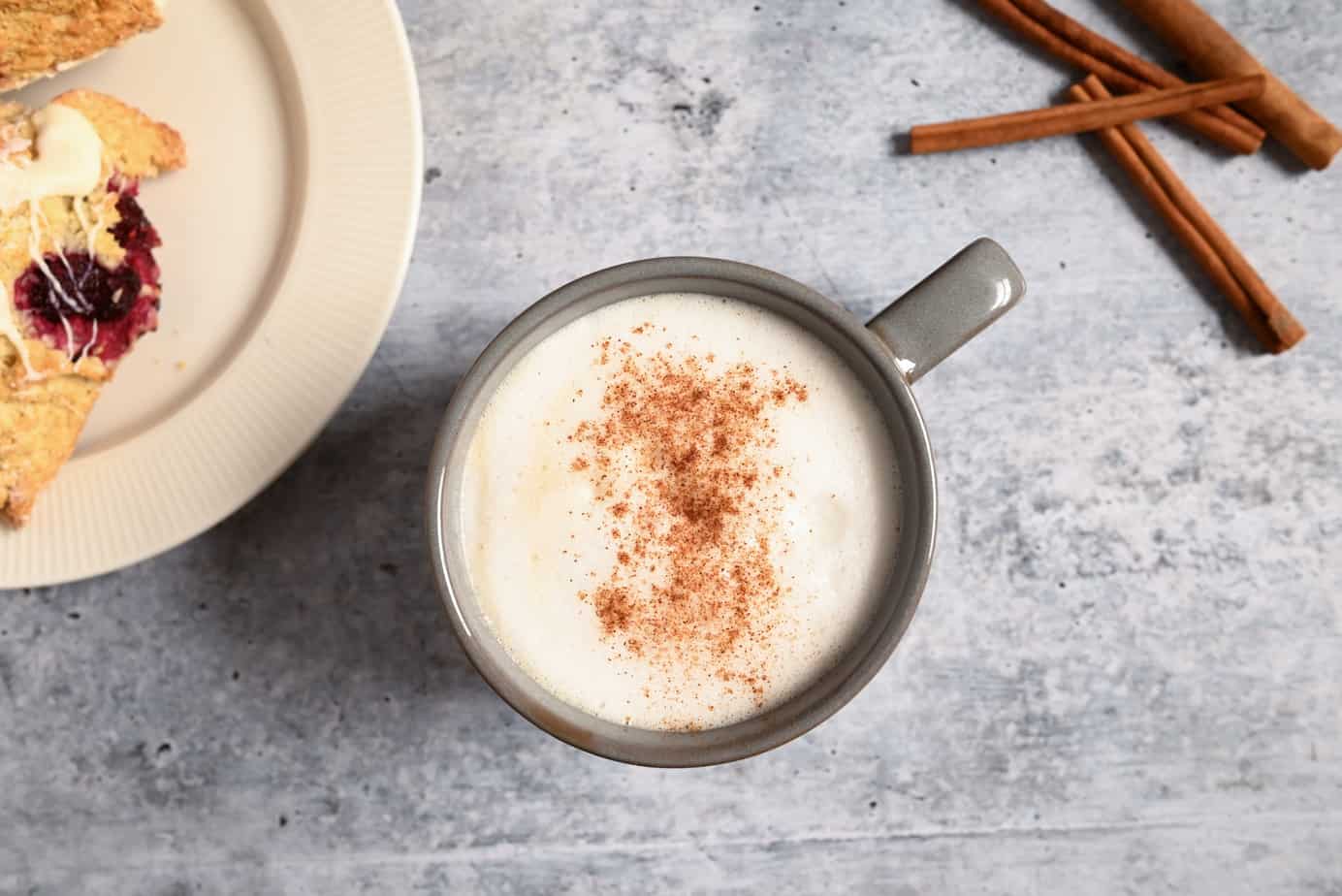 STORAGE TIPS
One of the nice things about making your own concentrate at home is that it lasts a long time in the refrigerator.
Store the chai concentrate in the bottle or jar of your choice and keep it in the fridge for up to 2 weeks.
It will honestly stay good for up to a month, but I like to use it within 1-2 weeks because I think that is when the flavor is the best.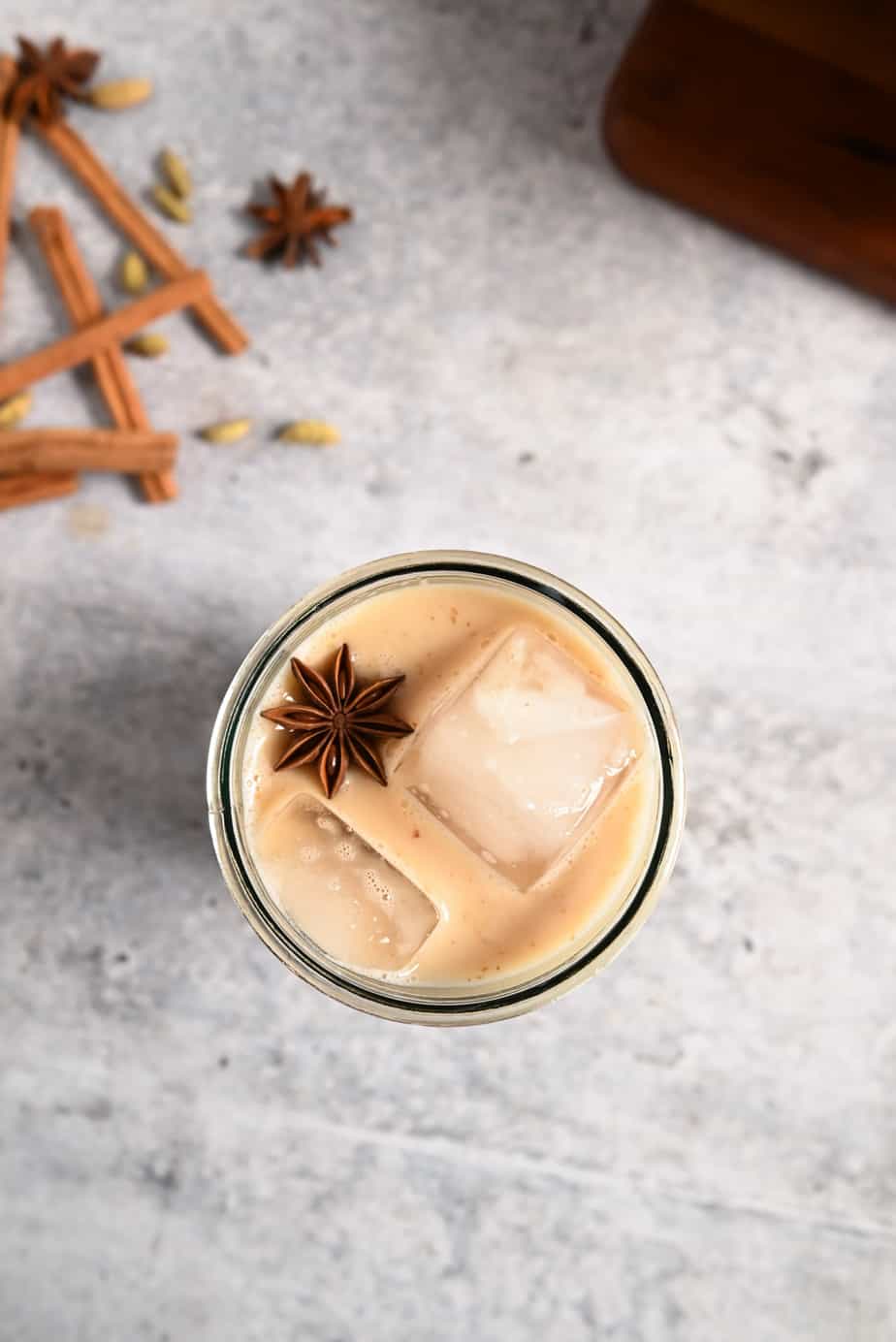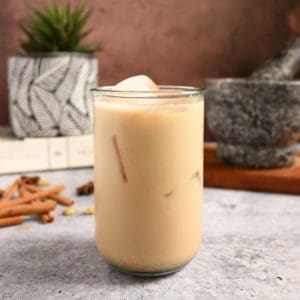 Chai Concentrate
Homemade Chai Concentrate is quick and easy to make with just a handful of spices and your favorite black tea.
Print
Pin
Rate
Ingredients
6

cups

water

4-6

tablespoons

honey

2

tablespoons

dried ginger pieces

5

cinnamon sticks

2-3

star anise pods

1

teaspoon

whole cloves

½

teaspoon

allspice berries

1

heaping tablespoon green cardamom pods

Up to 1 teaspoon whole black peppercorns

optional

4

tablespoons

black tea leaves OR 5 black tea bags

1

vanilla bean OR 1 tablespoon vanilla bean paste OR 1 tablespoon vanilla extract

Milk of your choice

for serving
Instructions
In a saucepan, bring the water, honey, whole spices, and vanilla bean (if using) to a boil. Reduce heat to medium-low and simmer, uncovered, for 20 minutes.

Remove from heat and add the tea leaves or tea bags. Steep for 5 minutes before removing tea bags. Strain out the spices and stir in the vanilla bean paste or extract, if using.

Pour into an airtight container and allow to cool to room temperature before storing in the refrigerator for 1-2 weeks.

To serve, mix anywhere from 1 to 2 parts concentrate with 1 part milk of your choice (whole, soy, almond, oat, etc). Serve over ice or heat.
Notes
Makes 4-5 cups of concentrate.
I like to gently crack open or lightly crush my whole spices in a mortar and pestle before adding them to the boiling water; it seems to help release some of the flavor. This is totally optional, so go where your heart leads you.
This recipe was originally written using ¼ cup coconut sugar + 2 tablespoons honey. I have updated it to use only honey to make it easier for those who do not keep coconut sugar in their pantry. Feel free to use the coconut sugar + honey combination if you prefer.
Replace the honey with the liquid sweetener of your choice (agave, maple syrup, etc) if a vegan concentrate is desired.
Nutrition
Serving:
0.5
cup of concentrate
|
Calories:
48
kcal
|
Carbohydrates:
12
g
|
Protein:
0.3
g
|
Fat:
0.2
g
|
Saturated Fat:
0.03
g
|
Polyunsaturated Fat:
0.03
g
|
Monounsaturated Fat:
0.04
g
|
Sodium:
11
mg
|
Potassium:
41
mg
|
Fiber:
2
g
|
Sugar:
9
g
|
Vitamin A:
12
IU
|
Vitamin C:
0.5
mg
|
Calcium:
38
mg
|
Iron:
1
mg