Sweet Potato Cookies are soft, cakey, and full of sweet potato and dried cranberries. Get into it!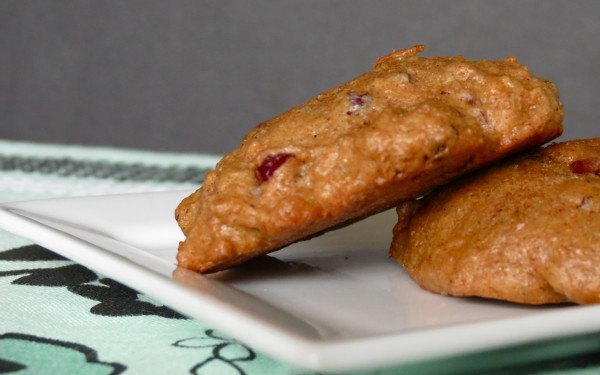 Happy Monday, everyone!
I hope all you mothers out there had a wonderful day yesterday. I had one reader write in to tell me that her three young children wanted to make her breakfast in bed, but kept asking how she felt about ketchup. So here's hoping that everyone had a breakfast free of too much ketchup! (Unless you're into that sort of thing…)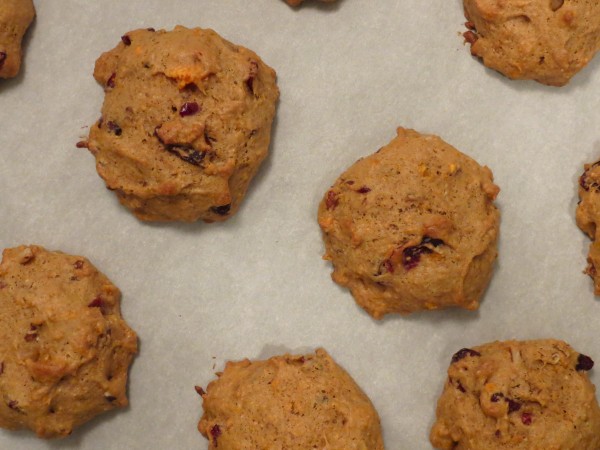 Sometimes I think that maybe, just maybe, I have a small sweet potato obsession. But then I remember that I have only posted Sweet Potato Waffles, Whole Wheat Sweet Potato Scones and Sweet Potato Custards on here…and figure that you all probably need one last sweet potato recipe from me before summer hits.
Right? Right??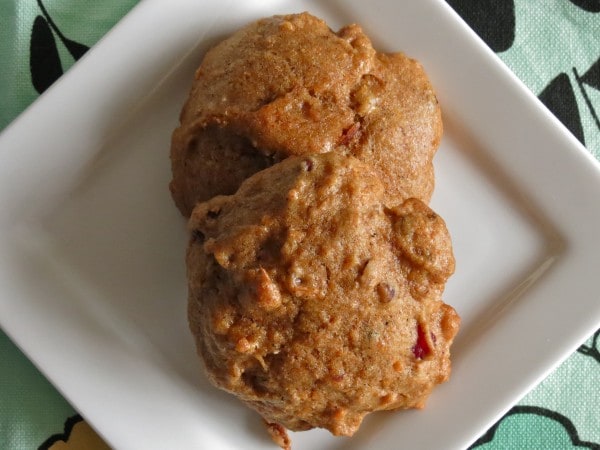 These are a super soft, almost cake-like cookie.
In fact, in a lot of ways they remind me of my Gingerbread Cake Cookies recipe. In some other ways, they remind me of lovely little muffin tops (as in the top of the pastry, not what hangs over the top of your jeans).
To be honest, the recipe reads a lot more like a muffin recipe than a cookie recipe, but I am going to choose to call these cookies anyway, although you could certainly call them muffin tops if it helps you justify eating them for breakfast…
Adapted from the Joy the Baker Cookbook
Yield:
About 2 dozen cookies
Ingredients
1 cup cooked, mashed sweet potato
1 cup all-purpose flour
1 cup whole wheat flour
1½ teaspoons baking powder
1 teaspoon baking soda
1 teaspoon cinnamon
¼ teaspoon ground cloves
¼ teaspoon ground coriander
2 eggs
1 cup packed brown sugar
½ cup coconut oil
2 teaspoons vanilla
½ cup dried cranberries
½ cup chopped pecans
Instructions
Preheat oven to 350 degrees. Line two baking sheets with parchment paper. Set aside.
In a large bowl, whisk together flour, baking powder, baking soda, and spices. Set aside.
In a medium bowl, whisk together eggs and brown sugar until thick and pale. Carefully whisk in oil, vanilla and sweet potato.
Add the sweet potato mixture, all at once, to the flour mixture. Fold together with a spatula until no flour remains. Fold in the cranberries and chopped pecans.
Spoon cookie dough, by the heaping tablespoonful, onto prepared baking sheets two inches apart. Bake for 10 to 12 minutes, or until puffed and lightly golden and a toothpick inserted into the center of one of the cookies comes out clean. Allow to cool for 5 minutes on the baking sheet before removing to a wire rack to cool completely.
Cookies will last, well wrapped, at room temperature for up to 4 days. If storing in layers, separate with parchment or waxed paper so they don't stick together.