Paska, or Ukrainian Easter Bread, is a sweet, rich bread that hails from Eastern Europe. Learn more about this traditional bread recipe and Ukrainian traditions that surround it!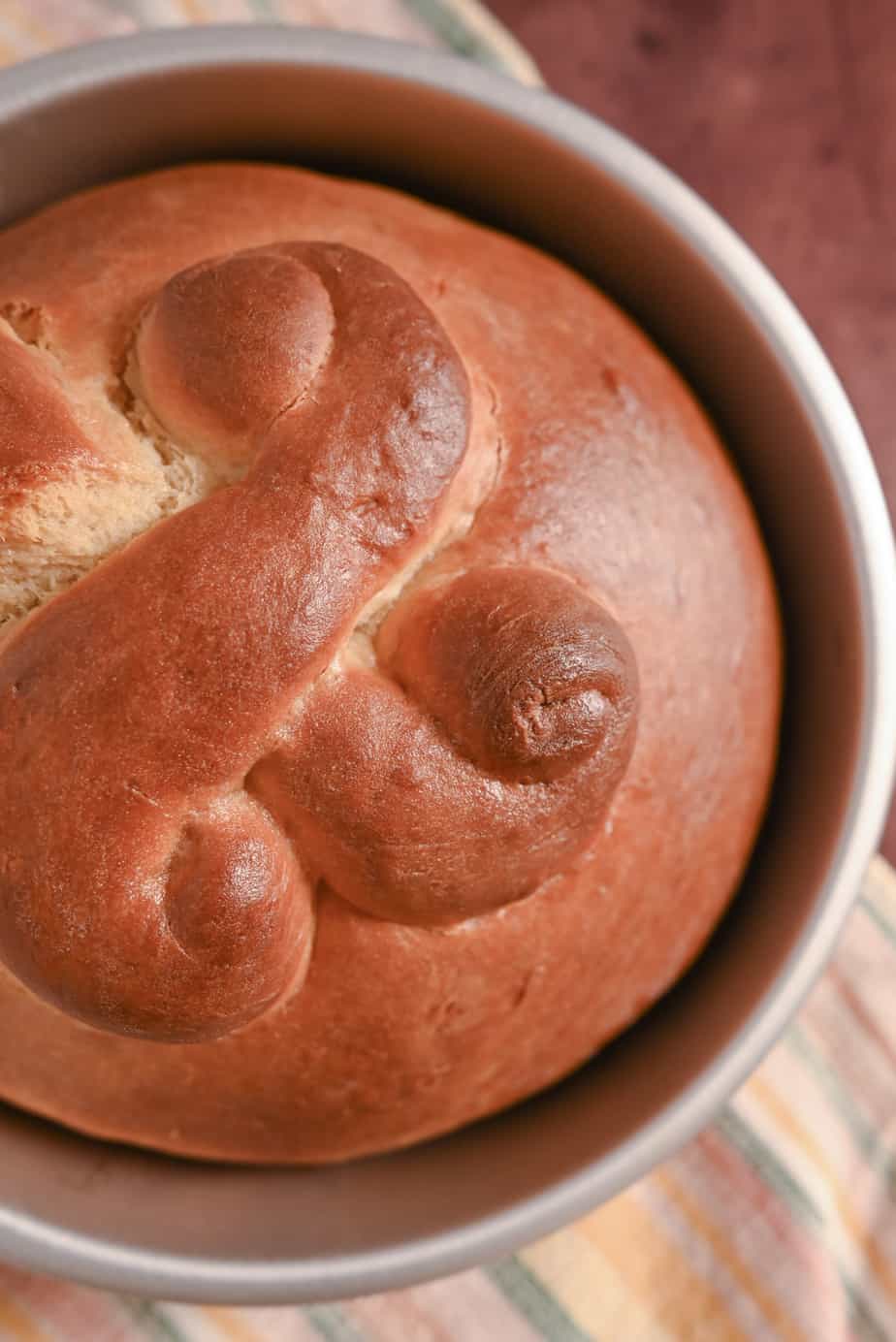 This post contains affiliate links.
For me, this website has always been about sharing the memories that we make around food. There are no stronger memories than the ones that come from recipes that have been passed down through generations.
We're talking recipes like my great-grandmother's angel food cake or the brown sugar fudge that came from my friend Kathleen's grandmother.
When one of my Instagram friends reached out and asked me if I'd like to try one of her family's traditional Ukrainian recipes, I jumped at the chance to share this recipe with you.
Read on to learn more about this Paska recipe from my friend Stephanie Cheeseman (PysankySteph) and join us in raising funds for RAZOM for Ukraine.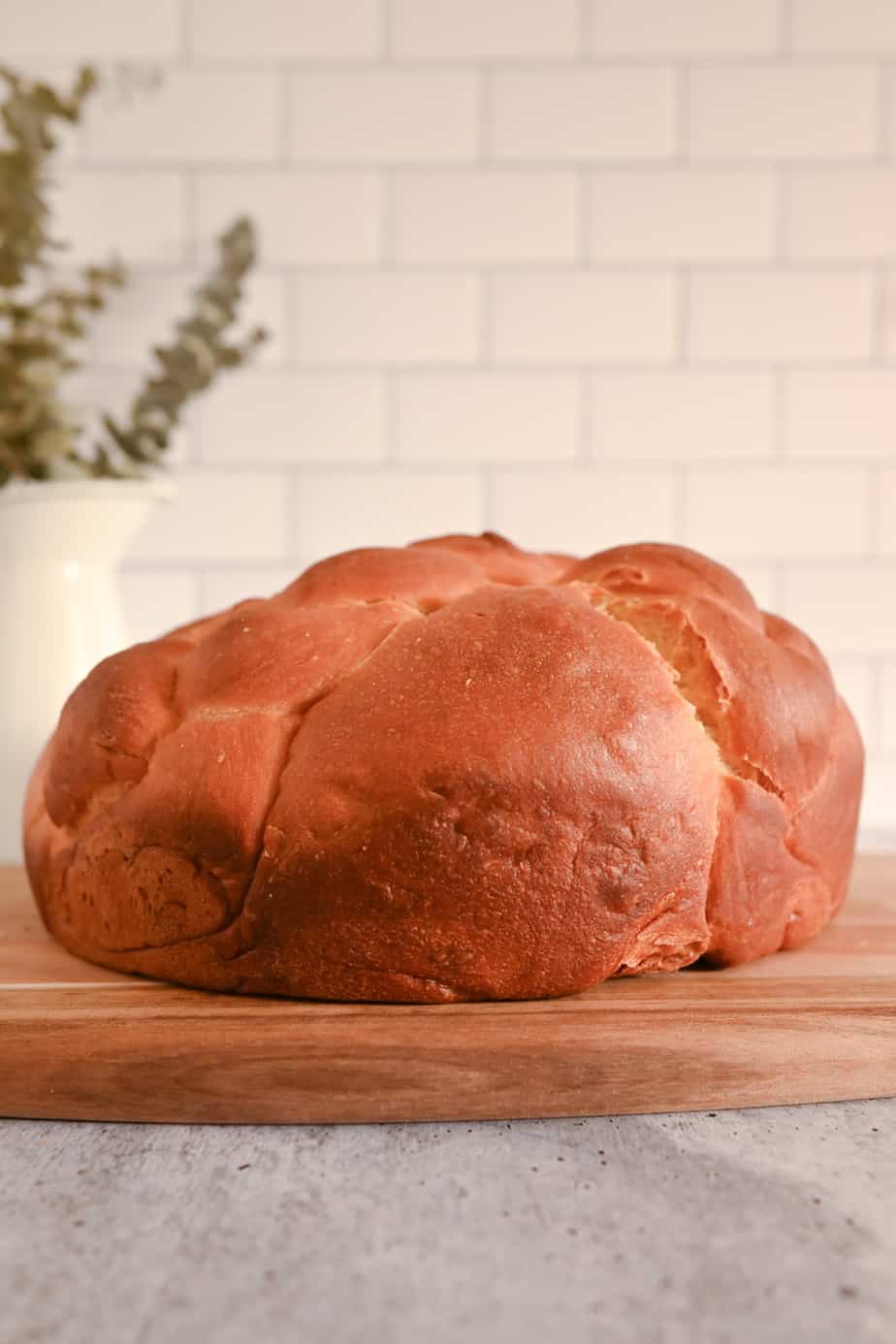 WHAT IS PASKA?
I, Stephanie (aka PysankySteph), am a 3rd generation Ukrainian-American. My grandfather grew up in Ukraine and we still have family there.
The horrific war in Ukraine has people from all over the world rallying to support the nation and the Ukrainian people, and those of us with connections revisiting our roots fervently. It feels extremely important to connect in this moment.
I have had many approach me saying that they do not know family in Ukraine, but they have a familial or social connection somehow. Equally, I have had some say that they have no known connection, but they just want to be helpful and learn more.
Many have kept the Ukrainian traditions going in the diaspora, including pysanky (Ukrainian Easter eggs) and, of course, through food.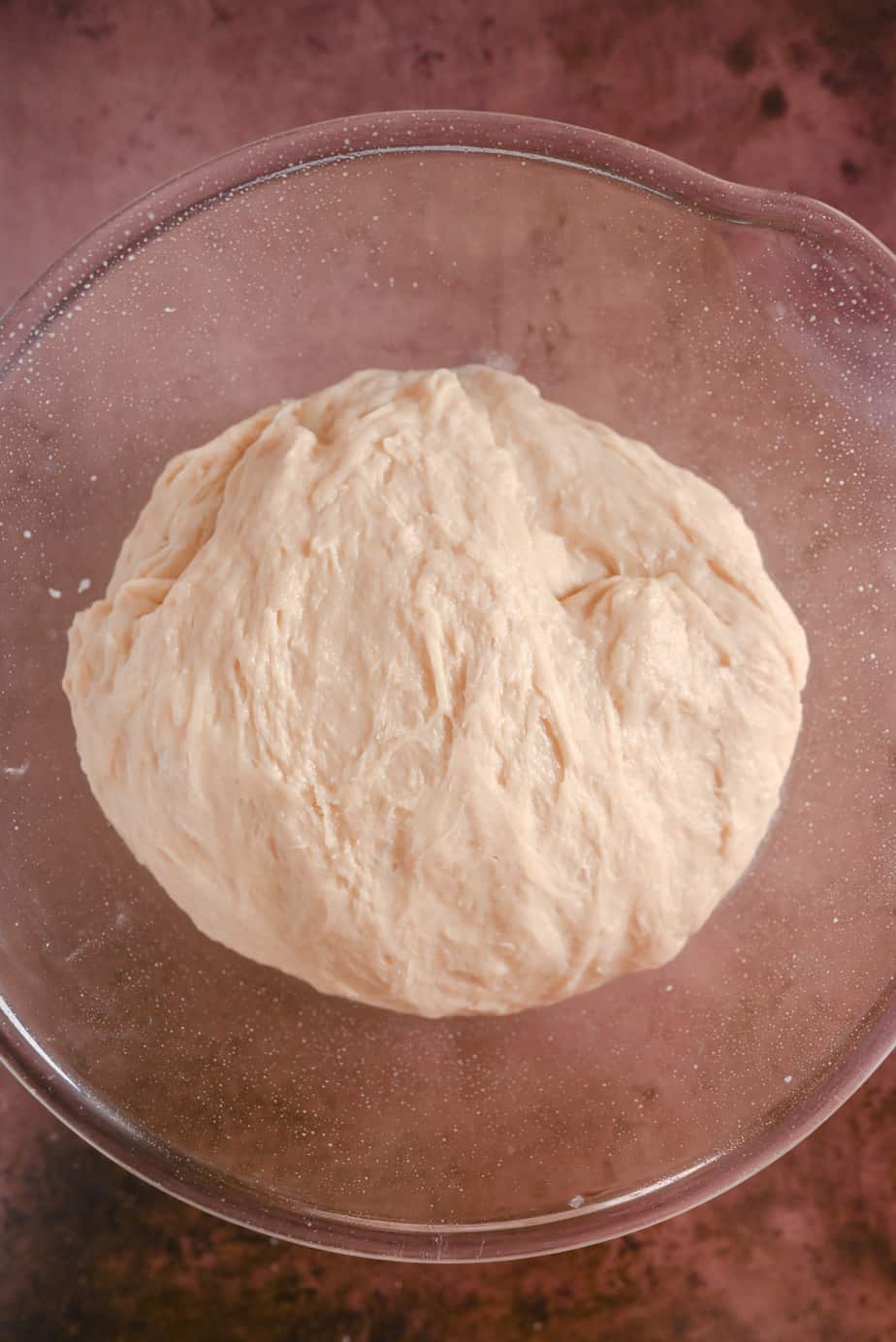 The difference this year is that I and many others urgently want the world to acknowledge Ukraine's unique culture and celebrate it, and denounce the claims that Russia has falsely made. I asked Stephie if she'd like to join me, and that is why we are encouraging people to donate to Razom for Ukraine and join in our traditions!
Paska, which means Easter, is a traditional Ukrainian bread that is decorated and pleasantly sweet, a bit crumbly, and best enjoyed fresh with cream cheese or butter.
The name implies that it is for Easter, when it is taken in the Easter basket along with other foods to be blessed and enjoyed for the celebratory meal. This bread is so good though, many make it at other times of the year for celebrations.
During the USSR rule, Ukrainian language and culture were discouraged or banned entirely, especially if the Soviets deemed the folk art religious or Ukrainian nationalist in any way.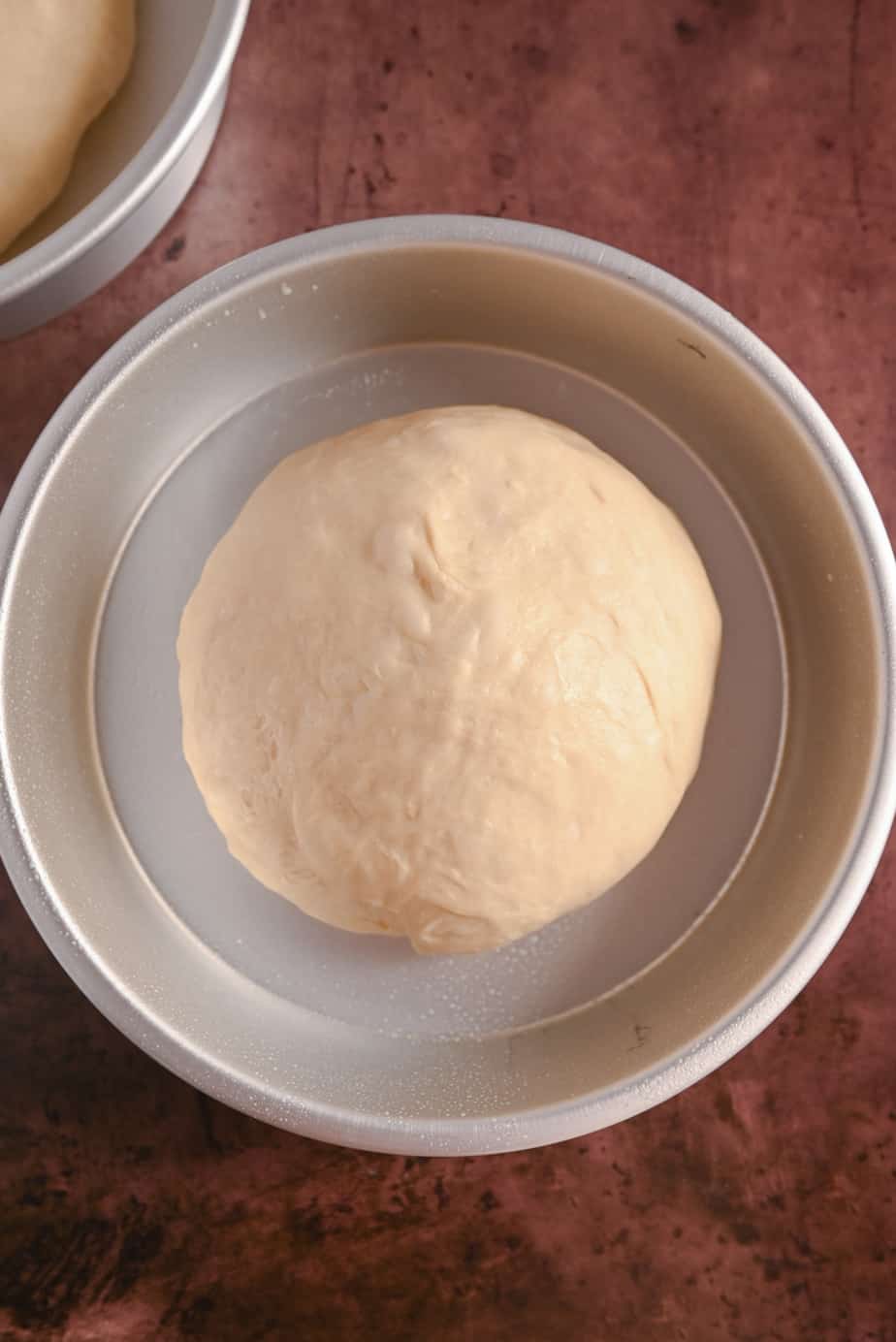 Many traditions were kept alive by those who did not live in Ukraine, and have been gaining strength within its borders again after the fall of the Soviet Union. This is a huge part of why keeping the culture alive is so important.
I was recently interviewed by the Washington Post about why I am so passionate about making pysanky, the elaborately decorated eggs, as well as CBS Evening News about the fundraiser I have been coordinating at my church where I teach people how to make (or as it is technically described, "to write") the eggs in workshops. I have just as much passion for the food!
RAZOM for Ukraine is working actively within and outside of Ukraine during this war to help those impacted. You can learn more about RAZOM and what they are doing and how to help.
The most delicious way to support Ukraine is to try to make this bread (and contribute to our fundraiser).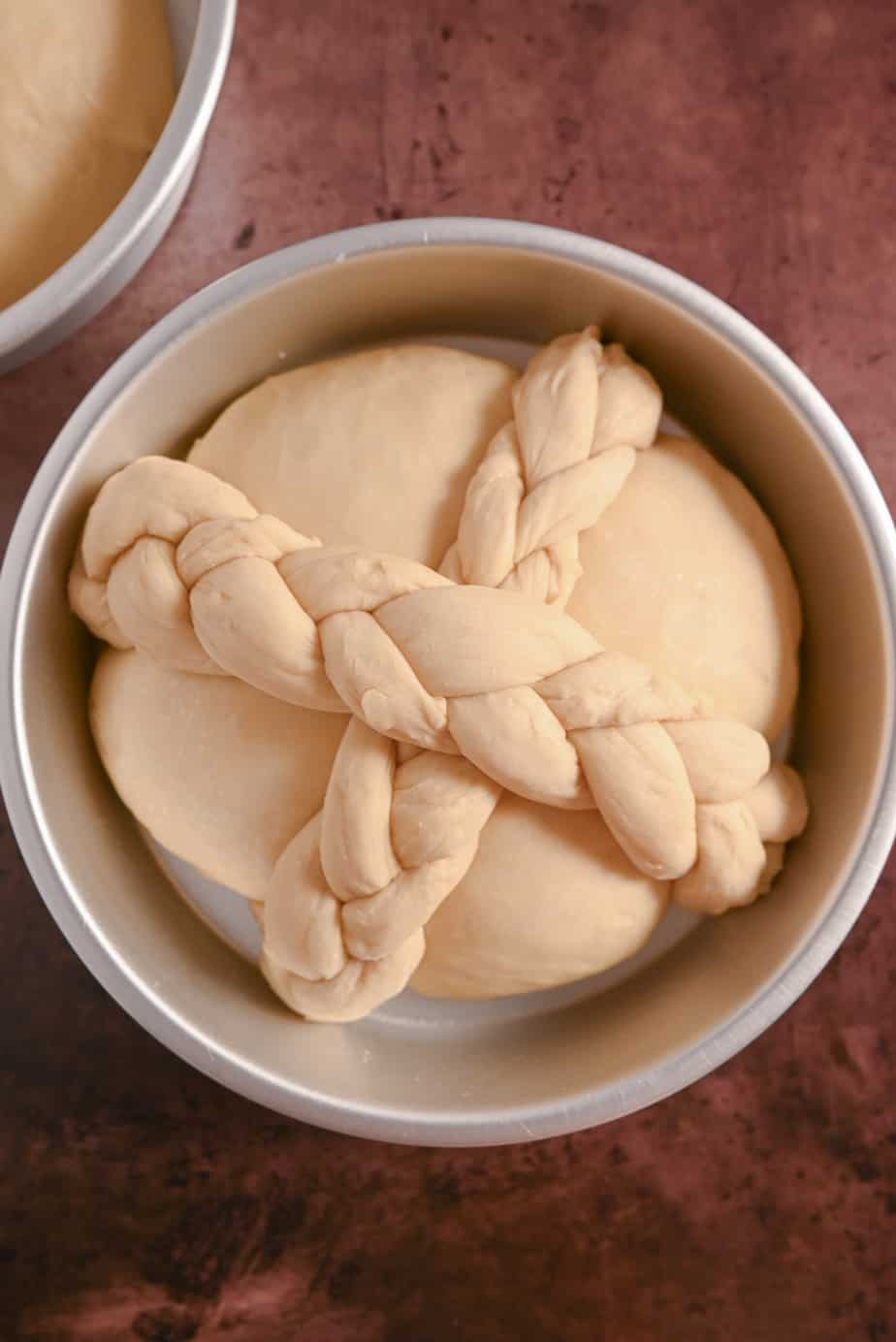 STEPHANIE'S PASKA RECIPE
This incredible Ukrainian bread recipe comes from Stephanie and has been tweaked over the years with the help of her mom (Chris Terpak-Malm) and husband (Doug Cheeseman).
Like so many of the recipes that have been passed down through my own family, it turns out that Stephanie's family never strictly wrote down their Paska recipe anywhere.
Over the years they took a couple of versions and combined them to create the recipe that Stephanie and her husband now make.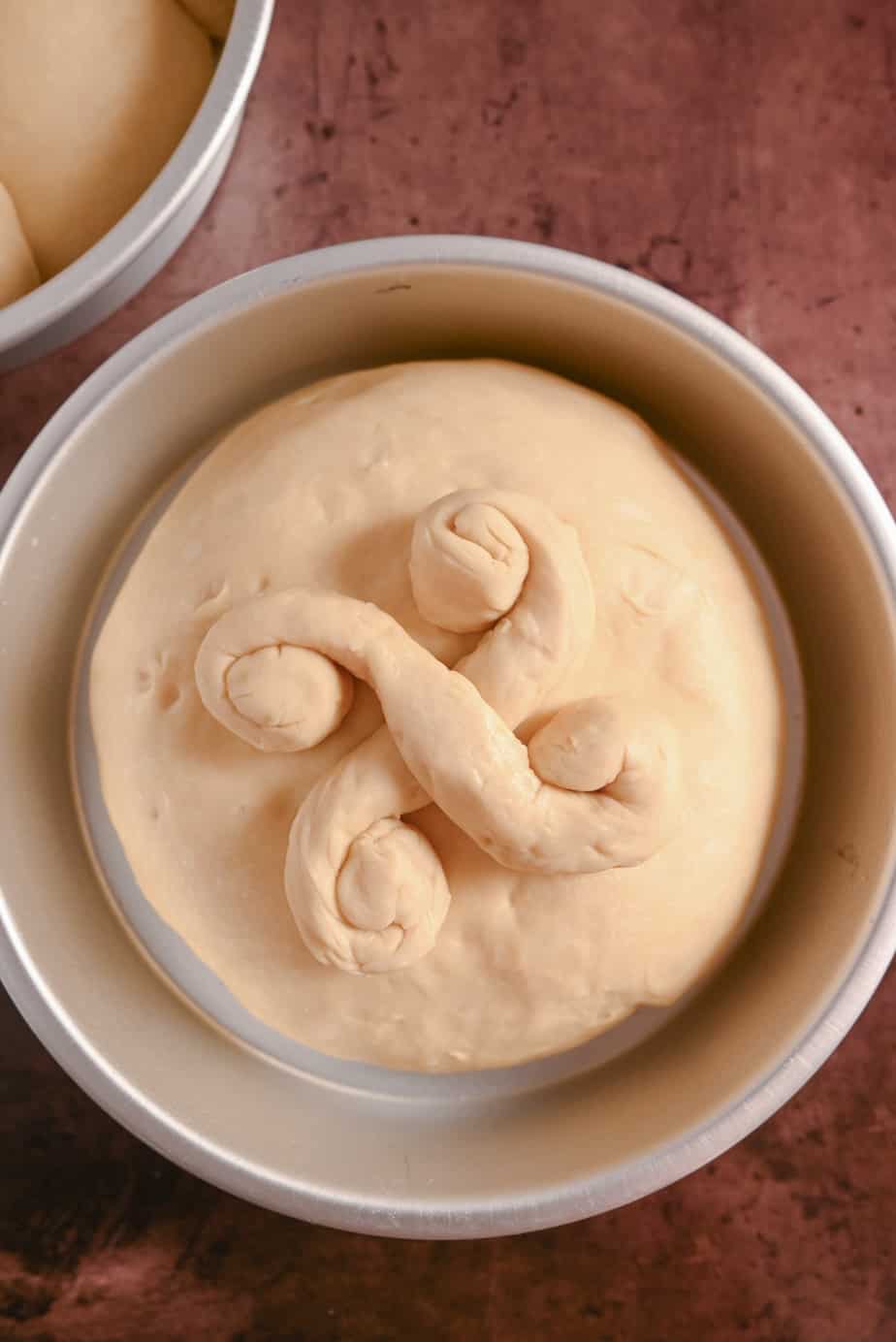 As you'll often find with recipes like this one, there is no one way to make Paska. Some families add raisins, some bake it into one very tall loaf (reminiscent of panettone), some add an egg wash…you get the idea.
While Stephanie's version is just one way to make Paska, the rich, sweet, buttery texture of this bread is one of the hallmarks of this traditional bread. It is incredible on its own or topped, as Stephanie mentioned, with cream cheese or butter.
It would also be amazing baked into overnight french toast. But now I'm just making myself hungry all over again.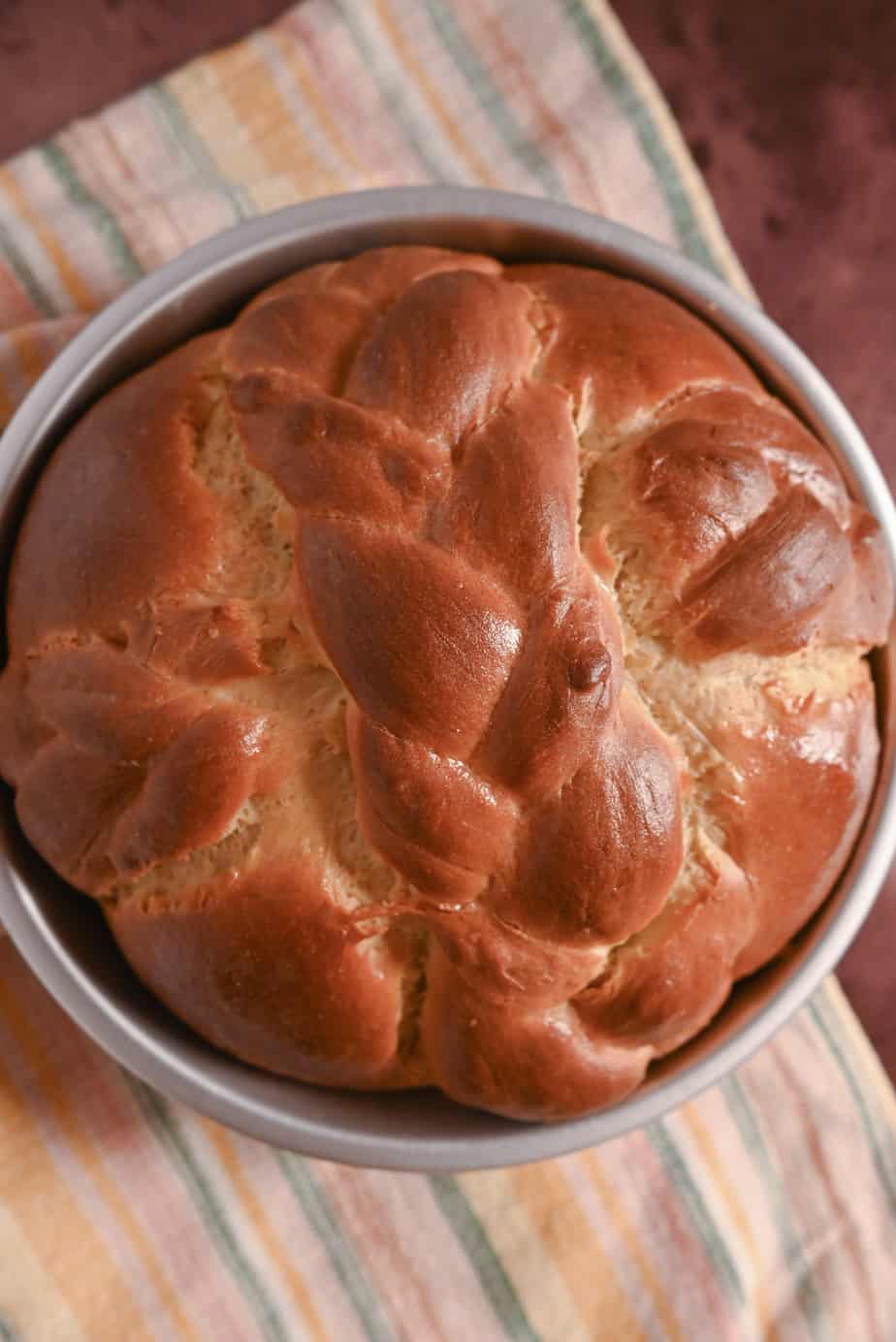 HOW TO MAKE UKRAINIAN EASTER BREAD
If you're unfamiliar with working with yeast, don't be intimidated by this recipe. It may seem like there are a lot of steps, but they're ultimately pretty simple!
Paska Ingredients
A rich, beautiful bread like this may seem fancy, but the ingredients are incredibly simple:
1 package (2 1/4 teaspoons) active-dry yeast
¼ cup warm water
1 cup plus 2 teaspoons granulated sugar
2 cups whole milk
2 sticks (1 cup) unsalted butter
4 large eggs
1 teaspoon fine sea salt
6-8 cups all-purpose flour, plus more for kneading
The milk, butter, and eggs in this recipe make this an enriched bread dough. This just means that it has a higher amount of fat, sugar, and dairy than a standard bread dough.
Enriched breads, such as this one, Pan de Muertos, or my Texas Roadhouse Rolls, take a bit longer to rise, but the extra time is well worth it. The crumb is super soft and tender. Not to mention how delicious they are!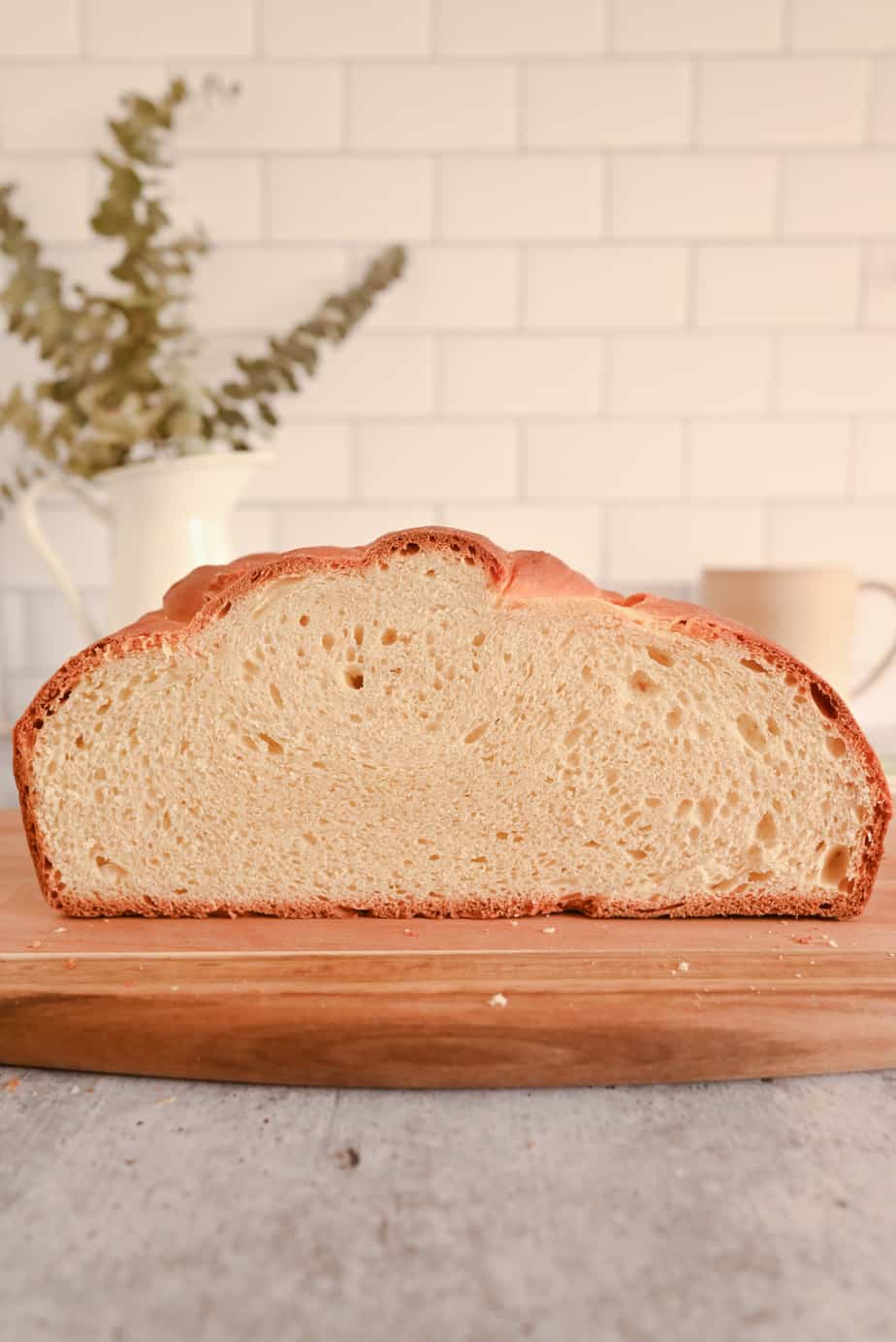 Tools
Aside from mixing bowls and measuring cups, you may want to use a stand mixer for this recipe. If you don't have one, you can easily mix this dough together by hand with a wooden spoon or silicone spatula.
You will also need two 9×2-inch round cake pans or two 10×4.5-inch loaf pans (or one of each) for baking the bread.
Making the dough
Now for the fun part! Start by blooming your yeast – mix the yeast, warm water, and 2 teaspoons of the sugar in a measuring cup or small bowl. As this sits, the yeast will activate and become foamy on top.
(If your yeast doesn't activate, that means you need to go buy some new yeast and try again!)
Next, we'll scald the milk. This just means we are heating the milk in a saucepan until bubbles form around the edges and the milk is steaming. Don't let it come to a boil!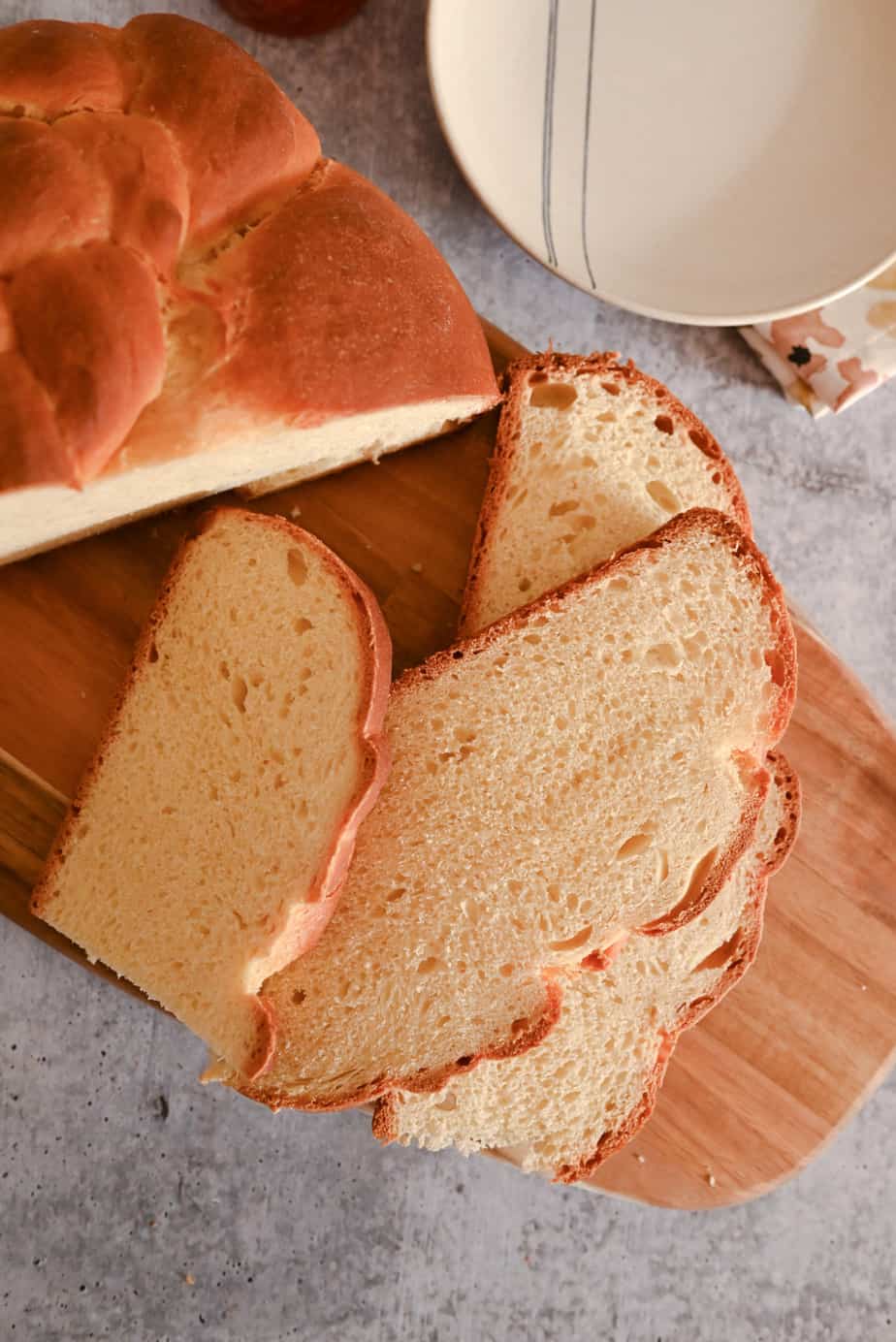 Once the milk is hot, stir in the butter until it's melted and let the mixture cool until the milk is about the same temperature as the water you used to bloom the yeast. This will probably take 10-15 minutes.
Whisk the eggs into the cooled milk mixture, then add this plus the bloomed yeast mixture to a large bowl with the sugar and salt.
Slowly add 6 cups of the flour, scraping the sides of the bowl as needed. We ultimately are looking for a very soft, very sticky, but workable dough – add as much of the remaining 2 cups of flour as needed to get there.
Generously flour a work surface and turn out the dough onto it. Knead the dough until it is smooth but still slightly sticky. Knead in more flour if you need to.
Pop the dough into a greased bowl and cover it with plastic wrap or a damp towel to prevent it from drying out on top. Let it rise for about an hour, until it has doubled in size.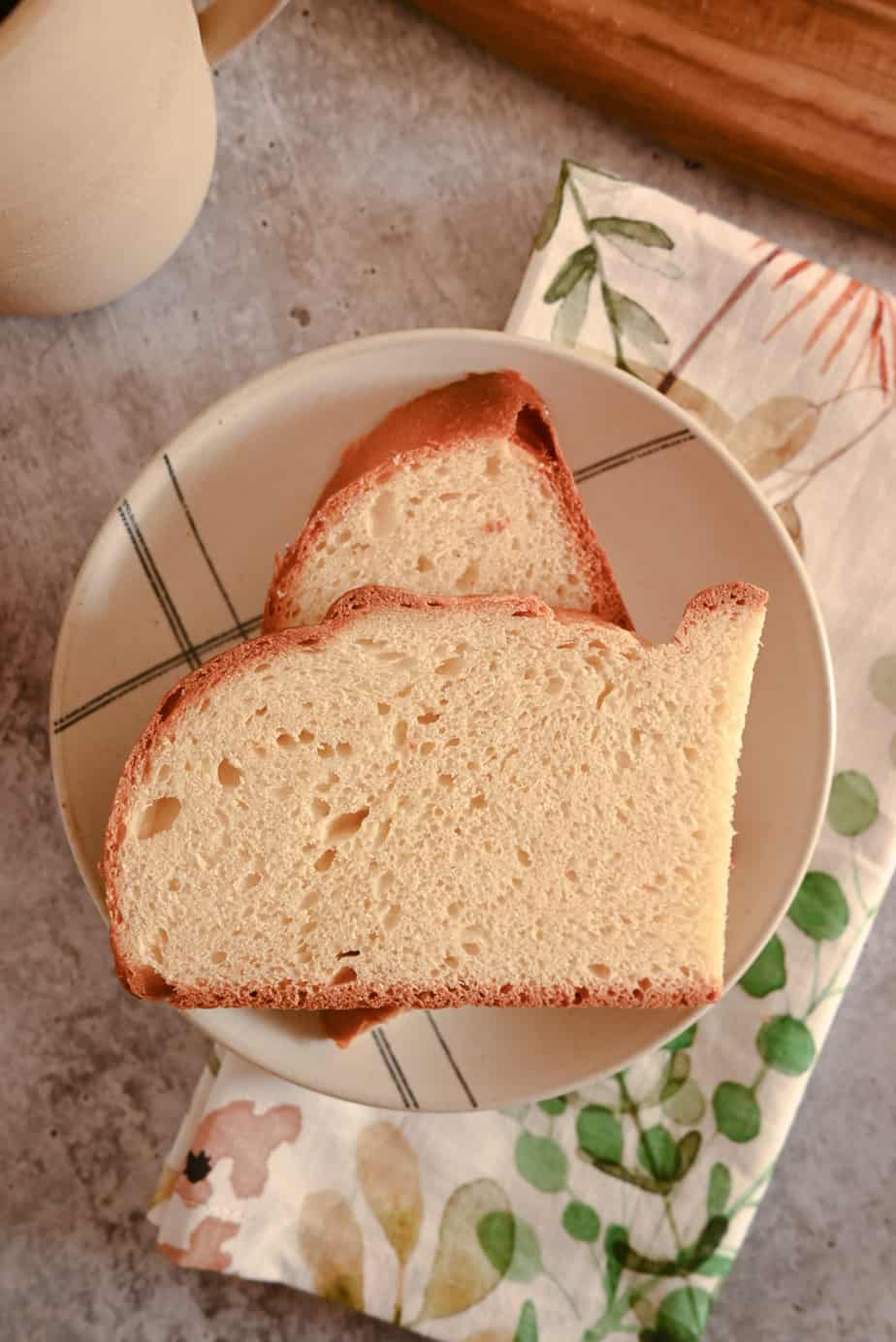 Shaping and decorating
When the dough has risen, turn it out onto a lightly floured surface. Divide off about ¼ to ⅓ of the dough and set this aside for decorations later. Place this piece back in the bowl and cover it again.
Divide the remaining dough in half and shape each portion into a round or loaf shape. Place them in the greased pans.
Cover the loaves and let them rise for about another hour, until they have doubled in size again.
Now it's time to decorate. Use the dough you reserved to make the designs you want – braids, crosses, and spirals are traditional. Place the decorations on the risen loaves.
Let the decorated loaves rest while your oven preheats to 400°F, then bake them at 400°F for 15 minutes. Lower the heat to 350°F and bake for another 40-50 minutes.
The loaves are done when they are deeply golden and the bottoms of the loaves sound hollow when you knock on them.
Once the loaves come out of the oven, brush the tops with melted butter, then turn them out of the pans to cool on a wire rack.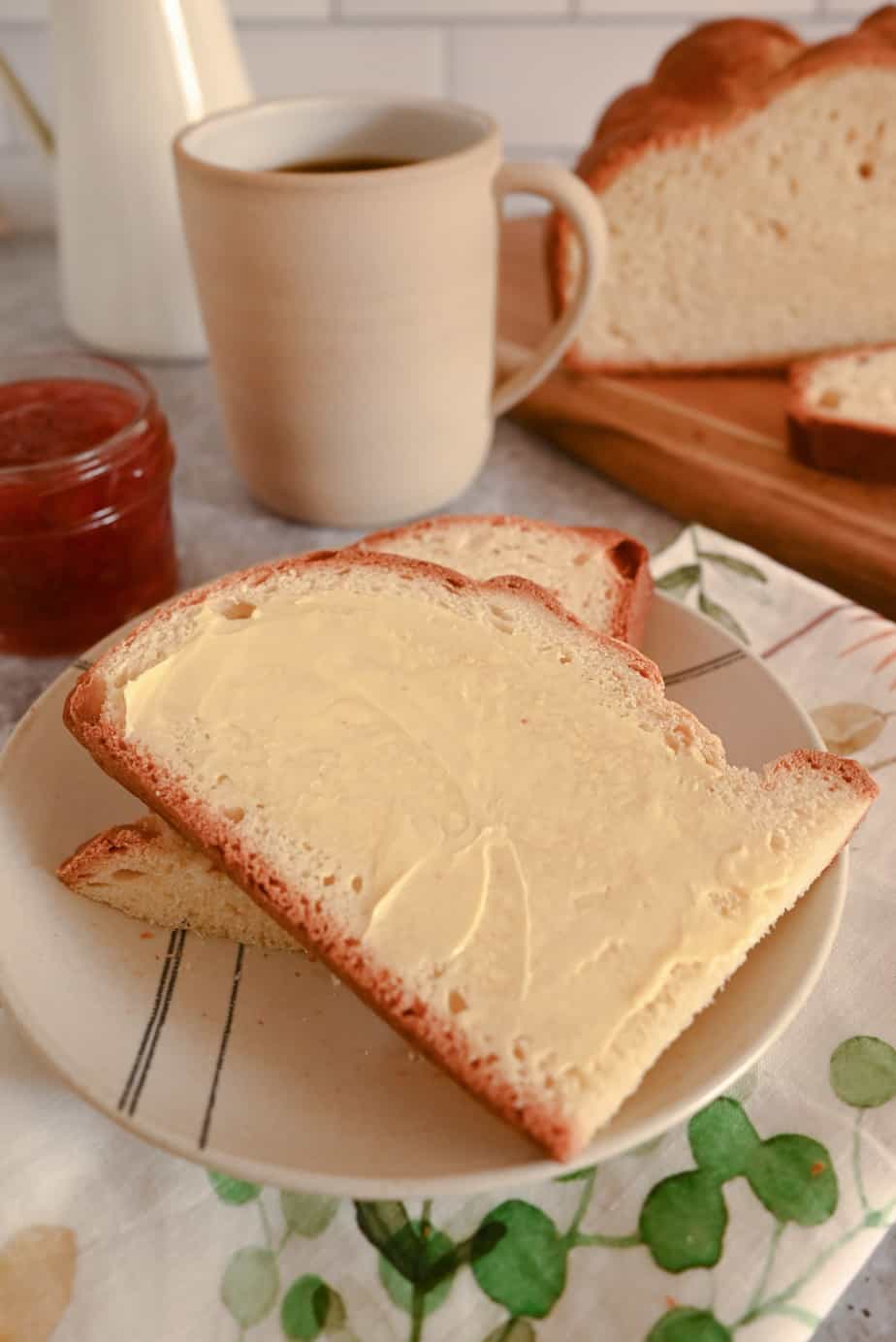 STORAGE TIPS
Like most yeast breads, this Paska is of course its freshest and at its best the day it is made. If you have any leftover, storing it in a reusable bread bag is the way to go.
Storing bread in plastic can encourage moisture to build up and make the crust soft.
You can also freeze your Paska. Wrap the fully cooled bread tightly in plastic wrap (press-and-seal wrap works great) and then place it in a zip-top freezer bag. Freeze for up to 3 months.
Let the bread thaw at room temperature before slicing, toasting, and enjoying!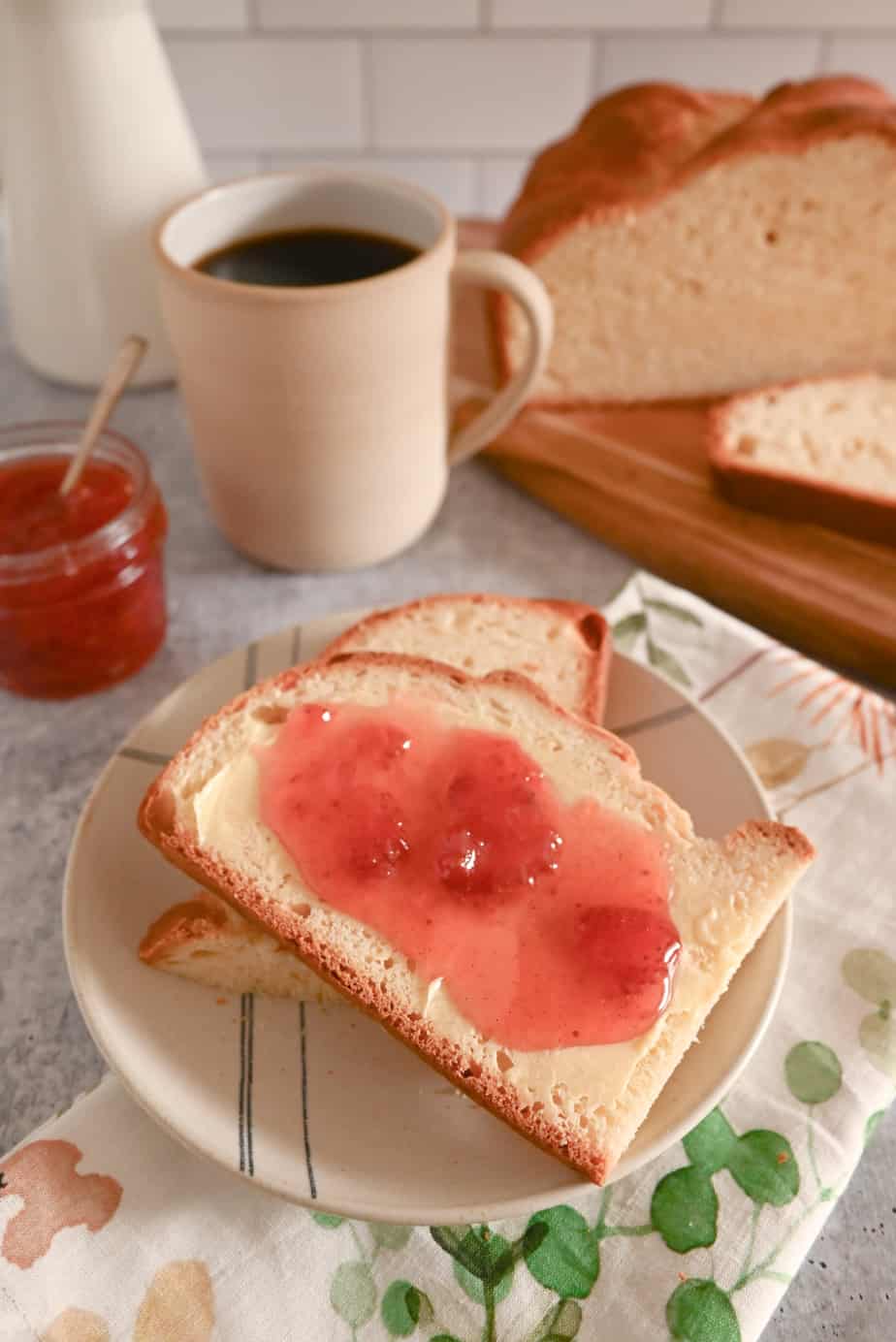 Stephanie Cheeseman can be reached at pysankysteph@gmail.com, or check out what she is doing via her Linktree. Thank you for your support!