Classic strawberry shortcake topped with fresh strawberries and lightly sweetened whipped cream. It's a summertime classic that speaks for itself.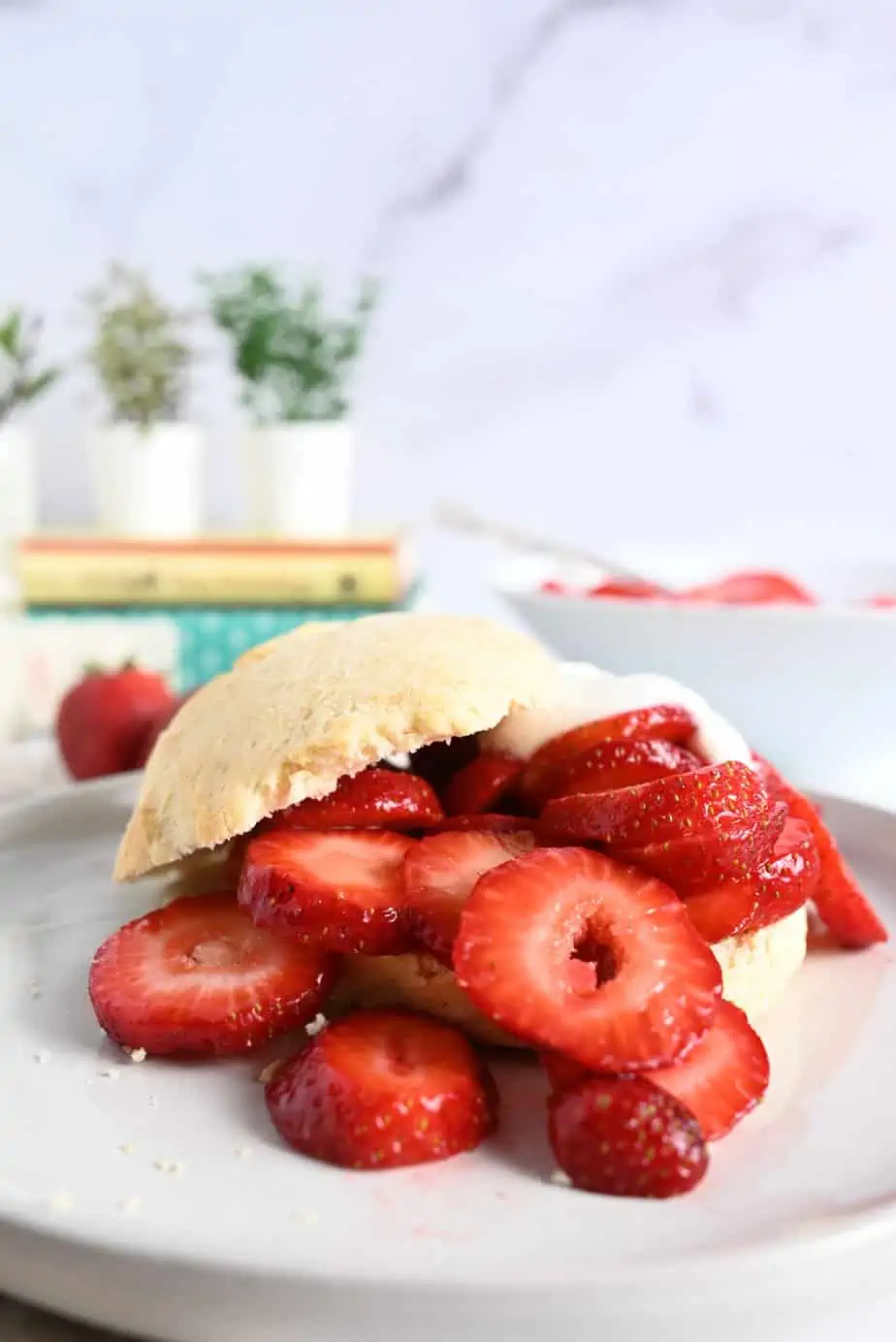 Strawberry shortcake is a recipe I have been making since I was a little kid.
Seriously, it's one of the first recipes I remember making all by myself. I had a kids' cookbook (I can't recall the name of it), and strawberry shortcake was one of my favorite recipes to make from it.
Every summer, my mom and I would go strawberry picking and enjoy pounds of fresh berries while freezing plenty so we could enjoy shortcake in the middle of winter.
By the time we got to January or February, Momma would dig out a bag of strawberries and we'd whip up these shortcakes for a special treat.
It's really not summer until I've had a slice of rhubarb pie, a big bowl of peach ice cream, and a serving of classic strawberry shortcake.
Even though shortcake was something I started making as a young kid, it's a recipe that stuck around well into adulthood. I still love making these shortcakes now!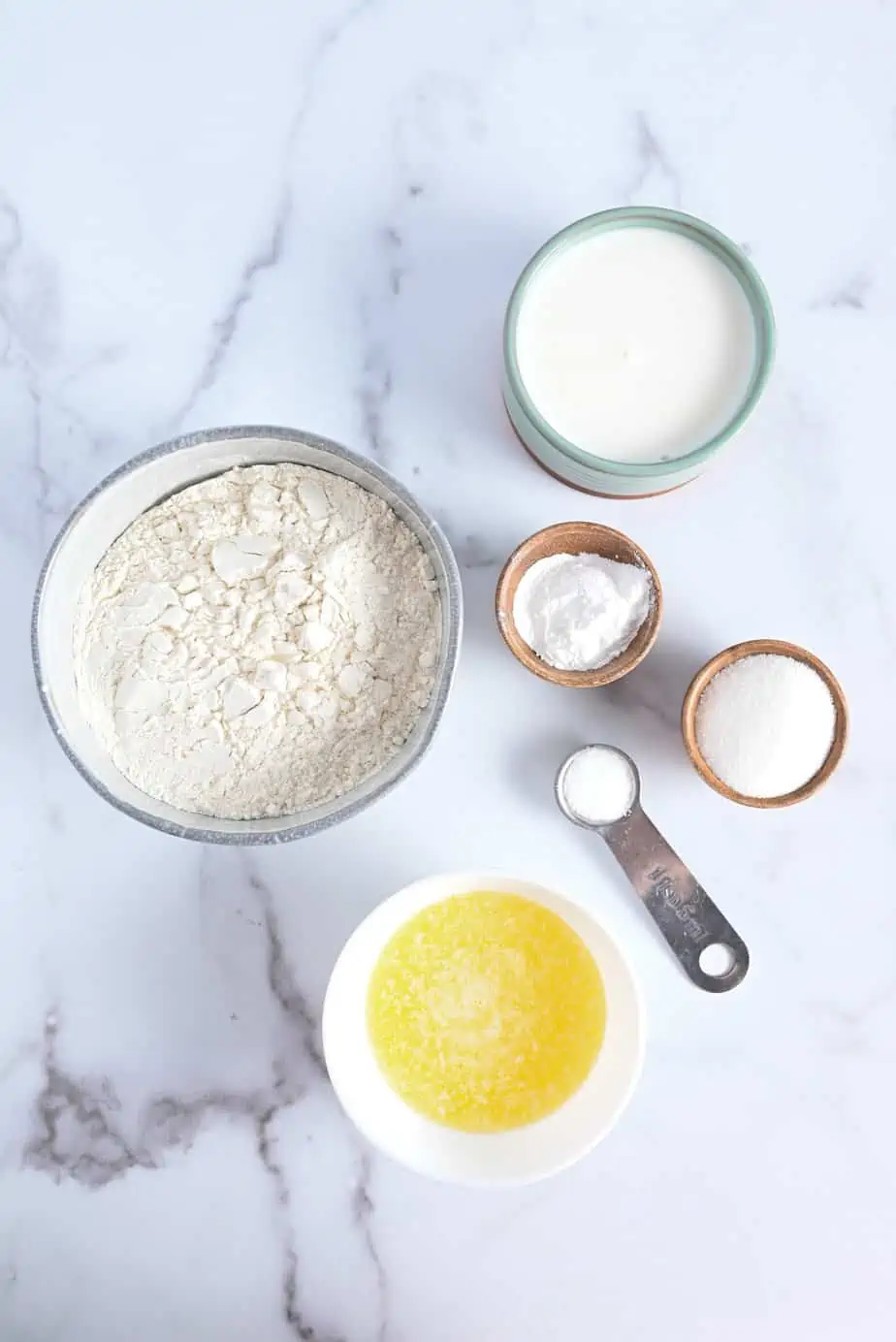 WHAT IS STRAWBERRY SHORTCAKE?
Shortcake is not to be confused with shortbread, or even yellow cake – although they're both delicious when topped with macerated berries and homemade whipped cream.
Strawberry shortcake has a long history, but the classic American-style shortcake has come to refer to a sweet, crumbly biscuit.
No, not a flaky biscuit like sweet potato biscuits, but something more akin to a drop-style biscuit.
Why is it called "shortcake"? Well, the "short" refers to something crumbly or crispy, usually thanks to butter. That's why it shares "short" with "shortbread"!
These sweet biscuits are served sliced in half horizontally, piled high with fresh strawberries and usually topped with some sweetened whipped cream.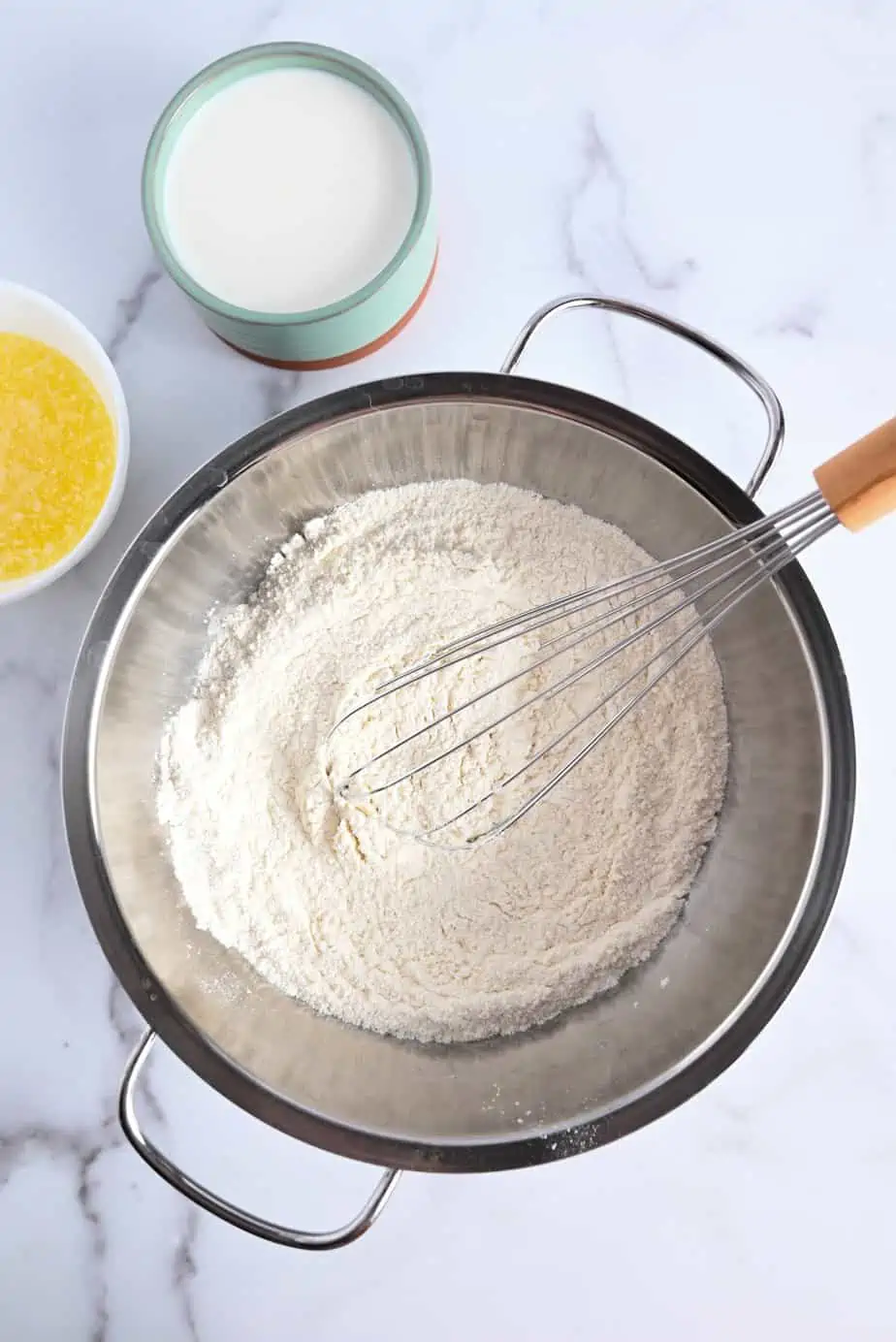 HOW TO MAKE CLASSIC STRAWBERRY SHORTCAKE
Obviously if the original recipe, which my family tweaked over the years, came from a cookbook meant for kids…well, then this is a pretty easy recipe.
The shortcake itself is super low-fuss. You can be pulling the cakes out of the oven within 30 minutes, so they're great to make any time you get a strawberry shortcake craving!
And, as you might expect, this classic strawberry shortcake recipe is a great beginner recipe to make with kids. I can speak from experience: you'll be making precious memories for them.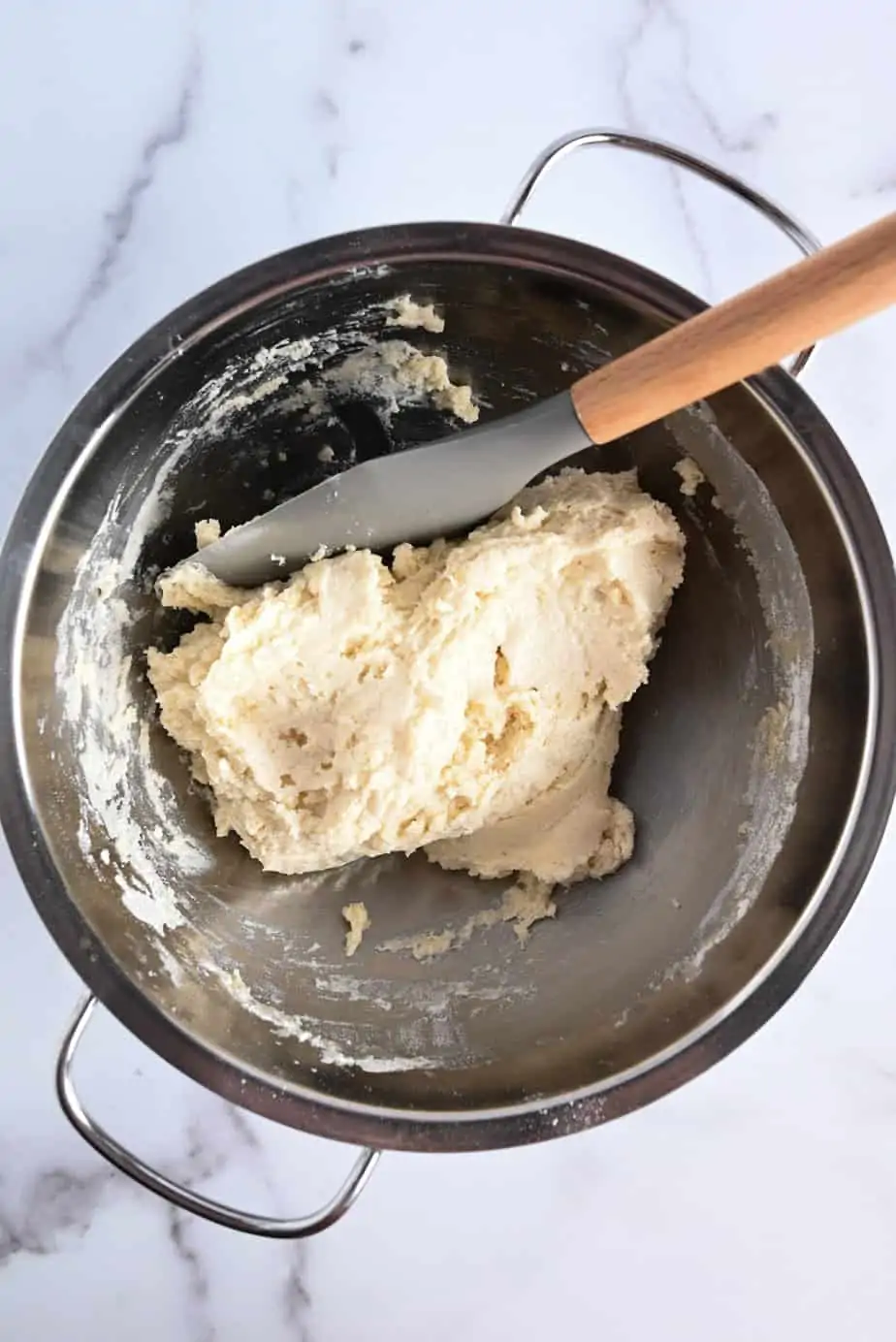 Shortcake ingredients
For the shortcake itself, you will need:
2 cups flour
2 tablespoons sugar
1 tablespoon baking powder
1 teaspoon salt
3/4 cup milk
1/3 cup unsalted butter, melted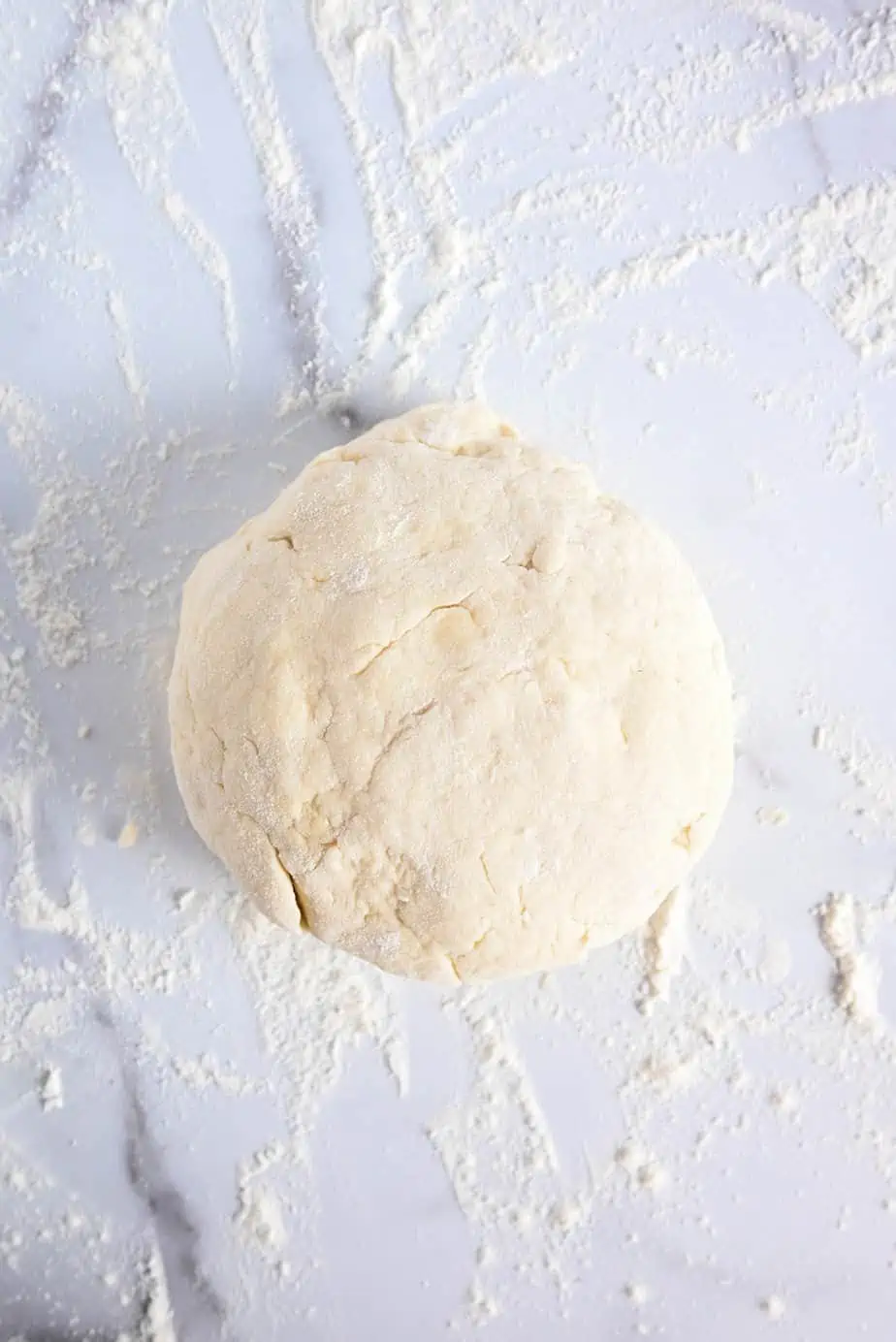 Pretty easy, right? I always have all of these things on hand, so I can always make this recipe at the drop of a hat!
You will also want a generous amount of sliced strawberries and some sweetened whipped cream for topping the cakes.
I like to toss my strawberries with a small amount of sugar, just to get the juices going, but you could use honey or agave nectar instead.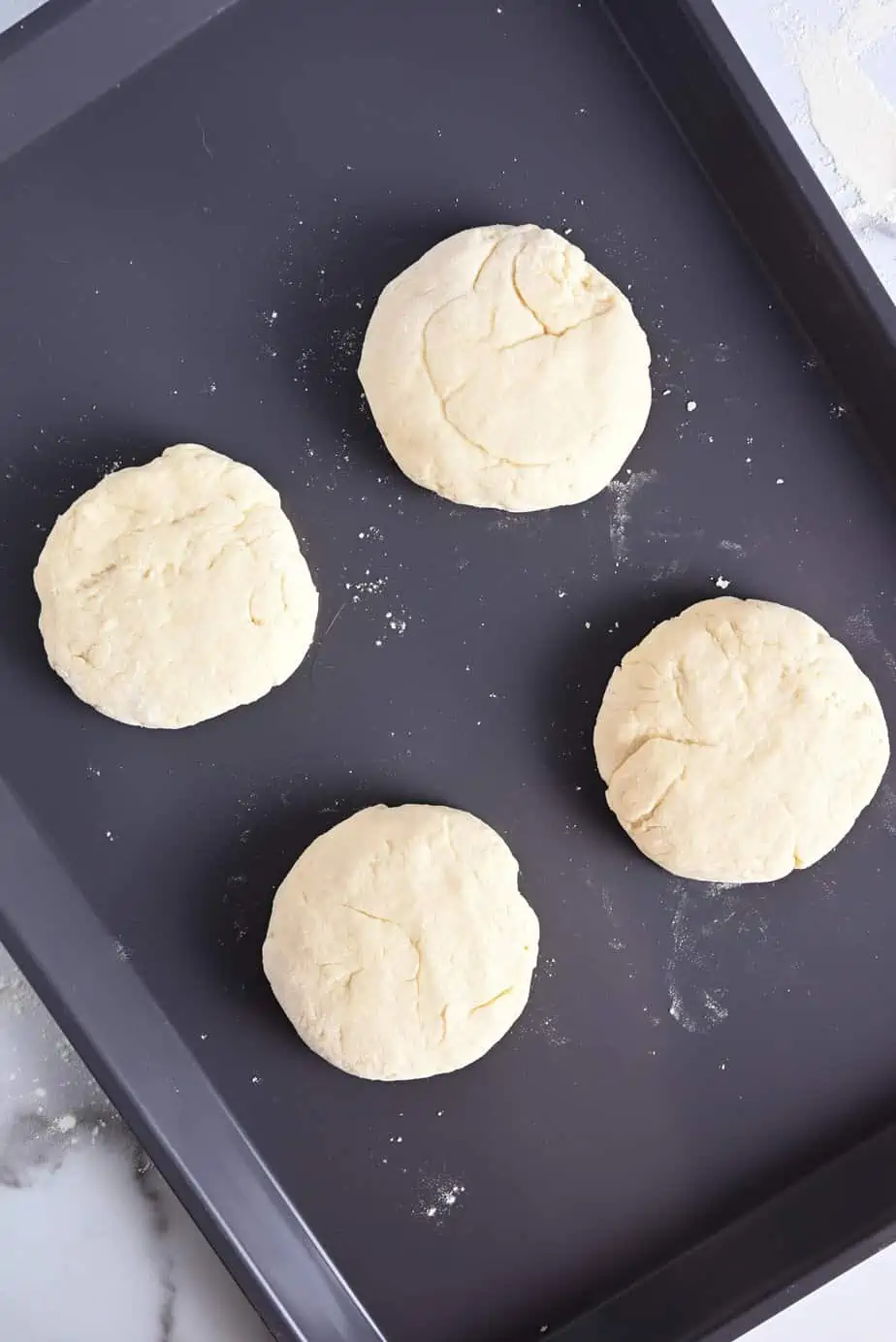 Can you use frozen berries?
Obviously for a super classic strawberry shortcake, you would want to use fresh strawberries.
But what if you want to enjoy shortcake out of season??
Growing up, my mom would slice fresh strawberries, toss them with some sugar, and put them in zip-top freezer bags.
Then she would let the strawberries thaw overnight before using them to top shortcakes in the middle of winter.
I recommend going with this method if you want to use frozen berries, but you can try using sliced frozen strawberries from the store, too. Just remember that the texture of the thawed berries won't be the same as they are when they're fresh!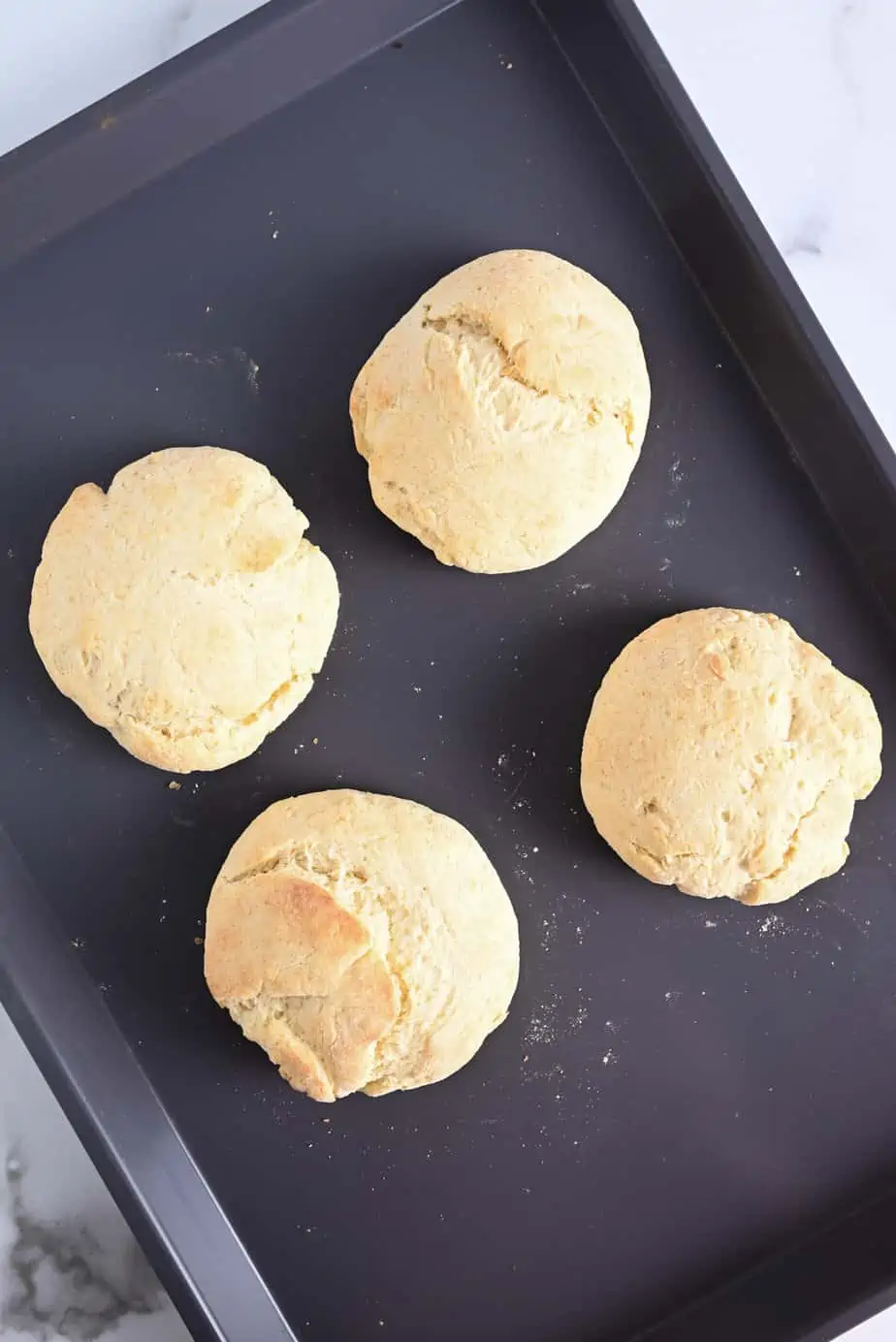 Making this recipe
To make the shortcake, whisk together the flour, sugar, baking powder, and salt. Make a small well in the center, then add the milk and melted butter.
Mix the dough until it is just combined, then knead it gently on a floured surface about 20 times.
At this point, I like to divide the dough into 4 portions and shape one each into a shortcake about ¾-inch thick.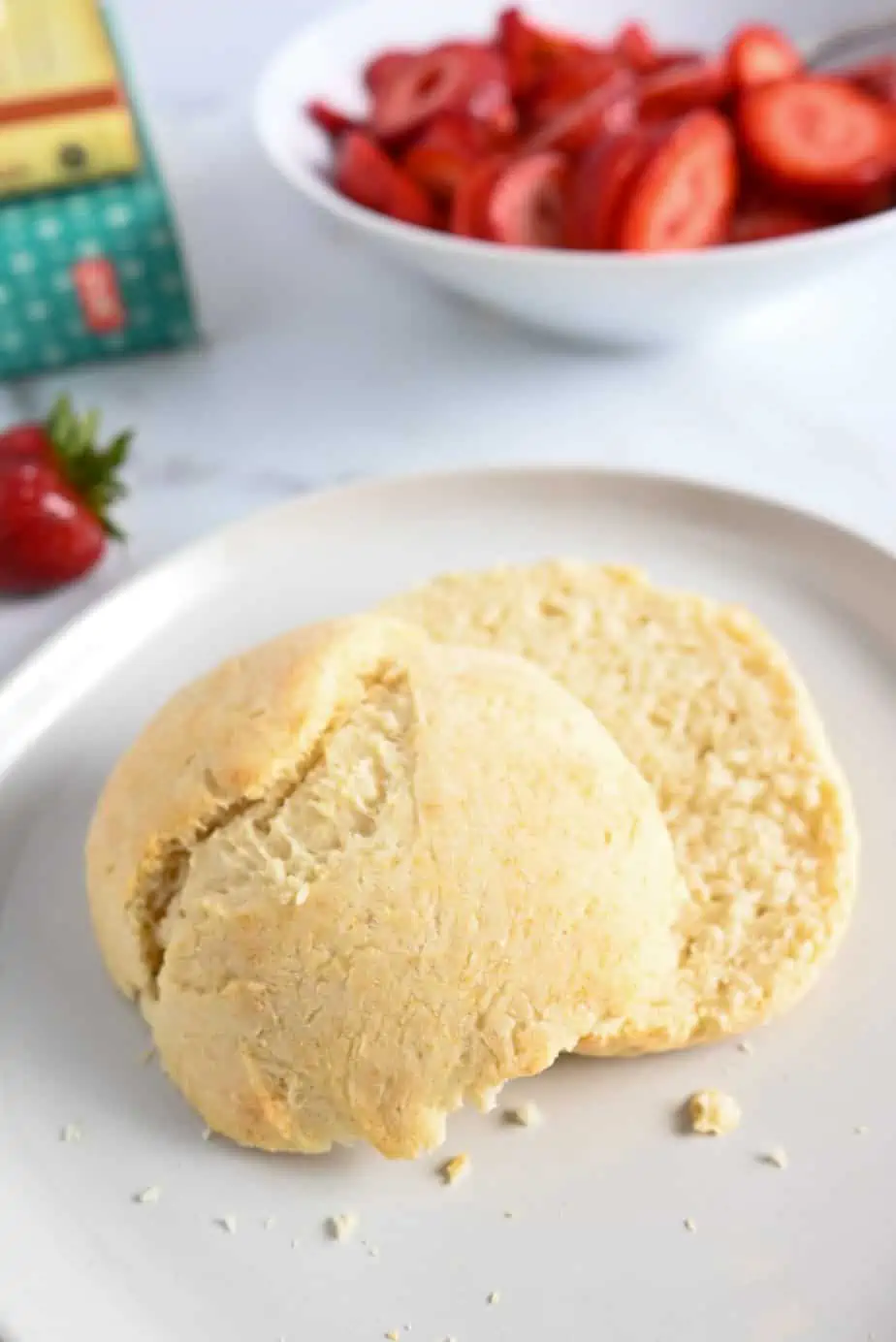 Alternatively, you could form the dough into one large shortcake that you slice into quarters after baking.
Place the shaped shortcakes onto an ungreased baking sheet and bake for 10-12 minutes. They will be golden brown and a toothpick inserted into the center will come out clean.
While the shortcakes bake, toss together sliced strawberries and a bit of sugar. Make sure to adjust the amount of sugar to your liking, depending on how sweet your fresh strawberries are.
Let the strawberries macerate as long as you like. You can even prepare them the day before!
When you're ready to serve, make some softly whipped cream.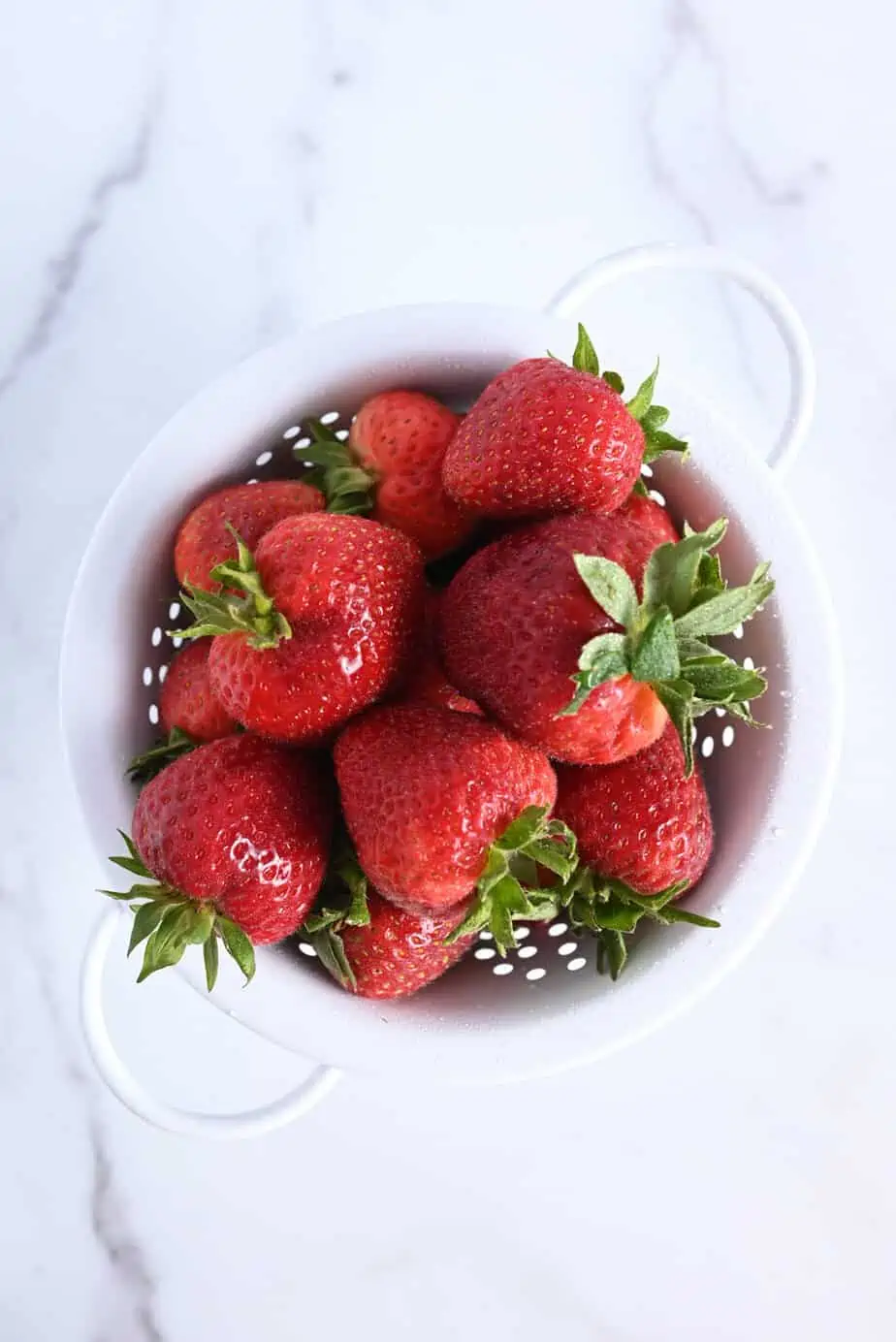 I am often too lazy to pull out my electric mixer to do this, so I will pour the heavy cream into a jar, add a bit of powdered sugar, and shake shake shake until soft peaks form.
Only I would consider shaking a jar to be less work than washing my mixer beaters.
(This is also a great party trick for kids or tipsy adults to do before dessert is served. Ask me how I know.)
To serve the shortcakes, slice them in half and top with generous amounts of the macerated berries and as much whipped cream as you like.
These shortcakes are best served the day they are made.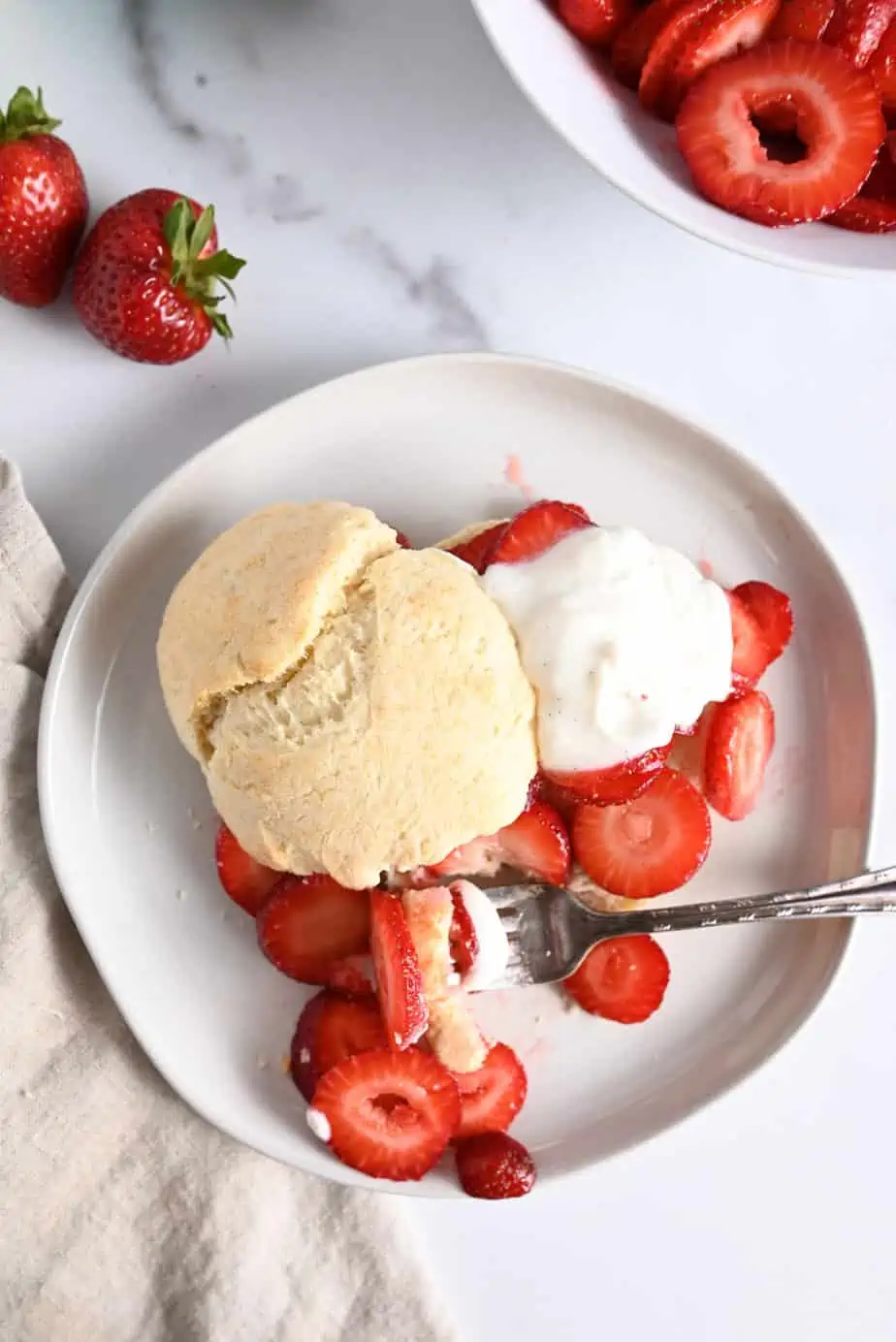 MORE SERVING SUGGESTIONS
In my opinion, this is a perfect summertime classic that needs no embellishment – let those summer-sweet berries shine!
But that doesn't mean there aren't other ways to serve these shortcakes.
When peaches are in season, consider using peaches in place of strawberries for a beautiful peach shortcake.
You could even use a combination of your favorite berries or summer fruits! No one said strawberries had to be the only shortcake fruit.
Oh, and I think you should absolutely consider topping yours with a scoop of vanilla ice cream at least once. For science, right?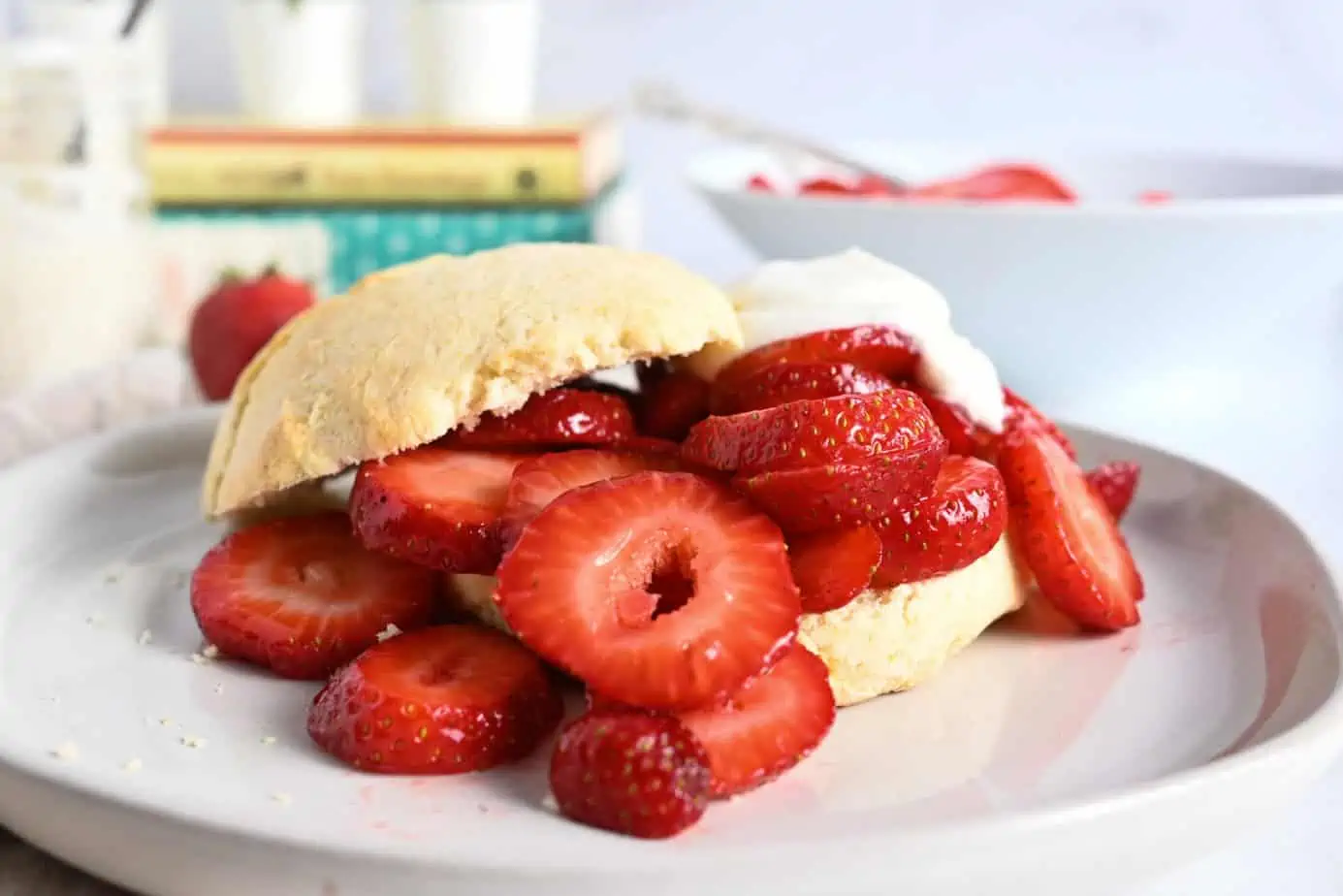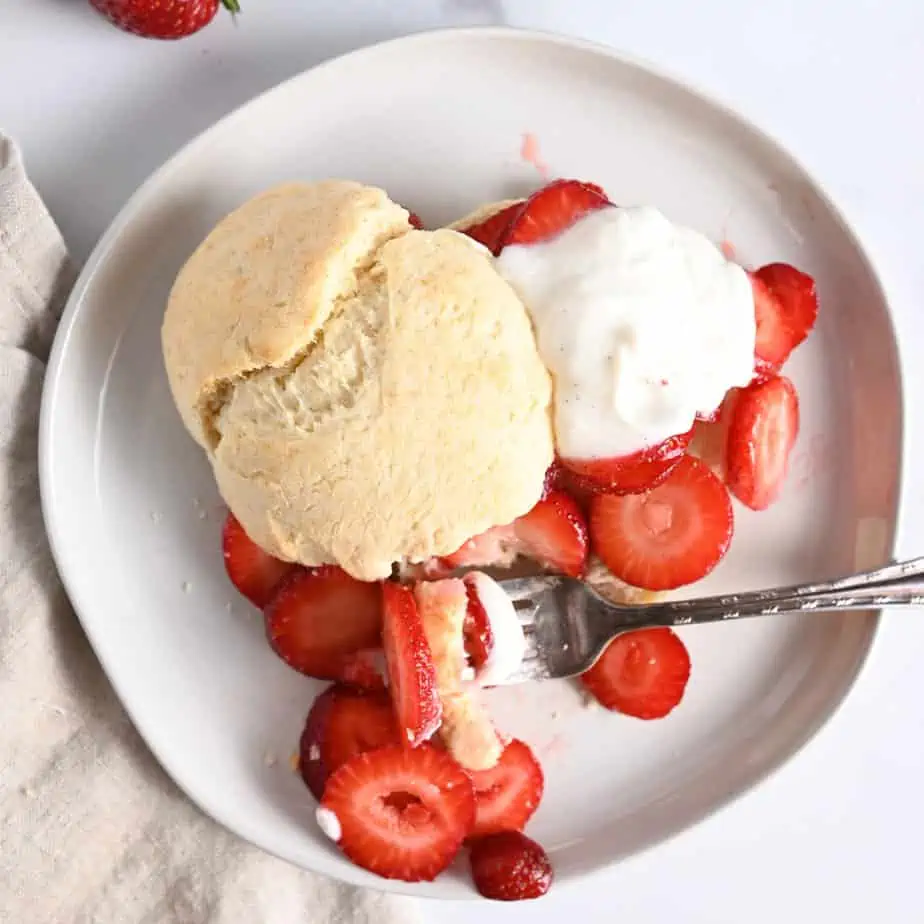 Classic Strawberry Shortcake
Classic shortcake topped with fresh strawberries and lightly sweetened whipped cream. It's a summertime classic that speaks for itself.
Print
Pin
Rate
Ingredients
For the shortcake:
2

cups

flour

2

tablespoons

sugar

1

tablespoon

baking powder

1

teaspoon

salt

3/4

cup

milk

1/3

cup

unsalted butter

melted
For the berries:
4

cups

sliced strawberries

2

tablespoons

sugar
For the whipped cream
1/2

cup

whipping cream

1

tablespoon

powdered sugar

Splash of vanilla extract or vanilla bean paste

optional
Instructions
Preheat the oven to 450 degrees.

In a large bowl, whisk together the flour, sugar, baking powder and salt. Make a well in the center of the dry ingredients, then pour in the milk and melted butter and mix just until combined.

Turn dough onto a lightly floured surface. Gently knead 15-20 times, until dough comes into a soft but smooth ball. Cut dough into 4 equal portions, then pat each portion into a shortcake 3/4-inch thick. Place shortcakes on an ungreased baking sheet and bake for 10-12 minutes, until golden brown and a toothpick inserted in the center of one of the cakes comes out clean.

Remove to a cooling rack to cool.

While the shortcakes bake and cool, combine the sliced strawberries and 2 tablespoons of sugar in a medium bowl. Adjust sugar depending on how sweet your berries are. Set aside.

While shortcakes cool, combine cream, powdered sugar, and vanilla. Beat with an electric mixer until stiff peaks form, or place in a pint jar and shake vigorously until the liquid stops sloshing and has thickened into whipped cream.

Serve shortcakes sliced in half and filled with berries and whipped cream.
Notes
Shortcakes are best served the day they are made.
Nutrition
Calories:
593
kcal
|
Carbohydrates:
77
g
|
Protein:
10
g
|
Fat:
29
g
|
Saturated Fat:
18
g
|
Polyunsaturated Fat:
2
g
|
Monounsaturated Fat:
7
g
|
Trans Fat:
1
g
|
Cholesterol:
80
mg
|
Sodium:
930
mg
|
Potassium:
390
mg
|
Fiber:
5
g
|
Sugar:
24
g
|
Vitamin A:
1001
IU
|
Vitamin C:
85
mg
|
Calcium:
290
mg
|
Iron:
4
mg