This truly is the best peach ice cream: creamy, decadent, and bursting with fresh peaches. This egg-free ice cream recipe is perfect for highlighting the best of summer's bounty!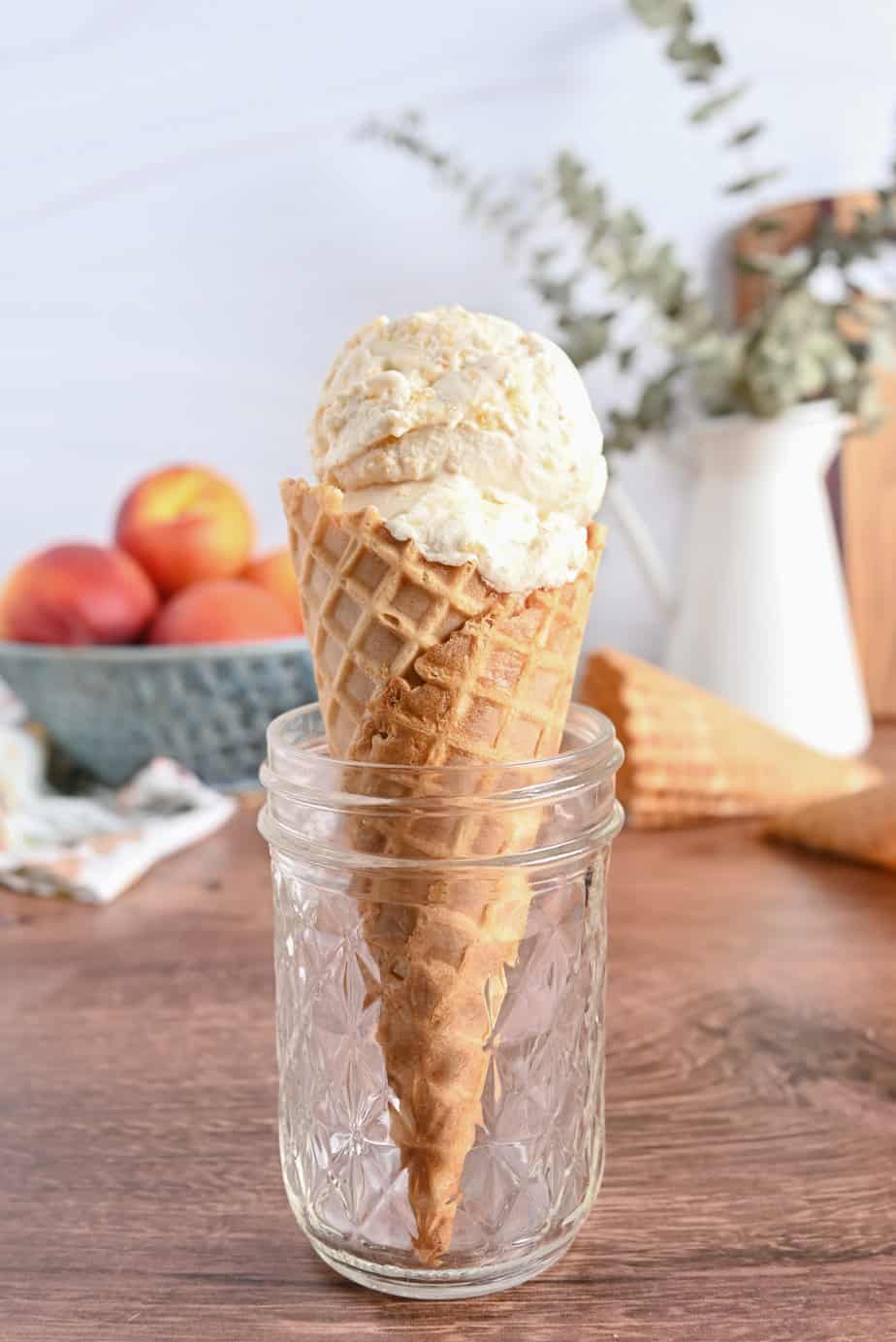 This post contains affiliate links.
I'm one of those "I need ice cream" kind of people. You know, the ones who claim they need ice cream to get through any occasion, good or bad.
You need ice cream to get you through Mondays. You need ice cream to celebrate promotions and birthdays and anniversaries. You need ice cream to help you survive your toddler's obsession with Baby Shark.
You need ice cream just because it is Wednesday and the sun is shining. Or because the sun isn't shining.
I discovered this peach ice cream recipe years ago thanks to my friend Kathleen, who has also brought us Brown Sugar Fudge and Banana Oatmeal Muffins.
Girlfriend knows a killer recipe when she sees one, so when she told me that she had been fiddling with her peach ice cream recipe to perfection, I knew good things were in store for my tastebuds.
And oh boy, was I ever right. This stuff truly is the BEST.
And because Kathleen loves this space and my dear readers (that's you!) as much as I do, she let me share the secrets to this perfect recipe with you.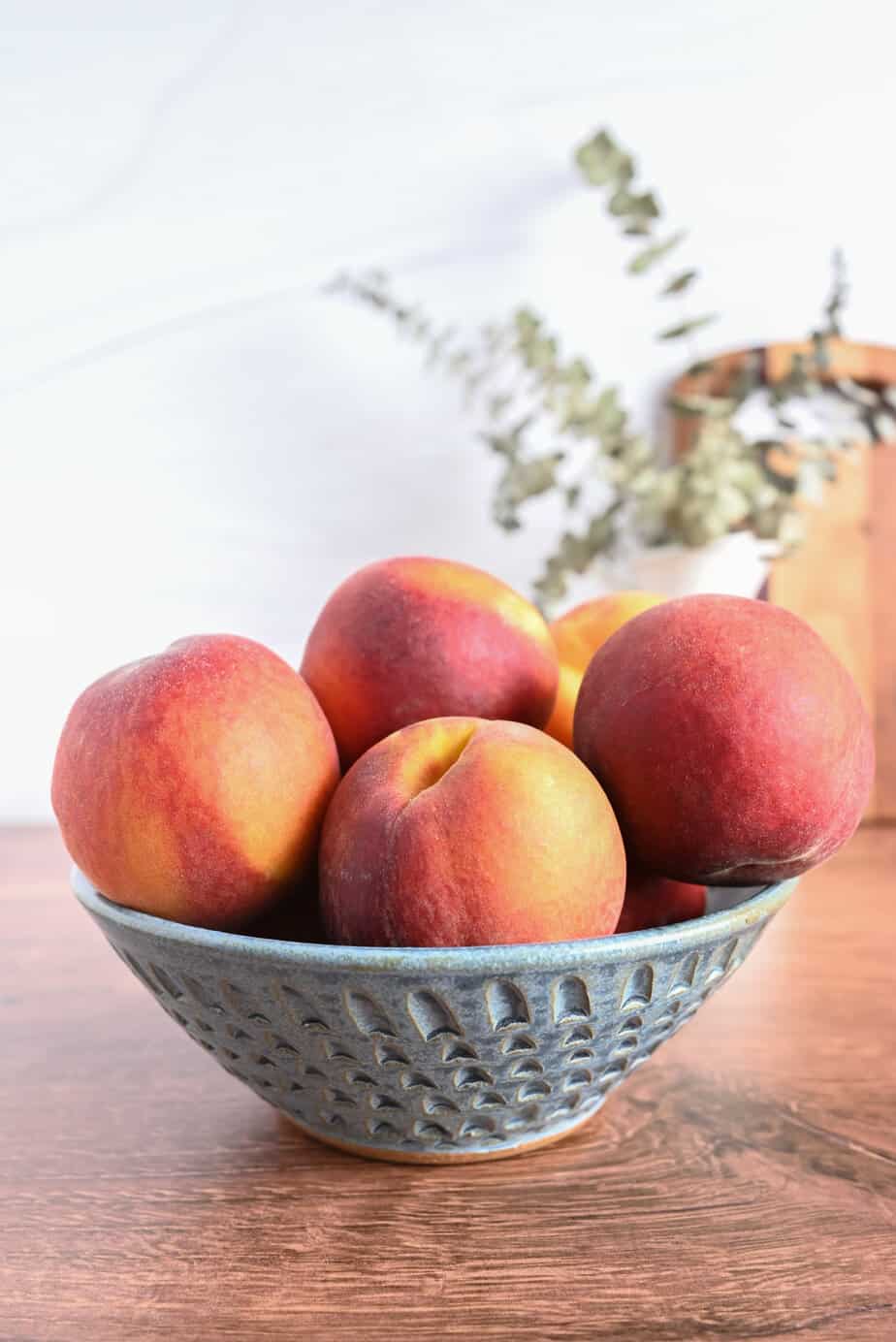 WHAT MAKES THIS PEACH ICE CREAM THE BEST?
Most of my favorite ice creams have a cooked custard base, but this one has NO eggs and requires ZERO cooking. And yet it's still my all-time favorite.
The secrets to Kathleen's peach ice cream are threefold. Are you ready?
BROWN SUGAR: Lots of it. Let the peaches hang out in it before blending the base together. Let me tell you, brown sugar and peaches were made to be together.
ALMOND EXTRACT: Yep, you read that correctly. If you use a good-quality almond extract, you'll only need a little bit to give more depth of flavor to your entire batch of ice cream. Consider it that "something special" in this recipe.
HEAVY CREAM: Not whole milk. Not half-and-half. Heavy cream. This is "I need some rich, delicious, completely worth every bite" ice cream, and the heavy cream is all a part of making it that way.
I know not everyone likes the taste of almond extract, so you can definitely leave it out of this recipe. I promise that the ice cream will still be totally delicious!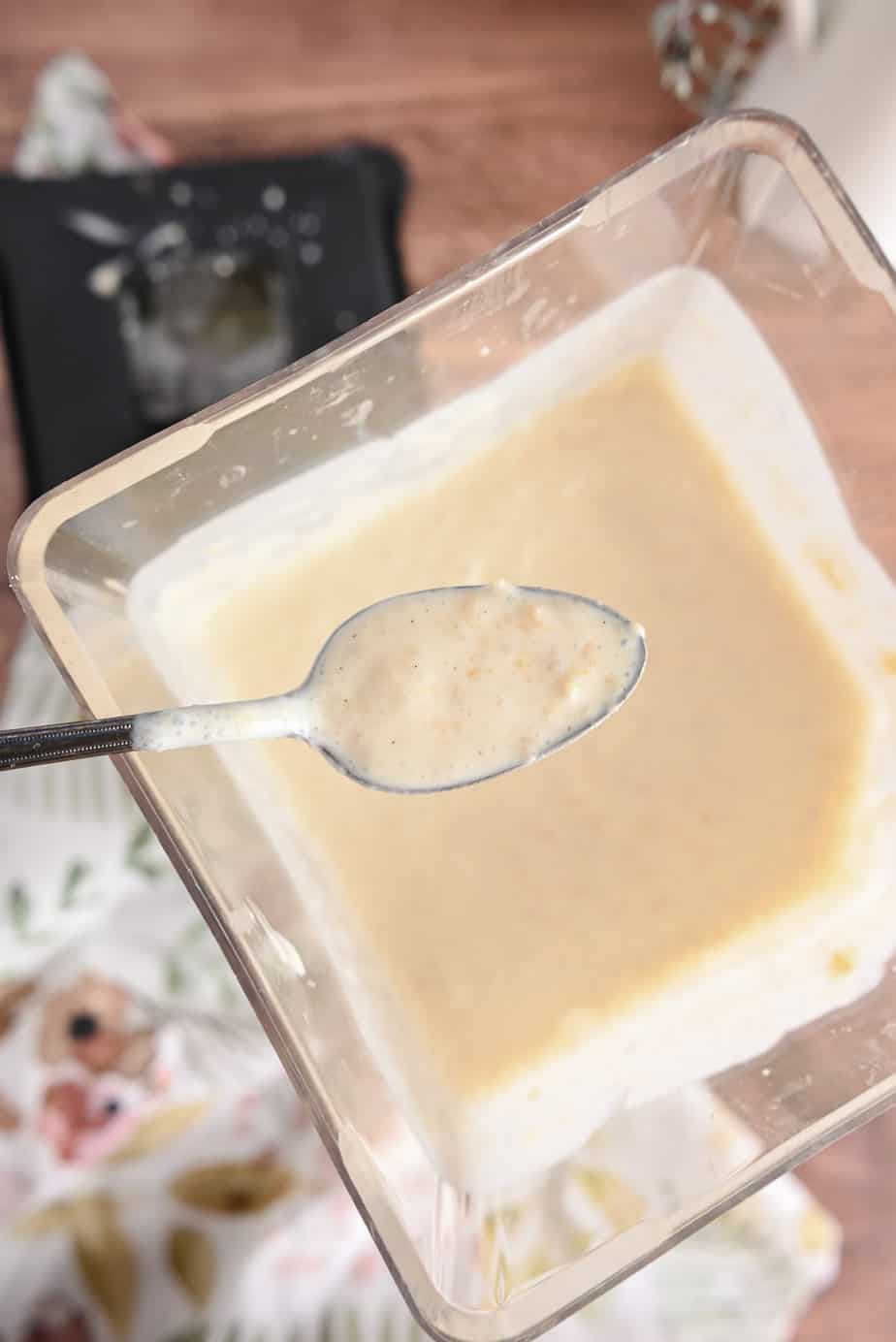 HOW TO MAKE PEACH ICE CREAM
Since this isn't a cooked custard-based ice cream, the base for this recipe is very simple to throw together.
Ingredients you'll need
This is one of those recipes where using just a few really great ingredients makes a big difference. We want the flavor of those perfect summer peaches to shine through, after all!
For this ice cream, you'll need:
4 cups peeled and sliced peaches (about 5-6 peaches)
½ cup granulated sugar
1 cup brown sugar
Juice of 1 large lemon
2 teaspoons vanilla
¼ teaspoon almond extract
2 cups heavy cream
I often like to use vanilla bean paste in lieu of vanilla extract here. I love the specks of vanilla bean in the final ice cream and the flavor can't be beat!
I do not recommend making this recipe with frozen peaches. As much as I love frozen fruit in general, this recipe is worth waiting for peach season. Trust me.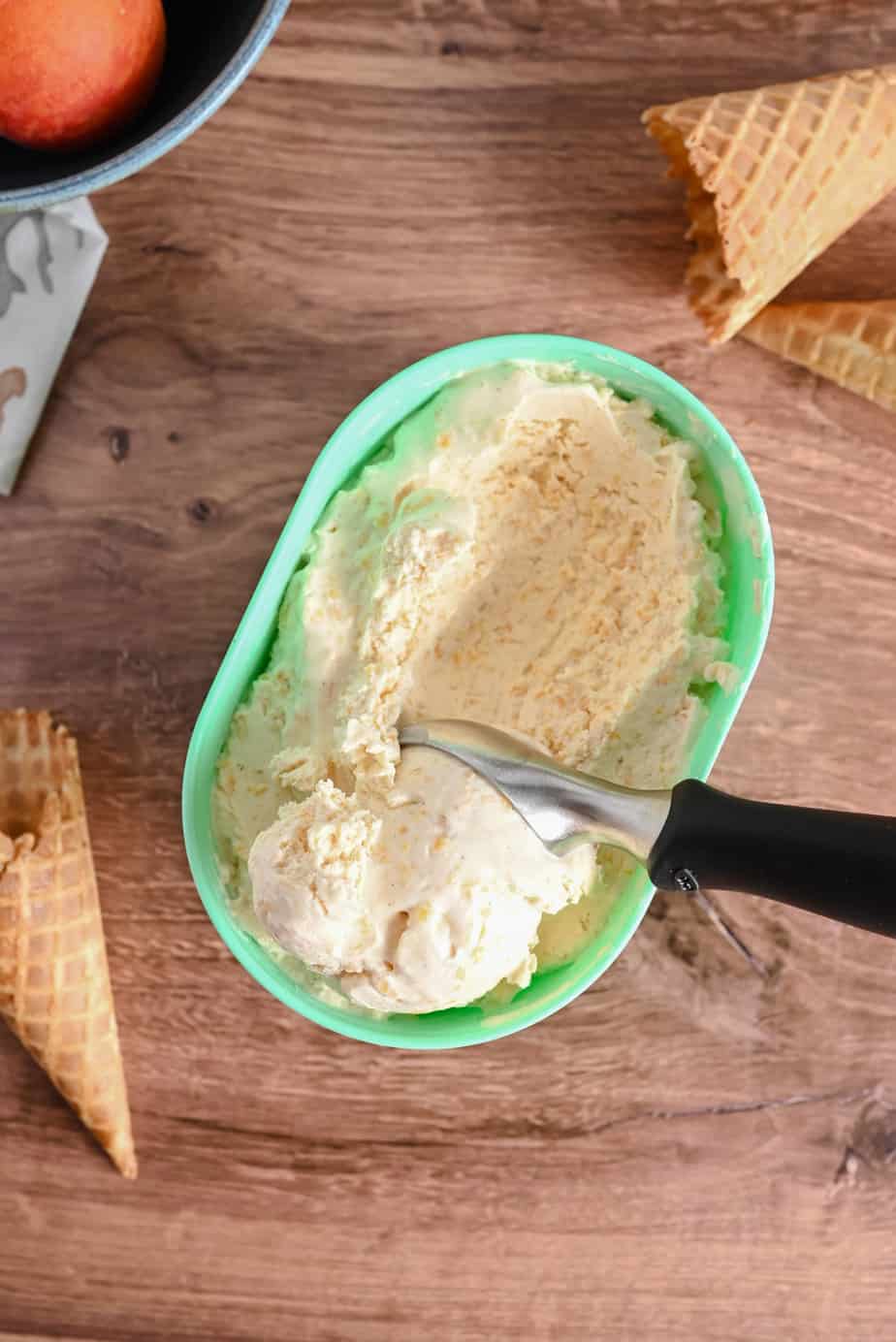 Do you have to use an ice cream maker?
I hate to break it to you, but you will need a countertop ice cream maker to make this recipe.
I love a no-churn ice cream as much as anyone, but this is one recipe that does need to be churned.
I recommend getting a 2-quart ice cream maker if you can. Even though the recipe makes 1 ½ quarts, it's nice to have room for overflow.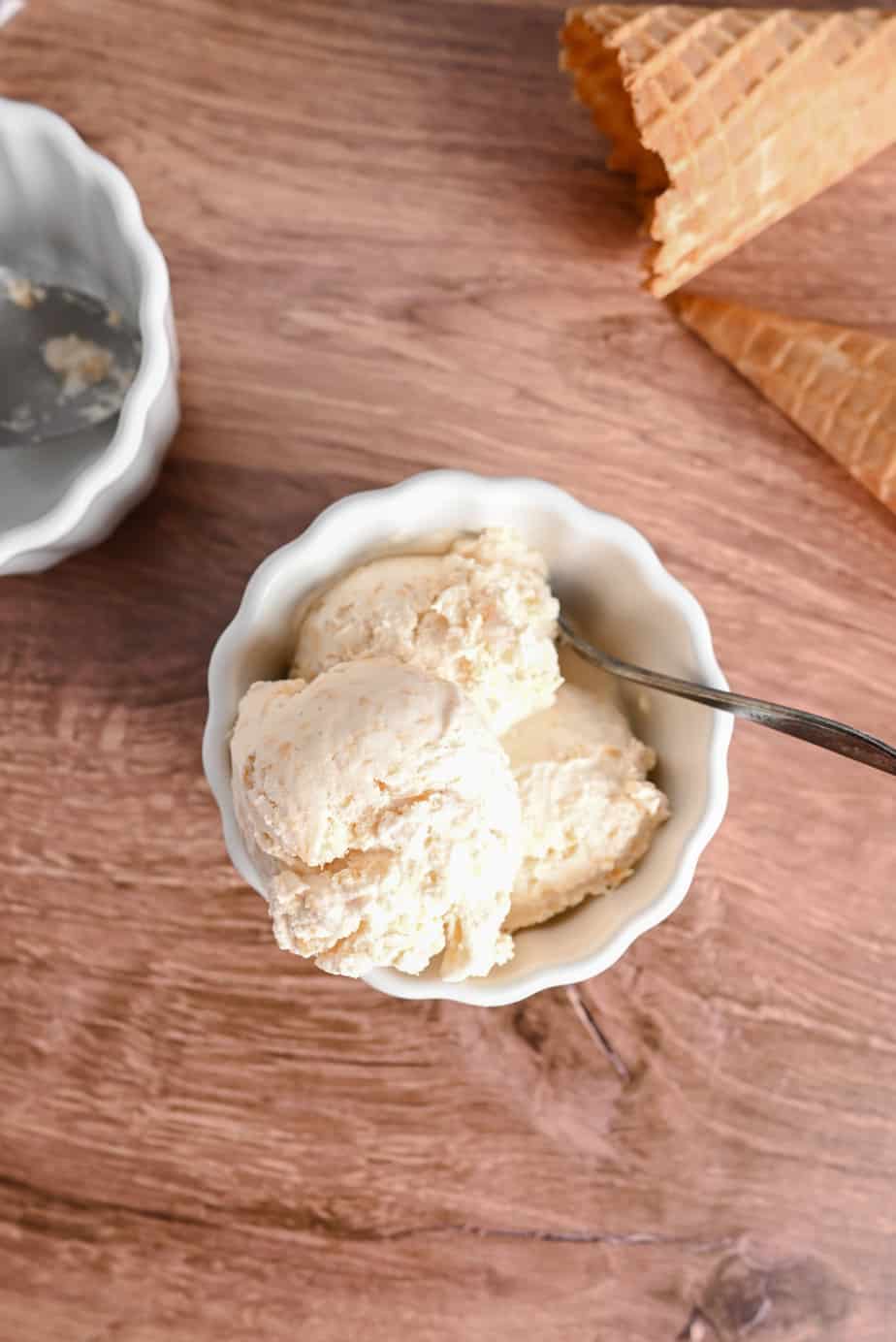 If you have a 1 ½ quart or smaller ice cream maker, I recommend churning it in two batches just to be safe. Otherwise, you'll end up with a big mess on your hands (ask me how I know).
Make sure you freeze the bowl of your ice cream machine thoroughly before using it, typically for at least 24 hours.
If you make ice cream a lot and you have the extra freezer space, you may just want to keep the bowl in the freezer at all times, just in case you get the urge to make ice cream on a whim!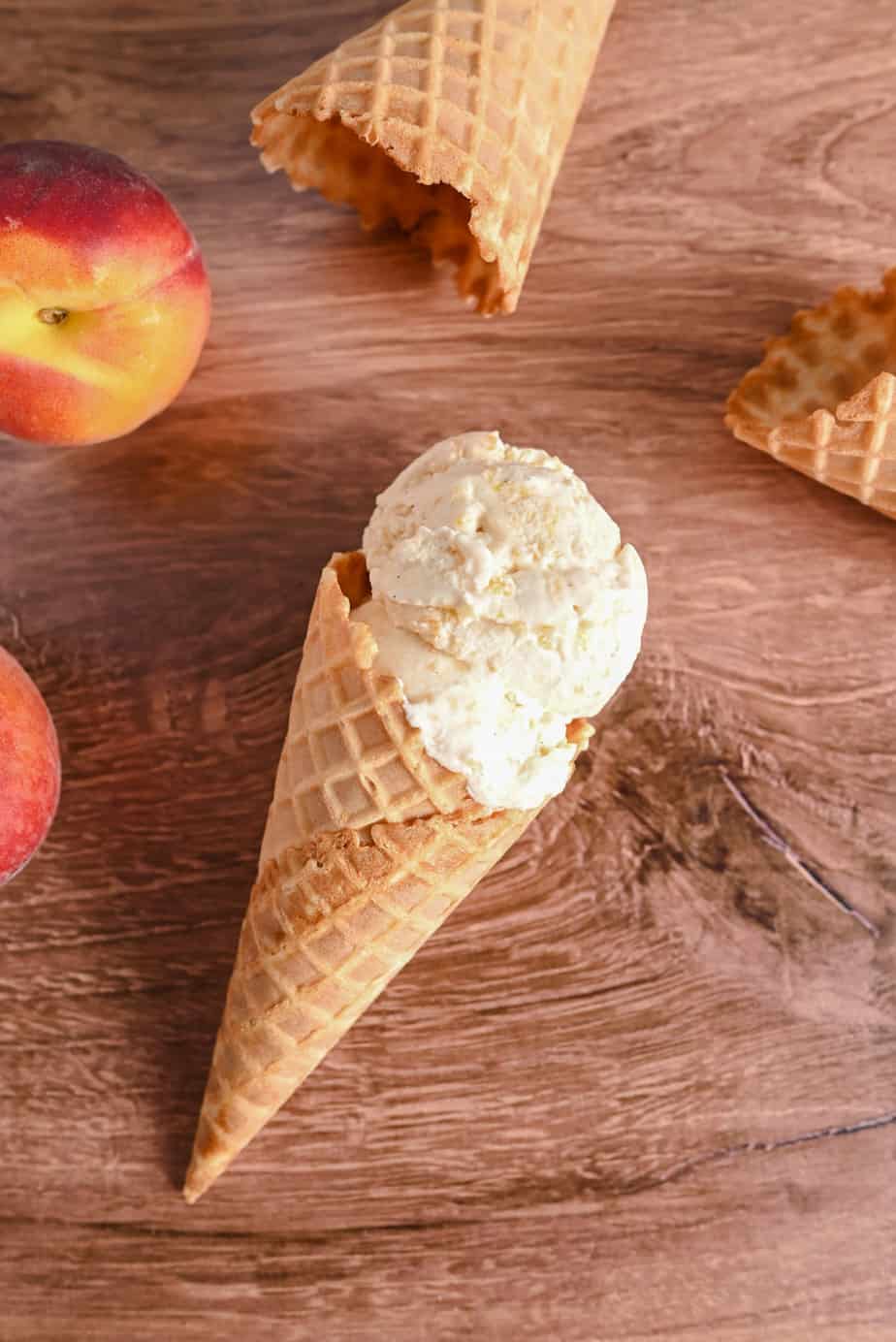 Making this ice cream
Remember how one of the keys to this peach ice cream is letting the peaches and brown sugar macerate for a bit?
Stir together the peeled and sliced peaches with the granulated and brown sugars, lemon juice, and the vanilla and almond extracts. Let that sit for about 15 minutes, stirring occasionally.
Once the sugars are dissolved and the peaches are super juicy, add the peach mixture to a blender or food processor.
Blend until the peaches are broken down, but not fully pureed. I like some smaller bits of peach throughout my ice cream!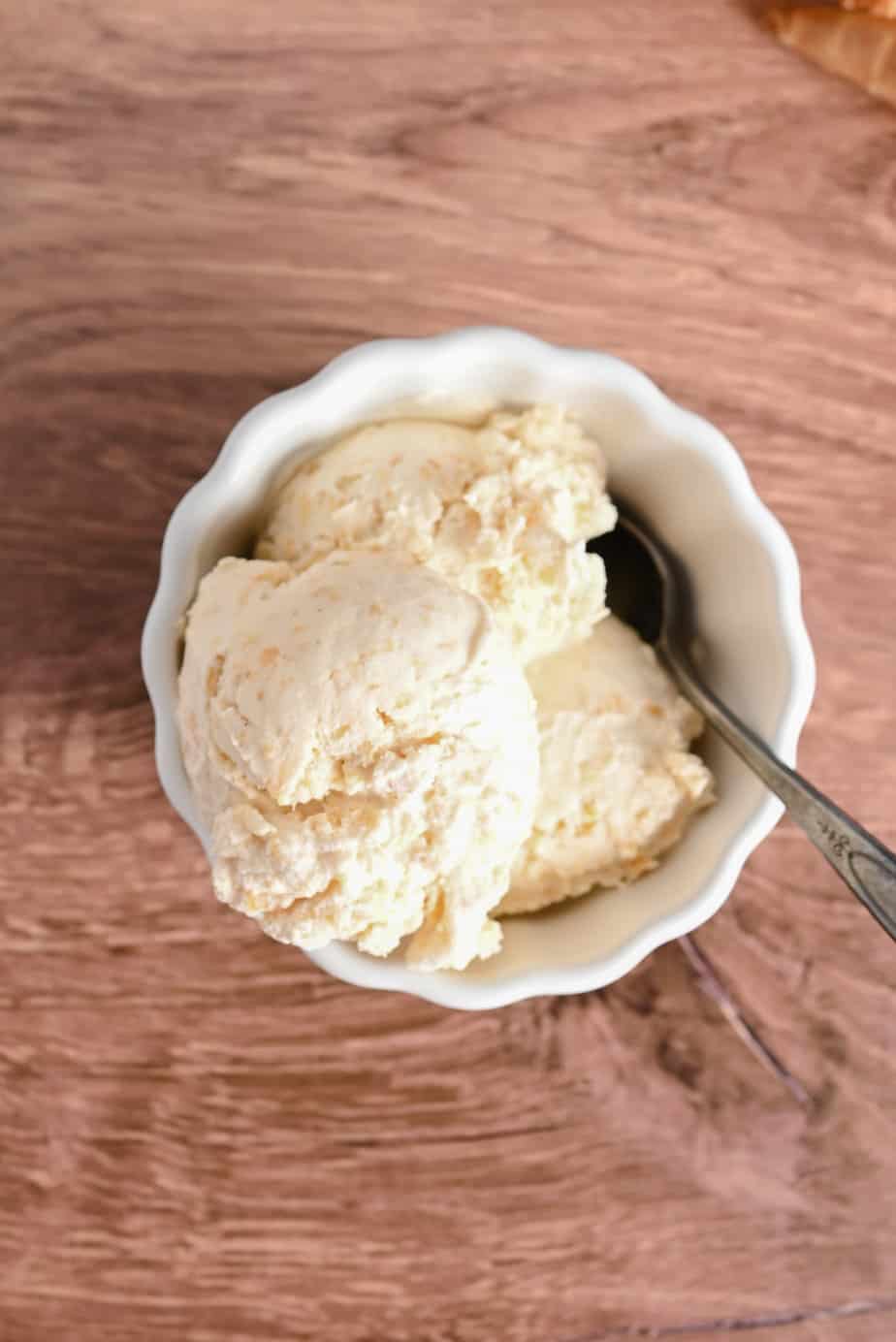 Add the heavy cream and mix to combine, then cover and chill the mixture for 1-2 hours or up to a day.
Once your base is chilled, follow your ice cream maker's directions for churning the ice cream. This will typically take around 20 minutes, but will vary based on your machine.
After the ice cream has churned, place it in an airtight, freezer-safe container. I like to use a reusable ice cream container for easy scooping and storage.
Let the peach ice cream freeze for a few hours before scooping and serving!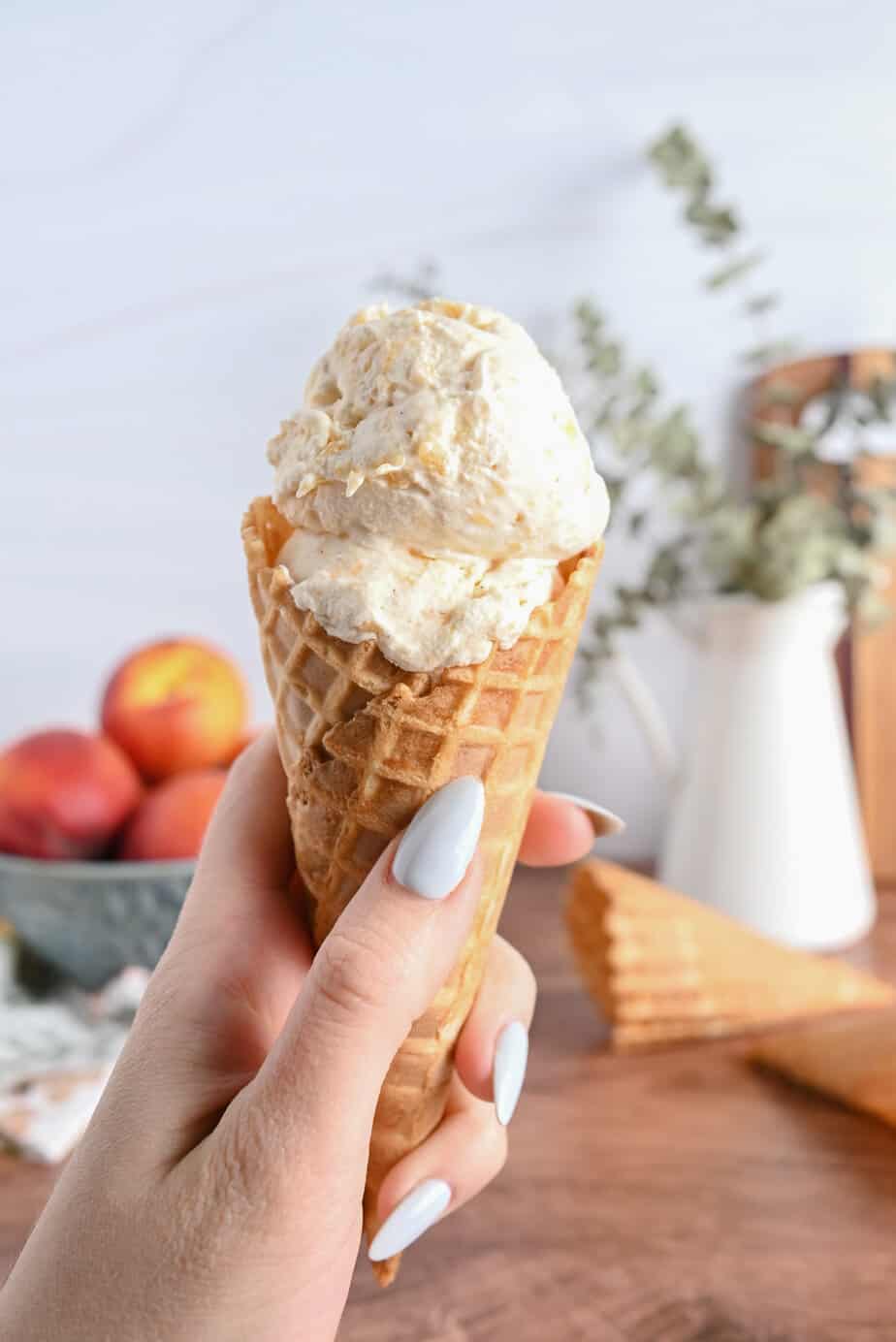 SERVING SUGGESTIONS
Look, there is absolutely nothing wrong with enjoying your peach ice cream as-is in a bowl or on top of an ice cream cone. Or straight from the container.
But if you want to pair it with something, might I make a couple of suggestions?
The only thing that screams "summer" to me more than fresh peaches is fresh strawberries. You could absolutely pair a scoop of this ice cream with some classic strawberry shortcake for a whole bunch of summer in a bowl.
Similarly, it's amazing with mixed berry cobbler or a slice of homemade yellow cake.
And you should definitely try sandwiching a scoop between some snickerdoodle cookies for a totally epic ice cream sandwich.
So please, just take my word on this one, ok? Make this peach ice cream, share it with friends, and enjoy the best of what summer has to offer.
I promise, you're worth it.