Fruit cobbler made with tart mixed berries and a lattice crust. It is the best possible combination of pie and cobbler you're gonna find.
I know I probably should have shared this with you before Labor Day, what with holiday cookouts and all, but part of me just wanted to hang onto summer for a few minutes longer.
This hasn't been an all-around outstanding summer. This past month (which was admittedly pretty crappy) aside, it was just…a summer. We worked a lot. We don't have any outdoor space so the Mr. didn't get to grill very much. I spent most of my weekends in the kitchen and forgot to do things like sit outside in the sunshine or go berry picking.
So while everyone else is ready to hurry right along to the land of pumpkin spice everything, a part of me is ok with hanging on to summer sun for just a minute longer with Mixed Berry Cobbler.
This recipe is adapted from a family favorite Blackberry Cobbler recipe from an old Southern Living cookbook (Southern Living 1999 Annual Recipes, to be exact).
Since blackberries are admittedly a bit expensive even under the best of circumstances (unless your grandfather happens to accidentally grow to many and gives your family several dozen pounds…not that we have ever had that happen or anything…), I went ahead and made a few changes to the recipe, including swapping out the blackberries for mixed berries. Feel free to use any berries you like in this recipe – if you happen to have several dozen pounds of blackberries (or raspberries, or strawberries or…you get the idea) hanging around, go ahead and use those! Otherwise, a mix of fresh or frozen berries will do just fine.
Oh, what's that? Now that you see this recipe, you want to hang onto summer a bit longer, too? Then may I suggest topping your luscious Berry Cobbler with some homemade peach ice cream? I mean…duh.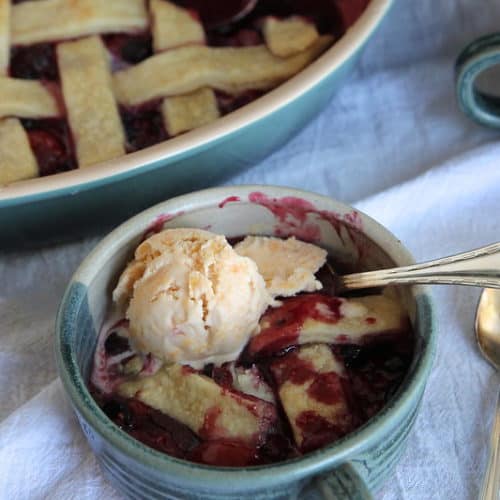 Ingredients
For the crust:
2 1/2

cups

flour

2

teaspoons

baking powder

1/2

teaspoon

salt

1/2

cup

shortening

2/3

cup

half-and-half
For the filling:
8

cups

mixed berries

fresh or frozen (if using frozen berries, thaw completely)

2

cups

sugar

1/3

cup

flour

1

teaspoon

lemon juice

1

teaspoon

vanilla

1/4

teaspoon

almond extract

1/4

cup

butter

cut into pieces
Instructions
Make pastry:
Preheat oven to 425 degrees.

In a large bowl, combine flour, baking powder, and salt. Using a pastry blender, cut in shortening until mixture is crumbly. Add the half-and-half, stirring with a fork until the mixture is just barely combined.

Turn dough out onto a floured surface; knead 6-8 times, until dough forms a ball. Roll 1/3 of the pastry into 1/4-inch thickness and cut into strips 1 1/2-inches wide (reserve the rest of the dough). Place on a parchment-lined baking sheet and bake for 10 minutes or until lightly browned.
Make the filling:
Reduce oven temperature to 350 degrees.

In a large bowl, combine the berries, sugar, flour, lemon juice, vanilla and almond extract. Let stand until sugar dissolves. Spoon half of the mixture into a greased 13x9-inch baking dish. Break the baked pastry strips into pieces and lay on top of the fruit mixture; top with the remaining berries. Dot with the butter.

Roll the remaining pastry dough into 1/4-inch thickness and cut into 1-inch wide strips. Weave into a lattice over the filling. If desired, brush the pastry with additional half-and-half and sprinkle with sugar.

Bake for 50 minutes or until bubbly and golden.
Notes
Half-and-half is a mixture of half cream, half whole milk. If you do not have access to half-and-half, feel free to use milk instead.