Blueberry Lemon Scones are a sweet way to start the day or a perfect afternoon snack alongside a cup of coffee. These scones are bursting with fresh blueberries and bright lemon for a summery bite you'll crave all year long.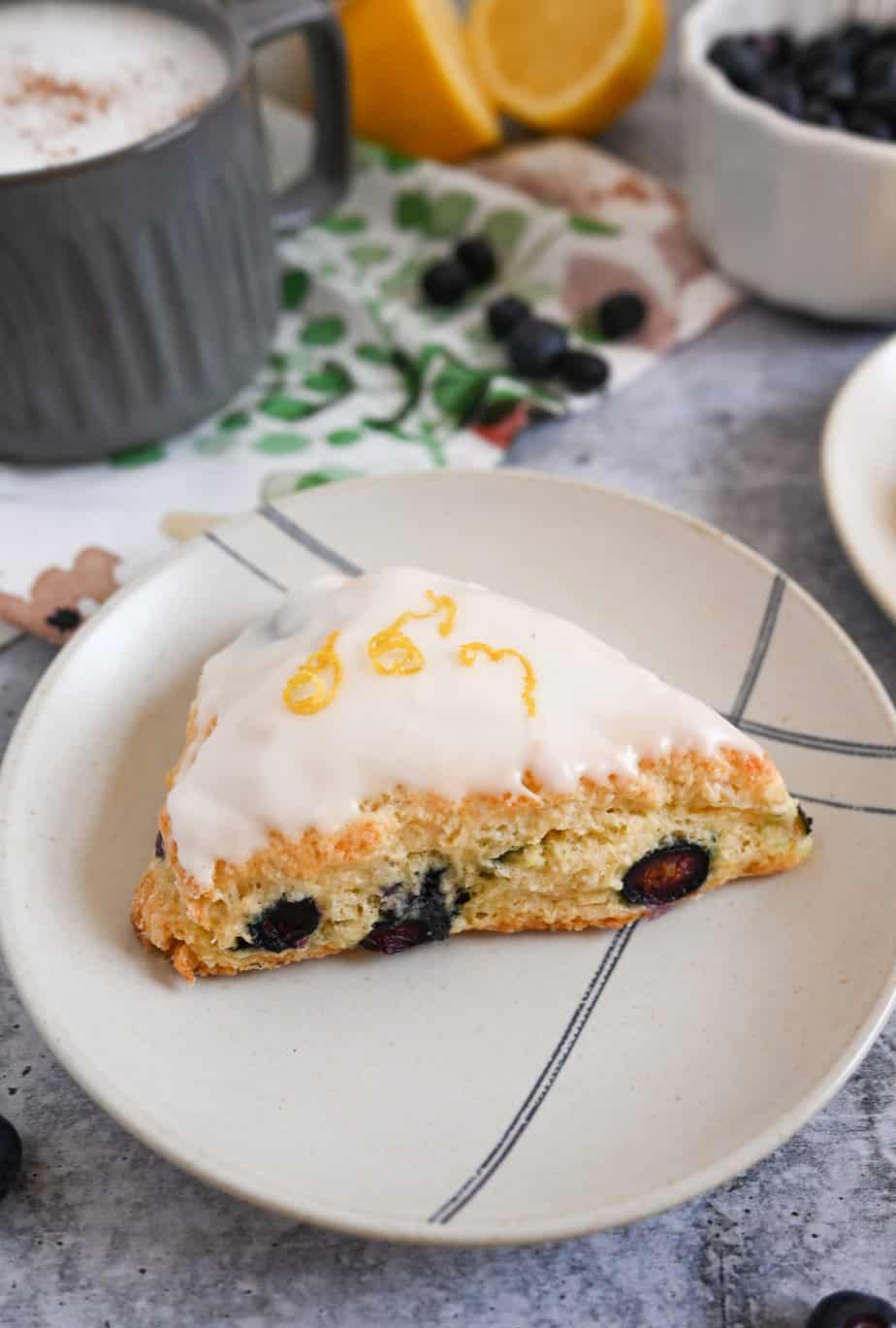 This post contains affiliate links.
When the world feels heavy and I don't know what to do, as so often seems to be the case these days, I head to my kitchen.
Sometimes I find myself helping Alex cook dinner. Other times I mix up a batch of chai concentrate to get myself through the rest of the week. But more often I find myself baking.
There's something about mixing together dry ingredients, using my mother's pastry blender to cut in butter, mixing a dough just enough to bring it together…it's a meditative process that heals me just a bit.
It might not fix anything on a macro scale, but it soothes my soul. And sharing those baked goods with my friends and neighbors helps brighten their world just a bit.
So if you're feeling a bit lost right now, maybe head to your kitchen. Mix up a batch of these blueberry lemon scones. Share them with someone you love.
Perhaps it'll give you the courage and strength to take the next step and do something even bigger.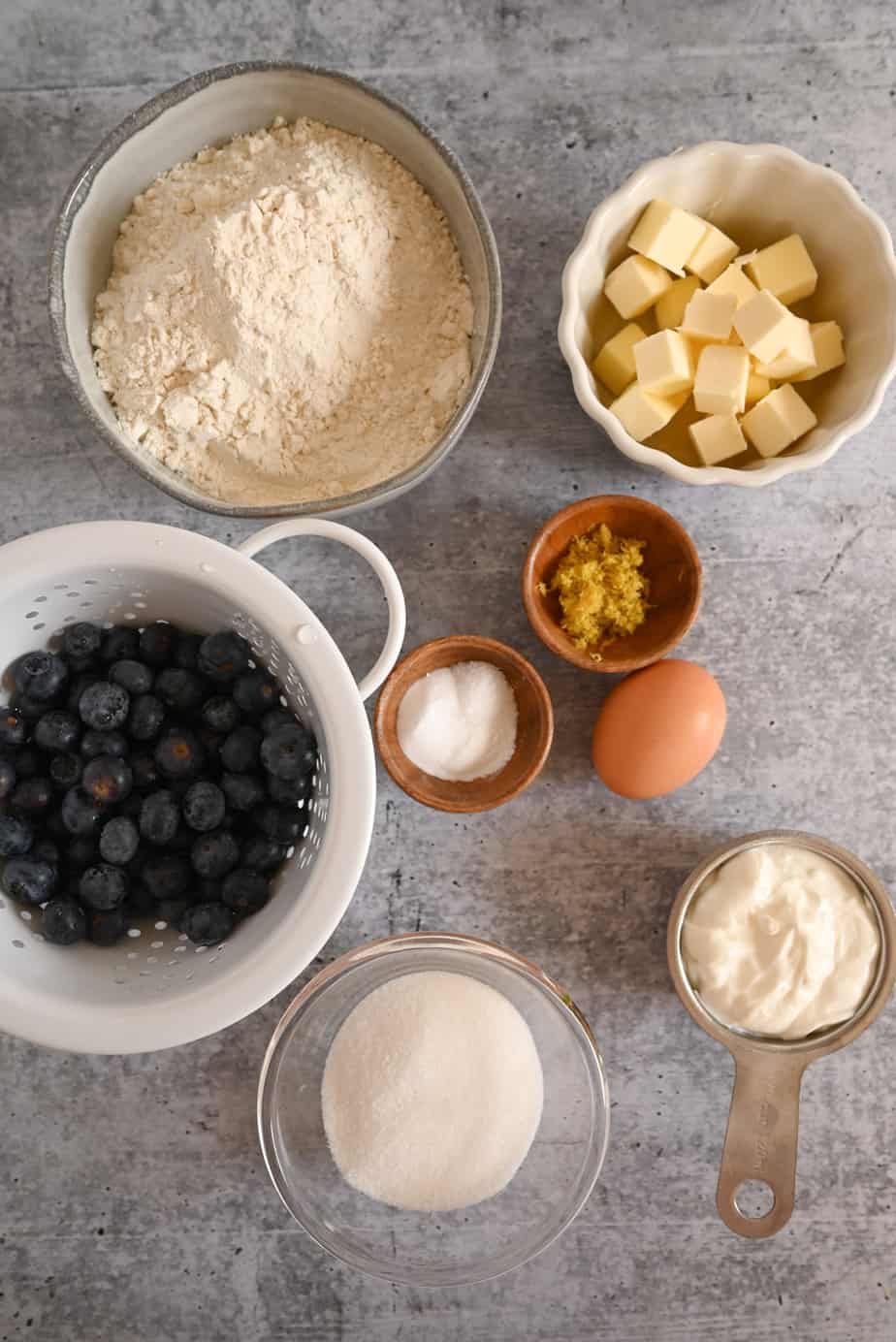 FRESH BLUEBERRY LEMON SCONES
I love scones. In fact, I've rarely met a scone I didn't like.
When I visit our local coffee shop – usually at least once a week – odds are good that I'll be perusing the pastry case to pick out a scone to go, too.
Sweet potato scones are one of the first recipes I ever developed for this site. Bacon cheddar scones were made as a copycat to one of my coffee-shop favorites. Cranberry ginger scones combine two of my favorite flavors into one of my favorite pastries.
So yeah, it really shouldn't be much of a surprise that I would want to incorporate some fresh summer flavors into a scone recipe.
These blueberry lemon scones are packed full of fresh blueberries that I have paired with bright, tart lemon. If you haven't figured out yet that sweet blueberries and tart lemon are a match made in heaven, then you haven't fully lived.
Not only does this recipe include lots of blueberries, there's also lemon in the scones and in the glaze, so you get a bit of blueberry and lemon in every single bite.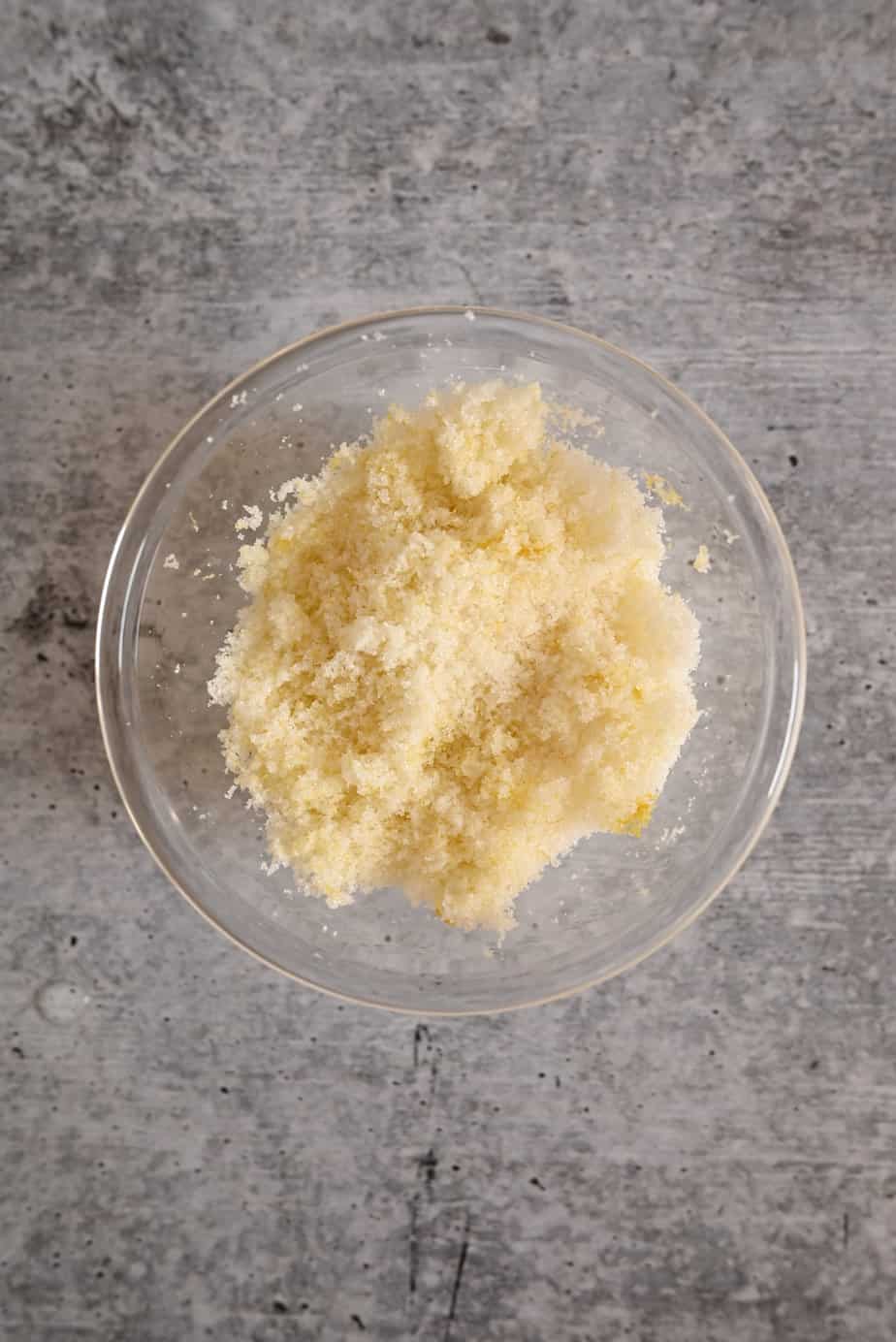 HOW TO MAKE BLUEBERRY LEMON SCONES
If you've never made scones before, I can promise you they aren't as hard to make as you might think. I'll talk you through each step and you'll be well on your way to being a scone master!
Scone Ingredients
Scones, like their biscuit cousins, use some pretty basic baking ingredients. You'll need:
Sugar: The scones use granulated sugar, while the glaze uses a bit of powdered sugar. Together, these add just enough sweetness to the scones without making them overly sweet.
Lemon zest & juice: I like to use plenty of lemon zest in the scones and the juice in the glaze.
All-purpose flour: No need to grab any fancy flours for this recipe. Your standard AP flour will do just fine!
Salt: We always need to add a bit of salt to our baked goods to help round out the flavors.
Baking powder & baking soda: Since the dough has some acid in it from the yogurt, we'll use both baking powder and baking soda for leavening.
Butter: We'll use cold butter in the scones and a tiny bit of melted butter in the glaze.
Greek yogurt & milk: Instead of buttermilk, we'll use a combination of Greek yogurt and milk as our primary wet ingredients. I prefer to use whole-milk yogurt here, but you can get away with using a reduced-fat yogurt if it's all you have on hand.
Egg: A whole egg helps to bind and tenderize the scones.
Fresh blueberries: I prefer to use fresh blueberries in this recipe; they just look prettier. If you can only get your hands on frozen berries, don't thaw them before adding them to the dough. Add them in while frozen, and keep in mind that the frozen blueberries might slightly discolor the dough. (They'll still taste great, though!)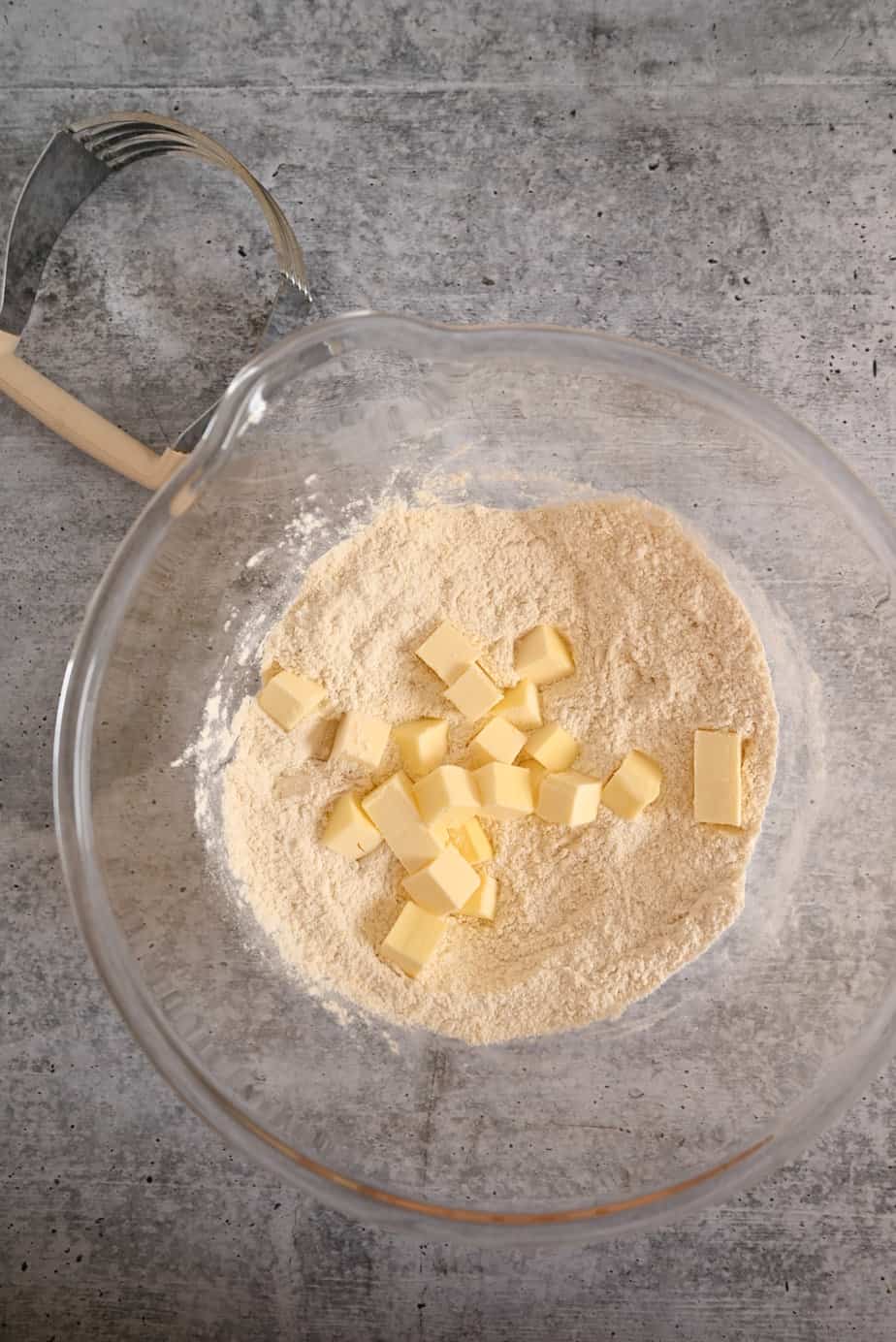 Equipment
You don't need any special equipment to make these scones, but I do recommend getting a pastry blender. This handy tool is so useful and will make cutting the butter into the dry ingredients so much easier.
If you don't have a pastry blender, you can always use two butter knives, but it will definitely take longer.
If you have a hard time with your hands and need a more hands-off solution, toss the dry ingredients and the cold butter into a food processor. Pulse until the mixture resembles a coarse meal, then transfer it to a bowl and continue with the recipe as written.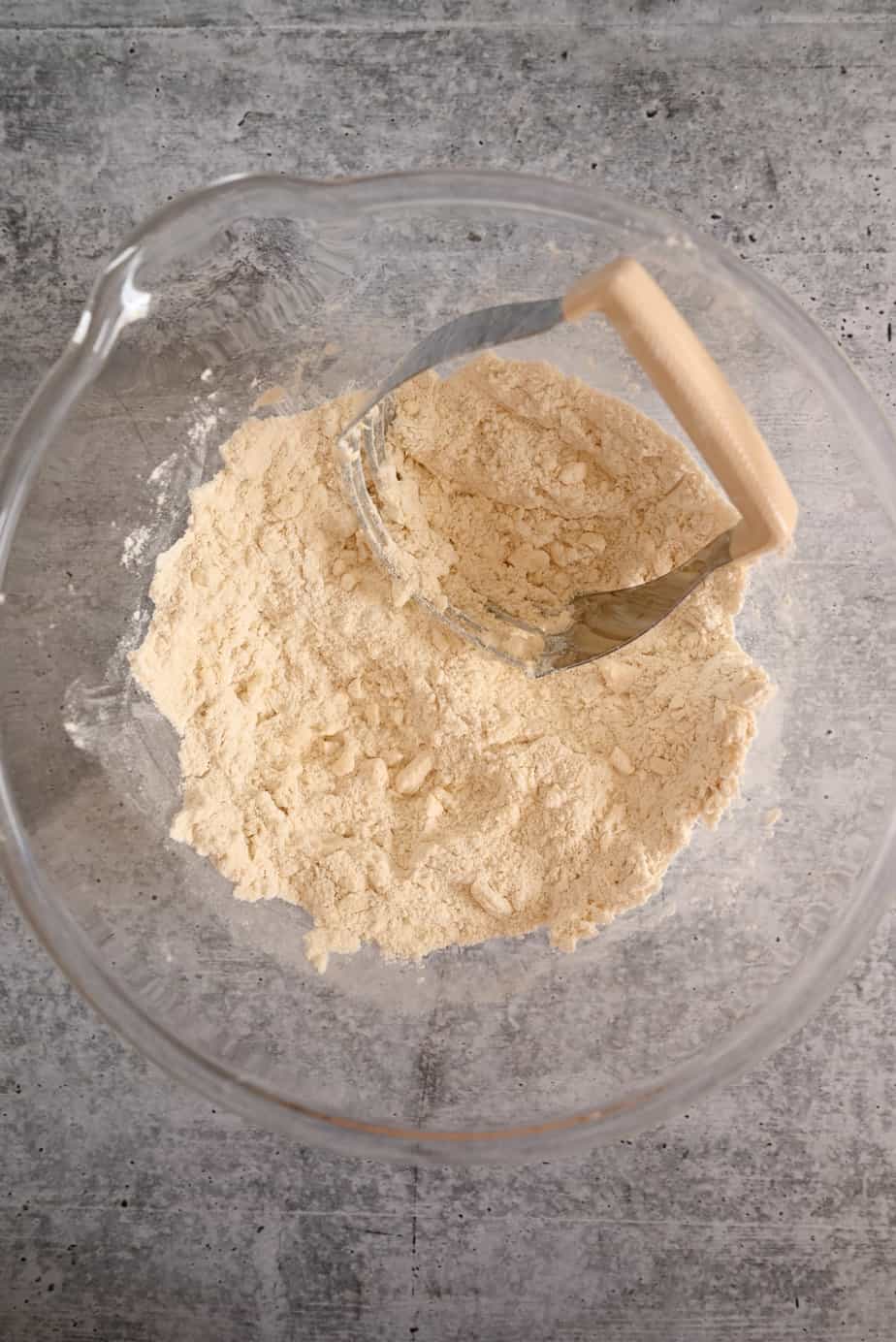 Making this recipe
To get started with our blueberry lemon scones, mix together the granulated sugar and lemon zest until the sugar is moistened and fragrant.
This is a trick I learned from my friend Jamie and it really does wonders to infuse the flavor of the lemon zest throughout your baked goods!
Whisk the flour, salt, baking powder, and baking soda into the sugar mixture until combined, then add the cold butter. Use your pastry blender to cut the butter into the dry ingredients until the mixture resembles a coarse meal.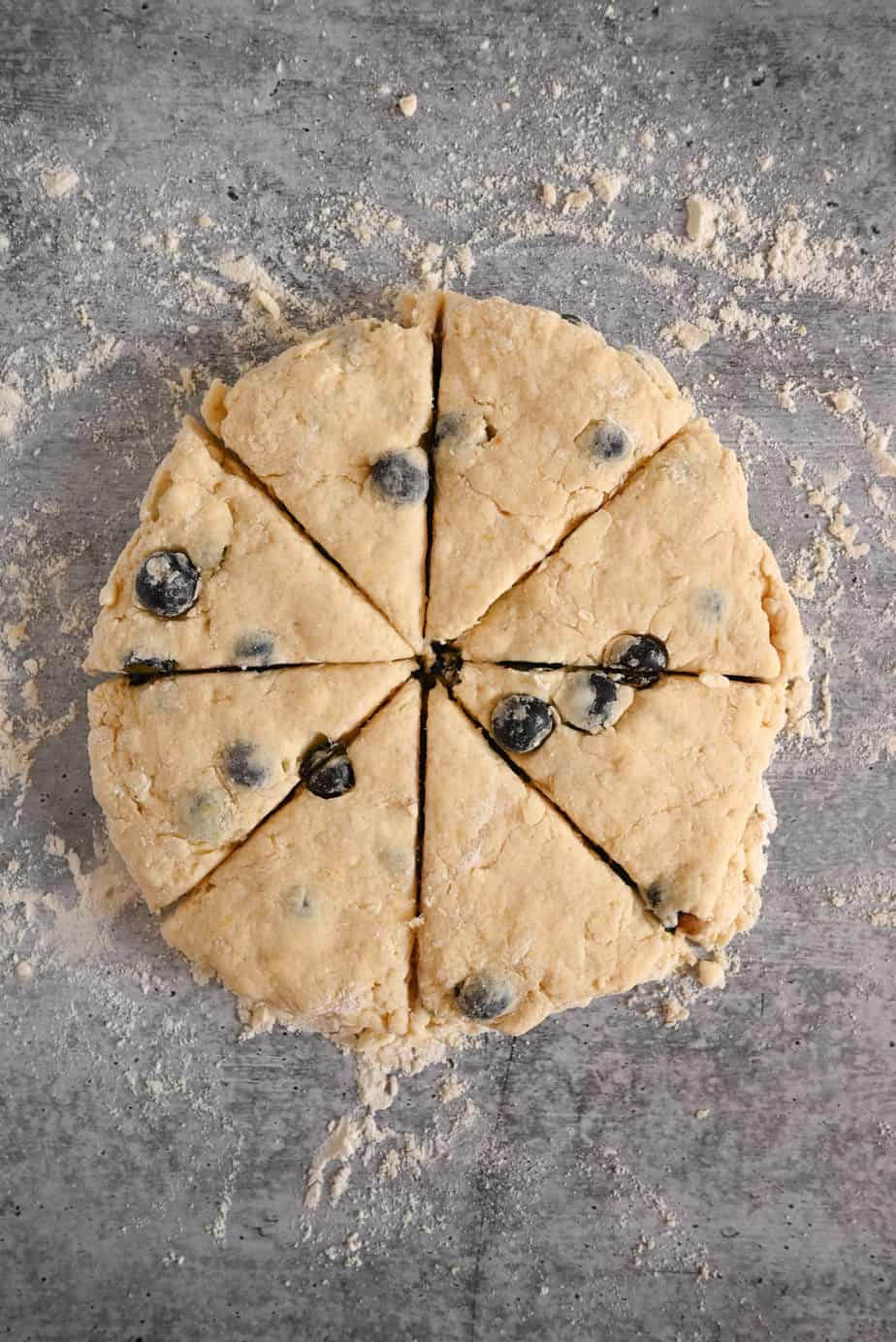 Separately, whisk together the yogurt, milk, and egg. Add this mixture to the dry ingredients until just barely combined.
Fold in the blueberries, but be careful not to over-mix. The dough will still be a bit crumbly in places – that's ok!
Use your hands to gently bring the dough together in the bowl, kneading it just a few times until it comes together. Place it on a floured surface and pat it into a circle about 8 inches in diameter. It should be about ½-inch thick.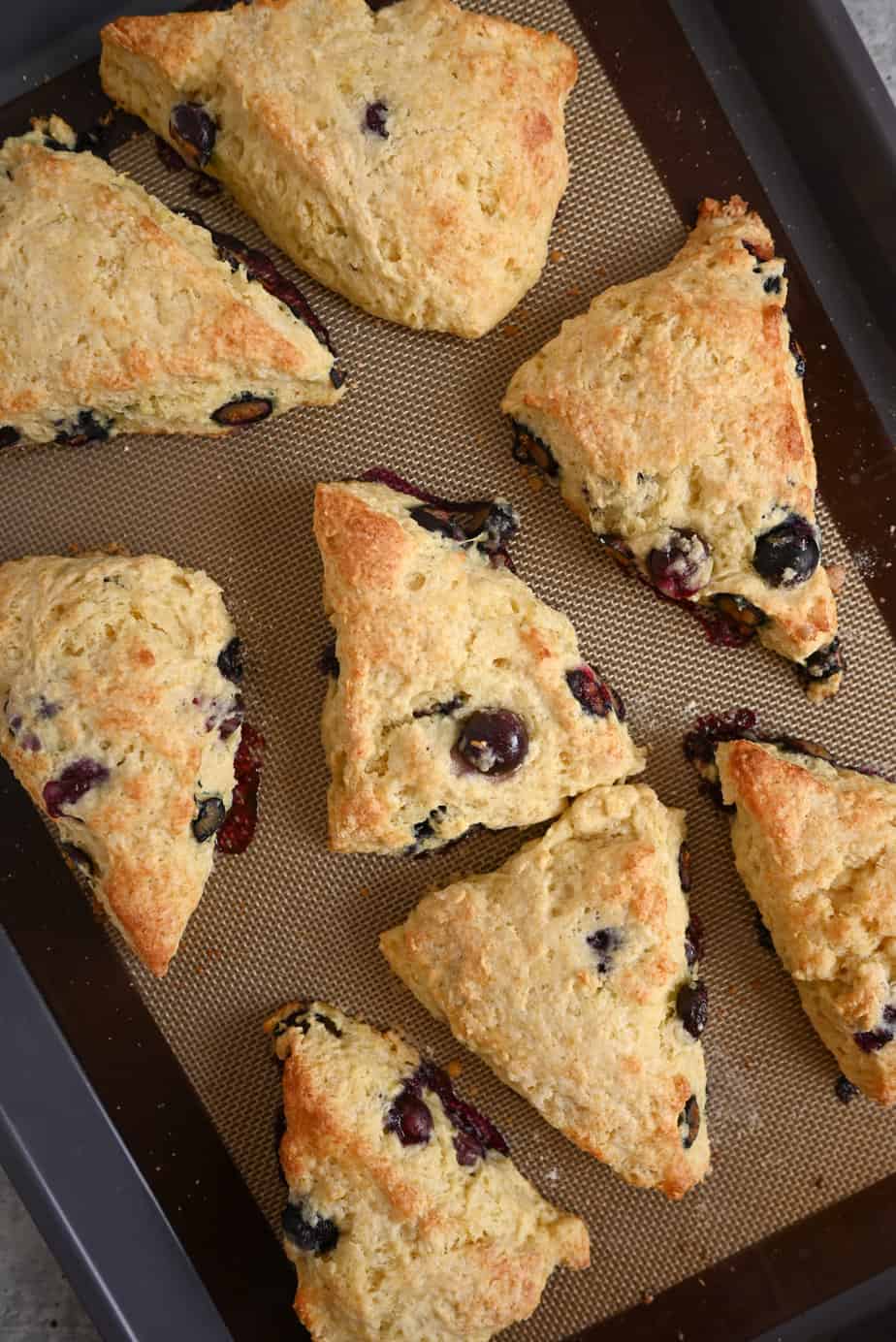 Use a sharp knife or a dough blade to cut the dough into 8 equal wedges and place them on a lined baking sheet.
I like to brush the scones with a bit of milk and sprinkle them with a pinch of sugar before they go in the oven to add a bit of color to the top.
After the scones have baked, let them cool on the baking sheet for about 5 minutes before you move them to a wire rack. Let them cool before dipping them in your lemon glaze.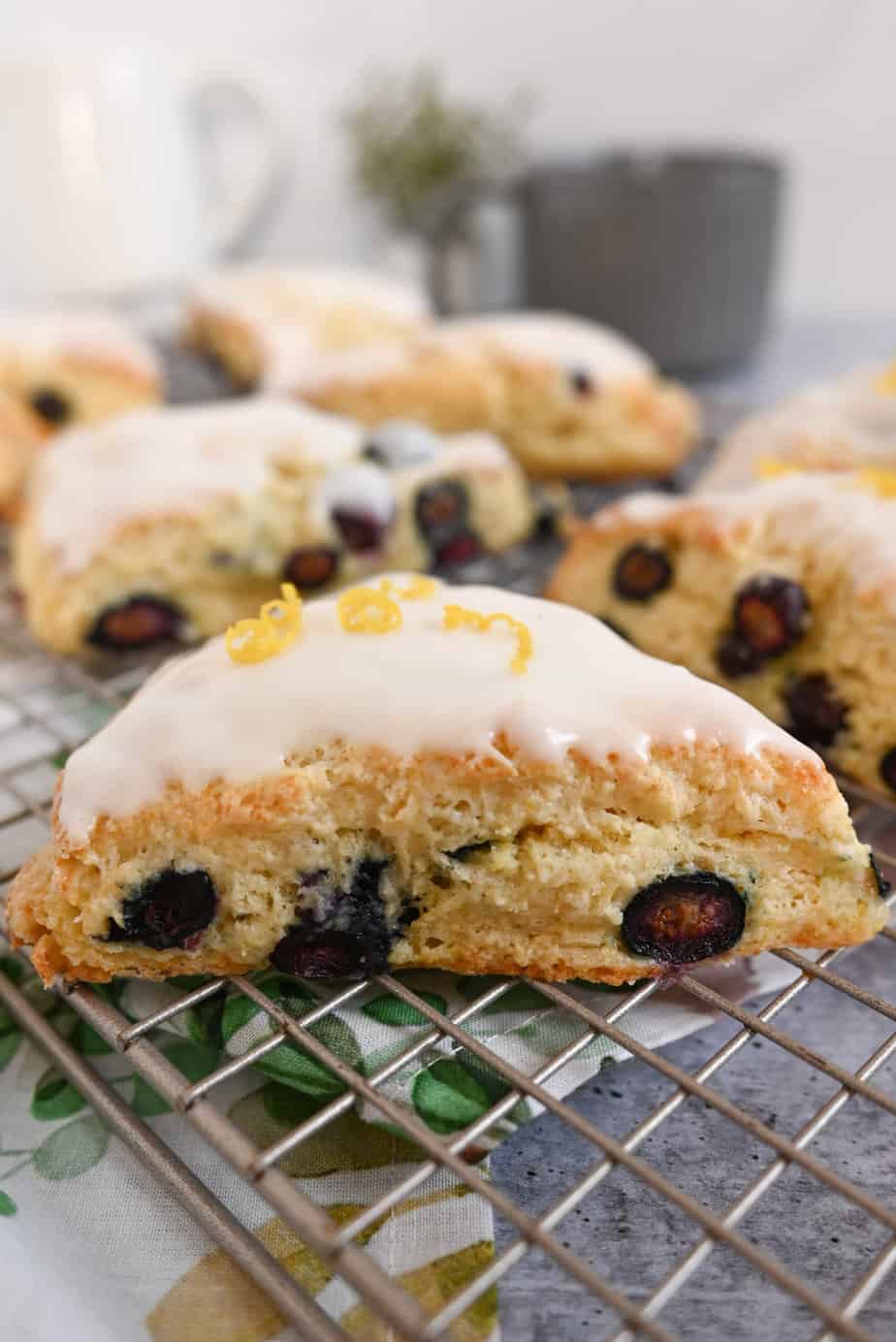 STORAGE AND FREEZING
If you're making these blueberry lemon scones for company or a special occasion, I'd make them the same day you plan to serve them.
The combination of the fresh fruit and the glaze make them a bit soft the next day, but they'll keep and still taste great if stored in an airtight container for up to 3 days.
You can also freeze the unbaked scones to bake later. Place the cut, unbaked scones on a parchment-lined baking sheet and freeze for 1-2 hours.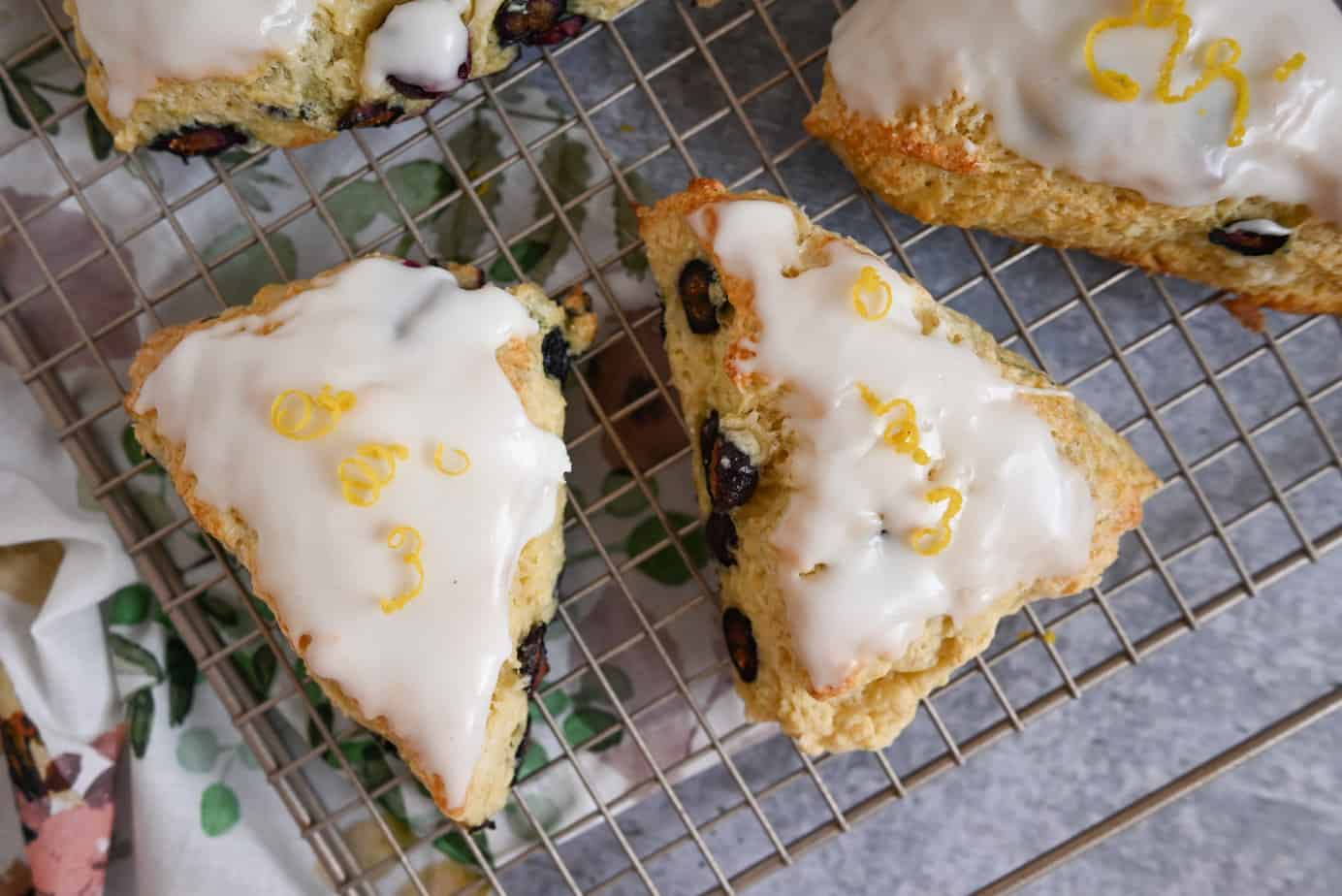 Place the frozen scones in a zip-top bag and store in the freezer for up to a month.
When ready to bake, pop them onto a lined baking sheet and bake as directed. You may need to add 1-2 minutes to the baking time to account for baking them from frozen.
Give these blueberry lemon scones a try. I can bet you'll be making them all summer long!